Taking Control: Planning for Optimum Gym Systems
Selecting the right gym equipment control systems for optimized operations
Sponsored by Draper, Inc.
Learning Objectives:
Explain the rules for safe operation of large gymnasium equipment.
Analyze the advantages and applications of control systems, from simple key switches to canned group control systems to high-end custom programmed control systems.
Assess the advantages of preplanning by the facility owner, architect, contractor, and controls equipment manufacturer when designing a gymnasium control system.
Discuss gymnasium control systems case studies that demonstrate the collaborative project team process and optimized end results.
Credits:
This course can be self-reported to the AIBC, as per their CE Guidelines.
This course is approved as a Structured Course
This course can be self-reported to the AANB, as per their CE Guidelines
Approved for structured learning
Approved for Core Learning
This course can be self-reported to the NLAA
Course may qualify for Learning Hours with NWTAA
Course eligible for OAA Learning Hours
This course is approved as a core course
This course can be self-reported for Learning Units to the Architectural Institute of British Columbia
This test is no longer available for credit
From high school gymnasiums to community recreational centers to collegiate athletic facilities, indoor sports are a major source of activity, physical education, exercise, and socialization within our schools and communities.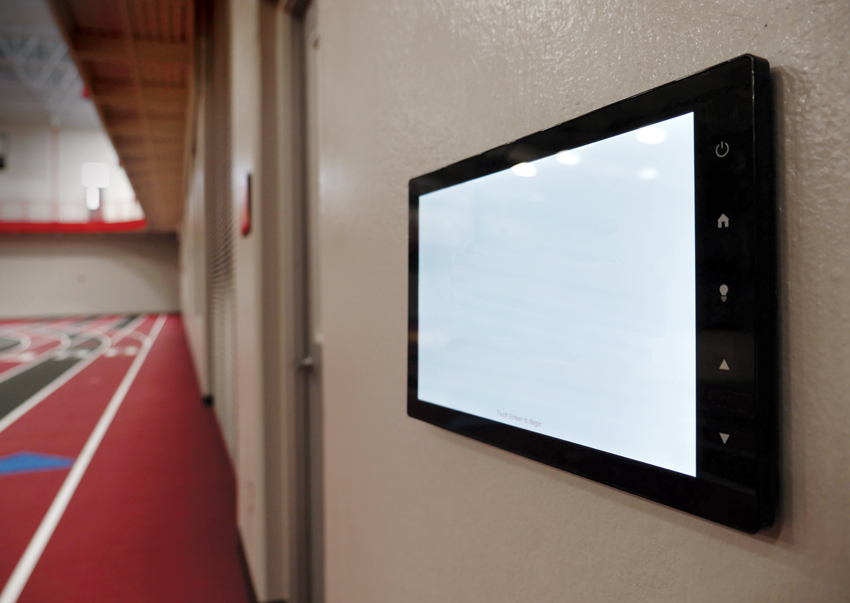 Photo courtesy of Draper Inc.
A custom programmed control system allows gymnasium setups to be changed quickly and provide a way for facilities to safely host more than one activity at a time, as shown here at Center Grove High School located in Greenwood, Indiana.
While high-quality basketball and volleyball equipment are essential for supporting safe and enjoyable classes, practices, and games, it is also important that facility managers can safely and efficiently control and reconfigure the gymnasium equipment on a regular basis.
The key to achieving the latter is through the thoughtful application of control systems. These can range from simple key switches to canned group control systems all the way up to high-end custom programmed control systems. Whatever the case may be, the most efficient, cost-effective control solutions can only be achieved with preplanning between the facility owner, architect, contractor, and controls equipment manufacturer.
While stationary backstops and/or wall-mounted backstops folded with manually operated winches are an option for gym owners, ceiling-suspended units folded with motorized winches are by far the most commonly specified for today's gymnasiums. (See the Ceiling-Suspended Systems sidebar for additional information on this topic.)
Before delving into the details of the different gymnasium equipment control systems and project planning process, architects should be aware of a few general safety principles when it comes to heavy overhead gymnasium equipment.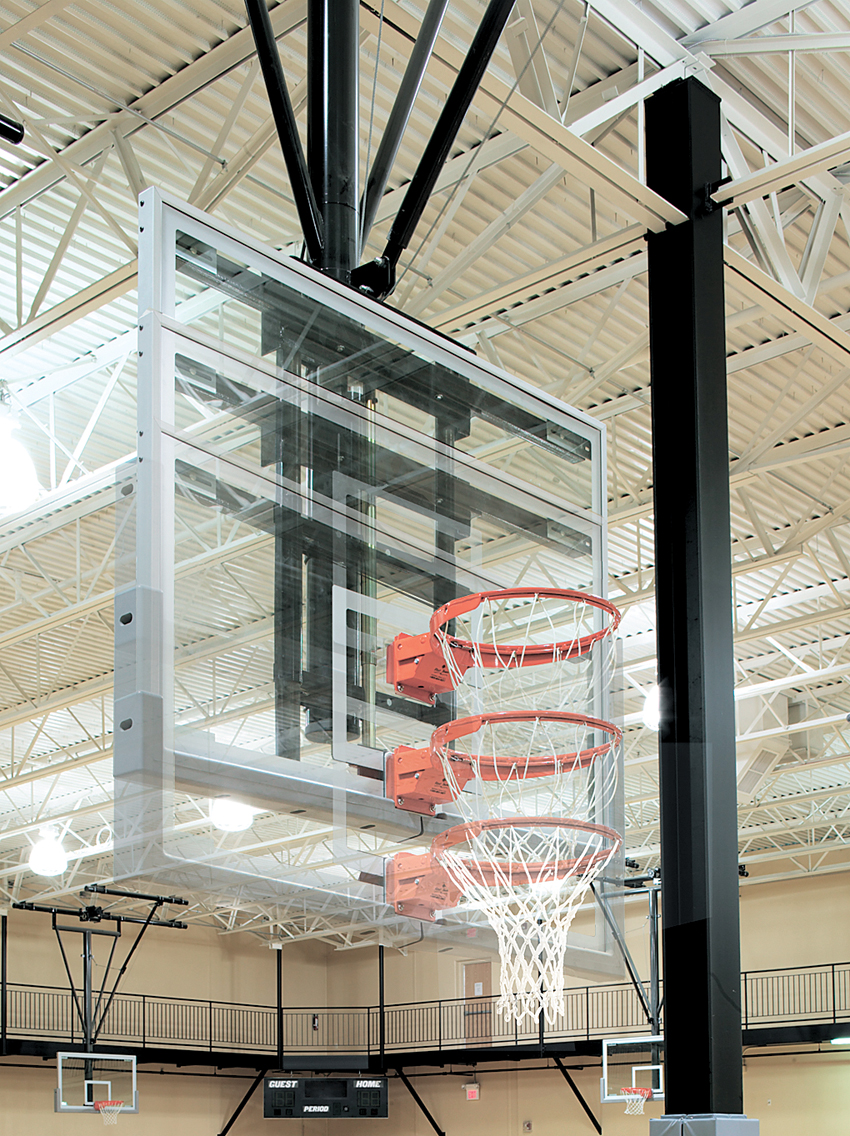 Photo: Jeff Bell Photography
Electric height adjusters are among the equipment that is controlled by a control system, as shown here at the ArchBold Evangelical Church in Archbold, Ohio.
Gymnasium Equipment Control Safety
Because gym equipment like basketball backboards suspended overhead weigh thousands of pounds, it is essential that the equipment be raised and lowered in a safe manner. Consequently, only authorized and properly trained individuals should operate the equipment. Further, the equipment should never be operated when people are underneath or in the area around it.
When controlling the equipment, the individual raising or lowering the backboard, volleyball net, or gym divider curtains, for example, must be in full view of the equipment the entire time that it is in motion. All control systems also require a key or password to prevent unauthorized users from operating the equipment.
In an Athletic Business article titled "Technology Makes Accommodating Gym Activities Easy," Senior Editor Paul Steinbach writes, "Most systems in place today, including those still employing individual key switches, require continuous contact with the controller while the equipment is in motion. If at any point a button or key is released, the equipment stops instantly—a handy feature when a potential obstacle has been spotted."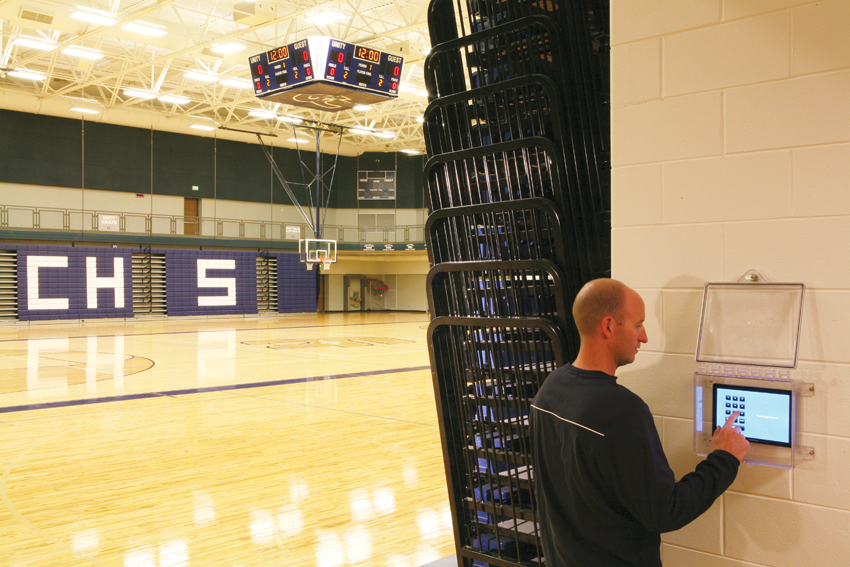 Photo courtesy of Draper Inc.
When operating heavy gymnasium equipment, the facility manager must be in full view of the equipment, and continuous contact with the controller is required while the equipment is in motion.
Key Switches
The most basic control for gym equipment is key switches where one piece of equipment is operated from each key switch with a dedicated circuit for each device. Switches are available from one key on a single-gang plate up to seven keys on a seven-gang cover plate. The technology is very reliable and secure, assuming keys are only issued to trained and authorized individuals.
To maximize effectiveness and safety, it is important to avoid some field-observed pitfalls. These include leaving keys in switches, which effectively leaves the control open for anyone to operate. Without proper training, unauthorized users can potentially operate equipment in a dangerous manner.
Another problematic issue is simultaneously running multiple devices by holding down multiple key switches at the same time in a manner that leaves the user unable to observe equipment in operation. Users should also be cautioned against using broom handles, heavy chains of keys, or other methods to hold the switch in an on position while the operator walks away and fails to supervise the raising and lowering of very heavy equipment.
Wireless Remote Controls
The first advancement beyond key switches was the introduction of wireless remote controls more than 30 years ago. Wireless controls work with a receiver at each motor and handheld transmitter, similar to a garage door opening system. The receivers are programmed, frequently with dip switches, and each device is assigned its own unique channel. Operated by radio frequency (RF), the users select the chosen channel from the transmitter, but they must be physically located no more than 100–125 feet in proximity to the receiver.
Though it is very rare, there is a small possibility that the transmitter could interfere with other RF devices or encounter interference.
Higher-quality wireless systems will prohibit multiple transmitters from attempting to operate at the same time by locking out the other channels while one device is being operated. Consequently, a second and third transmitter, for example, will not be able to access any channel for multiple wireless operations. This means that users are typically restricted to operate one device at a time. Groups can be created by setting more than one receiver at the same frequency, but then the ability to individually operate devices at that frequency is lost.
To prevent unauthorized users from activating the controls, the handheld transmitter should be kept under lock and key and not mounted to the wall where anyone can access it. There is an option to add a low-voltage key switch as a backup in case the remote control is lost or dropped.
A major benefit with wireless controls is that that they eliminate the need to pull wire to key switches down on the wall, as the system only needs power at the winch in the ceiling. Consequently, wireless works well for retrofits or renovations.
Originally published in Architectural Record
Originally published in April 2021
Notice