Taking Control: Planning for Optimum Gym Systems
Selecting the right gym equipment control systems for optimized operations
Sponsored by Draper, Inc.
By Barbara Horwitz-Bennett
This test is no longer available for credit
Ceiling-Suspended Gym Equipment Advantages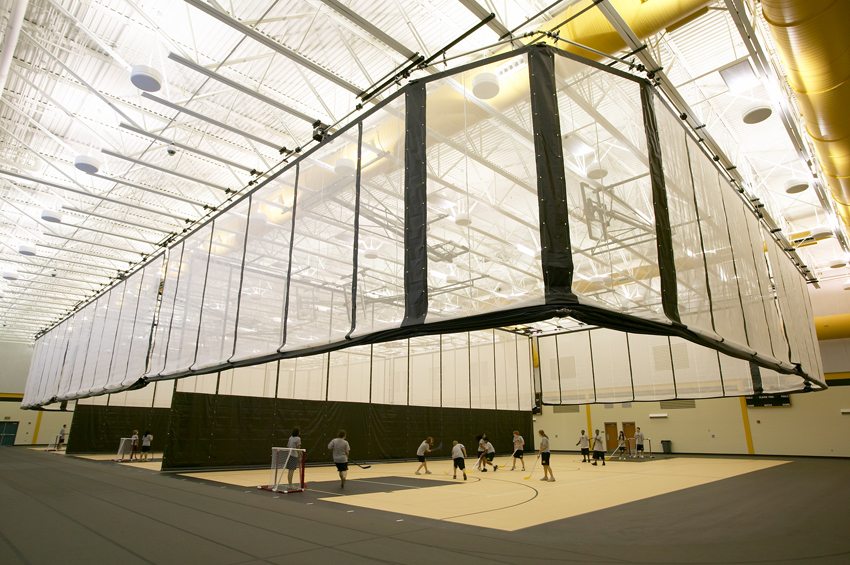 Photo courtesy of Draper Inc.
Gym-divider curtains are raised or lowered to accommodate several and varied activities.
A mainstay of today's gymnasiums, basketball backboards and volleyball nets are in high demand. Statistica reports that wholesale sales for basketball backboards amounted to about $181.2 million in 2019, while $84 million was spent on volleyball balls and sets.
While school and community gymnasiums can opt for portable sports equipment like portable backstops, the vast majority are choosing ceiling-suspended basketball and volleyball systems for ease of equipment changeovers and enhanced safety.
"Ceiling-suspended units are by far the most widely used (one manufacturer estimates that they represent 85 percent of the market), with several operational advantages. Touchscreen or keypad control can drop ceiling-suspended goals into place in minutes, and once deployed, they are ready for action," writes Senior Editor Paul Steinbach in an Athletic Business article titled "Technology Makes Accommodating Gym Activities Easy."
Each basketball hoop has its own suspension system and a motor with cabling to raise and lower it. The units can be designed to fold in any direction, mounted on nearly any type of roof, and are extremely stable and rugged.
"Ceiling-suspended equipment has gained such favor in facilities designed with adequate load-bearing properties in the roof and spatial relationships in the ceiling, where stored equipment must coexist with lighting and air-handling hardware," Steinbach adds.
Similarly, ceiling-suspended volleyball net systems are preferred over stanchions manually mounted within floor sleeves. The systems are lowered to playing height by a motor on the ceiling, and they can be set in place within a couple of minutes.
One "major advantage to having drop-down volleyball nets is in the reduction [in] damage done to the gymnasium floor," explains Marian V. Liautaud, director of marketing with the Frankfort, Illinois-based Aspen Group design-build firm. "There is always potential for scratches and other damage if members of the men's/women's volleyball league, youth group, or community are constantly lugging heavy net posts around the gym between setup and teardown."
Of course, the other main benefit of electrically controlled ceiling-suspended equipment is the ease and speed with which facility managers can change over equipment. This is especially important with community facilities and privately owned sports centers where courts are rented out by the hour.
In another Athletic Business article, "Controlling Ceiling-Suspended Gymnasium Equipment," Sandy Harris, director of the Park District in Schaumburg, Illinois, relates that her team can make the switch from four-court Saturday morning league basketball to a six-court afternoon volleyball tournament in a matter of minutes, whereas manually installed floor-mounted nets would take at least an hour.
"It is definitely a time-saver," Harris says. "It takes about a minute to bring the volleyball nets down. Plus, you do not have to account for storing all that equipment. It is all right up in the ceiling."
Folding equipment also allows more optimized use of gymnasium space. For example, if the gym is needed for dances, cheerleading competitions, festivals, etc., folding up the backstops and volleyball nets is a quick job. Additionally, ceiling-mounted divider curtains can be easily brought down to divide up the space for multiple, simultaneous events and provide an extra measure of safety for users, as they prevent balls from flying or rolling into adjacent activities.
Preplanning Pays Off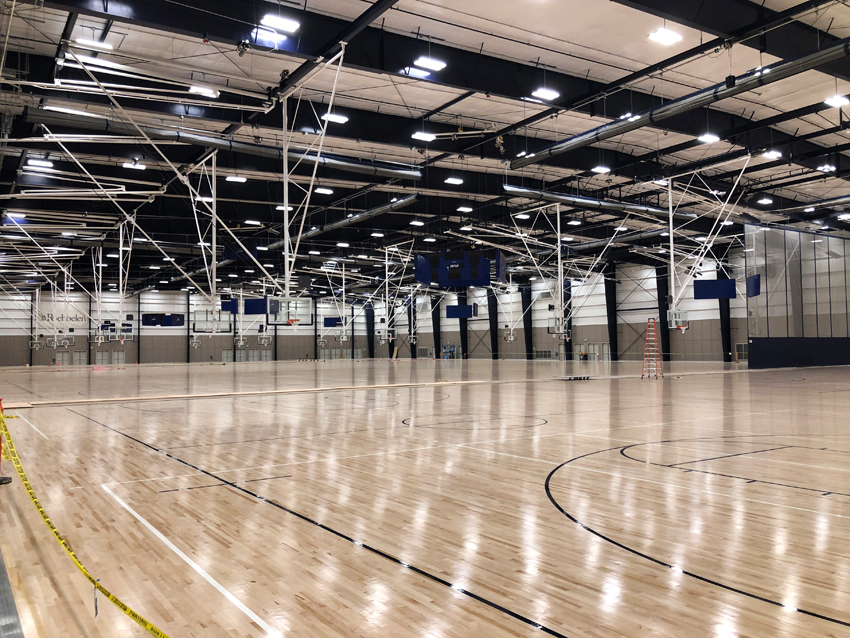 Photos courtesy of Draper Inc.
Placer County Fairgrounds in Roseville, California, is a large venue with four bays of three side-by-side-by-side, 84-foot, high-school-sized basketball courts and two volleyball systems running across each court. For hosting other sporting events, all equipment had to fold to allow 35 feet of clear space over the floor area.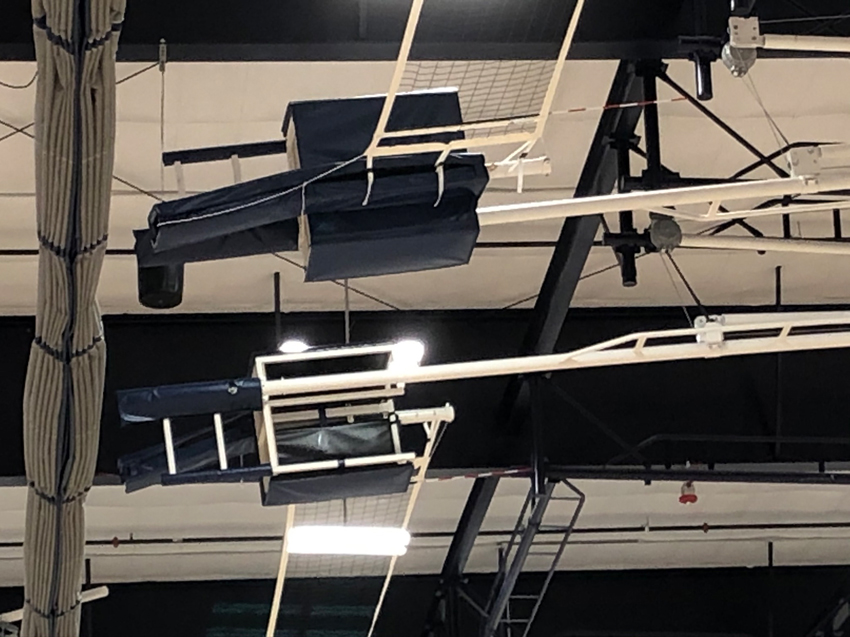 With careful planning, a schematic that utilized only 36 circuits was devised, enabling a reduction of close to 70 percent in the 20-amp circuits required.
Thanks to involvement early in the planning stages, experts were able to offer options and solutions to provide the facility owners—Placer County Fairgrounds of Roseville, California, in collaboration with Placer Valley Tourism—as they planned a state-of the art gymnasium facility while staying within budget. Further, because the manufacturer was able to work with the owner, architect, developer, general contractor, and project electrician, the specified gymnasium equipment and control systems met the desired performance criteria.
This facility is a large venue with a layout of four bays. Each bay has three side-by-side-by-side, 84-foot, high-school-sized basketball courts with two volleyball systems running across each basketball court. In addition to hosting basketball and volleyball competitions, the facility hosts cheerleading competitions as well as exhibits and other events, so all equipment must fold up to the ceiling to allow for 35 feet of clear space over the floor area.
Each backstop on each court is electrically operated and includes electric 8-foot to 10-foot height adjusters. Each volleyball court has an electrically operated overhead volleyball system with divider curtains in between and at the ends of each basketball court to prevent balls from rolling into adjacent activities. Additionally, each basketball court has two scoreboards suspended from electric lifters. In all, the facility has 24 basketball backstops, 24 electric height adjusters, 24 overhead volleyball systems, 24 scoreboard lifters, and 17 gymnasium divider curtains.
Capitalizing on Controls
A significant challenge was to provide control-system options that supported the owner's ability to perform rapid change setups for a variety of activities, with an eye toward budget and sharing as many electrical circuits as possible. Most gymnasium equipment products—including basketball backstops, divider curtains, overhead volleyball systems, and scoreboard lifts—operate with 3⁄4 HP motors that require a dedicated 20-amp circuit. Traditionally, these types of systems have been operated with individual key switches. Using traditional controls, the gym equipment would have required 113 circuits with 113 wall-mounted key switches and many people and/or a lot of time to change court setups for different activities.
A custom programmed control system that utilizes a central processor, one or more relay boxes, and one or more user interfaces, available in various sizes, was provided instead. For this specific project, the designed system utilizes five relay panels: four panels capable of operating 32 motors and another capable of operating four motors. Also provided was a 10.1-inch graphic wall-mounted ethernet touchscreen with a project-specific control interface program, a tablet with the same interface program, and a Wi-Fi kit with three access points to allow the tablet to talk with the processor. The Wi-Fi is a closed network utilized only by this system, so the tablet users must remain in the gym so that they can watch equipment operating and no one outside of the area has access.
The manufacturer analyzed the floor plan and made several suggestions, such as allowing the facility to rapidly change setups and allowing for devices, which will never run together, to share circuits in a manner to prevent any chance of overload. With careful planning, a schematic that utilized only 36 circuits—an almost 70 percent reduction in 20-amp circuits required—was the outcome. This level of reduction resulted in fewer electrical panels and circuit breakers, achieving lower electrical equipment costs.
Based on planning for shared circuits, user interfaces for the wall-mounted touchscreen and tablet were created that included building layouts for easy navigation. The initial screen has the overall layout and the option to select any one of the four bays. From there, the user is sent to the screen for the chosen bay that shows the specific bay layout and has options to drill further down to individual courts. It is always possible to operate devices individually or at the court level, but on each bay screen, there are single-court setup buttons to allow a user to change all three courts in the bay from volleyball to basketball or vice versa. The volleyball setup button simultaneously raises all six height adjusters, moves all six backstops to the stored position, and lowers all six overhead volleyball systems to the playing position. There is also a single button to raise or lower every divider in each bay—as many as eight curtains in some bays. Similar setup buttons are available at the court level as well. These large functions—as many as 18 devices running simultaneously—are accomplished without ever causing an overloaded circuit.
Time savings in changing bay layouts is huge compared to having one or two devices running at the same time from key switches. One person can set up the entire facility in a matter of minutes instead of hours. This allows the facility to require less time between events and in many cases, host more events that can lead to greater revenues. The larger the facility, the greater the time savings.
Originally published in Architectural Record
Originally published in April 2021
Notice