Designing sink stations that promote well-being for a wide range of ages and abilities
Sponsored by BLANCO
This test is no longer available for credit
Specific to kitchen sinks, under the ADA requirements, the sink should be 5–51⁄2 inches deep to allow space for a wheelchair to go underneath and not be so deep as to make it difficult for a seated person to reach to the bottom of the sink. This depth is derived from the ADA maximum counter surface height of 34 inches, an average counter thickness of 11⁄2 inches, and the ADA minimum distance between the floor and bottom of sink, set at 27 inches.
Since a significant part of the work in a kitchen happens at the sink, having an ADA-compliant sink that is easy to use is also very important. Hands-free or lever-handled faucets with pullout sprayers can be considered for ease of use. These also may be best mounted to the side rather than at the back of the sink. Anti-scald devices may be added to prevent burns. Certain manufacturers are also incorporating ergonomic levers and smart sensor controls to further ease of use. Levers easily set an occupant's desired water temperature and strength settings. Faucets that integrate sensors use a start-stop feature to turn the water on and off, ensuring water waste prevention. Kitchen chores are made frustration free thanks to sensor technology.
The architect and designer must proceed with caution when pursuing an ADA kitchen. While many individual products, such as cabinet units and sinks, may advertise ADA compliance, it is the kitchen as a whole—the sum of the parts—that will earn certification. The design of an accessible kitchen is one that involves all the elements in the space.
While not required under universal design or aging-in-place designs, ADA-compliant kitchens help ensure suitability and adaptability for a range of users over their lifetimes. Developed by Ronald Mace, AIA, universal design refers to design that works to ensure products and buildings can be used by virtually everyone, regardless of their level of ability or disability. Likewise, the movement to incorporate aging in place into design means to create the ability to live in one's own home and community safely, independently, and comfortably, regardless of age, income, or ability level.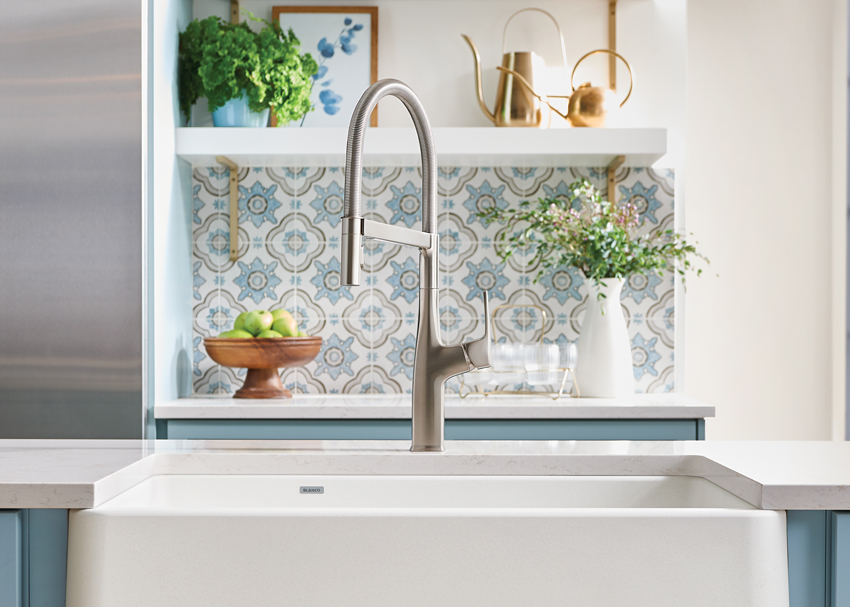 Emphasizing wellness in the kitchen results in creating a healthier living space and allowing occupants to live at their best.
Wellness in the Kitchen
What is wellness? "Health" and "home" are two words that are not traditionally used together—but this is rapidly changing. As of August 2019, there were 848 million Google searches for "wellness design," reports Jamie Gold, CKD, CAPS, MCCWC, author of the book Wellness by Design. According to the Global Wellness Institute, wellness real estate is the third-fastest growing wellness market (Fast Company). Gold defines wellness design as the practice of creating spaces that support the physical and emotional health of their occupants. Wellness design can cover all kinds of built environments.
According to Gold, occupants are more interested than ever in exploring the vital links between where and how well they live. Gold's professional focus is directly on "wellness design," the term for creating healthier living spaces and unlocking benefits in the place that matters the most to you: your home.
When it comes to the kitchen, wellness incorporates a broad spectrum of topics encompassing safety, healthy eating, aging, and more, according to Gloria Graham Sollecito, AKBD. "There is artfulness in every aspect of crafting a kitchen," she says. "It is not just in the aesthetics but also being mindful about wellness and function." This philosophy directs the decisions at Sollecito's firm, Artful Kitchens.
Sollecito outlines several key strategies to embrace wellness in a kitchen design: mindful materials, natural light, fresh food, ventilation, and elder considerations.
"Using our resources efficiently includes selecting renewable resources whenever possible and doing the research to make sure you are using responsibly grown and harvested woods," Sollecito notes. Brands that offer responsibly and sustainably sourced materials will display their certifications prominently on company websites and literature, making these products easy to identify.
"People are also more aware than ever of chemical sensitivities, so it pays to educate yourself on subjects such as volatile organic compounds (VOCs)," explains Sollecito. She notes that while formaldehyde is a frequently cited concern, the potential for mold growth is another vital issue to address. "It is important to use materials that do not promote bacterial and mold growth, especially on work surfaces. Quartz, because it is nonporous, does not trap bacteria or mold," she adds. Smart material choice ensures not only initial wellness but also that occupant health and well-being will be maintained and preserved over time.
"You do not want materials that create safety issues," Gold agrees, "whether it is off-gassing cabinets or flooring, for example."
For Sollecito, anchoring the kitchen around natural light is another key wellness design strategy. "Light does not only fill an obviously functional purpose, but it also has a significant effect on mood," she says. "The correct lighting can transform a space." For redesign projects, Sollecito advises considering whether the space allows for a new or larger window. Natural light also can be enhanced by selecting lighter-toned and more reflective finishes.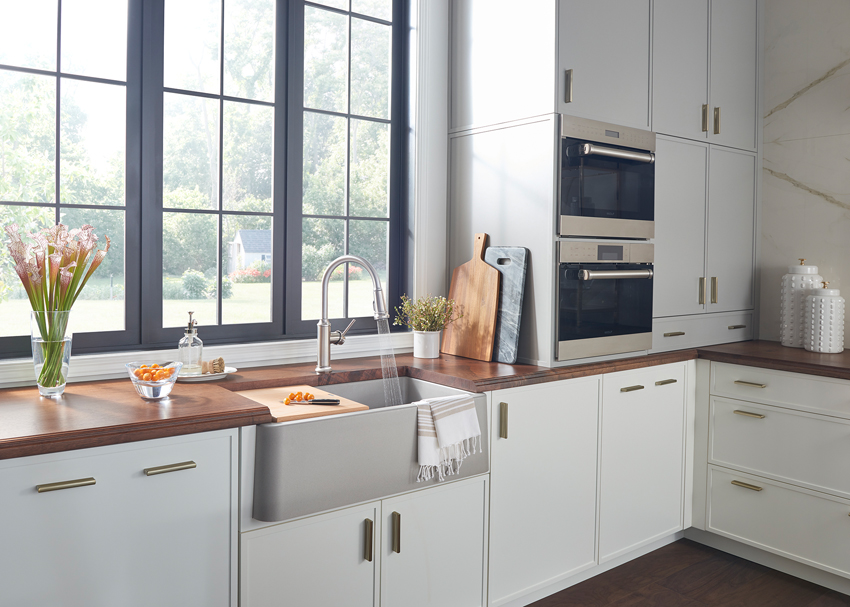 A kitchen designed with wellness in mind embraces high design, functionality, performance, indoor air quality, and the most hygienic and maintainable materials.
The move toward eating natural, fresh, farm-to-table cuisine is gaining in popularity. This shift has changed our storage needs in the kitchen, according to Sollecito. "If possible, I love to customize the refrigeration and locate it where you need it. For example, a set of under-counter refrigerator drawers in the food-prep zone works well as a supplement to the main fridge. Also, designate open shelving for produce that should not be refrigerated."
Lack of ventilation will sabotage even the most mindful material palette and design. "When I am designing a new kitchen, I always try to educate my clients on the importance of good ventilation, especially if you are using gas," Sollecito stresses. A recent kitchen study claimed that almost half of people do not use ventilation when cooking because they do not consider it necessary. Lack of or poorly designed ventilation endangers health through the buildup of contaminants, particulates, and dust and grease film on surfaces. To preserve indoor air quality, both the right type and correct ventilation flow are necessary.
Cheryl Kees Clendenon, DGD, In Detail Interiors, Pensacola, Florida, emphasizes Sollecito's points on ventilation, saying, "Ventilation in the kitchen, though often not a big consideration, is still the air you breathe. Keeping that air clean is so important." Clendenon recommends the best ventilation strategy as a vent to the outside with an updraft, followed by a design using down draft to the outside, and lastly using a recirculating vent. "Recirculating venting may not be an adequate strategy, depending on the cooking you do," cautions Clendenon. "And you must be diligent to clean the filters, regardless of the type of ventilation you have."
Clendenon additionally emphasized the often-overlooked role that hygiene and maintenance play in kitchen wellness. "Antimicrobial surfaces like countertops are a big deal to me. We prefer antimicrobial countertops and sinks in most applications," she says. Clendenon prefers sinks that naturally prevent bacteria, like leading composite granite and quartz models. Hygienic composition is a huge benefit. "The fact that leading composite sinks prevent 98 percent of bacteria is one of the top three selling points to me," she says. "The icing on the cake is that the sinks are affordable for all and do not show water spots."
Clendenon also prefers to use faucets with the ability to both spray and stream. "The ability to toggle back and forth between modes with one hand is a great design for usability," she notes. The development from leading manufacturers of faucets with hands-free operation will further improve wellness, according to Gold. "This has advanced tremendously since it was first introduced, and I expect to see even more innovation driven by wellness concerns and technology integration," she notes.
Wellness considerations impact the entire kitchen, beginning with design. "When we actually start the design process, we are asking questions that dig at the right answers we need from the client," Clendenon explains. "We need to know their expected time in the home, any family mobility limitations, etc. This is a big part of our process."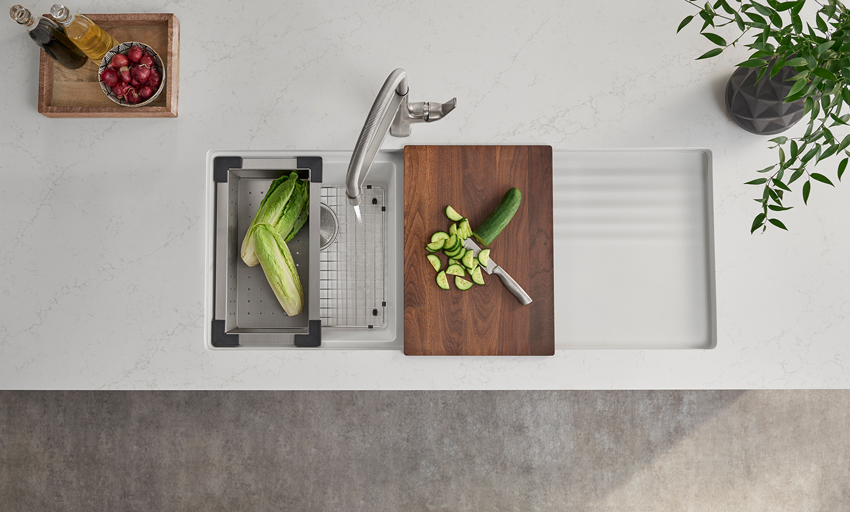 Lever-handled faucets with a pull-out spray head are among the recommendations from the National Association of Home Builders (NAHB) Aging in Place Checklist for the Kitchen.
Originally published in May 2020
Notice