Designing sink stations that promote well-being for a wide range of ages and abilities
Sponsored by BLANCO
This test is no longer available for credit
Living in Place
Industry research from 2019 revealed that a majority of kitchens are being designed for people older than 55, with the second-most common kitchen demographic being multigenerational/families. As modern kitchens must meet wellness demands of diverse user groups, certain design priorities rise to the top.
The heart of both these design movements, when applied to kitchen design, is about making life easier in the kitchen. Incorporating universal design or aging-in-place themes into products in an aesthetically pleasing way is growing in importance. Manufacturers are increasingly looking at how to blend great functionality in an easy-to-care-for and easy-to-use design that delivers great style.
For kitchens aimed at bolstering wellness for the elderly, or anticipating an owner's desire to age in place, simple choices can make the performance difference. "From preventing falls through something as simple as choosing the right kind of carpet, to designing beautiful, welcoming shared spaces to help address social isolation, architects and interior designers have the chance to improve, and even extend, the lives of seniors," notes Karen Kubey, an urbanist whose practice specializes in housing and health. New York City's Department for the Aging (DFTA) released an Aging in Place Guide in 2016, edited by Kubey, in collaboration with the American Institute of Architects New York Chapter's Design for Aging Committee.
Visual perception declines from middle age onward. Creating a strong color contrast improves environmental legibility for the aging. This could look like a bold color transition between counter and sink, clearly marked transitions between flooring surfaces or heights, and brightly colored cabinet hardware.
The National Association of Home Builders (NAHB) also offers an Aging in Place Checklist for the Kitchen. The recommendations include:
Faucets: lever handles or pedal-controlled pullout spray faucet; levered handles
Thermostatic or anti-scald controls
Pressure-balanced faucets
Cabinets: accented stripes on the edge of countertops to provide visual orientation to the workspace
Color contrast
For Gold, the process of creating a functional, beautiful kitchen to address aging in place begins on the same path as any other project. "You start with building codes and professional design standards, whether you are employing NKBA, AIA, ASID, or another organization, and proceed from there," she says. "You want a space that meets current needs and potential future needs." Gold stresses that not only does it give peace of mind for future accommodation, but the resale benefits of incorporating wellness and accessibility elements are also powerful since there is growing consumer demand and limited supply.
"While no one likes the 'a word,' as I call aging or aging in place, any of us can have a temporary injury that limits our mobility," Gold notes. "I evoke the other 'a,' as in athletics, and ask clients to contemplate how they would get into the blind corner cabinet where they keep their pots if a skiing or rock climbing accident landed them on crutches for a few weeks."
Clendenon sees many clients thinking ahead toward accommodations for aging in place. Often, ADA requirements can generate excellent design guidelines when thinking about use through aging. "We design in zones, not in the old triangle theory," Clendenon says. "With zone design, it is easy to add a zone for a parent who may be in a wheelchair or need to sit at a counter while doing prep work. Sink bowls from manufacturers who comply with ADA sink guidelines help too, allowing us to add a specific prep zone that requires lower access."
Clendenon emphasizes that aging in place really is all about the product selection—from making sure flooring is slip resistant to verifying that cabinets and drawers are accessible. "For aging in place, we install fewer upper cabinets and a far greater number of well-outfitted base cabinets, with big drawers for ease of use in lifting plates and cooking ware out," she says. "We also will design microwave drawers, as these are so much easier for the older population to lift up from, rather than lift down from, as in a traditional microwave."
"Having elderly parents makes me very cognizant of these needs," Sollecito says. For her, simplicity and accessibility are certainly important design elements, but even color and pattern are also crucial. "As we increasingly embrace technology, it does not help those who cannot figure it out, old or young. Look for controls that are intuitive and easy to see," she explains. "Visit a good appliance showroom, and touch and feel." She notes that many brands will help homeowners learn how to use new appliances.
Finally, and vital to any good kitchen design but especially for those kitchens accommodating varying abilities, is ease of maintenance. Hygiene in the kitchen plays a crucial role in wellness. Kitchen sinks are known to harbor bacteria. To promote hygiene, the sink's finish should be easy to maintain; radius corners should be smooth to the touch and easy to wipe clean. Smooth, nonporous surfaces ensure that dirt and bacteria cannot get inside, keeping the sink hygienic.
To create a shield, and avoid harsh chemicals and strenuous maintenance, certain manufacturers have patented hygienic coatings, particularly in composite sinks. Independent tests prove patented technology can reduce bacterial growth by up to 98 percent. Composite sink materials offer an excellent platform to bolster hygiene and reduce maintenance. Composed of real stone, which is then ground into fine particles that are engineered to be small and uniform, the final material creates an even, nonporous surface. This nonporous surface reduces bacterial growth simply by design, disallowing any cracks, nooks, or holes that would promote bacterial growth.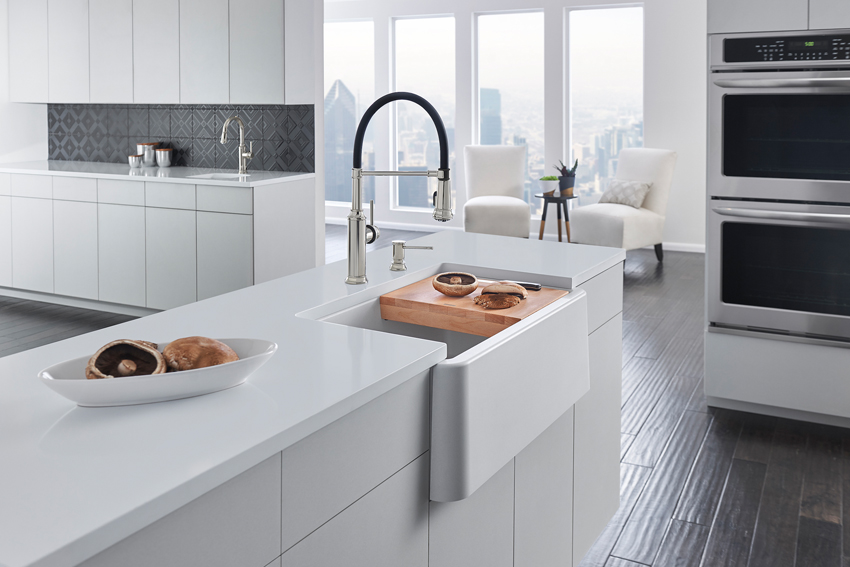 Functionality in the kitchen is the most requested element from clients. By considering the whole concept of wellness, this is ensured for all users.
Performance for All
Wellness design means a focus on the places people live. A majority of that living is done in the kitchen. The modern kitchen is a place where everyone participates in food preparation, regardless of age or ability. Cooking can be collaborative and fun if the kitchen is designed to facilitate it.
The most requested element for kitchen design is functionality, according to a 2019 industry survey. Though clients are particular about aesthetics, all clients insist on functionality. People certainly want spaces that convey their personality, but most of all, they want their kitchen to make their lives easier.
Kitchen sinks that make prepping, cooking, and cleaning a more seamless and comfortable experience for all users meet today's need for performance, aesthetics, functionality, and wellness. The sink and faucet, when chosen thoughtfully, elevate the area to a station, with products designed to maximize its use. Optional accessories enhance these kitchen elements by creating a system that not only accommodates all users but also enhances the workflow.
While designing for wellness is nearing the top of designer priorities, there is not a set of established wellness design standards for single-family residences, notes Gold. To facilitate wellness in designs today, Gold advocates using standards that apply overall to good design and what she calls the Five Facets of Wellness Design. She defines the five features and how they apply in the kitchen as follow.
Health and fitness: Design elements that directly contribute to physical well-being. For the kitchen, a combi-steam oven is an excellent feature example, as it facilitates healthier cooking and nutrition.
Safety and security: Design elements that keep occupants safe and protect their privacy. For the kitchen, a properly sized and installed vent hood is an example. Another example is a professionally installed smart home system that protects the homeowner's network, data, and privacy.
Accessibility: Design elements that make it possible for someone of any size or ability to use the space. For the kitchen, a corner swing-out organizer is an example.
Functionality: Design elements that make it easier to complete chores and/or reduce maintenance tasks. A well-made granite composite or stainless steel pro-style/chef sink is an example that combines both of these benefits.
Comfort and joy: Design elements that lift spirits when they are seen or used, whether because of the memories they evoke or the creativity and personalization they embody. A custom-colored or graphic-printed appliance is an example.
Today's kitchen is called on to create an environment that supports wellness and aesthetics for all of users while meeting codes and functional goals. Putting wellness front and center means a kitchen and its elements should enhance the health, comfort, productivity, and efficiency for occupants. "The other wellness feature is the enhanced functionality of reduced maintenance needs and greater efficiency," Gold concludes. "Most of us would rather be enjoying our after-dinner hours relaxing, taking an evening walk or bike ride, or visiting with our loved ones, not spending extra time addressing difficult-to-clean finishes."
For the modern kitchen, with its sink and faucet at the center, the ability to enable any occupant to actively pursue health and wellness is the new highest goal.
Additional Learning Resources
Clendenon, Cheryl Kees. In Detail.
Sollecito, Gloria Graham. Artful Kitchens.
Gold, Jamie. "Wellness by Design." Simon & Schuster. 1 September 2020.
Amanda Voss, MPP, is an author, editor, and policy analyst. Writing for multiple publications, she also serves as the managing editor for Energy Design Update.
| | |
| --- | --- |
| | BLANCO has passionately elevated the standards for luxury sinks, faucets, and decorative accessories. Proud of its European heritage and award-winning German engineering, BLANCO has been committed to innovative design and unsurpassed service since 1925. Dedicated to uncompromising quality, every sink is closely inspected many times before it receives the BLANCO name. www.blanco.com. |
Originally published in May 2020
Notice