Designing sink stations that promote well-being for a wide range of ages and abilities
Sponsored by BLANCO
This test is no longer available for credit
Natural Stone
Designers are experimenting with natural stone sinks to match or complement natural stone countertops in kitchens. While some materials, like soapstone, resist stains well, many natural stone sinks easily stain and will need proper maintenance and sealing to remain hygienic. Stone surfaces are often porous, leading to development of bacteria.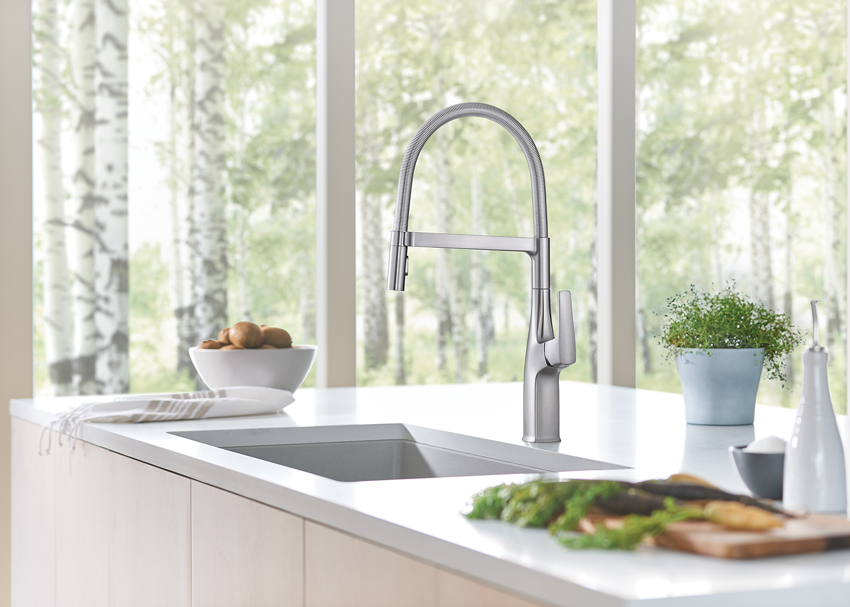 Sink size, depth, drain location, and maintenance are all factors that contribute to ergonomics and wellness in the kitchen.
Using Sink Specifications to Promote Wellness
Ergonomics and functionality are key virtues for any kitchen and any kitchen sink. The Occupational Safety and Health Administration (OSHA) defines ergonomics as fitting a job to a person. Creating a best fit for anticipated users and their needs helps lessen muscle fatigue, increases productivity, and reduce the number and severity of work-related musculoskeletal disorders.
These same principles of ergonomics are at work in residential design. Thinking about potential user groups in the kitchen and adapting design usability means crafting a best fit and selecting a sink to improve productivity and alleviate potential stressors and irritants during the course of everyday use. The size, depth, drain location, ease of maintenance, and mounting type of a sink all impact its potential "fit" profile. These considerations then develop a project's sink specifications.
Sink Size
A sink is one of the hardest-working fixtures in the kitchen, and the bottom of the sink is the surface where the homeowner conducts most of the work, like prepping and cleaning. Maximizing the size of any sink at its base is critical to a sink's functionality. Verifying that a sink has the same width at both top and bottom means exploiting every inch of the sink's utility, especially at the base.
Single-basin sinks are usually available in compact sizes, making them ideal for situations where overall space is at a premium. The basin of a single-bowl sink will offer more usable space than that of a double-bowl sink designed to fit into the same opening. A larger basin makes cleaning large dishes and pans much easier.
Double-bowl sinks remain the standard in a majority of existing kitchens. The double-basin design offers flexibility to the user, effectively creating two workstations. However, double-basin designs should still be able to comfortably accommodate large dishes and pans to maintain their functionality, and this may require more space. To maximize ergonomics, certain manufacturers offer a double sink with a low divide. This allows for divided work zones while avoiding the stress of shifting heavy pots up and over a full divide.
Sink Depth
Ergonomics and sink depth are vitally linked. As most work takes place at the base of a sink basin, that basin should never be so deep as to force the user to bend over, placing stress on one's back, shoulders, and arms. The ideal sink depth should be based on the individual needs and physicality the client.
While there is no perfect formula for identifying an ideal sink depth, sinks are typically mounted 36 inches from the floor and can span anywhere from 6 to 12 inches in depth. Specific calculations may be made in correlation to a user's height.
Designers and architects need to consider not only the sink's basin depth but also the planned method of installation. For undermount sinks, the countertop may add up to 2 inches to the final sink basin depth.
Mounting Type
Sinks may be installed or mounted to surrounding surfaces using several different methods: inset (drop-in), flush mount, or undermount. While the choice of mounting type is often driven by aesthetics, the ease of maintenance, functionality, and sink type should also be considered. Before specifying a sink, it is essential to consider how the sink will be integrated into the overall design and what other materials will be used to complement its installation.
Drain Location
Sinks today not only feature center or center-rear drains, but also offer rear-corner or offset drains. To determine the best location for a drain, the main functions of the sink and the preferences of the client should be considered. Avid home chefs stacking multiple large dishes in a single-basin sink may become frustrated over a blocked central drain, and prefer an offset drain located to the side. Rear or offset drains can also save space underneath the sink. Regardless of the drain's location, the basin should provide an uninterrupted path for draining and not allow for pooling of water.
Ease of Maintenance
As the workhorse of the kitchen, the sink is the revolving door for heavy objects, food, and potential bacteria, meaning the best sink must be durable and easy to clean. Sinks with rough, uneven, or brushed finishes can become breeding grounds for bacteria. A rough finish introduces food and food protein into the grooves and crevasses, providing a perfect environment for bacterial growth. These bacteria can form a biofilm, making it extremely difficult for bleach and other cleaning products to actively wash it away. A smooth and even finish is easier to maintain.
Kitchen sinks crafted with smooth, easy-to-clean corners that are either precisely square or perfectly curved allow for a simple and quick clean, eliminating dirt buildup and the potential for bacterial growth. Running a finger along the corner of a sink's basin should reveal whether it is smooth and seamless, or disclose any welds or faults in the design.
For clients with an extra concern about cleanliness or ease of maintenance, maintaining a single-bowl kitchen sink is typically slightly faster and easier, due to reduced corners and edges.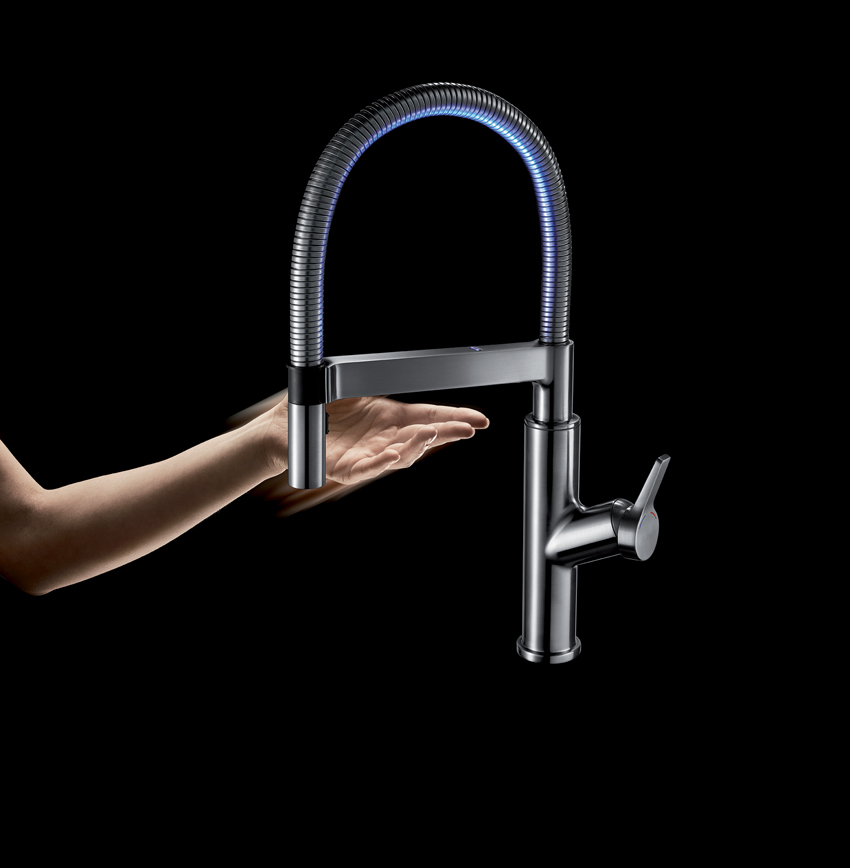 Leading manufacturers also have introduced new sensor technology featuring a sophisticated start-stop interface. This creates instant, effortless water control, as water can be turned on or off without touching the faucet.
Faucets
High-quality, long-lasting materials and discerning design provide the ultimate visual and tactile experience for the kitchen faucet. Selecting faucets that undergo strict quality checks and certifications, from the ceramic cartridge to the hose, ensures longevity and ease of maintenance. Choose a faucet with high-quality fittings that prevent dirt from settling into hard-to-reach spaces. Hoses encased with easy-to-clean stainless steel offer maximum flexibility, durability, and simple maintenance. Magnetic holders simplify the removal and replacement of the spray head. Multiple sprayer settings create better control over water flow and help prevent waste.
As smart technology continues its ascension in the home, it is also changing the way home kitchens operate. While technology is not typically a term associated sinks and faucets, it highlights the groundbreaking ideas flourishing among manufacturers. Hands-free or lever-handled faucets with pullout sprayers are now available to promote ease of use. Ergonomic controls adjust and set water temperature and strength. Anti-scald devices may be added to prevent burns. Leading manufacturers also have introduced new sensor technology featuring a sophisticated start-stop interface, creating instant, effortless water control. Water can be turned on or off without touching the faucet. Innovative sensor technology is initiated with a simple wave of the hand, allowing users more freedom to operate in a high-use area, and preventing soiled hands from adding things such as meat juices to the surface of the faucet. Certain sensors also offer automatic stops, halting water flow after 90 seconds. This prevents overflowing and leaves the occupant free to concentrate on other tasks.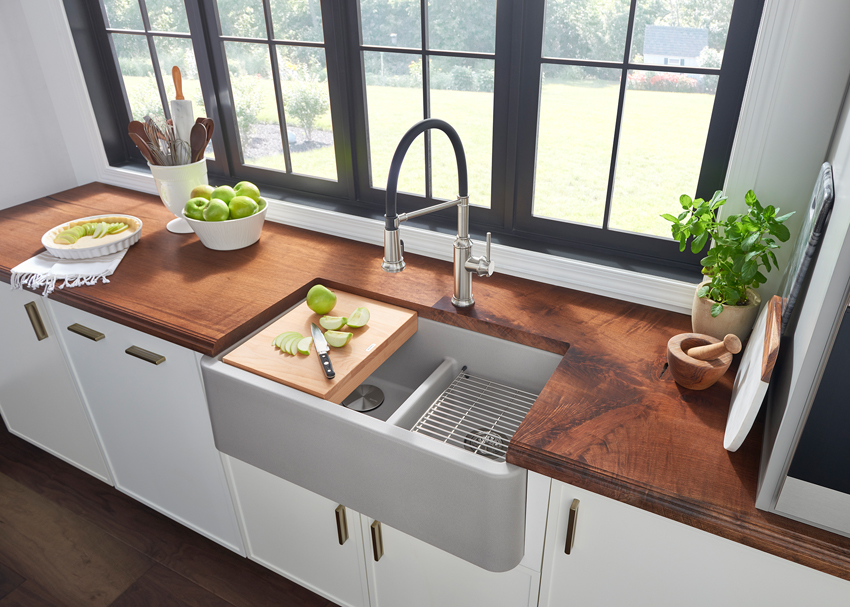 Custom sink accessories, designed by sink manufacturers, add functionality and maximize utility, while offering a precise way to personalize kitchens for user preference.
Originally published in May 2020
Notice