Designing sink stations that promote well-being for a wide range of ages and abilities
Sponsored by BLANCO
This test is no longer available for credit
Accessories
More accessories are finding their way into the sink marketplace, adding functionality and maximizing utility. Accessories offer a path to truly personalize sinks for individual use. Not only do they create convenience, but quality accessories also offer beauty, durability, and functionality. Custom accessories offered by leading sink manufacturers include colanders, grids, soap dispensers, strainers, drain covers, cutting boards, caddies, compost systems, and even customized workstations, which organize utensils and knives and offer an added sink level for resting pots or rinsing fruits and vegetables. Sink accessories enhance comfort, productivity, and efficiency with their ergonomic design features; they also should be extraordinarily durable and easy to clean.
Multifunctioning accessories such as built-in cutting boards and colanders can save space—a huge concern for homeowners. Today's sinks may come with built-in cutting boards, colanders, and magnetic caddies for cleaning tools. Accessories are available in compact sizes and are custom fit to increase sink use. Basin grids supplied by sink manufacturers help to maintain the bottom of the sink and keep dishes and other items from damaging the surface.
"When you break it down, the sink is the most-used area in the kitchen by everyone in the household," says Tim Maicher, director/head of product management for BLANCO. "By offering optional accessories with design details that include the low divide and apron front, we created a system that not only accommodates all users but also enhances the workflow."
Using Industry Standards to Verify Wellness and Performance
Industry codes and standards offer an independent, third-party analysis of both sink and faucet performance. These bolster confidence in the long-term performance potential of a design professional's choice of material.
Standards for Sinks
There are several important standards for sinks. For composite sinks, IAPMO Z124-2017/CSA B45.5 covers physical requirements and test methods to assess the minimum performance requirements of materials, workmanship, and finish. Not only are composition, supporting structure, and dimensions and tolerances evaluated, but a sink under IAPMO Z124-2017/CSA B45.5 is also analyzed for its workmanship and finish, drain-fitting connection, colorfastness and aging, stain resistance, and wear and cleanability. Other tests under IAPMO Z124-2017/CSA B45.5 include a warpage tolerance test, surface examination test, subsurface examination test, water absorption, load test, defection test, impact test, knife drop, skillet drop, vibration test, ignitability, cigarette burn, chemical resistance, heated pan, hot wax, and thermal shock.
Beginning in 2018, the industry-leading composite sink became the only granite composite sink listed under standard CSA B45.8-18/IAPMO Z403-2018 Terrazzo, Concrete, Composite Stone, and Natural Stone plumbing fixtures. All other composite and quartz sinks are approved in the IAPMO Z124-2017/CSA B45.5: Plastic Plumbing Fixtures standard. Sinks that are certified under IAPMO Z403-2018/CSA B45.8-18 signify a major compositional difference between composite and true granite composite materials.
The International Association of Plumbing and Mechanical Officials (IAPMO) has been protecting the public's health and safety for 93 years by working in concert with government and industry to implement comprehensive plumbing and mechanical systems around the world. For sinks and faucets, manufacturers may apply for listing under the Uniform Plumbing Code (UPC). The main goals of the UPC are: to ensure that planners, administrators, and plumbers develop the required competency to ensure that the codes are applied and upheld; that standards are set to ensure that plumbing assemblies, materials, and technologies are safe and effective; to ensure that plumbing installations meet these standards; and to ensure safety and effectiveness continuously through the proper maintenance of these installations.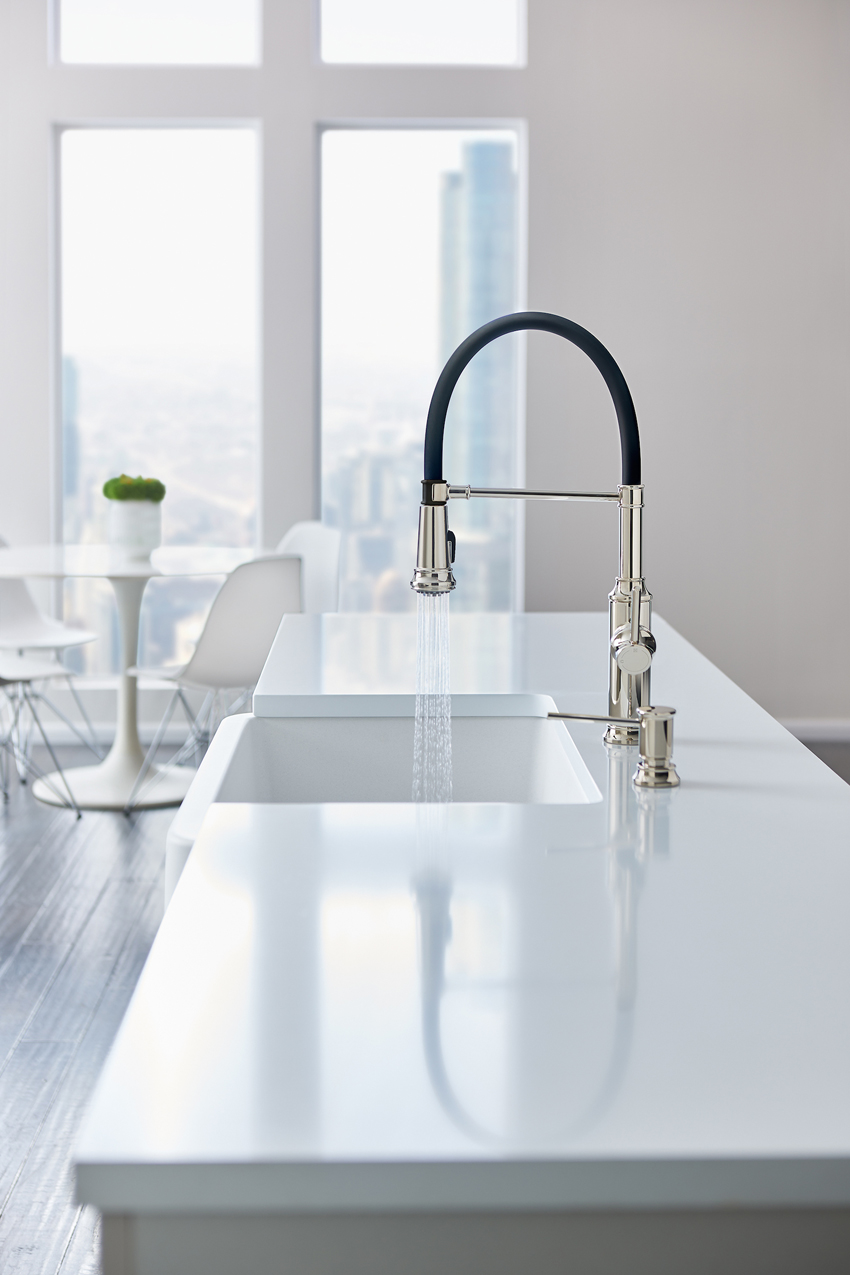 While ASME A112.18.1-2018/CSA B125.1-18 delineates kitchen faucet requirements, other standards, including AB1953 and CALGreen, offer valuable performance knowledge when comparing products.
Standards for Faucets
ASME A112.18.1-2018/CSA B125.1-18 covers plumbing supply fittings and accessories located between the supply stop and the terminal fitting, including kitchen, sink, and lavatory supply fittings. The standard includes coverage of low-pressure water dispensers, seal tests and flow rate tests for low-pressure water dispensers, a spray force test with minimum performance requirement, life-cycle testing, backflow prevention, and verification of high-efficiency flow ratings. (Note: These changes were in the last edition of the standard.)
Leading manufacturers will also demonstrate faucet compliance with the California Assembly Bill 1953 (AB1953), or Lead Reduction Law, which was signed into law in September 2006. This legislation requires lead reduction in products to a weighted average of no more than 0.25 percent in pipes, fixtures, and fittings.
Specifically, the Lead Reduction Law states, "No person shall introduce into commerce, for use in California, any pipe, pipe or plumbing fitting, or fixture intended to convey or dispense water for human consumption through drinking water or cooking that is not lead free. This includes kitchen faucets, bathroom faucets, and any other end-use devices intended to convey or dispense water for human consumption through drinking or cooking."
Only plumbing products and piping used to convey drinking water that meet this criteria can be sold in California after January 1, 2010. Currently, the AB1953 Lead Free Law is in effect for California (AB1953) and Vermont (S152).
Lead-free was added as a performance requirement in the ASME A112.18.1-2018/ASME A112.18.1-2011/CSA B125.1-11 standard. AB1953 does not replace NSF Standard 61. AB1953 specifically addresses the lead content used in the manufacturing of the products, while NSF Standard 61 is a standard that "establishes minimum health-effect requirements for the chemical contaminants and impurities that are indirectly imparted to drinking water products, components, and materials used in drinking water systems."
Additionally, faucets may also comply with the CALGreen Residential Faucet Efficiency flow rates. The 2019 CALGreen Residential Mandatory Measures for Lavatory faucets requires a "maximum flow rate of 1.2 gallons per minute (gpm) at 60 pounds per square inch (psi) and a minimum flow rate of 0.8 gpm at 20 psi." The CALGreen Residential Voluntary Measures for kitchen faucet water efficiency and conservation requires a "maximum flow rate of 1.5 gallons per minute (gpm) at 60 pounds per square inch (psi)."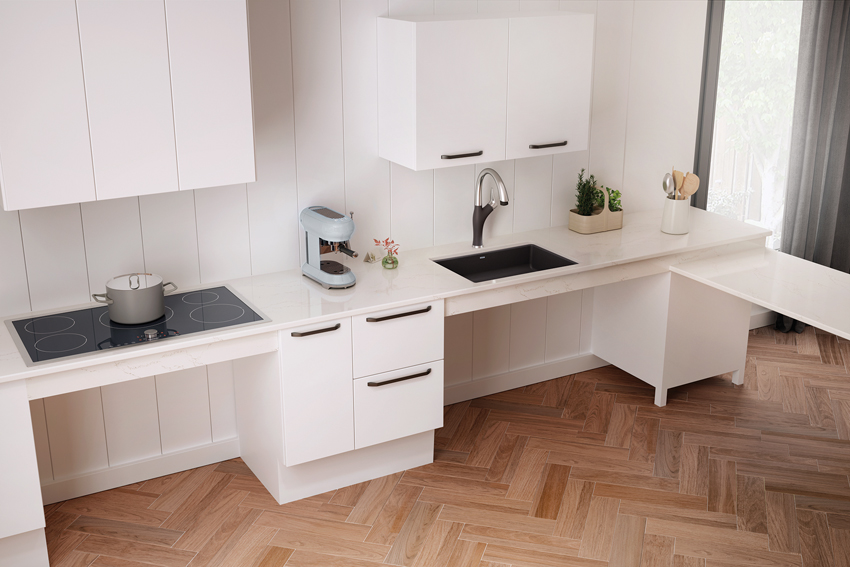 Under the ADA, there are five important requirements for accessible kitchen design, including accessibility requirements for the sink. An accessible sink is one located 28–34 inches above the finished floor, unobstructed for knee and toe clearance in a forward approach.
ADA and the Kitchen
The kitchen is a place for socializing with family and friends. Making changes in the kitchen space that accommodate both those with disabilities and the elderly can greatly increase usability and safety. There are specific code requirements for residences serving people with disabilities. These Americans with Disabilities (ADA) requirements are also gaining ground as benchmarks for aging in place and universal design.
Under ADA, there are five important requirements for accessible kitchen design as follows.
Clearance requirement: A 40-inch clear width is required in a pass-through kitchen, and a 60-inch clear width is required in a U-shaped kitchen, as measured from the furthest projection points.
Work space: While countertops may be positioned as high as 36 inches above the finished floor, to allow for knee and toe clearance, a 30-inch-wide section of counter space, 28–34 inches above the finished floor and unobstructed by base cabinets, must be provided
Sink: An accessible sink is one located 28–34 inches above the finished floor, unobstructed for knee and toe clearance in a forward approach.
Cabinets: Fifty percent of all shelf space within cabinets must be accessible, falling within one of the two reach ranges specified in ANSI Section 308.
Appliances: All appliances must have a clear floor space of 30 inches by 48 inches positioned for forward approach on the appliance.
For more information on requirements, visit www.accessibility-services.com/accessible-kitchen-design.
Originally published in May 2020
Notice