Sustainable Material Selection Delivers Better Spaces
Sustainable materials, ingredient transparency, and flexible sustainable designs improve interior spaces
Sponsored by Armstrong Ceiling and Wall Solutions

1 AIA LU/HSW; 1 IACET CEU*; 1 GBCI CE Hour; 1 AIBD P-CE; AAA 1 Structured Learning Hour; AANB 1 Hour of Core Learning; AAPEI 1 Structured Learning Hour; This course can be self-reported to the AIBC, as per their CE Guidelines.; MAA 1 Structured Learning Hour; NLAA 1 Hour of Core Learning; NSAA 1 Hour of Core Learning; NWTAA 1 Structured Learning Hour; OAA 1 Learning Hour; SAA 1 Hour of Core Learning
Learning Objectives:
Discuss how current design trends paired with sustainable material selection can help specifiers create healthier buildings.
Explain how specifying sustainable materials for interiors contributes to occupant well-being.
List the ways that sustainable ceiling and wall materials can contribute to healthier building interiors.
Describe how new industry standards and transparency are driving quieter, sustainable, and more comfortable interior spaces.
This course is part of the Sustainability Academy
Guidelines for Healthier Building Design
The benefits of healthier buildings can be directly connected to the potential return on investment (ROI) associated with a more deliberate design and material-specification process. This section will discuss various sustainability standards, including LEEDv4, Living Building Challenge, and WELL Building Standard. Specifiers can use these standards as guidelines when designing healthier, sustainable buildings.
Resources for Identifying and Specifying Sustainable Products
Several building industry resources help building professionals quickly and easily identify and specify healthy and sustainable products. HPDs, for example, allow manufacturers to provide product ingredients to specifiers in a consistent and transparent manner and compare product ingredients to government- and scientific authority-published "hazard" lists. Building professionals can use HPDs to help achieve LEED v4 Materials & Resources credit for Building Product Disclosure and Optimization for Material Ingredients and Google's Healthy Materials Program.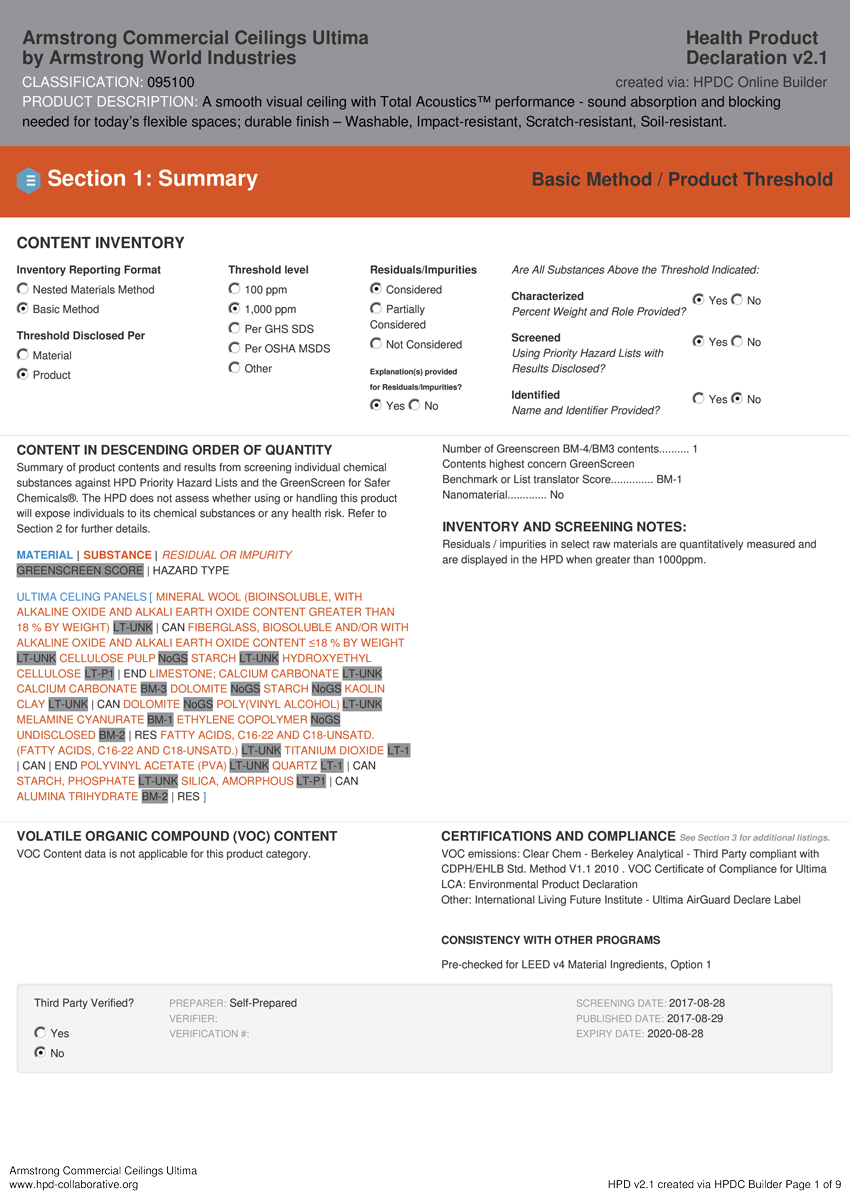 Image courtesy of Armstrong Ceiling and Wall Solutions
Shown is an example of an HPD.
The Declare Product Database is a transparency platform and product database that answers three questions:
Where does a product come from?
What is it made of?
Where does it go at the end of its life?
The label is an easy-to-read "nutrition label" for products that lists a product's ingredients, which are screened against the Living Building Challenge Red List and demonstrates the product's compliance in three levels: Declared, Compliant, or Red-List Free.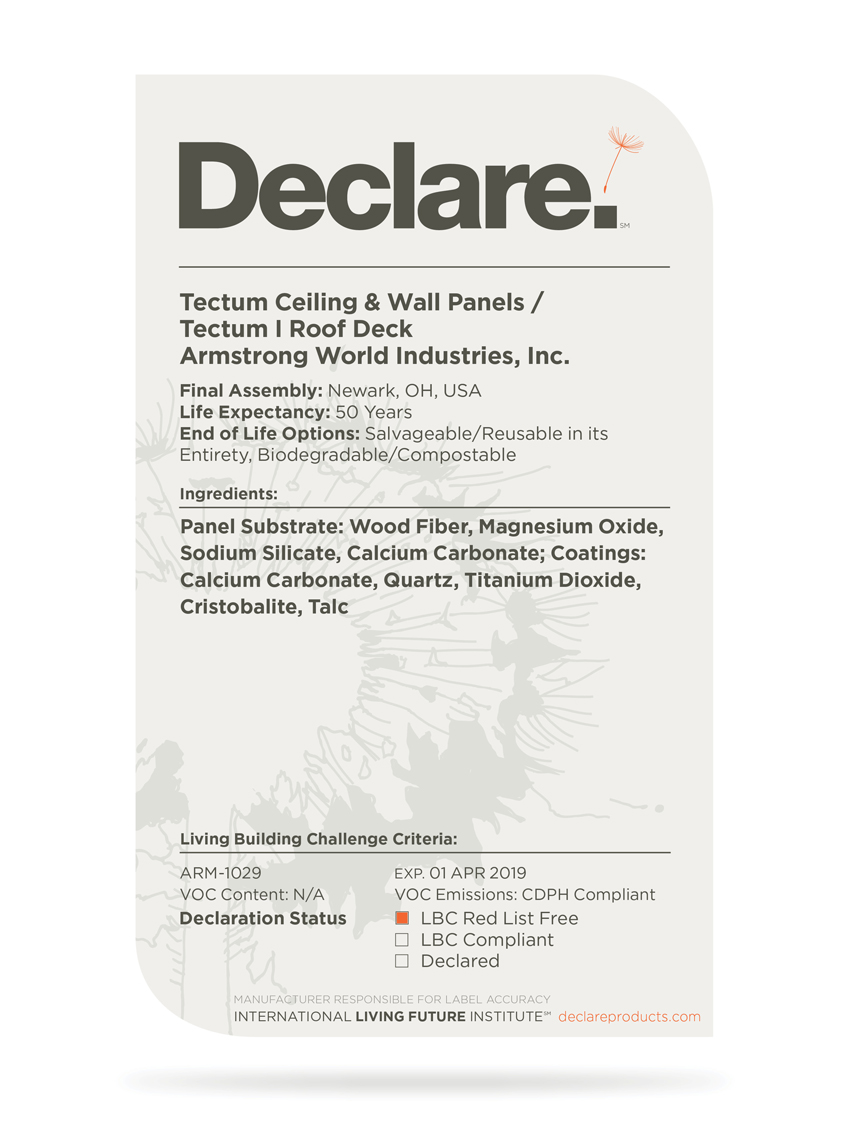 Image courtesy of Armstrong Ceiling and Wall Solutions
Shown is an example of a Declare label.
EPDs provide life-cycle-analysis-based information, detailing a product's complete life cycle from raw material extraction to disposal and its potential environmental impact. The EPD then details the impact a product has on the environment at each of the phases of its life cycle. EPDs are developed according to ISO 14025: Environmental Labels and Declarations – Type III Environmental Declarations: Principles and Procedures. EPDs do not rank products, and a product with an associated EPD is not necessarily superior to one without an EPD. Instead, EPDs enable specifiers to compare the impacts of different products.
An EPD provides information for various impact categories:
Global warming potential (a product's carbon footprint)
Smog potential (air pollution/ground level ozone)
Ozone depletion potential (damage to stratospheric ozone)
Acidification potential (release of gasses into atmosphere and water)
Eutrophication potential (impact on water pollution)
One of the most important categories is the embodied carbon of a product. Embodied carbon refers to carbon dioxide emitted during the extraction, manufacture, and transport of building materials.
By referencing information provided in EPDs, we can learn about the carbon footprint of a product. These documents can help building professionals use environmentally responsible materials to design and construct energy-efficient, sustainable, healthier buildings.
It's important that building professionals know where to go to find resources such as HPDs, EPDs, and other transparency documents. Usually manufacturers will have this information available on their websites, but there are also searchable databases where users can view documents by product category. These databases include Mindful Materials Database, Sustainable Minds, the HPD Public Repository, and the International Living Future Declare Database.
Building Products and Carbon Emissions
The building sector is the world's single largest emitter of Greenhouse Gases (GHGs), accounting for 30–40 percent of total global GHG emissions. Emissions can be separated into two categories: operational emissions and embodied emissions. Operational emissions include the energy required to operate the building over its life cycle; embodied emissions are the carbon emissions associated with building materials, transportation, and construction. Although operational emissions account for more of a building's total lifetime carbon footprint, embodied emissions account for a larger percentage of emissions in the near term.
Architecture 2030 estimates that the emissions arising from building materials and construction represent 11 percent of annual global GHG emissions. In addition, the world is on course to add approximately 900 billion square feet of floor space to the built environment between now and 2030. Nearly 75 percent of the carbon footprint of this new square footage will come from embodied carbon, not operational emissions.
Building products and materials can reduce a building's carbon footprint and even enable buildings to become carbon sinks that help remove excess greenhouse gases from the atmosphere. Traditionally, organizations such as Architecture 2030, AIA, and USGBC have focused on reducing operational carbon emissions; however, in recent years, these organizations have been expanding their focus to address the more immediate challenge of embodied carbon in building products.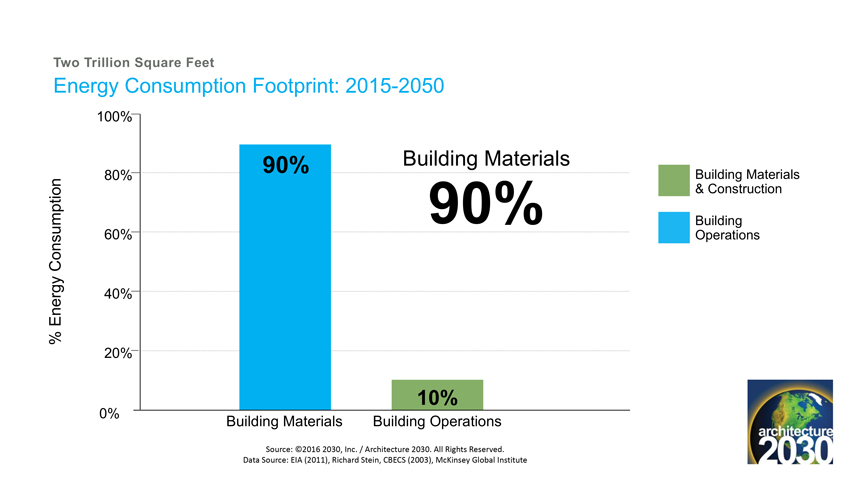 Sustainable Building Standards and Certifications
Standards such as LEED v4, Living Building Challenge, and the WELL Building Standard all provide building professionals with guidance and support on ways to design and construct healthy, sustainable buildings. Whether used independently or in conjunction with one another, these standards provide owners and architects guidelines and metrics to measure success for their healthy, sustainable building projects.
Originally published in Architectural Record
Originally published in November 2018
Notice