Sustainable Material Selection Delivers Better Spaces
Sustainable materials, ingredient transparency, and flexible sustainable designs improve interior spaces
Sponsored by Armstrong Ceiling and Wall Solutions

1 AIA LU/HSW; 1 IACET CEU*; 1 GBCI CE Hour; 1 AIBD P-CE; AAA 1 Structured Learning Hour; AANB 1 Hour of Core Learning; AAPEI 1 Structured Learning Hour; This course can be self-reported to the AIBC, as per their CE Guidelines.; MAA 1 Structured Learning Hour; NLAA 1 Hour of Core Learning; NSAA 1 Hour of Core Learning; NWTAA 1 Structured Learning Hour; OAA 1 Learning Hour; SAA 1 Hour of Core Learning
Learning Objectives:
Discuss how current design trends paired with sustainable material selection can help specifiers create healthier buildings.
Explain how specifying sustainable materials for interiors contributes to occupant well-being.
List the ways that sustainable ceiling and wall materials can contribute to healthier building interiors.
Describe how new industry standards and transparency are driving quieter, sustainable, and more comfortable interior spaces.
This course is part of the Sustainability Academy
The Role of Ventilation in Healthy Buildings
Good ventilation and low CO2 are known to positively impact the effectiveness and overall well-being of building occupants. Both new buildings and retrofit projects can attain LEED credits from incorporating ENERGY STAR products or natural ventilation designs. Quality interior air and good ventilation are positive features not only for both building occupants and owners but also for commercial owners seeking tenants.
There are many ways to enhance a building's indoor air quality, namely through mechanical ventilation strategies or specific products, or a combination of the two.
Ventilation of fresh air through a building via HVAC systems also contributes to a space's thermal comfort. A well-designed building will be airtight but also receive continuous fresh air for occupants. Done properly, this strategy can maintain consistent indoor temperatures and keep humidity levels comfortable, all while reducing the overall energy costs of the building. Different sectors tend to favor distinct air-quality strategies, though the trends appear to be similar in terms of prioritized use. Low-emitting products that have low or no VOCs are the most commonly used, followed by mechanical ventilation strategies to improve air quality. CO2 sensors, MERV 8+ filters, and natural ventilation.
Indoor thermal comfort is another important factor when designing healthier, sustainable buildings. Thermal comfort in a building refers to the occupants' sense of satisfaction and contentment with the thermal environment. A building's thermal comfort is achieved primarily through a properly insulated building envelope, which controls heat transfer, and through a well-designed and efficiently operated HVAC system. Natural light through windows and skylights can provide additional heat when oriented strategically toward the sun. However, because the sun changes positions over the course of a year, buildings can get either too hot or too cold, so designers need to consider window orientation and shading strategies. Moreover, large windows can compromise the building's thermal envelope.
Improved Indoor Environmental Quality
New lighting technology can make an interior space feel more like the outdoors while reducing a building's energy consumption. LED lighting, for example, can mimic daylight to change colors from cooler to warmer tones, reduce glare, and improve light distribution in a space.
Interior monitoring devices are another way to improve indoor environmental quality. These devices continuously monitor and assess indoor air quality and adjust as needed. These new systems help building owners provide occupants with air that is fine-tuned not just for temperature but also for humidity, CO2 levels, particulate matter, and VOC exposure, resulting in a space with reduced energy consumption and improved occupant experience, effectiveness, and well-being.
Sustainable, certified-healthy ceiling and wall materials can improve occupant well-being by enhancing indoor air quality. Designers have a wide range of ceiling styles and features to choose from to help them best provide a positive indoor experience for building occupants. From a practical standpoint, designers can start by choosing materials with clearly identified ingredients and being aware of the potential exposure occupants will have with the products.
Access to Daylight in Healthy Buildings
According to the Dodge Report, "The Drive Toward Healthier Buildings," owners, architects, and interior designers all rate daylighting as one of the highest-ranking areas of interest (above 75 percent) for improving occupant well-being.4 Common design practices to increase daylight in interior spaces include strategically placed windows, building atriums with skylights, wide accessibility to outside views, and specifying high light-reflectant (LR) ceiling and wall panels.
High-LR ceiling panels enhance the benefits of natural light and indirect lighting by improving overall lighting uniformity and returning up to 90 percent of light back into the space, compared to 80 percent with standard ceilings. A high-LR ceiling can increase brightness up to 25 percent, resulting in improved energy efficiency and reducing energy costs by up to 18 percent.
Increased daylight is critical for large open-plan spaces. High-LR ceilings can increase the amount of light uniformity that's reflected deeper into the space, giving occupants a brighter, more uniform light. In one of their studies, the Weidt Group measured the impact of daylighting by measuring daylight levels 12 to 22 feet away from the window. When a high-LR ceiling was used, daylight levels increased by 15 to 20 percent.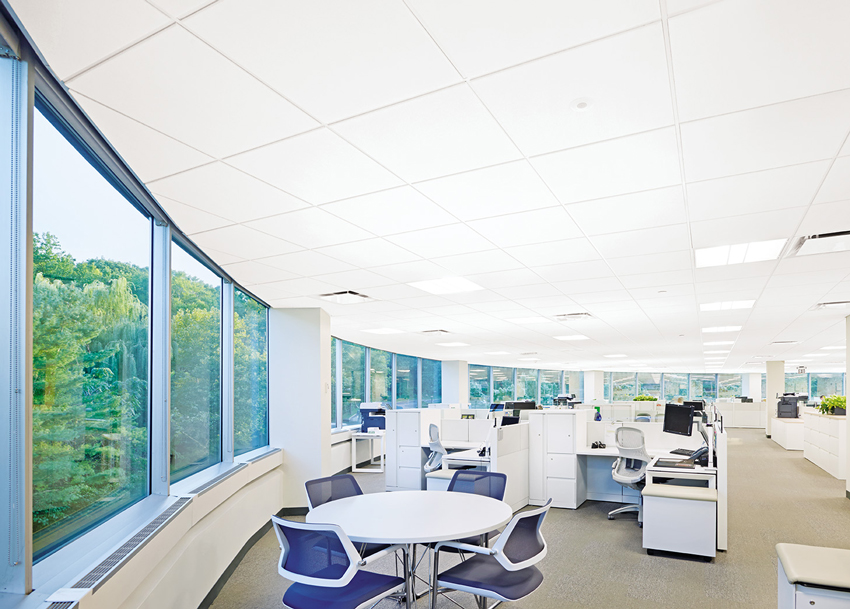 Photo courtesy of Armstrong Ceiling and Wall Solutions
The combination of daylighting and ceiling panels made of sustainable, healthy materials reflects lighting further into a space and adds to a positive occupant experience, as shown here at a beverage company in Purchase, New York.
Acoustics Bring Noise Control to Healthy Buildings
Noise is another major factor impacting occupant well-being and effectiveness in interior spaces. When sound bounces off hard surfaces such as walls, floors, and ceilings, it can turn into harsh and disruptive noise. In some situations, noise can travel through the walls, thus disrupting the occupants in adjacent rooms. This unwanted noise effects occupants in all types of space, including offices, health-care facilities, and educational environments.
Using acoustical ceiling panels can help reduce unwanted noise in concentration or focus spaces, create collaborative environments, or work to ensure confidentiality in closed spaces for total noise control, design flexibility, and occupant satisfaction. From signature spaces to special application areas, acoustical ceiling and wall panels can address both performance and aesthetic needs throughout a building design.
Ceilings and wall panels can help control sound and impact the social interactions of the occupants in that space. Rooms where sound bounces off hard surfaces may discourage social interaction because people can't hear each other easily. However, the sound that hits an acoustic ceiling panel surface can be reduced by up to 70 percent in certain situations. Acoustic ceiling panels and and other acoustical treatments that absorb sound, such as blades, baffles, canopies, clouds, or direct-attach acoustical panels, may render a space more inviting and encourage occupants to engage with one another.
Social interactions will differ between building types, and using the right ceiling products can make a big difference. Workers in office spaces, for example, benefit from ceiling panels that address both quiet concentration and energetic collaboration—and everything in between. Likewise, students benefit from ceiling panels that provide good acoustics that enable them to clearly hear the teacher and each other throughout the classroom. In addition, ceiling panels in health-care facilities can help reduce noise from corridors and treatment rooms, which can improve the patient experience and recovery. Finally, ceiling panels can ensure that health-care facilities meet speech privacy requirements of the Health Insurance Portability and Accountability Act (HIPAA) and can positively influence patient perception of their hospital experience, as reported through the Hospital Consumer Assessment of Healthcare Providers and Systems (HCAHPS).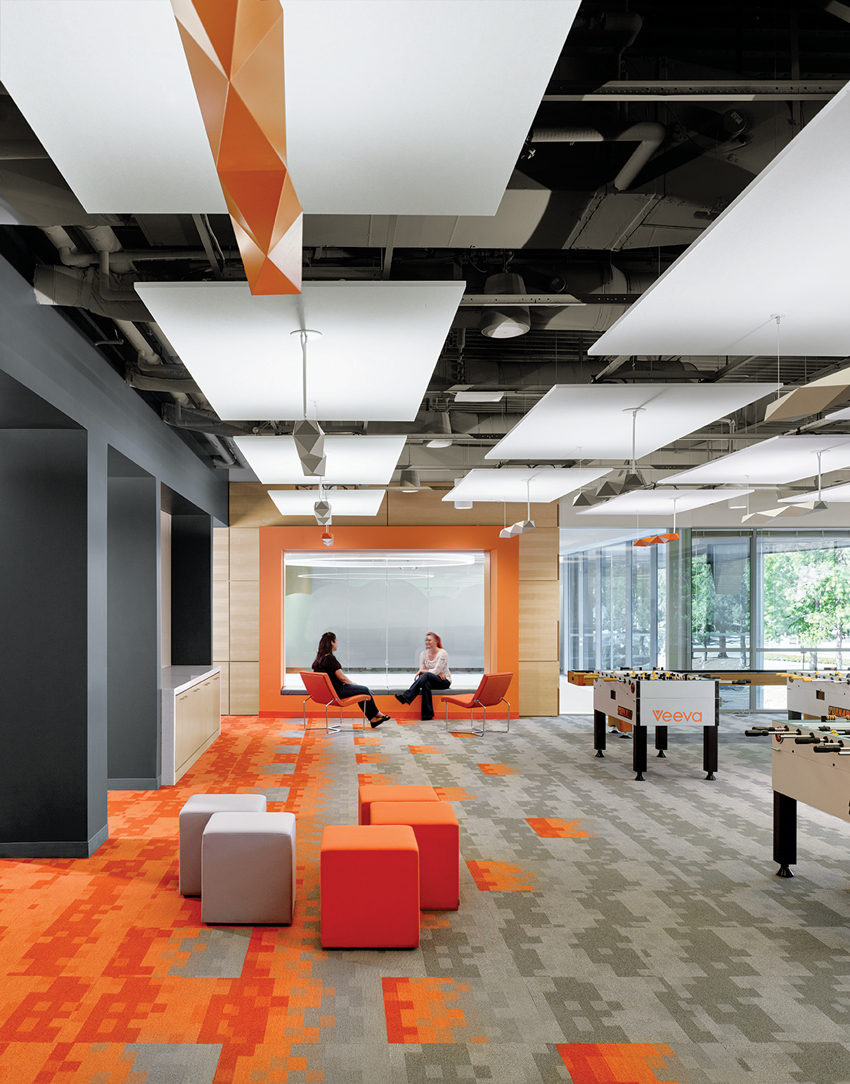 Photo courtesy of Armstrong Ceiling and Wall Solutions
Ceiling panels made from sustainable materials can reduce noise in a large, open-plan spaces, as shown here at VEEVA in Pleasanton, California.
Replicating Nature
Natural spaces enhance interiors as well, whether they are physically located outside such as a garden or inside with a green wall or the sound of water. Research shows that biophilic design can reduce stress, help people recover more quickly from illness or surgery, increase worker effectiveness, and improve student test scores in schools. It can be something as simple as providing large, sustainably quarried stones as benches either inside or outside the building. Even sculptures and art that simply look natural—such as a metal tree—can make a difference in the occupant experience. This design strategy is particularly important in dense urban environments where occupants may not have access to nature in their daily lives.5
Other strategies may include providing access to green roofs or outdoor garden spaces that encourage occupants to get outdoors during lunch hours or breaks. Not surprisingly, gardens and green roofs are becoming more popular in hospitals and health-care facilities in an effort to incorporate nature into rehabilitation and care.
New technology takes biophilic design one step further to provide mechanically initiated breezes that feel like they came from an open window or incorporating psychoacoustics (the branch of psychology concerned with the perception of sound and its physiological effects) into an interior space. Researchers in Japan, for example, have found that the sound of water works well as a noise-cancelling technique while improving occupant mood in the office.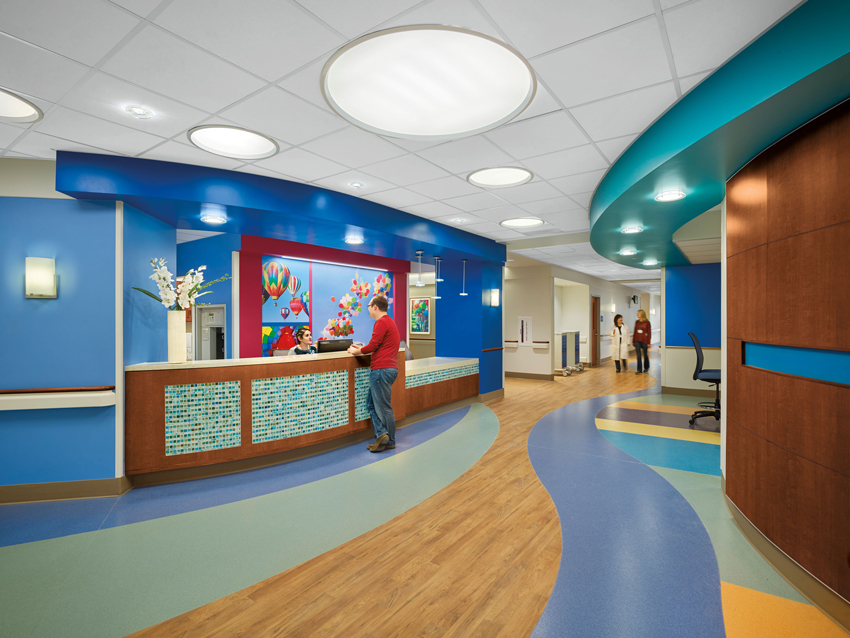 Photo courtesy of Armstrong Ceiling and Wall Solutions
Indirect lighting and high-LR ceiling panels can improve the quality of a space with no natural light, as shown here at Inova Women's and Children's Hospital in Falls Church, Virginia.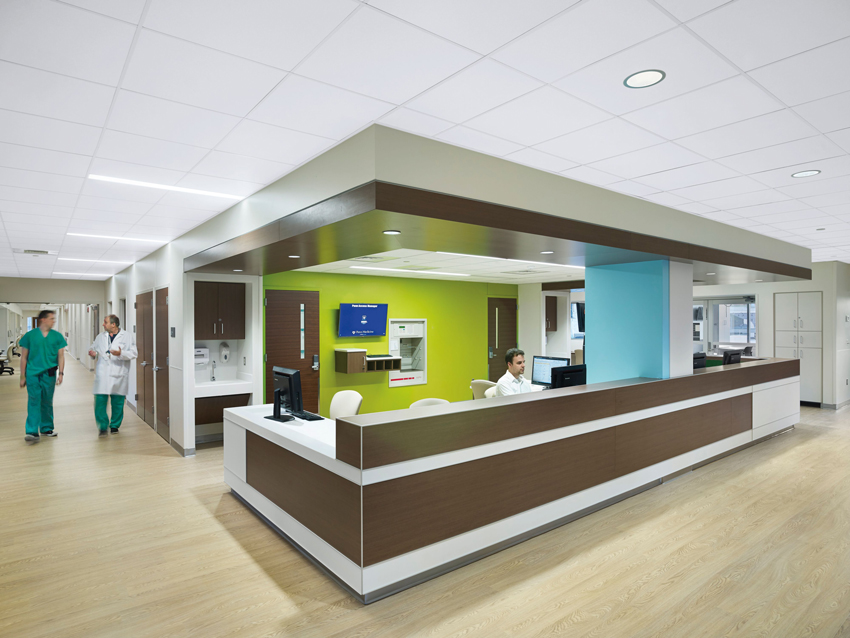 Photo courtesy of Armstrong Ceiling and Wall Solutions
Ceiling and wall panels can add to privacy in health-care facilities all while improving indoor air quality, as shown here at Penn Presbyterian Hospital in Philadelphia.
Originally published in Architectural Record
Originally published in November 2018
Notice