Sustainable Material Selection Delivers Better Spaces
Sustainable materials, ingredient transparency, and flexible sustainable designs improve interior spaces
Sponsored by Armstrong Ceiling and Wall Solutions

1 AIA LU/HSW; 1 IACET CEU*; 1 GBCI CE Hour; 1 AIBD P-CE; AAA 1 Structured Learning Hour; AANB 1 Hour of Core Learning; AAPEI 1 Structured Learning Hour; This course can be self-reported to the AIBC, as per their CE Guidelines.; MAA 1 Structured Learning Hour; NLAA 1 Hour of Core Learning; NSAA 1 Hour of Core Learning; NWTAA 1 Structured Learning Hour; OAA 1 Learning Hour; SAA 1 Hour of Core Learning
Learning Objectives:
Discuss how current design trends paired with sustainable material selection can help specifiers create healthier buildings.
Explain how specifying sustainable materials for interiors contributes to occupant well-being.
List the ways that sustainable ceiling and wall materials can contribute to healthier building interiors.
Describe how new industry standards and transparency are driving quieter, sustainable, and more comfortable interior spaces.
This course is part of the Sustainability Academy
Healthy Buildings are a Healthy Investment
The idea that a healthy indoor environment is critical for occupant well-being is not new. However, specifiers and developers are now prioritizing occupant well-being and experience in their project designs. Factors such as enhanced air quality, better lighting, and noise control all contribute to creating more effective, flexible, and sustainable spaces. Owners are investing in sustainable building materials and design because they can improve building occupant satisfaction and overall performance, increasing the building value.
A recent survey of 200 Canadian building owners shows that 38 percent of those who reported identified that healthy buildings were worth at least 7 percent more than buildings without deliberate healthy design features. In terms of leasing, 46 percent of the owners noted that healthier buildings were easy to lease, and 28 percent of the owners claimed that these buildings commanded premium rents.6
According to an EPA-funded survey, the National Human Activity Pattern Survey (NHAPS): A Resource for Assessing Exposure to Environmental Pollutants, the average American spends 87 percent of his or her time indoors. Research on indoor exposure time helps scientists understand how people may be impacted by pollutants in common indoor environments, such as schools, offices, and health-care facilities.
Moreover, according to "Drive Toward Healthier Buildings 2016: Tactical Intelligence to Transform Building Design and Construction," published by Dodge Data & Analytics, architects, interior designers, and contractors often underestimate how their clients value healthier buildings. For example, the report notes that 75 percent of the owners who responded said they want to improve employee and tenant satisfaction with healthier buildings, but only 68 percent of architects, 51 percent of contractors, and 41 percent of interior designers see this as a priority for their clients. In addition, 78 percent of the owners have identified the impact of their investments.3 Even just these few initial statistics show that there is an excellent opportunity for building professionals to begin modifying their practices and building partnerships with public health professionals who can help increase awareness about the benefits of green building design and continue to provide research in the area.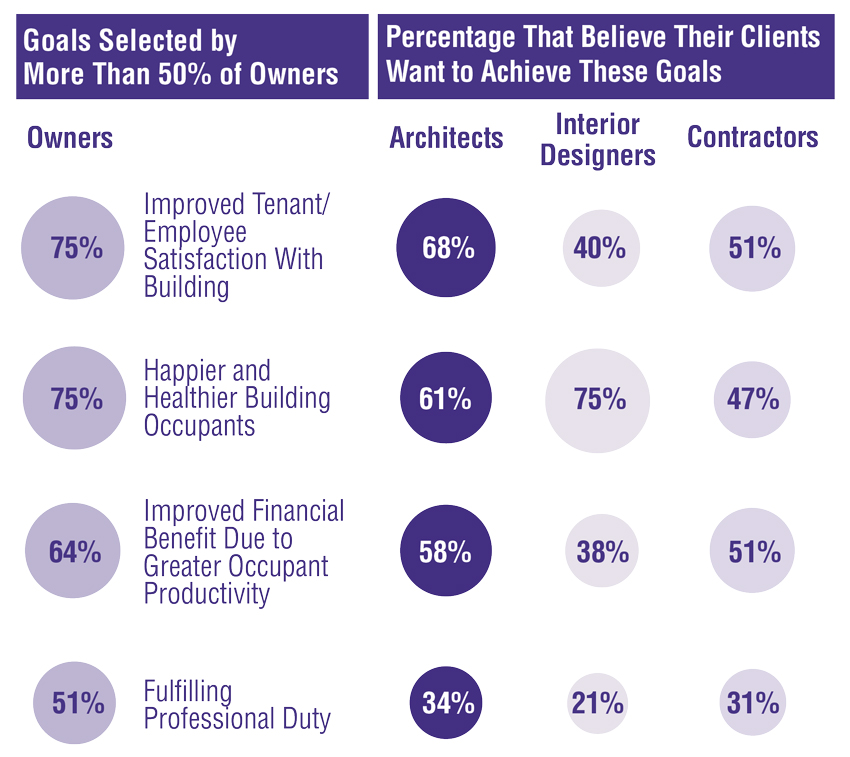 Source: Armstrong Ceiling and Wall Solutions
For years, research has shown that providing improved air quality, strategic use of daylighting, and designing allows building professionals to improve occupant well-being. These design strategies have been used widely to improve the building occupant experience, whether to enhance learning and attentiveness in schools, increase effectiveness in office spaces, or improve the recovery rates in hospitals and health-care buildings.
Design and Construction Decisions for Occupant Well-Being
Building owners and professionals have the challenge of balancing numerous priorities when it comes to design and construction decisions. Owners, for example, need to articulate their values for the future occupant experience and understand how those values translate into upfront costs. On the other hand, architects and designers need to balance aesthetics, performance, and code compliance in their designs. Considerations need to be made in choosing materials and creating product specifications that consider all priorities, as well as project timeline and budget.
The major factors that influence design and construction decisions include cost, building aesthetics, energy performance, and occupant well-being. In the recent Dodge Report, owners, architects, and contractors ranked design and construction cost savings as the most important factors influencing design and construction decisions. Owners also highly valued operating costs as a close second, and aesthetics followed as a close second for architects. Interior designers, on the other hand, leaned more toward aesthetics and occupant health and well-being, and thus for healthier building features.
Ultimately, while owners and building professionals may value occupant health and well-being, other competing priorities such as construction budget and schedules may win out. That said, when we consider some of the factors influencing design and construction decisions, it's also useful to look at eventual business costs, which, over the long term, can offset capital costs. Staff costs in particular, including salaries and benefits, typically account for about 90 percent of the business operating costs. With that in mind, focusing on improving occupant health and effectiveness can have a major financial implication for employers.
To improve overall wellness and occupant comfort, there are several factors that building owners and developers can directly control without needing to engage tenants or occupants, which include daylighting, thermal comfort, and ventilation.
Sustainable Interior Specifications and Occupant Health and Well-Being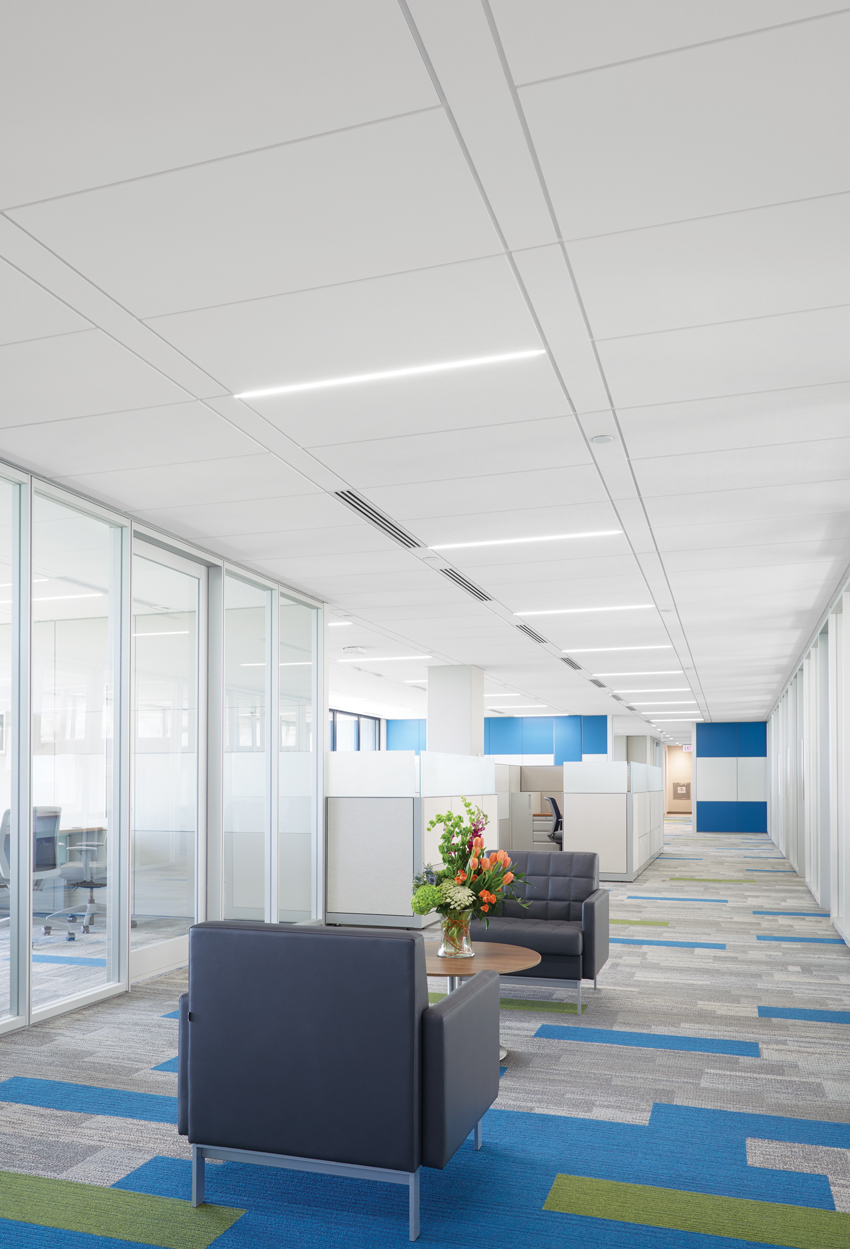 Photo courtesy of Armstrong Ceiling and Wall Solutions
Fermilab Office Batlava, IL
Originally published in Architectural Record
Originally published in November 2018
Notice