Sustainable Material Selection Delivers Better Spaces
Sustainable materials, ingredient transparency, and flexible sustainable designs improve interior spaces
Sponsored by Armstrong Ceiling and Wall Solutions

1 AIA LU/HSW; 1 IACET CEU*; 1 GBCI CE Hour; 1 AIBD P-CE; AAA 1 Structured Learning Hour; AANB 1 Hour of Core Learning; AAPEI 1 Structured Learning Hour; This course can be self-reported to the AIBC, as per their CE Guidelines.; MAA 1 Structured Learning Hour; NLAA 1 Hour of Core Learning; NSAA 1 Hour of Core Learning; NWTAA 1 Structured Learning Hour; OAA 1 Learning Hour; SAA 1 Hour of Core Learning
Learning Objectives:
Discuss how current design trends paired with sustainable material selection can help specifiers create healthier buildings.
Explain how specifying sustainable materials for interiors contributes to occupant well-being.
List the ways that sustainable ceiling and wall materials can contribute to healthier building interiors.
Describe how new industry standards and transparency are driving quieter, sustainable, and more comfortable interior spaces.
This course is part of the Sustainability Academy
Recent trends in green building design and product selection focus on sustainable and energy-efficient materials and how they can impact and improve architectural performance and occupant experience. Both performance and occupant experience are extremely important when designing for interior spaces, where most people spend an estimated 90 percent of their time. Architects, designers, and builders as well as green building programs understand the importance of choosing the right products for the space. But there's more to it than that.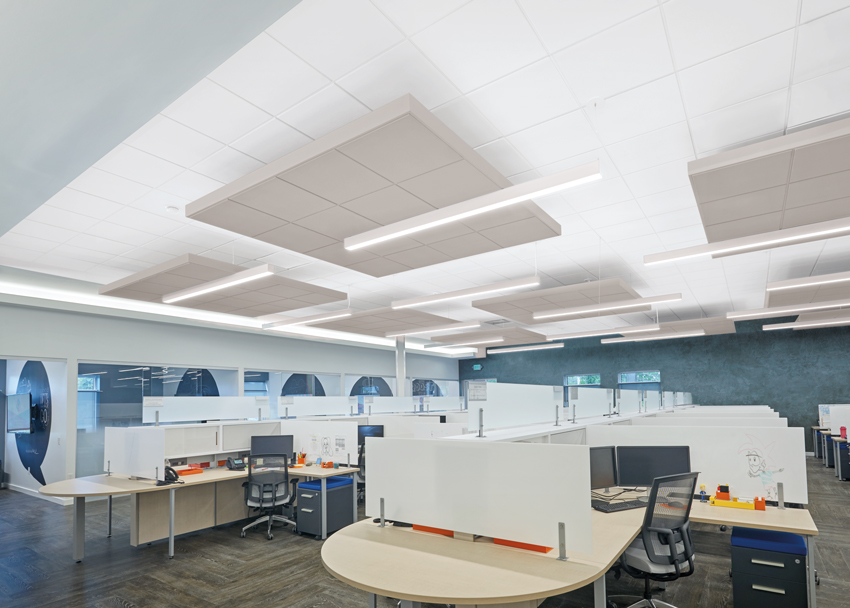 Photo courtesy of Armstrong Ceiling and Wall Solutions
Healthy interiors start with healthy products, such as certified sustainable ceiling and wall panels, as shown here at Brandstar corporate headquarters in Deerfield Beach, Florida.
This growing shift toward an emphasis on the health and well-being of occupants is now closely tied to sustainable building practices that use environmentally friendly materials and products, and in particular increased product ingredient transparency. Architects and designers have many options when it comes to specifying materials, and product transparency can help them make choices best suited to their project requirements.
The driving forces behind the trend include new ideas about how spaces are used, deliberate attention to how spaces impact the productivity and health of occupants, and increased transparency about product ingredients and related certifications. Together, these trends provide that architects, designers, specifiers, and building developers all have opportunities to rethink not only the products they use but also how to use them.
A Changing Workforce: The Role of The Millennial Generation
The millennial generation has had a huge impact on reshaping interior spaces in the workplace. Where previous generations relied on closed office spaces and cubicles, new workers emphasize the benefits of nontraditional, flexible workspaces that include anything from open-plan areas for collaboration to kitchens, lounges, and recreation areas. Workplaces specifically designed for open-plan, focus, or collaborative spaces can lead to unwanted noise, which is a leading factor in workplace dissatisfaction, and can reduce effectiveness and increase stress of building occupants.
Sustainable, Healthy Materials for Better Interior Spaces
In addition to a shift to more open interior design options, sustainability has become a true driving force with building design. Manufacturers, developers, architects, designers, and building owners all have a goal to create buildings that are energy efficient and sustainable, and that do more to improve the occupant health and well-being compared to more traditional designs. Balancing these sometimes competing priorities can be challenging at times with so much information available. Product transparency and third-party certifications help streamline relevant information in a way that makes the design process more manageable and helps architects be confident they're choosing sustainable materials for their projects.
New Research on The Impact of The Indoor Environment
Where we previously relied on anecdotal evidence about the impact of interior lighting, air quality, and noise on occupant experience, we now have a growing body of scientific evidence that supports what people have known for a long time: indoor environments affect human health. From a designer's perspective, this means that healthy interiors can positively impact occupant experience.
While the metrics and outcomes that show the level of impact that a well-designed space can have are still fairly new, researchers are beginning to quantify some of the things people often complain about in spaces, such as low light, poor air quality, and noise. For example, researchers at the Healthy Buildings program at Harvard's Center for Climate, Health and Global Environment (C-CHANGE) focus on the concept of "building for health." They have found that employees working in spaces with enhanced air quality and better ventilation can raise their cognitive function scores. Changes in lighting can help too; a blue-enriched light that mimics sunlight in an office space can improve an employee's sleep quality overnight. The result is that employees can perform better at work and are better rested than those who work in poor indoor conditions. Both of these factors lead to increasing employee satisfaction and employee retention, which can translate into financial benefits for employers, and thus property owners.2
The challenge is that the upfront investments can be costly, and the return on investment (ROI) isn't immediately apparent to potential building owners and property managers. But that view is starting to change. Many businesses and organizations are becoming increasingly aware that it takes more than just a "good job" and a positive work culture to hire and retain good employees. One of the most common shifts is a general understanding that well-designed workplaces and healthy environments have a tremendous impact on employee satisfaction, productivity, and ultimately retention. Evidence shows that employees who work in spaces that are light, bright, quiet, and thermally comfortable are more likely to perform better than those in spaces that are lacking those positive qualities. And performance is a metric that organizations can use as evidence of their investment. Businesses that recognize how important healthy workspaces are will be more likely to invest in new building designs and certified healthy and sustainable products to create better work environments. Buildings designed with the occupant experience and well-being in mind can make a huge difference in improving tenant and occupant satisfaction.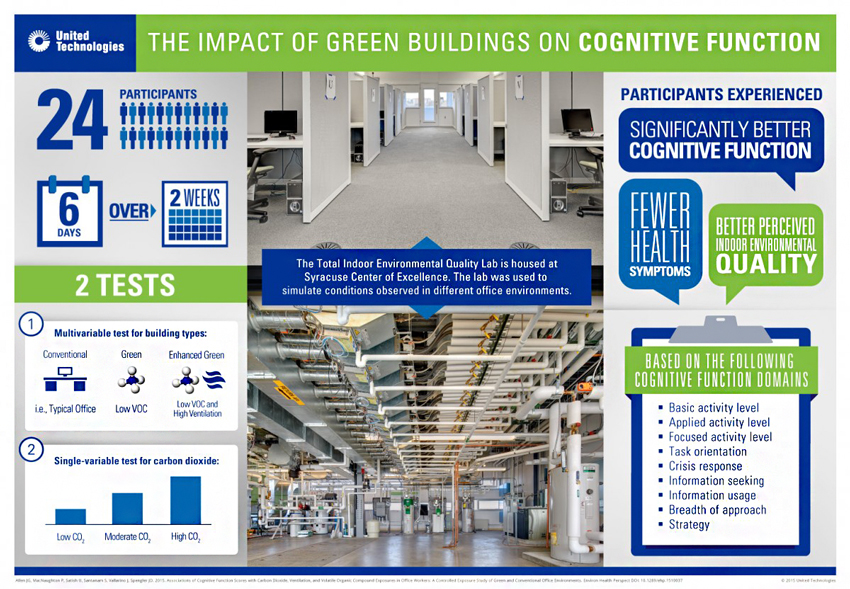 Source: Harvard University/United Technologies
Product Transparency and Certification
Product transparency and certifications help specifiers choose sustainable products that can improve occupant well-being and create better spaces.
Tools such as environmental product declarations (EPDs), health product declarations (HPDs), Declare, Cradle-to-Cradle (C2C), material safety and data sheets (MSDS), and life-cycle assessments (LCAs), for example, all can provide valuable information about the materials. EPDs, for example, quantify the environmental impact of a product, or even in a system, as seen in an LCA. The LCA may look at the product from cradle to grave or, increasingly, from cradle to cradle for materials that can be recycled or repurposed.1
The new AIA Healthier Materials Protocol was created to provide clear, practical methods and tools to navigate this maze and effectively translate awareness to practice. The document provides a stepwise method for setting healthier materials goal and criteria definitions, product selection, tracking, and specification, no matter the size and scope of the project. It also suggests tools and provides examples from case studies to assist with each step.
The user-friendly guide is written to meet you where you are as an architect or a firm and help you:
select safer materials for humans and the environment
design and build with healthier materials
understand the differences between material transparency and chemical avoidance
address barriers in obtaining buy-in from peers, clients, and the market
collectively strengthen the market signal for safer alternative products
Download Prescription for Healthier Building Materials: A Design and Implementation Protocol
Integrating sustainable materials into a building design starts with a shift in how specifiers think about and understand the space. This shift parallels an overall cultural shift toward wellness that is founded in evidence and relies heavily on having key stakeholders value wellness as a core element of the design. Healthier building design is an up-front investment that can reap significant rewards for building owners. Tenants, whether commercial or residential, are increasingly willing to pay a premium for buildings that are environmentally sustainable and that promote health and wellness.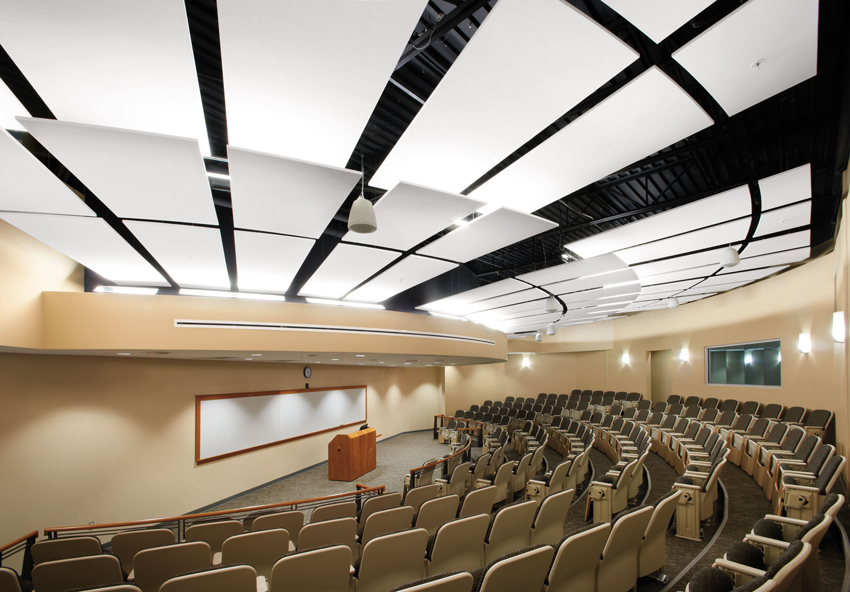 Photo courtesy of Armstrong Ceiling and Wall Solutions
Architects and designers can choose flexible design solutions that incorporate ceiling panels to enhance an interior space, as shown here at the University of New Hampshire School of Law in Concord, New Hampshire.
Originally published in Architectural Record
Originally published in November 2018
Notice