Western Red Cedar: Life-Cycle Sustainability, Indoors & Out
For holistic green building approaches, timber structures and finishes reveal natural benefits
Sponsored by Western Red Cedar Lumber Association
This test is no longer available for credit
Knotty Charisma, Indoors and Out
Still, aesthetic considerations are usually the primary driver for selection of wood materials and finishes. In recent years, the "soft modernism" of architects like recent AIA Gold Medal winner Peter Bohlin, FAIA, along with experiments with large-scale, all-timber structures— many with exposed timber elements—have influenced a new generation of modernist wood architecture. Contemporary architecture often juxtaposes wood against modernist materials such as zinc or concrete.
On its own, Western Red Cedar offers versatility and range of design options and unique looks. Varied patterns are possible using custom cuts and traditional profile types, including:
Bevel siding
Board-and-batten siding
Tongue-and-groove siding
Shiplap siding
Trim boards
Shingle panels
In addition, knotty grades expand the options for expression, adding a second level of patterning with its vivid expression. Add to that the charred look of shou sugi ban and the many natural finishes and stains available, and Western Red Cedar contributes exceptional design versatility.
Several recent projects have demonstrated the use of knotty grades and charred finishes of Western Red Cedar, some of them juxtaposed alongside clear grades and other materials. The Red Rock House designed by Anmahian Winton Architects, a one-bedroom dwelling with a guesthouse and garage in Red Rock, New York, is a valuable case study using the knotty grades. This Hudson Valley site, near Albany and the Massachusetts border, is set in a wooded and steep topography. Nick Winton, AIA, chose to soften the linear design of the main house with knotty siding.
Vertical framing for the mixed grade cladding breaks up the horizontal dynamics, says Winton. "The knotty Western Red Cedar provides a grain of rusticity in contrast to the other materials like aluminum and zinc," Winton says in the publication Cedar Book, Vol. 8. The architects selected three custom-profile, tongue-and-groove boards with stainless-steel fasteners. "The boards are custom milled from mixed grades and with several unique profiles to generate patterns and shadows that change with the sun's movement," Winton explains. The result dapples with the sun, and provides clients an environmentally sensitive and durable solution.
In a very different setting, the architects tasked with building a floating house over the fluctuating waters of Lake Huron required an innovative, weather-resistant solution. The result designed by MOS Architects and known as Floating House uses detailed Western Red Cedar cladding. To limit the carbon footprint associated with the building project, Floating House was built on Lake Huron while it was frozen, and then towed about 50 miles to its current location. Using Western Red Cedar also limited the environmental impact, and MOS Architects united indoor and outdoor using cedar for the exterior envelope screen, cladding, and entries as well as other woods for interior wall and ceiling paneling. The firm specified an unfinished knotty grade because the rough texture appealed to the designers and client, and the unfinished wood harmonized with the granite boulders anchored on the winding shores.
"The envelope of the house experiments with cedar siding, which not only encloses the interior living space, but playfully wraps around the exterior spaces as well," says architect Michael Meredith, AIA, who also teaches at Princeton.
As these projects demonstrate, buildings using Western Red Cedar as part of their designs not only allow for inventive combinations and unique design expression. The material also contributes to a vision for better life-cycle performance and a lighter impact on the environment.  For green building that appeals to the senses and psyche, Western Red Cedar reflects our reliance on the earth as well as the debt we owe to nature's wisdom.
Chris Sullivan is an author and principal of C.C. Sullivan (www.ccsullivan.com), a marketing agency focused on architecture, construction, and building products.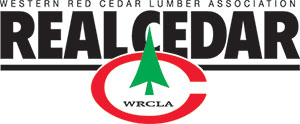 The Western Red Cedar Lumber Association represents quality "Real Cedar" producers, distributors and retailers throughout North America. Founded in 1954 and known as "the voice of the cedar industry," WRCLA offers extensive resources to assist with selection, specification, application and quality standards. www.RealCedar.com
Originally published in Architectural Record.
Notice