Western Red Cedar: Life-Cycle Sustainability, Indoors & Out
For holistic green building approaches, timber structures and finishes reveal natural benefits
Sponsored by Western Red Cedar Lumber Association
This test is no longer available for credit
Specifying Western Red Cedar
In this way, Western Red Cedar has entered into the architectural lexicon not only by offering durability and sustainability, but also by offering a varied palette of applications, looks, and finishes. Like many wood species, Western Red Cedar is available in multiple thicknesses, widths, and surface textures. Architects specify either clear or knotty grades, and both can be used indoors and outdoors; an ample range of quality is available in both grades, too. For this reason, either clear or knotty products can be specified for varying degrees of quality and also for a variety of indoor and outdoor applications—from cladding, posts, pergolas, and decks to beams, siding, trim work, decorative elements, and paneling.
The clear grades are considered to have high visual appeal, as the wood has fewer distinctive features or blemishes. The knotty grades display evidence of the branches that once sprouted from the tree. The clear grade choices can be utilized in either a vertical grain (VG) or flat grain (FG), both suitable for walls and cladding and horizontal surfaces such as flooring and decks. Flat grain displays an arching grain shape, which is very readable; vertical grain reads as more subtle parallel striations. Not all grades are available in vertical or flat grain; notably, the knotty grade is not available as vertical grain. 
In terms of finishing, Western Red Cedar can be left to age naturally or painted or stained or preserved with oils. A less common but often appealing option is the charred treatment; with this product type, the cedar is treated with fire on its exterior surfaces to enhance its aesthetics. The technique was invented in Japan—called shou sugi ban there—and is mainly an aesthetic effect with negligible effect on the material's characteristics and performance. Recent projects using the technique include the Prescott Passive House by the University of Kansas School of Architecture's Studio 804, as well as a modernist office structure designed by THOUGHTBARN, with its two-level "flying" roof, polycarbonate panels and carbonized Western Red Cedar.
Architects can specify fingerjoined (and edge-glued) material, which is available in clear grades. Fingerjoined wood comprises shorter pieces of cedar glued into durable long-length planks. The fingerjoined products can be manufactured with tongue-and-groove, shiplap, and bevel siding patterns, according to the Oregon lumber company Disdero, which specializes in the species. The fingerjoined Western Red Cedar can provide a relatively high value in certain applications, and it is often considered a sustainable method because it is among the most environmentally resourceful.
There are several categories of clear Western Red Cedar, according to the groups that publish grades for building uses: the National Lumber Grades Authority (NLGA), West Coast Lumber Inspection Bureau (WCLIB), the Pacific Lumber Inspection Bureau (PLIB) and Western Wood Products Association (WWPA), all of which are referenced in key industry materials, such as those produced by WRCLA members. Clear Heart is the highest grade, because it is cut with only pieces of the heartwood on the exposed face. Heartwoods of durable wood species— the inner part of the tree—are rot-, decay-, and insect-resistant, according to the Center for Northern Woodlands Education, an organization that advances forest conservation. The living parts of the tree include the sapwood, cambium layer, and inner living bark. In fact, the sapwood in Western Red Cedar is relatively very narrow, generally less than 3/4 inches, which is unusual among tree species; others species of common commercially used woods can contain up to 5 inches of sapwood.
Western Red Cedar contains a naturally occurring palette with a wide range of color, especially in the clear grades. The clear grade has four options other than clear heart, ranging from A Clear to D Clear, and with each successive grade lower, more blemishes are allowed and more cutouts are permitted. The clear grades display a relatively limited number of these natural characteristics, and are often specified or selected for sidings, trim boards, and the like.
Knotty cedar, also supplied kiln-dried, offers more variety in visual characteristics and appearance as it is more casual, rustic, textured, and biomorphic. Knotty cedar grades tend to be suitable for light structural applications such as decking or siding, timbers, panels, and the like. Their length assortments can be supplied with greater average lengths, so the architect and contractors can expect more long pieces in a given assortment. Architects can choose different levels of the knotty grade for decking, timber, trim, or siding. The knots—left by the base of a side branch or a dormant bud—yield areas of hardened, darkened wood in roughly circular patterns around which the grain direction flows. Knots should be sound and tight and, in most cases, round. They have been exploited by architects and crafts contractors for a number of visual effects.
In some recent building projects, architects have mixed the knotty and clear grades of Western Red Cedar to create visual interest or to uniquely distinguish different part of the buildings. Knotty grades are relatively more affordable than clear grades, an added benefit for using knotty grades.
In general, there are four WRCLA product standards to consider for decking applications:
Architect Clear: This fine-grained decking is manufactured for the demanding clients because it meets the highest manufacturing and quality control standards. It is available seasoned or unseasoned and is a special order product.
Custom Clear: Also a special-order product, this finely machined product shows more minor blemishes than Architect Clear. Just like Architect Clear, it is available seasoned or unseasoned and is perfect for fine woodworking needs.
Architect Knotty: Provides rustic charm and durability, with tight knotting and planed (or dressed) to a smooth surface free of skips (areas that are not dressed), all of which make it a more cost-effective and charming alternative. It is available seasoned or unseasoned.
Custom Knotty: A highly cost-effective option, Custom Knotty is available for knotty cedar decking, and is a fairly affordable option compared to clear and Architect Knotty grades. It is also available seasoned or unseasoned.
Another product standard, Select Knotty, should be specified for knotty trim, siding, and paneling applications.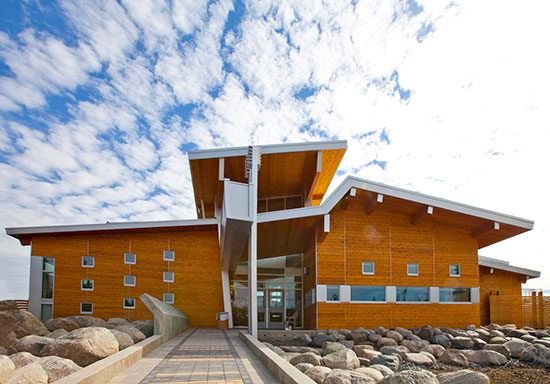 Photo courtesy of Gerry Kopelow Photographics Inc.
The knotty grades of Western Red Cedar are increasingly used on commercial and institutional buildings such as the Victoria Linklater Memorial School in Ontario designed by Victor Kolynchuk – Architecture49 Inc.
In all cases, Western Red Cedar is considered by some architects to be one of the world's most beautiful woods, especially when applied for both interior and exterior applications on the same building project. By using the same wood for rooms, exterior surfaces and decks or fencing, the architectural composition can blur the lines between indoors and outdoors. Examples include the award-winning Lobster Boat Residence on Seattle's Portage Bay by Chadbourne + Doss Architects, a modernist composition combining both exterior and interior applications of knotty grades of Western Red Cedar and other woods to achieve a memorable visual effect.
Extending an indoor use of Western Red Cedar to the outdoors—for example, from indoor wall paneling that merges to a matching deck—adds visual continuity and exploits the material's natural preservatives, which protect against decay and insects. Because the wood is free of pitch and resin, protective coatings such as stains and primers can penetrate deeply into the wood materials; for primer and paint, "There is excellent adhesion," says Mackie. In addition, architects specify Western Red Cedar for these indoor/outdoor compositions because it stays flat and straight, resists checking, and is firm but resilient. Moreover, because the wood is lightweight, it is easier for contractors to handle than some other species.
Not surprisingly, Western Red Cedar has been part of seaside boardwalk decking for almost a century, similar to other wood species that are not as plentiful. Historically, boardwalk construction often used to be white cedar, as chronicled in 1934 by American botanist Donald Culross Peattie. Later on, to continue building the famous Atlantic City boardwalk, Western Red Cedar was introduced for the famous boardwalk and remained a staple for the next 50 years. On the West Coast, enduring examples are used by tourists and residents year-round. As recently as 2008, Lake Union Park in Seattle opened with an acclaimed new design featuring a rebuilt seawall, gently terraced steps, and a pedestrian boardwalk of Western Red Cedar that has turned to its naturally weathered, soft gray hue.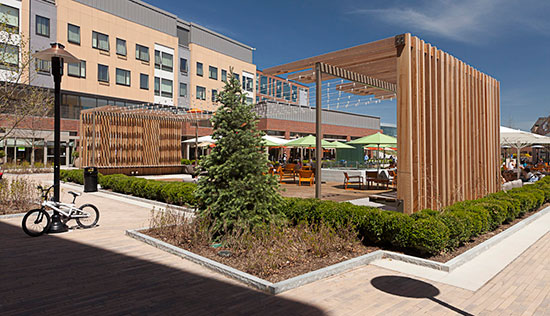 Photo courtesy of Tom Fox
For public boardwalks and large deck areas like architect SWA Group's Rochester Institute of Technology Global Village and Global Plaza, Western Red Cedar provides durability and resiliency in a selection of thicknesses and widths.
For boardwalks or decking, Western Red Cedar is available in a selection of thicknesses and widths. Maximum recommended spans for decking on joists can support a concentrated load of 220 pounds at the center of one span, according to Bear Creek Lumber, a Washington supplier. In these cases, the decking comprises 2-inch-thick planks up to 6 inches wide; the maximum joist spacing is 24 inches.
Originally published in Architectural Record.
Notice