Western Red Cedar: Life-Cycle Sustainability, Indoors & Out
For holistic green building approaches, timber structures and finishes reveal natural benefits
Sponsored by Western Red Cedar Lumber Association
This test is no longer available for credit
High Performance, Human Appeal
LCAs are only a part of the multifaceted analysis conducted by architects and project teams in settling on the best materials for a given application. Another consideration has been called simply humanism by architects like Barry Svigals, FAIA, or "humanistic factors" that have "gradually become an important factor in green building design," as China's materials scientist Li Ting Jiang wrote in the journal Advanced Materials Research last year. The combination of spatial and environmental strategies "encourage green creativity, pay more attention to the interests of the body, strengthen the architect's responsibility and social orientation, [and] is an effective way to achieve green building goals," says LT Jiang, who calls for "incorporating humanistic factors into evaluation standards for green building as soon as possible."
Humanism extends from the aesthetic response to clinically proven health outcomes, and everything between. At the most analytical, the incorporation of evidence-based design (EBD) into the architecture of hospital environments, for example, shows how built environment variables are linked directly to health outcomes. By 1996, the Center for Health Design had identified 84 studies showing proof of the effectiveness of EBD. Biophilia, a scientific term for the human response to naturally occurring forms such as plants or wood grain, has been described by social ecologist Stephen R. Kellert, author of Biophilic Design, who lists 75 attributes of what he calls "restorative environmental design." These biophilic elements include natural materials, natural shapes and forms, and natural patterns and processes.
The exposed grain and knots in wood species such as Western Red Cedar, for example, are effective biophilic design elements. Knotty grades, which are always provided in flat-grain constructions so that the knots appear as round shapes, offer especially dynamic natural motifs ranging in tone from light to dark with varied biomorphic markings. A survey of recent projects shows more use of knotty Western Red Cedar, which adds texture and character to surfaces. As seen on the award-winning Minton Hill House in Québec by the firm Affleck + de la Riva Architects, the knotty grades add visual contrast to stone and glass surfaces. In others, like the bayside Lobster Boat Residence in Seattle, Chadbourne + Doss Architects use this memorable knotty wood on exterior surfaces and other design elements, even pairing it with similarly knotty stair treads— illuminating its suitability for salty coastal air as much as its evocative appeal, both indoors and out.
In addition to using knotty grades, some architects integrate cuts of clear grades with flat grain and vertical grain for visual effect, or they employ a random mixture of various-width boards for additional variety in appearance.
Regardless of the grade specified, Western Red Cedar and other wood species have been shown to provide measurable effects on various subjective measures, including "warmth, softness, and a calming effect," according to Michelle Kam-Biron, S.E., of the trade group WoodWorks. "Principles of evidence-based design show that occupants respond positively to wood," says Kam-Biron in a recent talk, adding that schools in Japan are built with wood specifically because students respond well to the finishes. Research shows how biophilia relates to humans' natural predilections for "visual variety, natural irregularity and expressiveness." This helps explain why architects are applying Western Red Cedar for more indoor and outdoor uses, often in the same building.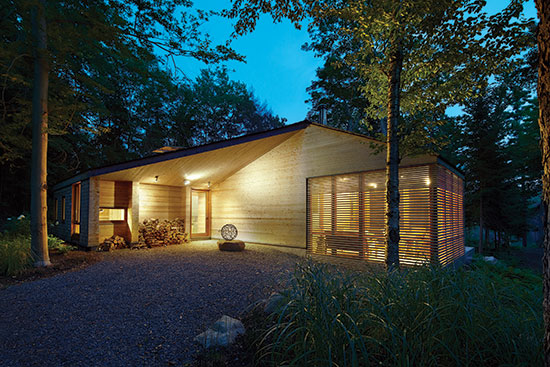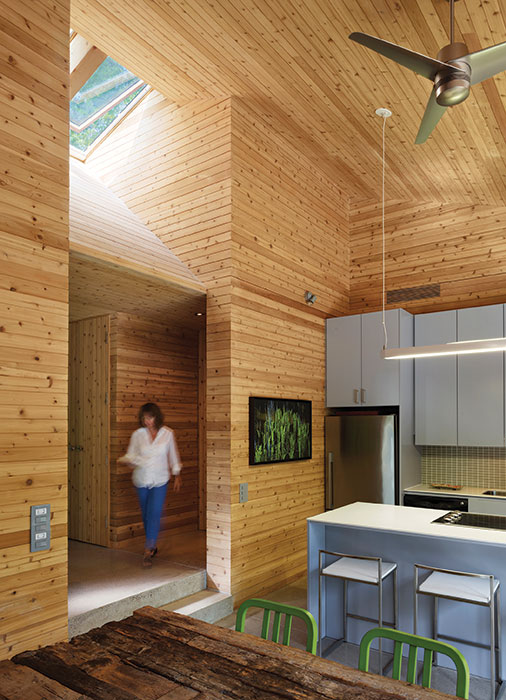 Photos courtesy of Shai Gil Fotography
Some architects are using knotty grades of Western Red Cedar and employing the wood species both indoors and outdoors, as at the Stealth Cabin project near Bracebridge, Ontario, by Toronto-based firm superkül.
Deeply Rooted in Culture, Place
The beneficial effects and attractions of wood appears to be a deeply embedded part of the cultural aspect of architecture, not just pure aesthetics. For example, unlike many construction materials, Western Red Cedar is an intrinsic part of North America's cultural and environmental heritage. Native Americans in the Pacific Northwest—who commonly referred to themselves as "People of the Cedar"—used two names for this revered tree, which translate as "dry underneath" and "long life maker," according to nonprofit conservation group American Forests. Also, the Latin name for this type of conifer, arborvitae, means tree of life.
These monikers are more than descriptive. In fact, they signify both spirituality and practical uses, an association that anthropologists describe as arising naturally. For example, on the islands known as Haida Gwaii along British Columbia's north coast, Western Red Cedar trees have been honored for their age and size, living for more than 1,000 years and growing to 200 feet tall with trunk diameters up to 16 feet, says Paul Mackie, a technical specialist and field representative for the Western Red Cedar Lumber Association (WRCLA). "Even then, the top of the tree continues to grow and is perpetually young, whereas the bottom of the tree is older," he explains.
After it is harvested, the trees are fragrant, easily worked, and surprisingly light yet stable. Western Red Cedar also has properties to repel moths and insects, and the same natural preservatives are toxic to fungi, yet another benefit for longevity and durability. With such stability and preservative qualities, Western Red Cedar is one of the most resilient materials in the world, according to forestry experts. Pacific Northwest natives—in Canada referred to as First Nations—have used the wood for indoor and outdoor uses including canoes, dance masks, totem poles, and relatively large post-and-beam houses. The knotty imperfections found in many woods, including Western Red Cedar, have figured prominently in their aesthetics. These First Nations have also turned the bark into rope, mats, and clothing, and parts of some Western Red Cedar trees are used for religious and medicinal purposes.
In fact, the tree is still revered, as tribes gather around groves for ceremonies, meditation, and retreat, often conducted before trees are felled by some native groups. Downed trees may be mourned with prayers and offerings in some cases. This reverence for sustainability has not been forgotten: Current forest management practices require that if a tree is culturally modified—for example, marked using methods known to be typical of the First Nations—lumber producers will not harvest the tree. Other kinds of reverence figure into the forest management practices of companies harvesting Western Red Cedar, a tightly standardized supplier group. The core reasoning is that—because Western Red Cedar is integral to air and water quality, climate, biodiversity, health and medicine, and recreation—the forests where Western Red Cedar grows must be carefully managed to ensure the success of future generations.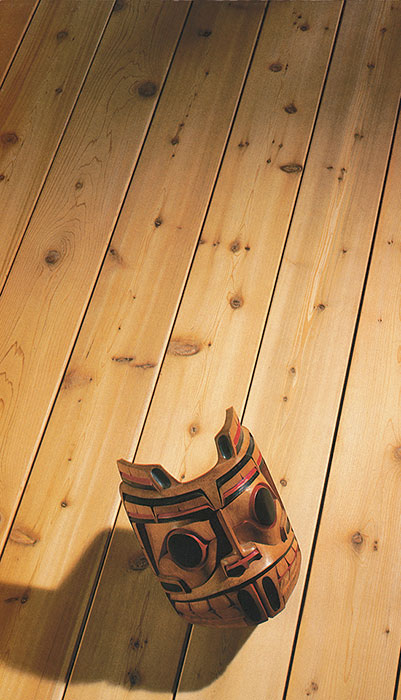 Photo courtesy of Western Red Cedar Lumber Association
Some of the artwork by Native Americans in the Pacific Northwest—often called First Nations —is made of Western Red Cedar, in part because the composition of the revered trees makes the wood objects last for an exceptionally long time.
These careful forest management practices are important to the sustainability of the resulting products. Western Red Cedar manufacturers, architects, and craftsmen tend to highlight cedar's environmental, economic, and aesthetic value. Western Red Cedar is a unique, beautiful, and durable material for both indoor and outdoor use. These qualities have helped extend the use of Western Red Cedar to build inspiring and nurturing schools, enhance healthcare environments, or to add warmth to the often-cold environment of a modern office complex. It is part of a unique support system for humanistic, sustainable architecture.
Originally published in Architectural Record.
Notice