Interior glass systems: meeting the need for adaptable, optimized space utilization
Sponsored by Space Plus, a division of The Sliding Door Company
Modular Planning
Another important design strategy for commercial and industrial facilities, particularly health-care facilities, is modular planning to support multiuse spaces. Described as repetitive designs that are easy to expand or reduce, these modules are highly functional and cost effective. With each module incorporating the same infrastructure and dimensions, facilities can quickly reconfigure these spaces to accommodate current needs.
"Modern work styles require space to support a variety of different activities, and if one were to designate spaces specifically for one activity, then they would go unused, possibly for a significant proportion of the time," Murray states. "This is a cost that is hard to justify and really a waste of resources."
The goal, says David Lubin, associate principal, HKS, Dallas, is to design spaces with an eye on what "could be" or "might happen" versus a single-function approach.
"When applied thoughtfully, the use of modular planning can provide organization and rationale to a design while providing a client with a more fiscally responsible product," suggests Darin Daguanno, AIA, LEED AP BD+C, design principal, SmithGroupJJR, Detroit.
For example, in a health-care clinic, multiple specialties might alternate days of operation and/or one particular clinic might require twice as much space on one day of the week.
"Health workplace designs need to be ready to accommodate this kind of constant flexing," states Hoggard. "So, the more one can do to offer spaces that can accommodate a wide range of specialties, the stronger and more adaptable the facility will be." For instance, a conference room can be closed off and double as smaller consultation areas when needed.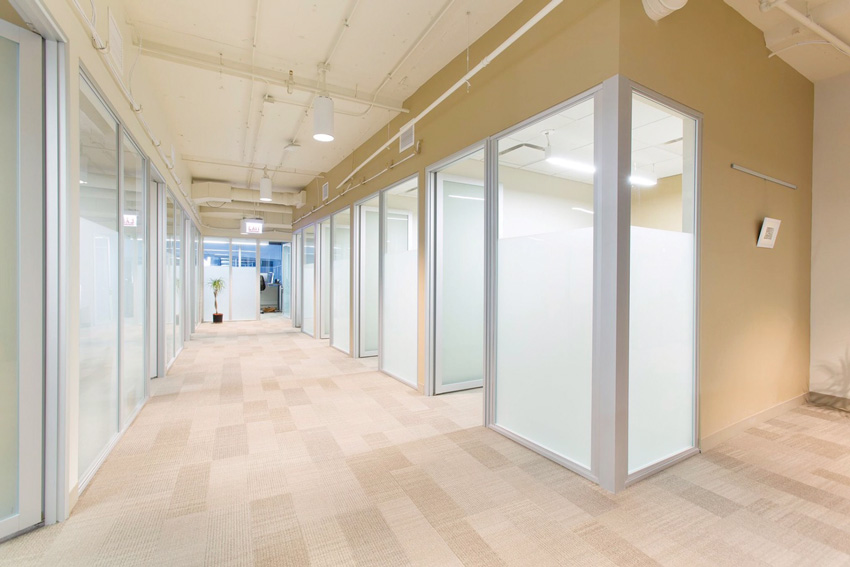 To help enable the kind of flexibility required by today's health-care clinics, interior glass doors are an easy and efficient way to divide and best utilize the space.
Tasked with keeping cost and space requirements down, health-care providers require the ability to provide these clinics with additional space when they need it and retract it when they don't.
Getting into more specifics, the exam room configuration, as the most replicated unit, usually sets the standard for clinic modularity.
While diagnostic rooms will vary more based on medical equipment and functional need, a highly efficient clinic can find a common module to align with a standard exam room. In keeping the exam and diagnostic rooms identical in size, shape, layout, and possible equipment storage, this enables the clinic to flex up and down with patient volumes.
Furthermore, patient care is enhanced as staff can quickly locate essential services and materials within these repetitive modules.
"Patient rooms are arranged so that light switches, medical gas outlets, nurse call buttons, and supplies can be readily reached or retrieved within the least amount of time and effort," states Rick Wood, AIA, LEED AP BD+C, principal, LPA Inc., Irvine, California. Similarly, "supply rooms are sized and arranged so they can be stocked consistently in each nursing unit based on the type of patient or service provided."
While a few specialties—e.g., orthopedic—may require specific equipment, multiuse principles can still be applied, as the equipment can be anchored in the center of spaces to allow for flexing on either side.
In fact, this approach has been incorporated in many newer dental offices where the X-ray machines are stored between two exam rooms inside a closet and used in either room when needed. The storage enclosure between the patient rooms also serves to keep various supplies handy and accessible.
Leveraging key construction benefits, Murray points out that modularity enables the structural and building service systems to be designed in a more efficient, cost-effective manner, and can simplify construction by facilitating off-site fabrication and partial assembly.
Along these lines, CannonDesign offers a proprietary clinic module: a universal office configuration supporting a myriad of uses and purposes.
The universal grid platform presents the optimum vertical and horizontal dimensions for a building's structure that is also vetted for engineering soundness and construction efficiency. "The platform helps 'future proof' health facilities. Designs employing the grid have proven almost infinitely adaptable. Moreover, facilities leveraging the grid can reduce the typical 10- to 18-month span from facility planning to groundbreaking by up to 80 percent," Hoggard reports.
Outlining the basic process of integrating standardization into the design, CannonDesign starts with tested prototype room models, complete with equipment and furnishing, in building information modeling. "Based on deep dialog and often lean operations mapping, the prototypes are customized for each client," he explains.
Next, the architectural team often creates cardboard mockups, at full scale for key rooms, so that all the stakeholders can test the standard rooms along with their teams and equipment. The architects then work together with the end users to convert or extend these room standards for use across their campuses.
Overall, the firm seeks to work closely with its health-care clients to help promote standardization amongst their facilities to enhance usability and longevity. "It really does require a strategic approach, as it can impact everything from wood finishes to the stacking and structure of the building, but when done well, it can drive undeniable return on investment," Hoggard states.
Originally published in Architectural Record
Notice