Interior glass systems: meeting the need for adaptable, optimized space utilization
Sponsored by Space Plus, a division of The Sliding Door Company
Enter Interior Glass Solutions
Matching up well with these modular designs are interior glass doors. Requiring less planning, they offer changing space needs based on function.
"Interior glass door solutions save space and provide energy cost saving options that can be integrated into any floorplan design," Hai-Ami reports.
"These products allow for more options," agrees Tom Clark, vice president of operations/senior project manager, Anderson Construction, Oxnard, California. "From inception to completion, it's all about providing the client with options. But the trick is prescreening the options so that a 'paralysis by analysis' scenario doesn't come into play."
Case in point, a number of Lens Crafters contact lens exam rooms have incorporated sliding glass panels that close for privacy while bringing in natural light.
"The contact lens rooms can easily be repurposed and used as conference rooms or consultation rooms with a minute's notice," Hai-Ami reports.
In fact, this type of multipurposing is quite common in health-care clinics. Whereas rooms are regularly used for examining patients, the clinic space must also support occasional staff meetings. However, building a large conference area that cannot be divided is wasteful use of resources.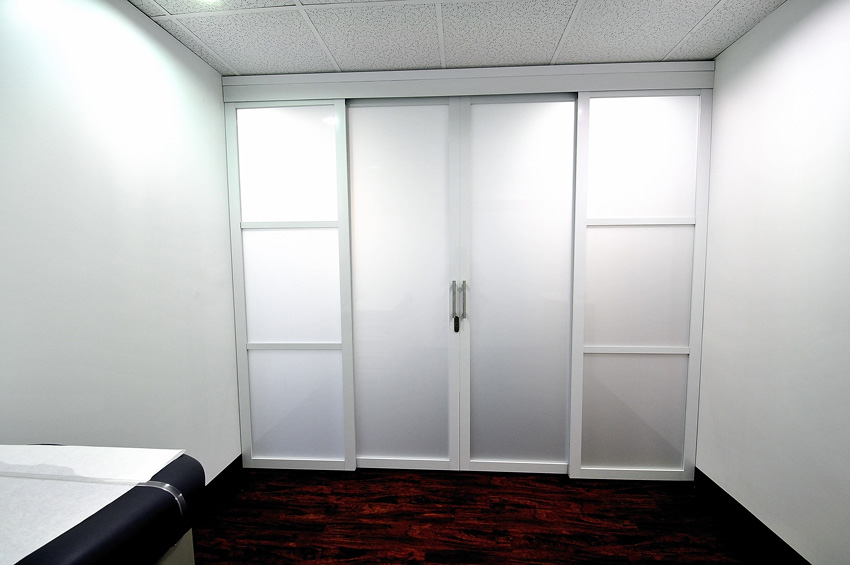 Exam rooms can be quickly repurposed into consultation or conference rooms. This photo shows fixed glass panels with a double swing door.
"The flexibility of quickly dividing a larger room into smaller ones is cost effective so sliding partitions are an effective solution for these situations," Hoggard explains.
Beyond this type of a solution, CannonDesign commonly specifies sliding glass doors in nonclinical areas, public lobbies, and clerical spaces. In specific inpatient areas, like the ICU, sliding glass doors are also very common to allow visualization of the patient from nursing work areas.
"These sliding doors can be very helpful, particularly where you have health-care or research spaces inside larger spaces like a series of treatment spaces off a central support area," Murray notes.
Describing the sliding doors and modular glass fronts as a "wonderful, nice-to-have solution" in private offices and conference rooms, LPA's Thomas notes that that they typically allow for a more precise and predictable construction process than traditional interior glazing.
"In rooms where significant width and ease of access is required, such as intensive care rooms, sliding breakaway glass doors are optimal and almost exclusively used," Wood adds. "Sliding glass doors in ICUs also provide the greatest visibility and the least obstruction of any door, in addition to maintaining some audible attenuation."
Taking up a smaller footprint, as compared to typical swing doors, sliding doors can free up 9 square feet of usable space. Combined with natural light, these interior spaces will also feel larger in size and benefit from a daylighting-induced morale boost.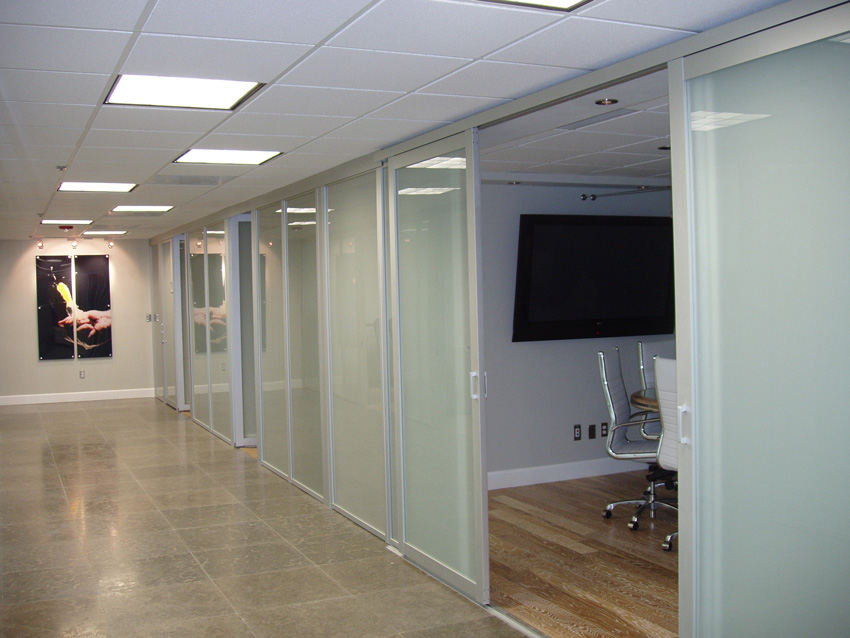 Taking up a smaller footprint, sliding doors shave off 9 square feet of the door's footprint as opposed to swing doors, thereby freeing up precious inches for space utilization.
"When you take away door swings from every single gowning room or office space, you save a ton of space," says Hoggard.
"When working with enclosed spaces, such as huddle rooms or even small offices less than 100 square feet, sliding doors are critical to making these spaces work functionally," adds Rich Bonnin, interiors design principal, HGA Architects and Engineers, Minneapolis.
Stacking sliders truly optimize the opening so that larger furniture can easily be moved and larger meetings can quickly take place with no advanced notice required.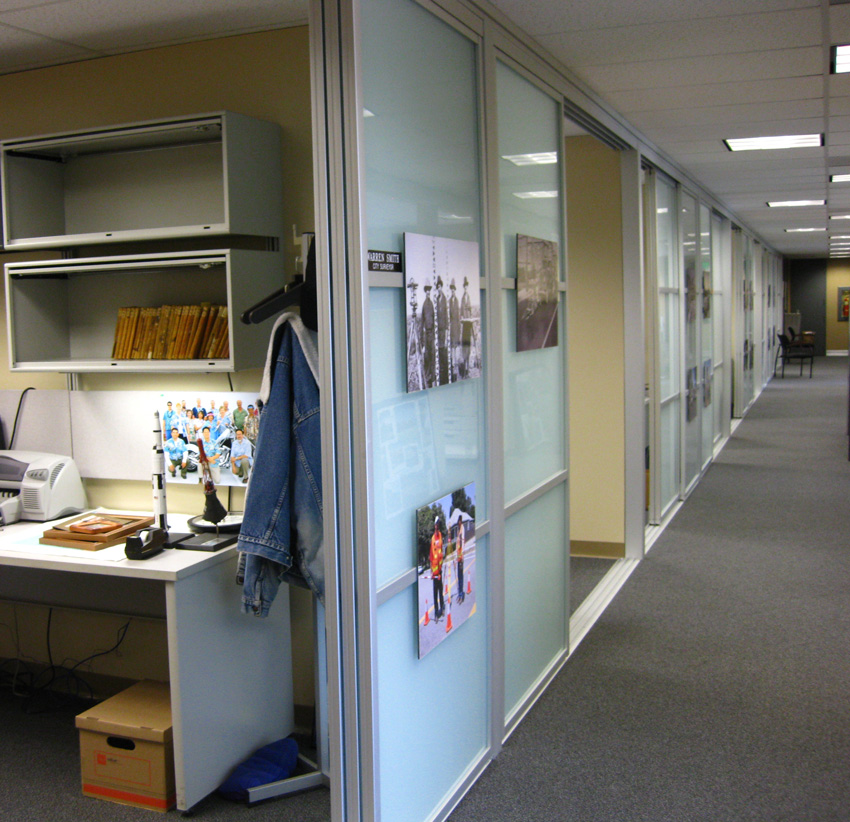 Stacking office fronts in medical administration areas makes for flexible workspaces. Three sliding doors on a triple track allow all panels to stack behind one.
While architects may have to make the case for investing in these types of products, Lubin says that the benefits typically outweigh the initial spend by providing transparency—both visual and cultural—daylight and views, and branding opportunities.
Transparency also fosters trust, which is vital in working environments and speaks silent volumes to promoting teamwork.
Lubin adds that stacking room partitions in specific areas also provide cost-effective, multifunctional, divisible spaces for group interaction.
Bonnin agrees, pointing out that as training practices evolve toward more interactive models, there is a need for additional room configuration to support breakout space. "These often include both high-tech and low-tech collaborative tools, such as white boards, which can become a part of the stackable wall system."
For example, some manufacturers offer milky and white glass types, which double as dry-erase boards used in training rooms.

Center sections of this combo glass design can be used as dry-erase boards—ideal for conference rooms, training rooms, etc.
On a related note, products such as room dividers and barn doors, which support clutter-free spaces, are also seen as an asset to building designs.
In fact, research has shown that cluttered spaces decrease productivity and impairs creative thinking by overloading one's senses.
For example, a study published by researchers at Princeton University's Neuroscience Institute concluded that physical clutter competes for one's attention and results in decreased performance and increased stress.
"The researchers used functional magnetic resonance imaging and other physiological measurement tools to map the brain's responses to organized and disorganized stimuli and to monitor task performance," explains Erin Rooney Doland, published author on clutter and organization on her blog, The Unclutter.
"The conclusions were strong: if you want to focus to the best of your ability and process information as effectively as possible, you need to clear the clutter from your home and work environment," states Doland.
Yet another noted benefit of glass door partitions is optimized interior daylighting.
Beyond the often referenced Heschong Mahone studies—establishing a positive correlation between daylighting and student test scores—research continues to validate what the building industry has intuitively known all along: natural light positively enhances well-being and productivity.
Case in point, a Swiss Federal Institute of Technology study conducted a couple years ago revealed that employees working in naturally lit buildings experienced higher energy levels and fewer incidences of vision fatigue as compared to workspaces with only electrical lighting.
As published in the American Psychological Association's Behavioral Neuroscience journal, the Swiss study also found the test subjects in naturally lit rooms were less sleepy by the evening and showcased better cognitive performance than test subjects inside artificially lit spaces.
Originally published in Architectural Record
Notice