Interior glass systems: meeting the need for adaptable, optimized space utilization
Sponsored by Space Plus, a division of The Sliding Door Company
Integrated Building Systems
To optimally apply solutions like interior glass systems, along with other key building systems and materials, integrated sustainable design continues to evolve as a popular project management strategy.
Dating back to the 1970s with key studies, such as the U.S. Veteran Administration's Hospital Building System Research Study Report (for more, see section Modular Planning and Walk Decks from the 1970s), the idea is examining and coordinating the interrelationships of building services and subsystems early on in the design. This way, the optimal pooling of resources and expertise can occur with the building owner, end user, maintenance staff, architects, engineers, and contractors all sitting at one table at the point before any key decisions are made regarding building orientation, building shape, etc.
As opposed to a traditional linear project model, where each discipline completes their design and then passes the plans onto the next building team member, integrated design enables the project design and coordination to take place holistically.
"Having everyone at the table from the outset of a project ensures everyone's voices and needs are heard, and that there are fewer challenges as the project progresses," Hoggard relates.
In this setting, building occupants share their usability needs, facility managers relate maintenance concerns, contractors lend their expertise on constructability, and building owners communicate the overall vision. This synergistic approach breaks down silos and equips architects and engineers with the information they need to create the most optimal design solution for the project.
"Early onboarding and collaboration provides the opportunity to align on priorities that impact performance, cost, and schedule, which lead to more efficient and productive outcomes," Blair states. "This allows for more thorough evaluation of design ideas and helps improve budget certainty much earlier in the process."
Furthermore, this early-on involvement creates more ownership of project goals across all trades, says Blair, as building team members look for opportunities to improve the design, performance, delivery, and constructability.
By resolving any clash detection and finalizing on the design much earlier on in the process, change orders are drastically reduced and project construction occurs much more seamlessly. In addition, the application of integrated building systems leads to a much more efficient, cost-effective design and a higher likelihood of delivering the keys to the owner on time.
"When these models are executed well, they can lead to reduced risk for clients, accelerated project delivery timelines and revenue capture, enhanced quality of outcomes, and improved cost efficiency," Hoggard adds.
Sharing some best practices for integrated sustainable design, the folks at LPA relate the following:
Do more with less: To minimize the building's environmental footprint, apply materials in the most efficient, resourceful way.
Enrich lives: Deliver healthier working environments through the use of nontoxic building materials, efficient mechanical systems and access to day light and views.
Build smart: Maximize operational efficiency and reduce maintenance costs through the integration of architecture, interiors, landscaping, mechanical, and structural design.
Create value: A true building team partnership will ultimately create and build a space that contributes to the owner's overall bottom line.
Walk-Deck Ceilings
As an example of a potential design solution that might emerge from an integrated system design, a walk-deck ceiling system optimizes operational efficiencies by enabling mechanical, electrical, and plumbing systems maintenance without disrupting day-to-day occupant use in the space below.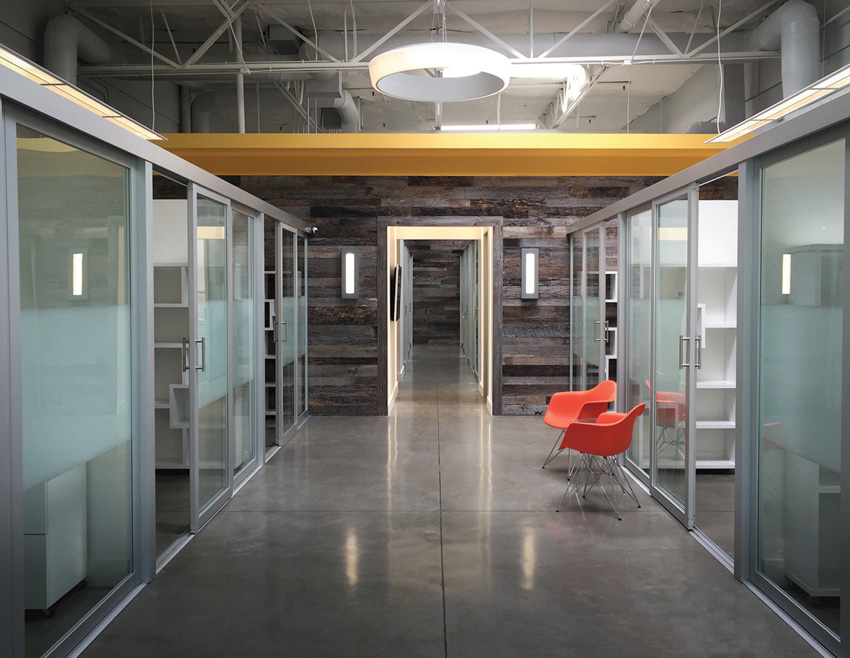 Photo courtesy of PDA Engineers/Ehdaie/Gandara Architects
With a walk-deck ceiling system, maintenance personnel can access the mechanical, electrical, and plumbing systems without disrupting day-to-day occupant use in the space below.
For instance, in a research or manufacturing facility, these systems pay for themselves through reduced production downtime and exposure within the cleanroom environment.
"Sometimes it has to do with intellectual property protection, sometimes it is safety driven, and sometimes it is required to maintain containment or cleanliness requirements," Murray shares. "The more specialized the environment, the more value there is in maintaining the environment outside the space. This is critical for many of the advanced research environments we design."
Walk-deck ceilings are also ideal for health-care environments. "This is definitely important for inpatient facilities to avoid disrupting the patient experience in those settings," reports Hoggard.
For instance, to install a new 220-volt outlet in a patient room, maintenance personnel can quickly access the electrical distribution zone above the deck and make the upgrade without having to climb of a ladder and break into the patient room ceiling.
Access to the correct circuit can be easily accessed above the walk deck, and the wires in a conduit can be dropped down in the wall into the patient room. Ultimately, only a small opening in the patient room wall is required for a black box and plug to quickly be installed.
"Good design will allow items that need access in the ceiling to be away from sensitive patient areas," Hoggard explains. "Additionally, small, portable containment devices allow work above the ceiling without disrupting patient care."
To help support the incorporation of these advantageous walk-deck ceilings, various interior door and panel solutions marry the benefits of natural light, transparency, privacy, and optimized space usage with limited occupant disruption to MEP maintenance.
Another integrated design solution example is the application of open-plenum ceilings. Not only do these open designs lend a certain architectural look, but the sharing of lighting, HVAC, and plumbing systems can save thousands of dollars every year in energy cost.
Open-plenum ceilings also come at a lower first cost. As documented by Barry Donaldson & Associates, Croton on Hudson, New York, in a Ceilings & Interior Systems Construction Association survey, initial construction cost of a suspended ceiling can range from almost 15 percent to 22 percent more than an exposed structure.
Also supporting these designs, glass door systems can be configured to enclose a space around the perimeter while leaving the space above open. This way, building occupants can simultaneously capitalize on the benefits of open ceilings along with the optimized space utilization, privacy, and daylighting advantages of interior glass partitions.
Originally published in Architectural Record
Notice