Designing with Metal Ceilings
Creating functional and sustainable metal ceiling designs for commercial spaces involves thoughtful product selection and installation
Sponsored by ROCKFON
This test is no longer available for credit
Function and Specification
Contributing to occupants' wellness and safety, metal ceiling designs may be specified to meet rigorous performance requirements for acoustics, wind loads, humidity, fire, earthquakes and sustainability.
Optimized Acoustics
Metal ceiling panels with perforations can provide a moderate to high level of sound absorption. Generally, a perforated panel supplied by the manufacturer with only a non-woven, black fabric on the back will absorb 70 percent of the sound that strikes it. This can be expressed as a Noise Reduction Coefficient (NRC) of 0.70. That same perforated panel with a fibrous batt on top of it could absorb 90 percent of the sound that strikes it, or NRC 0.90. The percent of open area resulting from the selected perforation pattern, and the presence or absence of the fibrous batt, are the biggest factors in determining how much sound is absorbed.
When NRC values are included in building standards and guidelines, they usually apply to ceilings in conference rooms and open offices, and are in the mid to high range of 0.80 to 0.90 NRC. The other common acoustic metric in the standards and guidelines is reverberation time, or the time it takes reflected sound to decrease 60 dB. Metal ceilings can help to decrease reverberation as well. The sound passes through the perforations in the metal and is absorbed. Suspended ceilings are used primarily, and most effectively, for achieving sound absorption. Using acoustic islands and baffles also may yield the same acoustic performance with less material than standard suspended ceiling systems.
Additional absorption on the walls and floor may only be required if the ceiling does not provide enough sound absorption; for example, when the NRC is less than 0.70 or when parts of the ceiling are intentionally left sound reflective to project sound, such as above a presentation podium.
To further optimize acoustics, noise transfer also must be minimized between rooms through sound-blocking elements. Most ceiling systems are not massive enough to block sound and are penetrated by lights, air grilles, speakers and other potential elements where sound can leak. Likewise, this can happen via gaps between the ceiling panels and the suspension system. Where room-to-room sound blocking is needed, use walls or plenum barriers to successfully block sound.
There now are stringent acoustic criteria in standards, guidelines, and building rating systems. Both the U.S. Green Building Council's LEED version 4 and the WELL Building Standard require minimum performance levels of sound absorption in office buildings. Optimization Features for WELL Certification of New and Existing Interiors include:
Feature 78, which calls for maximum Reverberation Times (RT60) to decrease stress and maintain comfortable sound levels through the use of sound-absorbing materials.
Feature 80, which requires spaces to incorporate absorptive surfaces to help with reverberation management and to improve privacy and acoustic comfort. It refers to using ceilings with high NRC values to achieve this. Open office spaces need ceilings with a minimum NRC 0.90 for 100 percent of the ceiling. Conference and teleconference rooms need ceilings with a minimum NRC 0.80 for at least 50 percent of the ceiling.
Feature 81 addresses noise from adjacent spaces using sound barriers to reduce transmission. Noise Isolation Class (NIC) is the field measurement of total sound isolation between two rooms, specified by WELL as: NIC 40 for enclosed offices without sound masking; and NIC 53 for conference and teleconference rooms, or for private offices with adjoining walls. NIC is similar to Sound Transmission Class (STC), the former being an in-field test of how much sound transfers between two actual rooms and the latter being a laboratory measurement of the wall construction alone. WELL also notes that all interior walls enclosing regularly occupied spaces be sealed properly along the top and bottom tracks. This commonly would be interpreted as using full-height walls and preventing noise leaks to isolate sound between adjacent spaces.
As these guidelines and standards are revised during the coming years, levels are likely to be set even higher, as has happened for other types of buildings including schools and healthcare facilities.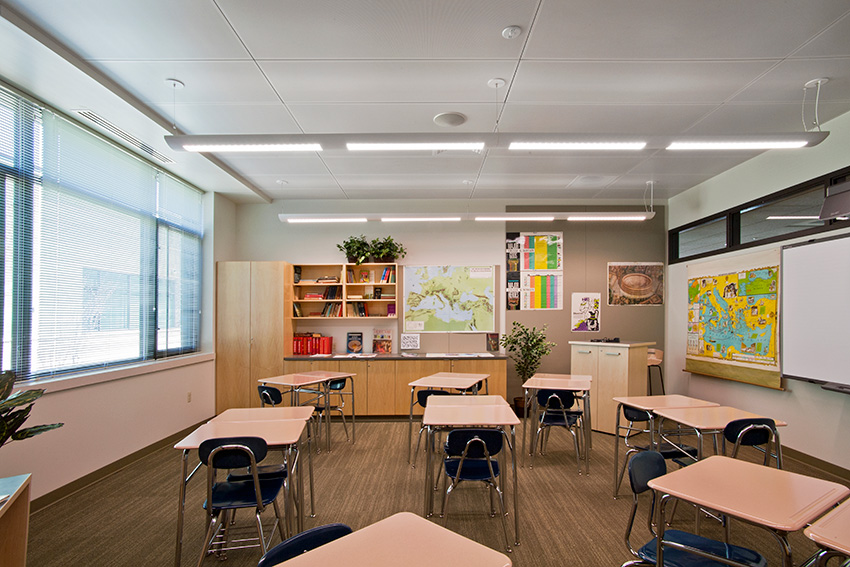 Photo courtesy of ROCKFON/Saari Photography
Cranbrook Kingswood Middle School for Girls relies on metal panel ceiling system with increased acoustic performance for an optimized learning environment.
"It is recommended that ceiling systems be used to optimize sound absorption and, where needed, walls or plenum barriers be used to effectively block sound between rooms," says Gary Madaras, PhD, acoustics specialist at the ROCKFON Group leading its Optimized Acoustics program.
Wellness and Sustainability
In healthcare facilities, kitchens, laboratories and other places where wellness and cleanliness are essential, humidity-resistance can be critical. Ceiling panels that absorb water may lead to the growth of unwanted mold and mildew, a factor in "sick building syndrome." In some regions where high humidity is unavoidable, excess moisture may lead to sagging, or even irreparable damage, in mineral fiber panels and wood panels.
Metal ceiling systems do not absorb water and do not contain organic compounds that would support mold or microbial growth. No volatile organic compounds (VOCs) are associated with metal ceiling systems. These attributes further contribute to indoor air quality and occupant health.
Light can also impact performance, wellbeing and mood. Too much light can cause eyestrain and make it hard to focus, but too little can lead to headaches, difficulty focusing and drowsiness. Ceiling panels finished with light-reflecting surfaces can maximize the use of natural light, reduce the number of electric light fixtures required, and lower the associated loads, costs and emissions.
The durability of metal ceiling systems also assists in reducing waste to landfills. Metal ceiling systems can approach 100 percent recycled material content and are 100 percent recyclable at the end of their useful life as a ceiling. With minimal maintenance, these systems have shown to deliver reliable performance for more than 25 years with some lasting 50 years and more. It is estimated that more than 90 percent of aluminum used in buildings is recycled after service, making it one of the most recycled building materials in the world.
Safety and Security
International and local building code requirements are in place to protect occupants' safety and security. Relevant to ceiling systems, these include fire, seismic, wind load and corrosion resistance needs tuned to the climate, geology and functionality of the project.
A fire performance rating for a ceiling system evaluates flame spread and smoke development. The industry testing procedures for this rating is described in ASTM E-84 Standard Test Method for Surface Burning Characteristics of Building Materials. The International Building Code (IBC) classifies ceilings as Class A-C, with Class A being the most stringent and a requirement when ceilings form part of a return air plenum. When fire-suppressing sprinklers are used, a fire protection engineer should be consulted to ensure proper compliance and performance.
In addition to fire-rated ceiling products that are tested to ensure they meet or exceed code requirements, seismic-rated suspension may be necessary in critical care facilities including hospitals and in areas prone to earthquakes. The IBC outlines six Seismic Design Categories—A-F, ranging from the least to the most stringent—that every construction project must meet regardless of geography. However, ceiling panel performance and some suspension systems are not well defined in the IBC requirements. A few ceiling manufacturers have taken the additional step of having an independent, structural engineering firm test their systems to meet ASTM E580/E580M Standard Practice for Installation of Ceiling Systems for Acoustical Tile and Lay-in Panels in Areas Subject to Earthquake Ground Motions.
When ceiling systems are used outside of the building, such as in a soffit or above an entrance, it is highly recommend that a wind load test report be requested. Exterior wind load requirements are dictated by local codes. Many ceiling manufacturers have data available for positive wind load testing, but to truly evaluate the ceiling system's performance, request the manufacturer's proprietary test data that provides both positive and negative wind loads. This will reveal how the product performs in sustained and reoccurring winds, such as in coastal regions or mountain ranges. These same considerations must be given to certain other applications, such as subway stations, tunnels and passageways between buildings.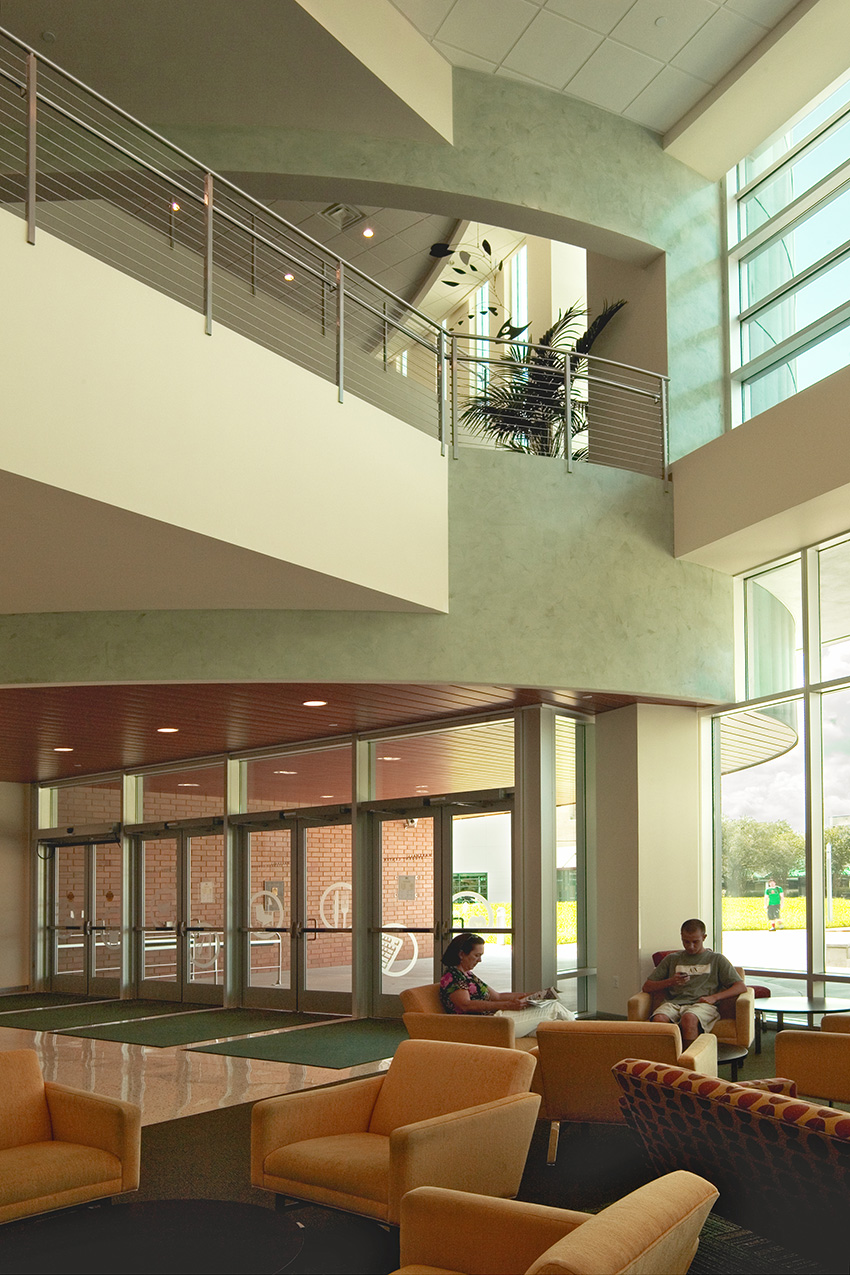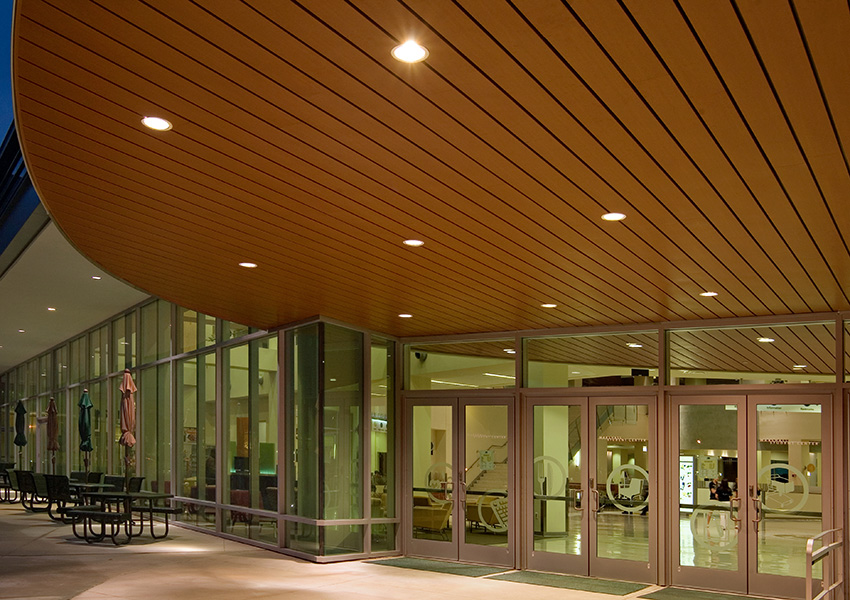 Photos courtesy of ROCKFON
The University of South Florida Marshall Student Center's ceiling design unifies and connects the interior and exterior spaces with linear metal planks.
Like wind load, corrosion considerations for a metal ceiling are specific to location and climate with respect to the material composition. To provide corrosion-resistance, steel must be finished after the metal is formed into the ceiling component. Aluminum inherently resists corrosion, and most finishes enhance its durability. Regardless of the material, the finishing provider should apply the painted coating or anodize under factory-controlled conditions to ensure the specified performance for color and gloss retention, salt spray resistance, weathering and wear.
The strength and longevity of metal ceilings also makes them highly compatible with specialized security and sanitary applications.
Medium-security facilities may specify a heavy-duty suspension system and steel panels that fit securely into the grid and resist removal after installation. High-security areas require steel planks that are held in place by heavy steel channels and tamper-proof screws. When specifying a metal ceiling for a secure area, remember to take into consideration the desired level of security; and the interfaces with HVAC, lighting and structure.
For cleanroom applications, metal panels can be used with a variety of suspension systems, including stainless and gasketed, to accommodate low particulate air emissions. These systems can be used in rooms where the air cleanliness can be as stringent as Class 3, based on clean room classifications from ISO 14644-1. As with other specialized applications, be careful to consider the HVAC, lighting, structure and interfaces.
Originally published in Building Enclosure
Originally published in April 2017
Notice