Designing with Metal Ceilings
Creating functional and sustainable metal ceiling designs for commercial spaces involves thoughtful product selection and installation
Sponsored by ROCKFON
This test is no longer available for credit
Design Considerations
From monolithic uniformity to dramatic accents, metal ceiling systems present a nearly unlimited menu of possibilities. Creative flexibility is found in understanding the choices available in suspension systems, sizes, shapes, perforations and finish options. Blending multiple systems and finishes can generate one-of-a-kind spaces that reflect the occupants' brand and personal tastes.
Sizes and Edges
A ceiling's visible grid can be minimized with a concealed suspension system, accentuated with an exposed wide-face system or recessed for a shadow effect using bolt-slot suspension with a center regress. The industry standard sizes for ceiling suspension systems have an exposed or concealed face of 9/16-inch, 15/16-inch or 13/8-inch. The wider the face, the bolder the expression of the ceiling grid modules appears. For high ceiling designs, a narrow face may appear seamless from the floor while a wider face will be more easily seen as a grid.
In open plenum ceiling systems, masking systems may be created using the standard 15/16-inch suspension to create 2-by-2-foot or 4-by-4-foot modules for a continuous, open cell ceiling. To convey the intimacy of a lowered ceiling that maintains openness, standard beam systems range from 1 to 6 inches wide by 1 to 8 inches high to create modules in sizes 1-by-1-foot to 4-by-4 feet.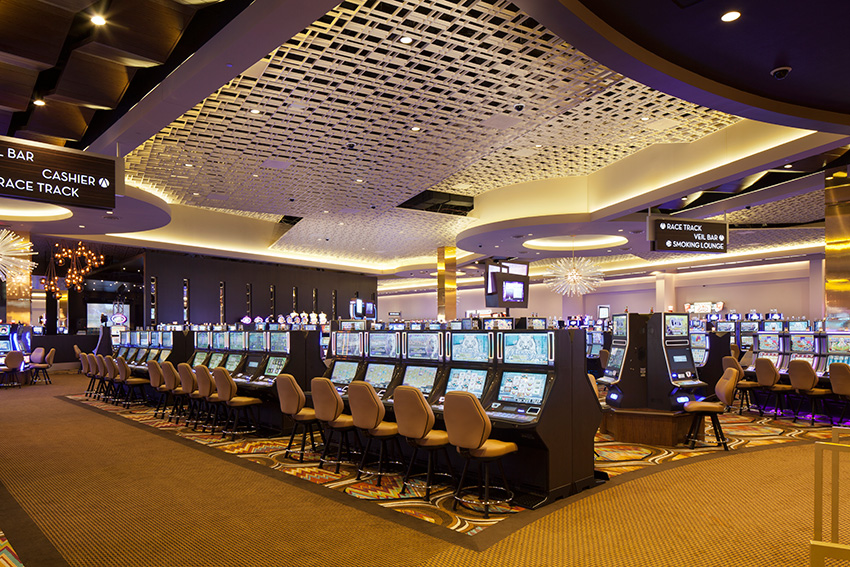 Photo courtesy of ROCKFON/Feinknopf Photography
Scioto Downs Casino selected open plenum metal ceiling to mask the lighting, HVAC and security systems, and a custom pattern design to accentuate the gaming area.
When ceiling designs conceal the plenum using panels, the most common and least expensive metal panel sizes are 2-by-2 feet and 2-by-4 feet in either flat or curved formats. Standard plank sizes are 2-by-6 or 4-by-6 feet. The panels and planks may be specified as square or reveal edge. Reveal panels expose the suspension in a recess detail. For curved panels, the radius of the vaults and valleys will need to be defined and usually conform to a minimum of 21/2 feet.
Continuous, long lines are the aesthetic emphasis with linear ceilings. To generate this desired look, most linear metal ceiling components are provided in up to 12-foot lengths with face widths of 2 to 8 inches. Multiple sizes can be used in the same ceiling for a more dramatic effect. Edges may be square, reveal or round. The edges will be more distinguishable the more space there is between the linear panels.
Metal baffles also can be installed side-by-side to provide a continuous linear appearance with spacing chosen to match the desired view of the exposed plenum. The spacing between baffles typically is equal to or greater than the baffle's depth. For example, 4-inch-deep baffles usually are installed 4 or 6 inches apart. Round and v-shaped baffle bases are the standard choice.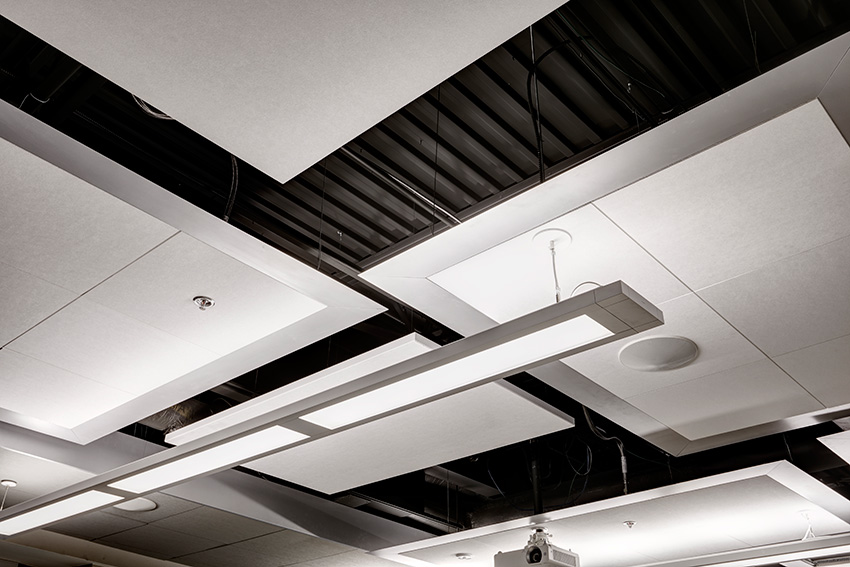 Photo courtesy of ROCKFON/Bochsler Creative Photography
Metal perimeter trim provides a neat, clean edge for the ceiling clouds suspended within a LEED Gold-certified office in Ontario, Canada.
In addition to the base of a baffle or the edge of a panel, metal perimeter trim provides an attractive, smooth, distortion-free enclosure that integrates with standard suspension systems. Perimeter trim offers a neat, clean edge for ceiling clouds, projected accents, light coves and dramatic transitions between ceiling heights. Available straight or factory-curved to project requirements, metal perimeter trim comes in 1-foot standard lengths and in a choice of edges that include concealed, razor or revealed designs. Paired bracket perimeter trim can be installed back-to-back for visual details including double-sided circles, snakes and arcs.
Perforations
Enhancing ceiling designs, metal panels and planks can be specified as solid surface or with perforations. With perforation, the diameter of the holes can be so small as to appear solid to more than 0.6 inches. The holes can be round, rectangular, or square, and placed tightly together or far apart. They can have lineal, diagonal or staggered patterns.
Most manufacturers have standard and custom perforation options. Some ceiling manufacturers offer graduated designs where the holes increase in dimension and decrease in spacing. Detailed, custom patterns also can be created for corporate logos, university mascots and other graphic reproductions. Keep in mind that custom perforation choices can increase cost, as well as lead time.
When using perforations, it is advisable to keep a solid border around the perforations. This prevents bending the panel edge where a row of perforations occurs.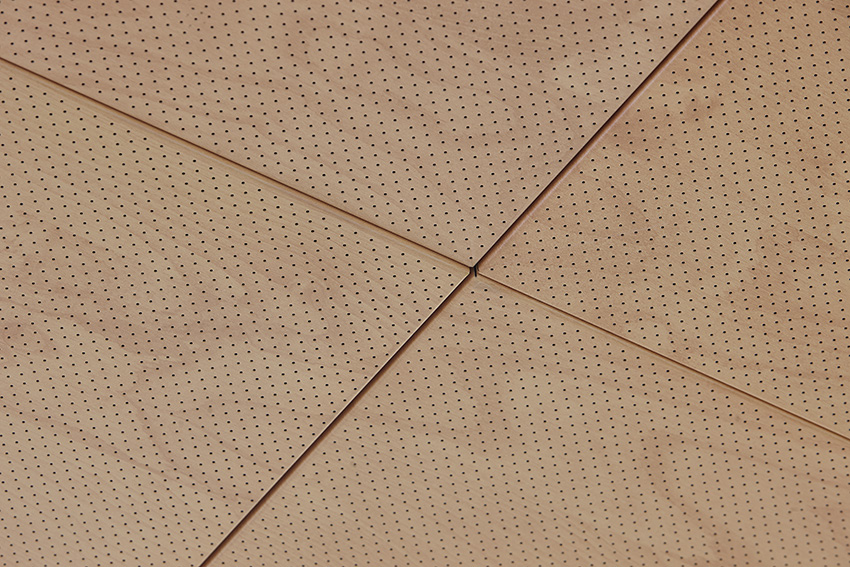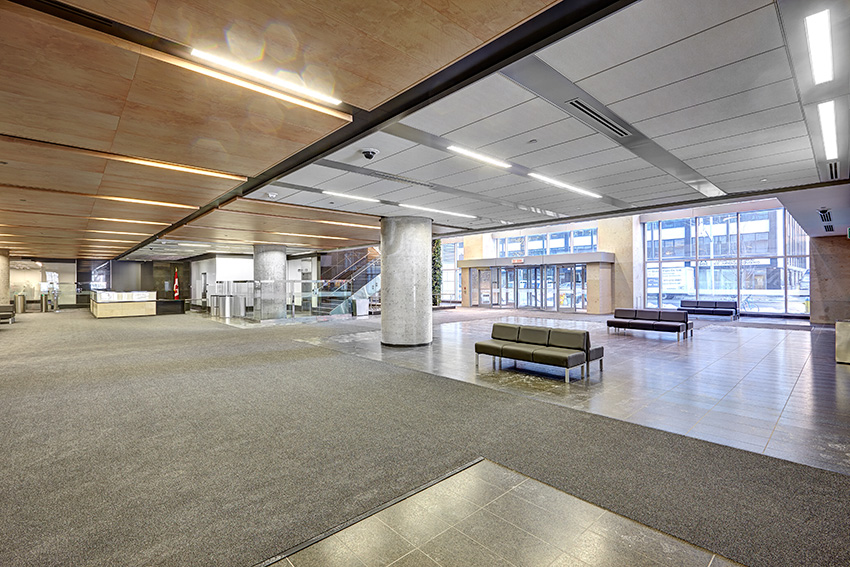 Photos courtesy of ROCKFON/Bochsler Creative Photography
The lobby of John Michael Flaherty Building in Ottawa, Canada. Plank hook-on metal panels have an acoustic backer and closely spaced perforations to optimize acoustics, while mimicking the look of natural wood with painted finishes.
Finish and Color
Metal ceiling systems' components can be finished with different techniques and hues that bring the design from an imaginative concept to a colorful reality. The suspension systems' exposed metal face can be finished to either match or contrast with the panels. White, silver and black are specified most frequently. For bolder designs, most ceiling system manufacturers offer a nearly unlimited choice of painted, metallic and specialty finishes.
Anodized finishes are an electro-chemical process for aluminum ceiling components, where the coating becomes integral to the panel or component. It is a very durable finish, suitable for both interior and exterior use, and for highlighting the metallic appearance. As the finish is integrated with the metal itself, the color ranges are limited and most commonly specified in clear, black or bronze.
Painted finish techniques for metal ceiling systems include coil coating, powder coating and baked enamel.
Pre-painted coil coating finishes the metal before it is formed into ceiling components. Under factory-controlled conditions, the metal coils are unwound, cleaned, treated, dried, primed, coated with liquid paint, oven-cured, inspected and rewound. To meet stringent specifications, multiple coats may be applied.
Baked enamel finishes are generally a one-coat system as no primer is required. These are applied after the metal has been formed into the ceiling panel or part, and typically used only for interior applications.
Powder coatings also are applied after the metal is formed into a ceiling component. This is a dry film process where finely ground particles are electrostatically charged and sprayed onto the electrically grounded formed metal parts. The charged powder adheres to the metal and is oven-cured into a uniform finish.
Regardless of the technique, to ensure the desired look, give attention to matching the finished panels with trims, suspensions and accessory items. This is especially true when systems are to be curved or custom panels and trims are being created. Choosing a single-source supplier for metal suspension systems and panels provides consistency in finish and color selection.
While white and neutral tones are the most popular color choices for ceiling systems, finishes can be selected in nearly any color including metallics and simulated wood grain patterns. Colors evoke physical and psychological reactions. Brightness or color temperature creates different moods and ambiance. A viewer's perception of a color also changes depending on whether it stands alone, is dominating a space or if it exists in combination with other colors. Warm colors, such as red, orange and yellow, are considered stimulating. Cool colors, like blue, purple and light green, generally have a calming effect.
Spatial perception also is affected by color. Lighter colors tend to make spaces seem bigger, while darker ones make spaces feel intimate. A dark ceiling will seem lower than it really is, or when installed high enough, seems to simply disappear.
Color schemes also can indicate the purpose and usage of space through the creation of boundaries and transitions. Consideration should be given to how the visual stimulation in a space will be perceived by the brain to evoke a desired response. This is of utmost importance in environments where varied spaces have different tasks and functions, to avoid any confusion that can cause stress in the occupants.
Originally published in Building Enclosure
Originally published in April 2017
Notice