Designing with Metal Ceilings
Creating functional and sustainable metal ceiling designs for commercial spaces involves thoughtful product selection and installation
Sponsored by ROCKFON
This test is no longer available for credit
Linear Systems
To add design elements to commercial spaces' ceilings, linear metal systems were developed in the 1960s. They typically are flat, but can be curved by using different suspension methods. The width is an aesthetic choice. Length is usually the main focus. Commonly, they are specified for long (linear) building applications, such as airport terminals and corridors. They may be used inside or outside, and can extend from the interior through to the exterior soffits. Many designers like the continuity this provides, particularly in highly transparent buildings with large glass openings.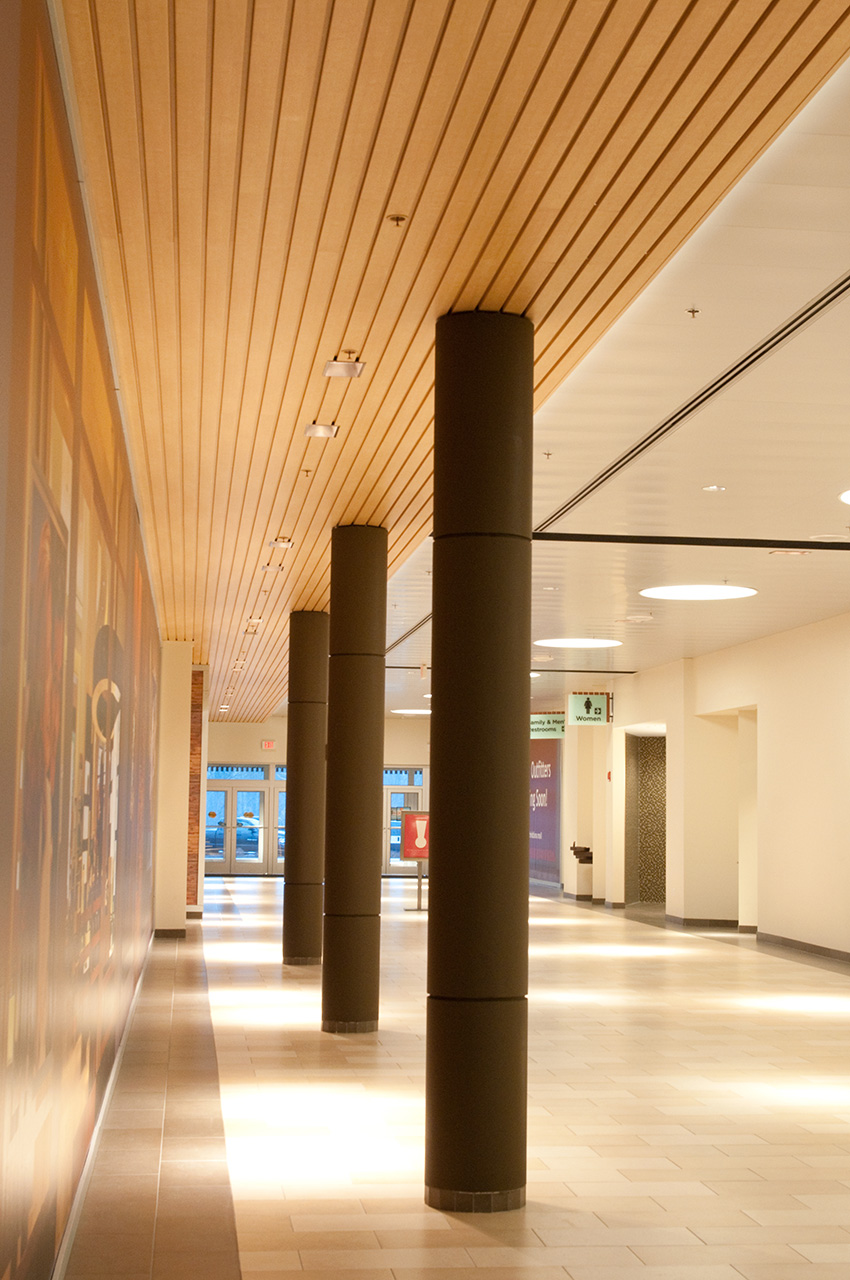 Photo courtesy of ROCKFON
Christiana Mall's corridors showcase linear metal ceiling with wood-look painted finishes.
The spacing between the linear panels may be determined by numerous factors, balancing both form and function. If the space between the linear panels is to be closed, consider whether the "filler" should be integral to the panel or installed as an applied accessory item.
Open Plenum Systems
As the names suggests, open plenum refers to an application where the occupied space is not separated from the space above by a continuous ceiling. These include beam systems, open cell systems, plenum masks and baffle systems.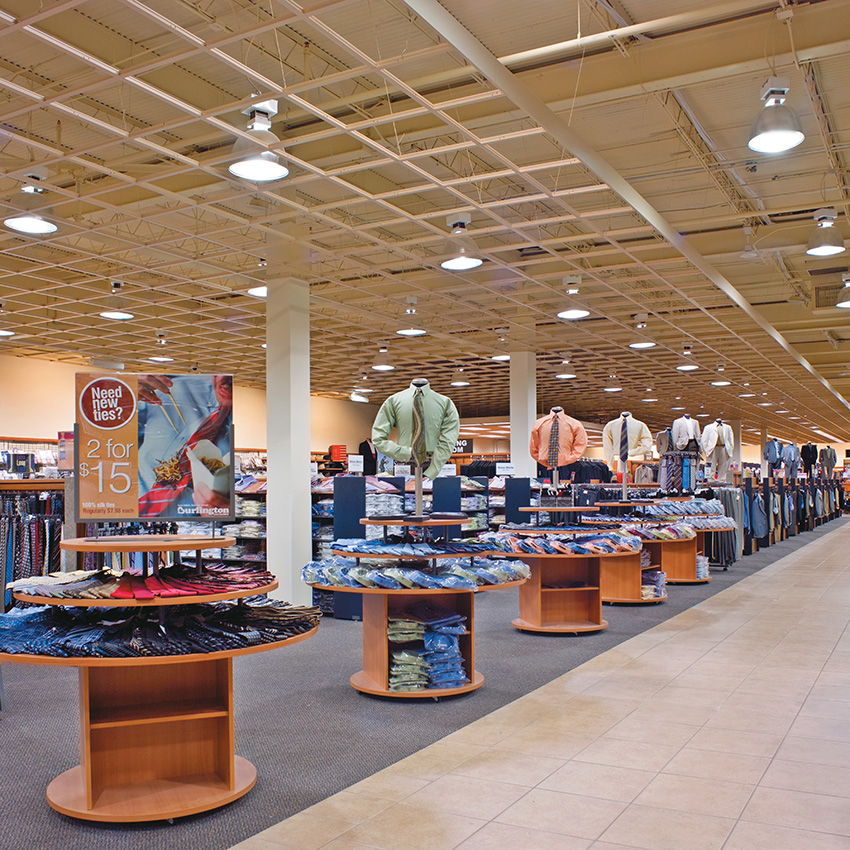 Photo courtesy of ROCKFON
Burlington shopping mall's metal ceiling system presents a continuous, cubed, open cell appearance, and the ease of accessibility to the plenum for frequent changes in retail lighting.
Beam systems use deep sections to create large, open modules that allow completely free circulation of air and the creative placement of light fixtures and other features. They are effective in defining a ceiling plane without a solid ceiling, and letting displays define the space, such as in a retail center or showroom.
As subset of beam systems, open cell systems offer an inexpensive way to add a design element to open areas. These systems are created with standard ceiling suspension finished on all sides.
Plenum masks are used to provide an attractive way to block the view of the structure and mechanical systems above the ceiling from a casual viewing angle without impeding the movement of air. Depending on the ceiling height, the view is usually obstructed at a 45-degree viewing angle. For an industrial look, plenum masks with woven wire and expanded metal can be selected in carbon steel or stainless steel, unfinished or painted, and in a breadth of styles.
Plenum mask cell ceilings involve a grid suspension system with vertical-slat covers installed over the web of the grid to give a solid appearance. Once the web covers and cells are installed, the openings are much smaller. This provides the desired plenum masking while still allowing for the installation of standard services such as air and light diffusers, and security devices.
Another type of plenum mask is the baffle system, used to partially hide the structure above with a linear design element. Baffles give a space a very different look when viewed from different angles.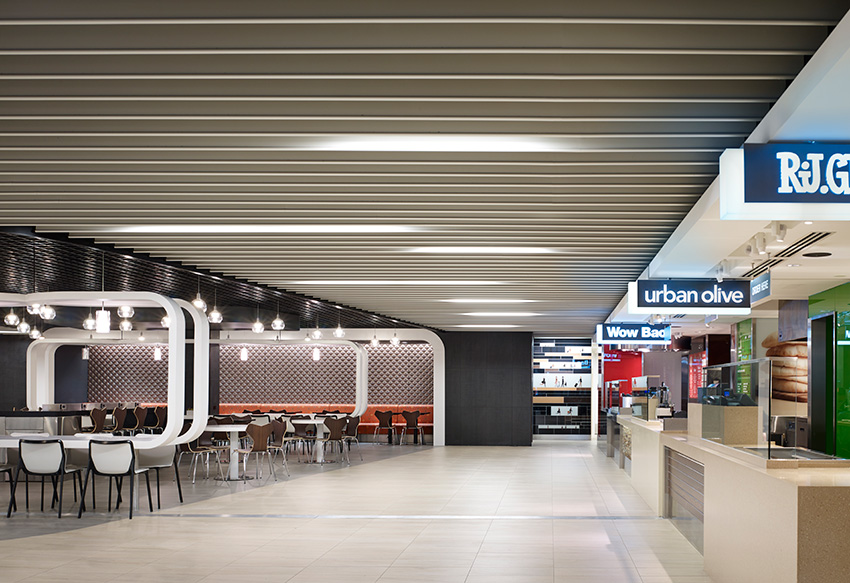 Photo courtesy of ROCKFON/Hedrich Blessing, courtesy of Epstein
O'Hare International Airport Terminal 5 in Chicago uses round base metal baffles to conceal the plenum, provide visual interest and enhance acoustics.
Curves and Clouds
Curved metal ceiling systems are most often used in open plenum ceiling applications. While several metal ceiling systems can be installed on a single dimension radius, other systems are specifically designed for curves. These are categorized as one- or two-directional curved systems and concealed curved systems. A two-directional system refers to a ceiling system that uses exposed curved main tees and cross-tees. A one-directional system uses exposed curved main tees, and concealed systems hide the suspension from view. Each curved system forms undulating ribbons. The peaks of the ribbon's curvatures are commonly called vaults and the dips are called valleys.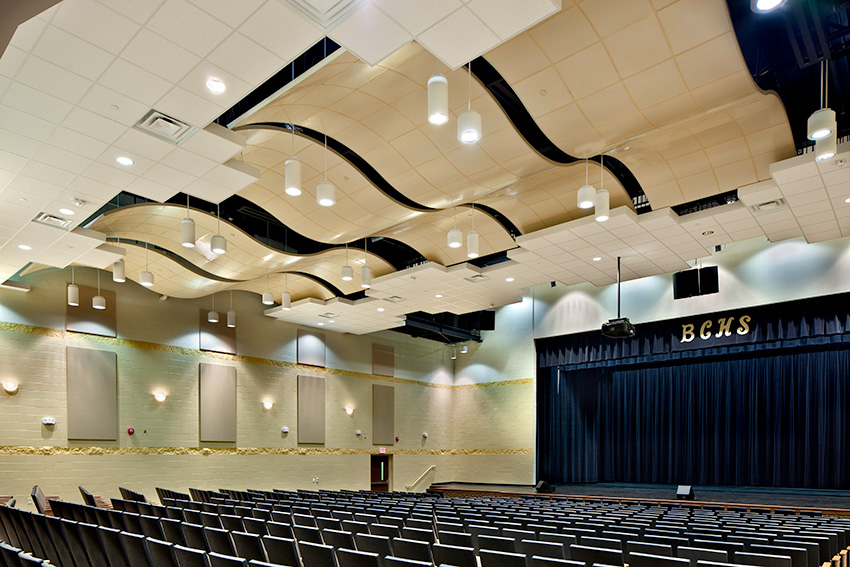 Photo courtesy of ROCKFON/Pepple Photography
Enhancing both acoustics and aesthetics, Bradley Central High School Fine Arts Center's ceiling is composed of curved two-dimensional metal ceiling system with metal perimeter trim and suspension systems.
Creating a cloud-like design feature, ceiling suspension and panels can be assembled with perimeter trim into free-floating islands, suspended pods and other layouts. These clouds may be installed in combination with a traditional suspended ceiling system or as a separate element to provide acoustic performance enhancements or visual accents.
Originally published in Building Enclosure
Originally published in April 2017
Notice