Terrazzo's Comeback–It's Not Just for Floors
Emerging from its Art Deco and mid-century popularity, new and exciting terrazzo designs have burst onto the scene
Sponsored by National Terrazzo & Mosaic Association
You are not currently logged in to your CE Center account.
Log in
to view and complete the quiz questions that are embedded in this article.
In considering cement vs. epoxy, the latter is thinner, lighter weight, uses fewer strips, offers better crack and chemical resistance, and more colors. It offers a lower labor cost, but the material is more expensive than cement. At the same time, cement, particularly sand cushion, requires a greater level of craftsmanship. If the application has a known moisture issue, cement is preferred since the material breathes. In its simplest monolithic form, cement terrazzo is a mixture of portland cement and marble chips, poured into place, ground, polished, and sealed.
To create sand-cushion cement, a thin layer of sand is poured and then a piece of plastic sheet is inserted to prevent the material from bonding to the structural concrete. To keep this in place, a 2½-inch minimum of sand and cement is then poured. Divider strips on a grid pattern are inserted, minimally 4 x 4 inches, and then ½ inches of marble and cement tops it off.
With a typical weight of 25 to 30 pounds per square foot, it's the best choice for flattening a slab. Its main application is slab- on-grade due to its weight. Found in building lobbies and many schools, sand-cushion cement terrazzo is also used in airports.
While sand cushion cement is terrazzo at its best, not all contractors offer it. The benefits of epoxy end up making it the preferred choice in most terrazzo installations today. Because of epoxy's unlimited design capabilities, it is the standard for terrazzo art-in-public-places installations.
Vertical Terrazzo Applications
While terrazzo's traditional application has largely been flooring, in reality, the material's versatility and advances in technology has helped enable it to break out into a number of vertical applications, including stairs and curbs, walls and columns, ramps, counters and bar fronts, seating and planters.
"We have seen a rise in vertical applications," observes Rickman. "We think this is driven by the knowledge that architects and designers can match their floor colors on vertical surfaces to create a continuous flow for projects." Similarly, Menconi states, "In the past few years, we have seen more vertical, wall base and countertops. The ability to provide a seamless surface is quite appealing. We have installed floor, wall, and vanity tops on a few projects and it looks great."
Because terrazzo can be designed to fit any dimension, it is well suited for matching horizontal and vertical designs that incorporate symmetry, such as wrapping around ramps, curbs, and stairs. Vertical applications, in particular, are popular with schools, higher education, hospitals, and municipal or public work buildings. With enhanced accessibility requirements for additions like ramps, terrazzo is a nice design option. In addition, these facility types tend to make longer term investments, and terrazzo offers long-term durability and the ability to withstand heavy traffic.
Stair treads in particular must withstand the constant pressure of foot traffic. As opposed to hardwood, vinyl, or carpet, terrazzo stair treads are not easily scuffed or scratched. Suitable for all types of staircase systems—including self-supporting stairs, wedge-shaped stairs, treads, and risers—terrazzo stairs are popular with shopping malls, hospitals, and multifamily buildings.
The same applies for seating and planters in these facility types. "The durable nature of terrazzo allows for an easy transition to exterior planters, seating, or water features in exterior public spaces and hotels," says Ebner. For interior spaces, popular applications for walls, columns, and elevators include hotels, office buildings, retail, stadiums, and arenas as well as schools and hospitals. Particularly with hotels and upscale corporate and retail, vertical terrazzo helps create the sense of grandeur often associated with these spaces. "With the rise of terrazzo floors in lobby applications, the floor translates directly into the elevator cab floors, creating a seamless transition between spaces," she adds.
Ebner likes to design terrazzo for bathroom walls as a durable alterative to tile or natural stone. Because the binder is impervious, hygiene is enhanced in bathroom environments. In addition, the seamless application means there are no grout joints to keep clean. The seamless, monolithic blending of poured-in-place floor and wall application is also a popular strategy for bathroom designs.
As for counters, bars, and bar fronts, they're trending in multifamily clubhouse spaces, restaurants, and hotels. "Terrazzo counters and bars are a great way to incorporate the material in a very intimate way because these spaces are focused on creating great experiences that impress," reports Eyink. With tenant amenity spaces, owners are looking for durable, high-end materials and terrazzo fits the bill. Style-wise, Ebner likes to combine metal, wood, and terrazzo on bar tops and kitchen counters to create a warm hospitality vibe.
When designing terrazzo for bathrooms, epoxy resins offer better chemical resistance, particularly when combined with porcelain or granite chips. Bathroom applications typically incorporate eco-friendly sealers like polyaspartic or water-based polyurethane. While these sealers are easy to maintain, it's important that building owners/facility managers follow proven maintenance procedures.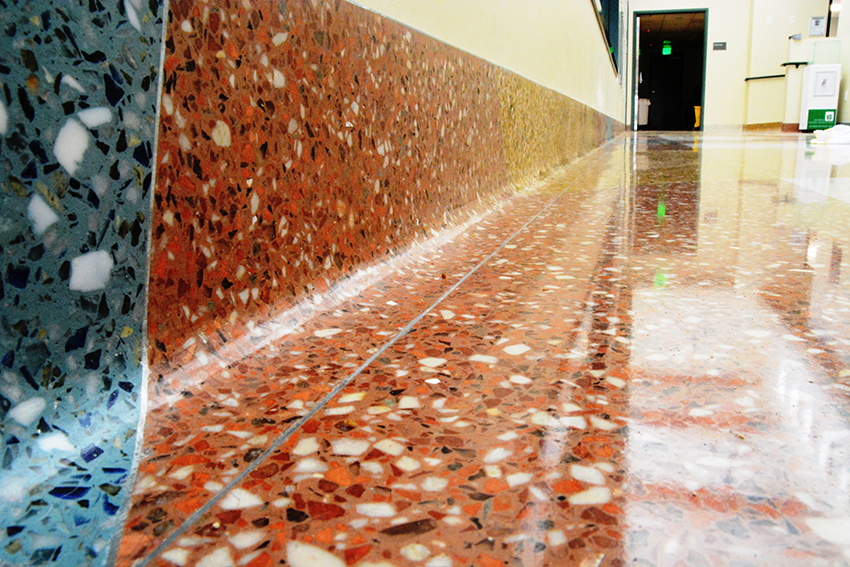 Photo courtesy of Corradini Corp.
At the Pasadena Humane Society, terrazzo flooring seamlessly extends to the wall base.
Poured-In-Place Vs. Precast
Terrazzo is either precast in the factory or poured-in-place on site. Precast is a quicker installation as the panels have already been mixed, ground, and polished, and are all ready to be adhered to the substrate. They can also be cast into molds to create terrazzo designs in just about any shape.
With poured-in-place, all the work is done on site, affording more design flexibility and a seamless look. So while the installation takes longer, the lead time to receive all the materials is shorter than precast. The aggregate terrazzo materials—i.e., marble, granite, recycled glass, porcelain, etc.—are mixed with the resin or cement on site. Craftsmen then hand trowel the terrazzo to the substrate where it is given time to cure. Next, the installer grinds and polishes the material to a seamless finish. The poured-in-place method also allows for thinner terrazzo, as slim as 3/8 inch, which offers the lowest weight per square foot. To determine which method to go with, Maraldo points out that every terrazzo project is different, and the design, schedule, and application need to be evaluated to help identify the best approach.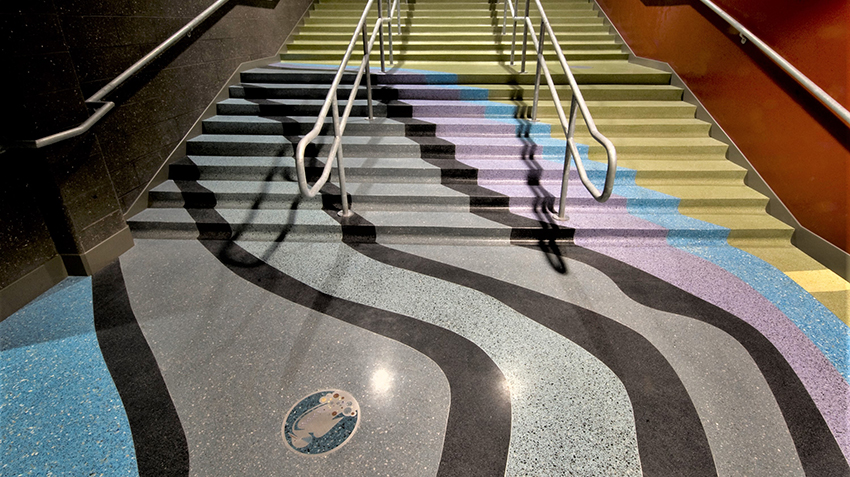 Photo courtesy of Grazzini Brothers and Company
Special attention was paid to create the impression of water cascading down the poured-in-place stairs at Minnesota's Duluth Entertainment and Convention Center.
Originally published in Architectural Record
Originally published in June 2022
Notice