Terrazzo's Comeback–It's Not Just for Floors
Emerging from its Art Deco and mid-century popularity, new and exciting terrazzo designs have burst onto the scene
Sponsored by National Terrazzo & Mosaic Association
You are not currently logged in to your CE Center account.
Log in
to view and complete the quiz questions that are embedded in this article.
Best Practices For Installing Vertical Terrazzo
For vertical applications, they can be poured-in-place or precast, though there are advantages and disadvantages to each method. "Personally, I prefer poured-in-place for vertical applications," relates Hedges. "The key is to field-measure the concrete or steel structure for the manufacturing of the precast," advises Rickman. "The precast is then installed using a bonding/adhesive material and the joints are then caulked with a predetermined color."
If the project calls for long runs of stairs or complex curves, Hedges recommends poured-in-place. "Poured-in-place allows for custom dimensions and flexibility when dealing with 'out of whack' site dimensions," adds Menconi. Rickman explains that the most important part of the poured-in-place stairs installation is making sure they are installed as flat as possible so that the grinding and polishing are minimal.
If the project only calls for one or two stairs, or a small landing, then precast terrazzo will be the most efficient. Another possibility is a precast radius or a column wrap terrazzo cove base. "Precast terrazzo can be used at existing steel stairs to create a new elevated look without requiring new structure," adds MdeAS Senior Associate Tricia Ebner. For precast stair treads, they can be produced in a maximum length of up to 8 to 9 feet before requiring a seam. Project managers should anticipate lead times of 10 to 12 weeks.
For designs with a terrazzo plinth or seating around the bottom of the stair, these can be either precast or poured-in-place. If there are other poured-in-place terrazzo applications for the project, then the latter is likely the way to go. Otherwise, precast will likely make more sense.
For terrazzo column installations, contractors use both poured-in-place and precast methods. "Poured-in-place is installed on a radius, using divider strips for the top edge, a base bead, and a strip to separate it from the floor pour – a toe strip," explains Rickman. With precast, it's important to take careful field measurements to accurately determine the diameter of the columns. They typically range between 4 and 12 inches in height and are manufactured in two, three, or four sections, depending on the size. "After installing, the joints will be grouted or caulked to fill in the voids in the pieces as well as along the floor and top edge of the sections," says Rickman.
With a terrazzo wall design, precast is easier and cost effective, but poured-in-place is also an option. "Terrazzo's precast application creates the opportunity for monolithic wall sources – as if carved out of giant block – it is powerful and bold," observes Dan Shannon, partner, MdeAS Architects, New York City. With poured-in-place, the wall surface is first prepped, a prime coat is mixed, and then a thick mixture of cement (or epoxy) and aggregates are troweled on the wall. Then every inch is ground four to five times. According to Rickman, other vertical surfaces, such as wainscoting or planters, can also be clad with precast terrazzo, which is usually made at a ½-inch thickness.
When selecting a terrazzo system for an elevator design, Hedges advises against cement terrazzo as it's not suited to handle the stresses of the elevator cab movement. "Epoxy terrazzo is the correct system because the epoxy binder provides excellent physical properties, particularly a very high flexural strength which allows the terrazzo system to flex and accommodate the loading of the elevator cab," he explains.
If poured-in-place is selected, this offers the most design flexibility, the ability to accommodate larger elevator cab sizes, and offers the lowest weight per square foot as the panels are at just 3/8 inch. Precast offers the advantage of a quicker installation, but weighs a bit more, with a typical ½-inch thickness plus 1/8 inch of setting material.
If a project calls for terrazzo ramps, poured-in-place is the preferred method, but precast can be used as well. Regarding the former, Ebner recommends epoxy. "The epoxy system allows for long uninterrupted spans allowing for a level uniform ramped surface. This is an ideal solution for commercial lobbies where a consistent floor finish is required to negotiate floor level transitions."
Sharing a best practice for these applications, Rickman relates, "We usually use a laser to shoot a line on the sides to make sure the finished terrazzo follows all the ADA requirements in the amount of slope allowed. If needed, non-slip tape or an epoxy with non-slip additive may be used to avoid any chance of slipping," explains Rickman. Whether precast or poured-in-place for any of these applications, Maraldo explains that the best way to maintain quality and craftsmanship is by working with an experienced NTMA contractor who can help the design team navigate the details and intricacies of their project.
Vertical Terrazzo Case Studies
A number of noteworthy projects do a great job of demonstrating the versatility and beauty of vertical terrazzo applications. For the renovation and expansion of the Emancipation Park Community Center in Houston, Perkins+Will was looking for a stylish yet easy-to-clean material capable of withstanding the foot traffic in this public space.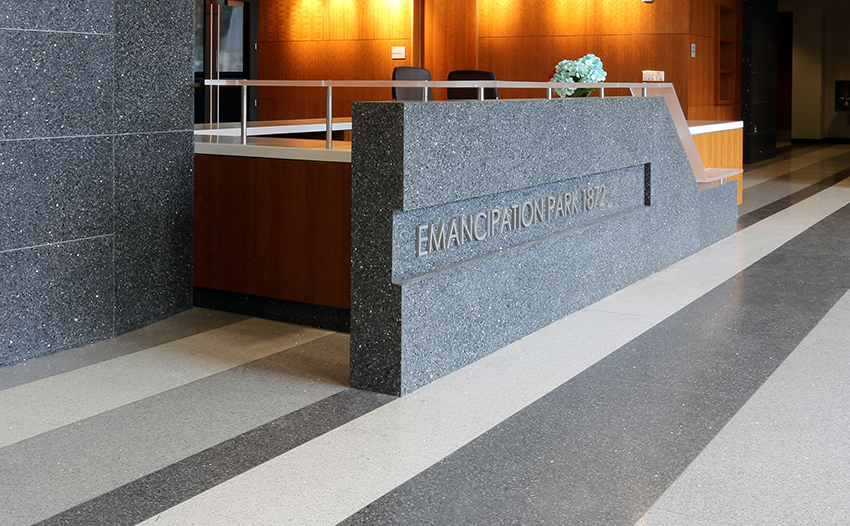 Photo courtesy of Mark Dean Photography
White and gray precast epoxy terrazzo was designed for the desks, walls, base, and donor wall at Emancipation Park Community Center in Houston.
Offering a seamless transition from the flooring, precast epoxy terrazzo was designed for the desks, walls, base, and donor wall. Matching the colored strips of the floor, the terrazzo was created in white, medium gray, and dark gray. The terrazzo slab pieces were originally cast as 5-by-8-foot panels and then cut to the required sizes, relates Maraldo. "The biggest challenge that we faced creating the precast panels was maintaining the flatness of the pieces. Consistency was necessary because the panels were then spread around the building in various applications. Variation in the different sizes and colors would have resulted in lippage at the edges during installation," he explains. In all, the project called for 1,500 square feet of precast terrazzo in various sizes, connected with terrazzo strips and hand-ground for a seamless appearance.
For another project, traditional sand-cushion cement terrazzo was installed on the floors, ramps, and stairs in the basement level of Houston's 35-story Bank of America. The Understory—a 35,000-square-foot hub—houses a market, bar, restaurant, and tunnels connecting to the buildings across the street.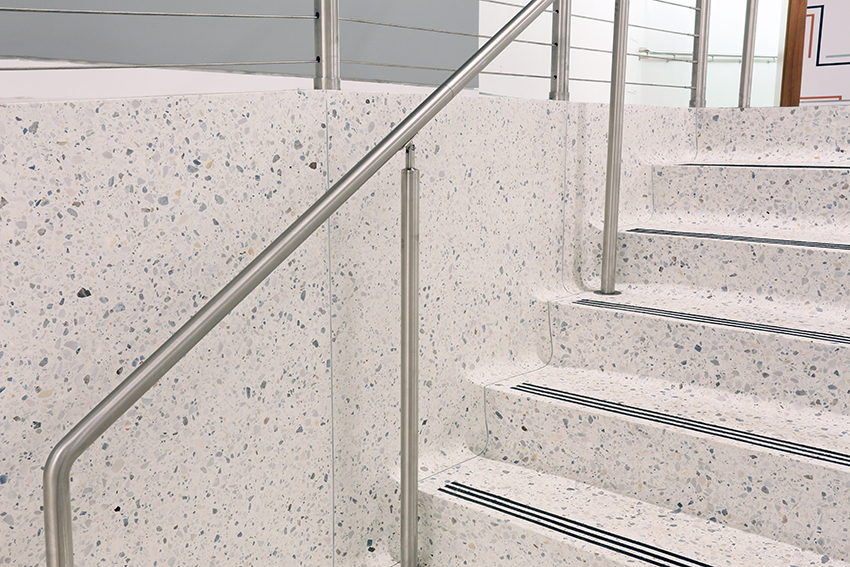 Photo courtesy of Mark Dean Photography
Venetian aggregate and a handcrafted, heavy-top divider strip create a clean, classic aesthetic for the floors, ramps, and stairs in the basement level of Houston's Bank of America.
Originally published in Architectural Record
Originally published in June 2022
Notice