Terrazzo's Comeback–It's Not Just for Floors
Emerging from its Art Deco and mid-century popularity, new and exciting terrazzo designs have burst onto the scene
Sponsored by National Terrazzo & Mosaic Association
You are not currently logged in to your CE Center account.
Log in
to view and complete the quiz questions that are embedded in this article.
Unique Applications
In early 1964, the Beatles performed their first U.S. concert at the iconic Uline Arena, also known as the Washington Coliseum in Washington, D.C. Unfortunately, over the years, the historic venue fell into disrepair until Douglas Development brought in Antunovich Associates Architects to help revitalize it. "It was an exciting opportunity for me as a designer," says Kevin Crosby, associate principal at Antunovich. We had "seen this decaying industrial building with its iconic shape for many years, never realizing its full potential, [and were] then given the opportunity to investigate and explore the buildings to revitalize them to what they are today."
Contributing to the NoMa ("north of Massachusetts Avenue") neighborhood restoration near Union Station, the architect was interested in doing something playful and compelling with the lobby. Their concept was to create an inlaid planter, flush with the floor and filled with succulents, moss, river rock, and a grand ficus tree.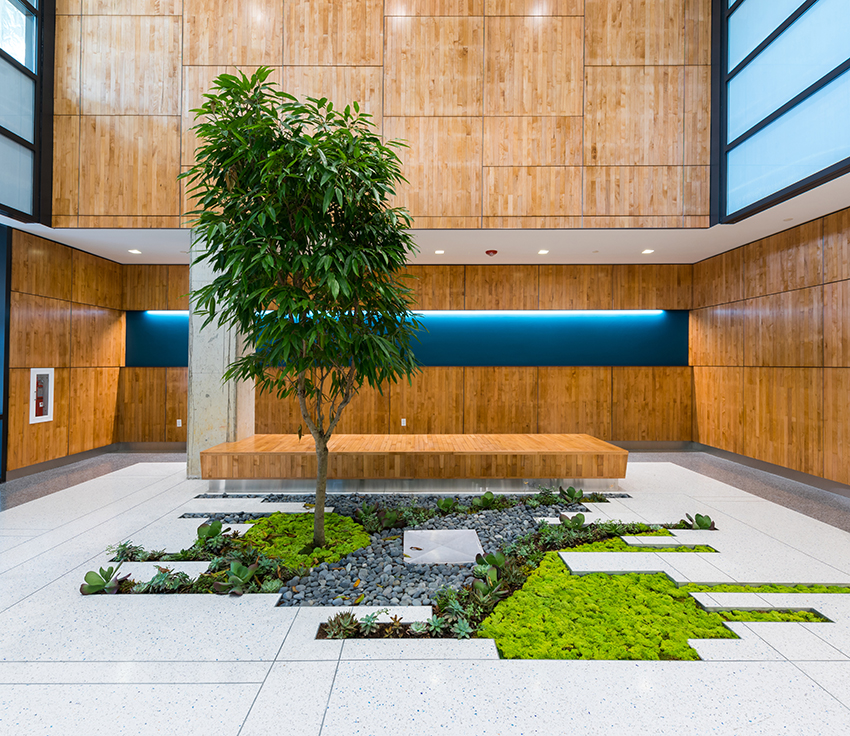 Photo courtesy of Brycen Fischer
Washington D.C.'s historic Uline Arena is now a restored mixed-use facility featuring a terrazzo floor with an inlaid planter of succulents, moss, river rock, and a grand ficus tree.
Capitalizing on terrazzo's versatility, particularly as a poured-in-place material, the team was able to create terrazzo shapes that extend into the planting pit in varying lengths and widths. "The great thing is being able to set an intriguing form and fill it in to be seamless," Crosby explains. To make the installation work, careful substrate preparation was essential, particularly at the planter, where scrupulous work was required to make it dimensionally correct, square, and plumb. With a 4-inch sand/epoxy substrate on top of the mason's rough dimensional installation of concrete masonry units, a perimeter was created. The extensions were built up with 3/8-inch epoxy and the exposed perimeter was then finished with a custom 3-inch zinc edging with an integrated L-angle. Due to the size and configuration of the extensions, all surfaces had to be hand-ground and polished to match the rest of the floor.
Antunovich Associates Architects currently houses its offices next to the main lobby and its terrazzo floor with planters. "We are proud to have brought the historic Uline Arena back to life," reports Crosby.
As another visually compelling example of vertical terrazzo adding a sense of beauty and flair, for the Pacific Gate Condominiums in San Diego, Kohn Pedersen Fox Associates specified contoured and flat terrazzo wall panels and a terrazzo floor in the lobby area. Inspired by the curving forms and materials of the local waterfront, large rock, and mother-of-pearl aggregate allude to the sand, sea, and sunlight. In addition, randomly intersecting brass ring inlays decorate the floor and the textured terrazzo fascia panels. One particular challenge was setting the contoured terrazzo fascia panels along a 10-foot-tall curved wall. The precast panels were predrilled and then attached to one side of the plywood substrate. A heat gun was then applied to the panel to bend it to the wall and then attached to the other side.
In a unique adaptive reuse project, terrazzo from the century-old St. Vincent's Hospital in Indianapolis was restored as Ivy Tech Community College's student center. Blending the old with the new, cementitious terrazzo in both the main entry and a monumental stairway was refurbished and new epoxy terrazzo in complementary colors was installed in the common areas of the building's new sections. While original terrazzo's natural patina and irregularity of colors made color matching quite challenging, the resulting surfaces present a well-earned character in the form of a classic, retro design. "Terrazzo allows for a design of patterns to flow from space to space that you can't do with other materials, and it is a hard surface with a high level of durability," explained project architect Kevin Shelley, AIA, LEED AP, principal at Schmidt Associates in Indianapolis. "Your imagination is almost the limit of what you can do with it."

Photo courtesy of Blakley Corporation
Ivy Tech Community College's student center in Indianapolis features a century-old, restored terrazzo staircase combined with newly built terrazzo flooring.
On another adaptive reuse initiative, the beauty of terrazzo is showcased as a paneled bar front and its durability as seamless floor-to-ceiling restrooms, Nashville's 81-room boutique Fairlane Hotel is a transformed mid-century bank building. Requiring a high level of craftsmanship to design to vertically install the poured-in-place vertical bar front, the team utilized hand bent divider strips to enhance the retro tones and patterns of the lobby and café. The three-color epoxy terrazzo floor unifies the aesthetic of the lobby, with its brass feature wall and original oak paneling, while adding value as a low-maintenance, durable floor.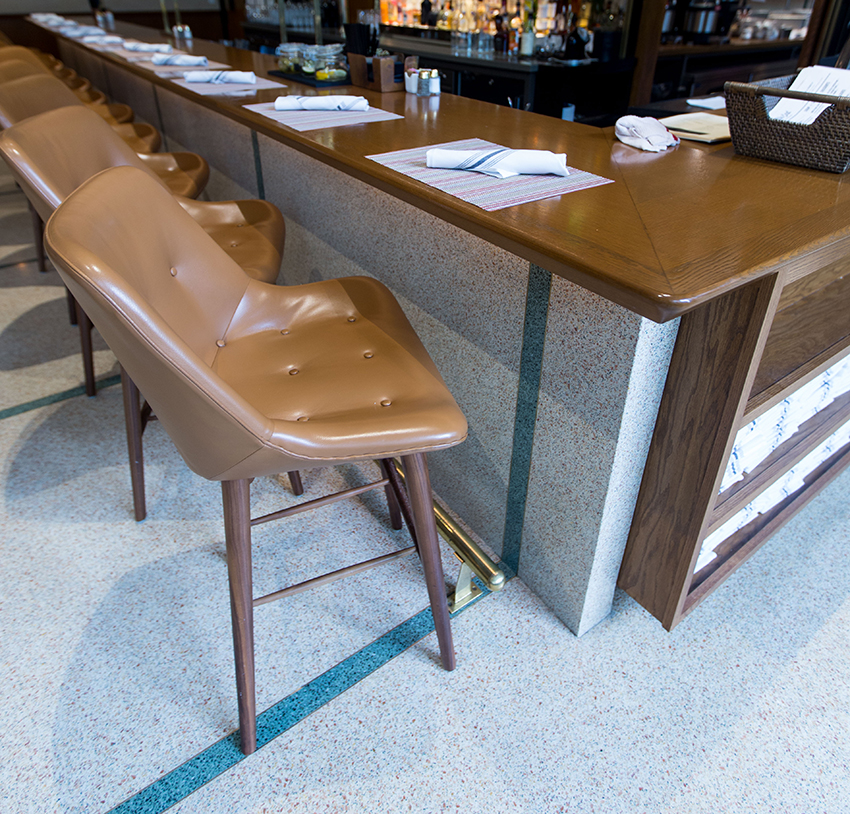 Photo courtesy of Brad Hedges
A terrazzo bar front and floor-to-ceiling terrazzo surfaces deliver a beautiful aesthetic for the adaptive reuse of a mid-century bank building into the boutique Fairline Hotel in Nashville.
Highlighting one more noteworthy project, at the Statewide Library Archives Museum in Juneau, Alaska, a 10,000-square-foot, accurately scaled state map in the lobby is made from epoxy terrazzo, and precast terrazzo stairs and landings match the concrete sidewalks outside of the museum. The crafted lobby installation uses three contrasting colors, incorporating 100-percent recycled concrete aggregate. Zinc and brass divider strips form the intricate shoreline and highlight specific features on the map. To support a radiant heat system below the floor, expansion joints were placed in the terrazzo and color-matched so as to not detract from the terrazzo design.
On The Horizon
Looking forward, fine speckled terrazzo is forecasted to be a trend this year, reports Eyink. "With the base color coming through, the more understated look is a fresh take on the popular look. Not only is the elegance of the material attractive, but it also has benefits from a broadened opportunity for recycled content and more streamlined manufacturing capabilities."
As a slip-resistant, low-maintenance, bacteria-resistant surface, terrazzo is well suited to meet today's post-pandemic needs. Continuously demonstrating its versatility for a variety of vertical applications, designers and contractors anticipate that new and exciting vertical terrazzo designs will continue popping up in hotels, schools, airports, municipal facilities, retail, and more. "The ability to easily customize terrazzo's colors and designs has given new meaning to an old art," concludes North American Terrazzo's Singh.
Barbara Horwitz-Bennett, is a veteran architectural journalist who has written hundreds of CEUs and articles for various AEC publications. BHBennett.com