High-Performance Glass Solutions
A systems approach to efficient building envelopes
Sponsored by National Glass Association
Laminated Glass
Laminated glass is made up of two or more lites that are permanently bonded under heat and pressure with one or more plastic interlayers to provide extra protection. This type of glass is great for areas that need added protection, such as entry doors or glass areas in banks, waiting areas, or other public spaces where safety is a concern. Another safety feature is that, when broken, the glass stays contained instead of vacating the glazing opening. This is especially important in the event of forced entry or weather events that could cause flying debris. In addition to safety, laminated glass provides enhanced acoustics by keeping sound in areas where it belongs and out of places where it does not belong. It also provides daylighting for areas where glass may not have been an option before.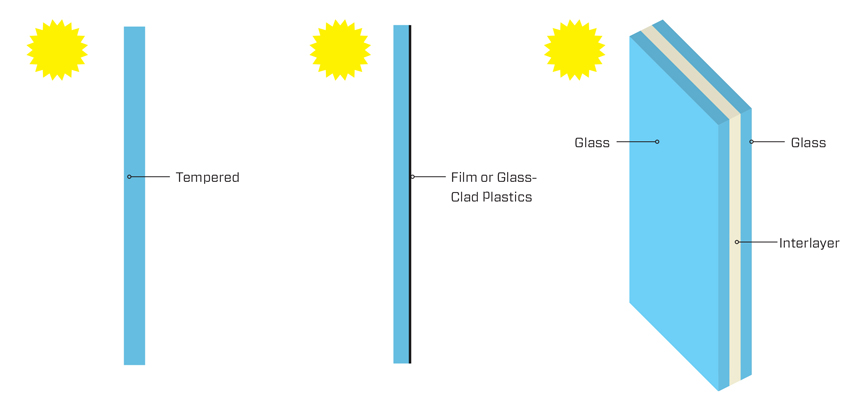 From left: illustrations of tempered glass, film or glass clad plastics, and the layers that make up laminated glass
Laminated Insulating Glass Unit (IGU)
Laminated glass within an insulating glass unit (IGU) provides all the benefits previously discussed for laminated glass but with the added benefit of energy efficiency and resistance to adverse weather. Laminated IGUs are also made up of two or more lites that are permanently bonded under heat and pressure with one or more plastic interlayers. However, laminated IGUs provide an extra layer of protection thanks to the spacer placed between the two lites. Sometimes laminated IGUs are comprised of two laminated pieces of glass, and other times it is a single lite with a spacer and then laminated glass on the other side. This space between the two lites provides extra thermal protection and can limit unwanted heat transfer. This type of glass can also protect against wind-driven debris impact from strong storms, such as hurricanes.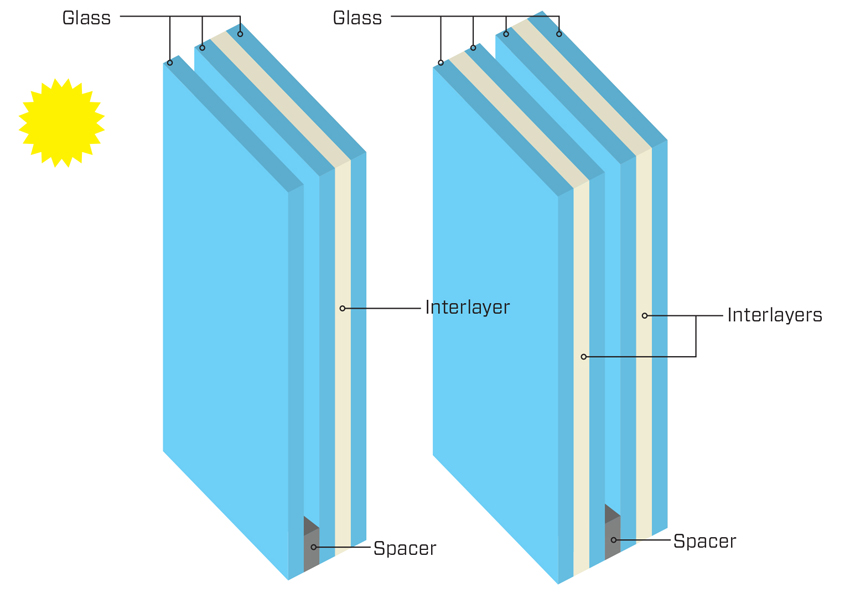 Illustration of layers that make up a laminated insulating glass unit (IGU)
Multi-Ply Glass
Multi-ply glass is a high-quality glazing configuration that contains multiple interlayers and/or plastic glazing for added protection to withstand extreme conditions, including forced entry, blasts, ballistics, hurricanes, and tornadoes. Like laminated glass, it can also provide enhanced acoustics, keeping sound in areas where appropriate and out where not appropriate. It can also provide daylighting options for secure areas that may not otherwise have the option for daylighting if, say, the area were surrounded by a concrete wall for protection.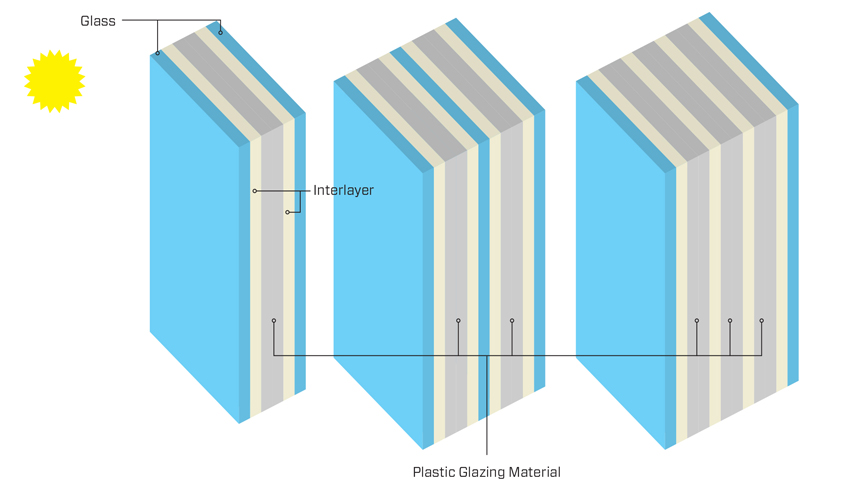 Illustration of multi-ply glass
Whether it is added protection or lower cost, there is a type of glazing for every application that can provide benefits to the building owner. By specifying a combination of various glazing types for specific applications, architects and specifiers can create a solution that is best for all.
Understanding Performance and Payback
With all the glass and glazing options out there, one has to wonder, why is the latest and greatest technology not being used to its fullest potential on every project?
Glass and glazing industry experts point to a range of hurdles that stand in the way of performance, including cost, and outline the opportunities for payback in terms of people, energy costs, and more.
Perhaps the biggest roadblock to high-performance building design and construction is cost, say industry officials. To overcome this hurdle, the industry as a whole (including manufacturers, specifiers, builders, and building owners) must commit to achieving high levels of thermal performance so that occupants can see an increase in energy cost savings.
High-performance glass and glazing products are often taken out of projects due to higher upfront costs, sources say. "Specs often start off with high-performance systems. Design teams are interested in high-performance systems, but because of cost, they are value engineered out," says John Cox, project executive, Giroux Glass.
The glass and glazing industry is ready to help architects bring their projects—new and old—to the next level of building performance. While the industry has the technology, it is up to specifiers and consumers to prioritize this technology when planning and constructing high-performance buildings.
To achieve high-performance targets, jurisdictions must adopt and enforce the newest, more stringent energy codes, project teams must work collaboratively to design and construct buildings that meet performance goals, and team leaders and building owners must prioritize performance and be willing to invest in available solutions.
"There are systems on the market that can meet the most stringent energy requirements. They are just not being used," adds Helen Sanders, strategic business development, Technoform.
Architects and specifiers can address these challenges when presenting glass and glazing options to their clients by providing solutions in regard to long-term savings as well as occupant comfort.
Paybacks and Cost Savings
When it comes to cost savings, glass and glazing companies have developed a range of high-performance solutions that are achievable and affordable. "With a high-performance thermally broken window and curtain wall system, and good edge-of-glass [performance], you can achieve a good U-factor using standard low-e. You can do it. You just need to know what is available," says Technoform's Sanders.
To keep costs down, Alissa Schmidt, technical resources manager, Viracon, recommends that architects "stay within the realm of typical 1-inch insulating glass systems and stay within an average module size. Not varying systems, not going with unique shapes, can help with pricing," she says. For glass coatings, she recommends designers work with suppliers to find the most affordable low-emissivity glass for the project. "Tinted substrates are also an option. There is minimal cost to go with basic tint," she says.
High-performance facades can translate to lower heating, cooling, and lighting costs while offering improvements for occupants. This is true for new construction and, in particular, retrofits. "It is not a huge investment to update the envelope. The paybacks can be major. You can improve occupancy comfort, save on your energy bill, and reduce the loads on the air conditioning or heating. This can save a lot of money, and you will see increases in lease rates and property values," Wignall says.
Originally published in Architectural Record
Originally published in June 2020
Notice