High-Performance Glass Solutions
A systems approach to efficient building envelopes
Sponsored by National Glass Association
Translating Code Requirements to Glazing System Solutions
As technology advances, energy codes are revised and updated to ensure that buildings are not only safe for occupants but also provide as little impact as possible on the environment. High-performance glass and glazing solutions typically meet or exceed energy code requirements and/or health and safety codes and requirements, but it is important to be aware of the current codes when specifying buildings.
Each new edition of the baseline energy codes brings increasingly stringent requirements for windows, particularly in terms of thermal performance. In the previous 15 years alone, ASHRAE 90.1 U-factors for windows reduced between 20 and 60 percent, depending on the climate zone.
The newest version of ASHRAE 90.1-2019 was approved in October 2019, and it continues its trend toward increased energy performance in glass and glazing systems. Among the updates include another 5–17 percent reduction in U-factor. In many cases, this creates roughly a "zone shift" between the 2016 and 2019 versions—what was required in Zone 7 will move to Zone 6, Zone 6 to Zone 5, etc. If products currently meet the requirements for one zone, it will not be too difficult to push that product into the next zone.
In general, the new code marks a push for improved framing, warm-edge spacers, argon gas fill, and fourth-surface low-e coatings. The new code also includes stronger daylighting requirements, including demand for more controls and toplighting.
There are two main code trends to watch: envelope backstops and verified performance requirements.
Envelope backstops require a minimum level of envelope performance, no matter what else is done in the building. These backstops can limit how much of the HVAC, lighting, and hot water systems can be used as a trade-off against envelope and window area components. These new backstops are being enacted in New York City, Massachusetts, and Washington state, but they will not be part of ASHRAE 90.1-2019 or 2021 IECC.
Also on the horizon are thermal bridging requirements. Thermal bridging refers to the more thermally conductive—or thermally inefficient—sections or components of a system or wall. Identifying and addressing the thermal bridges in a system will improve whole-system performance. "In the New York City energy code, architects are going to have to make drawings that show all the thermal bridges with details that quantify transmissions," says Dan Piselli, director of sustainability at FXCollaborative. "At first, there will be no requirement, just documentation. … In the next code cycle, they are going to have performance requirements."
Calls for verified performance will require project teams to prove their building lives up to energy and thermal performance targets after occupancy. A big driver of this is outcome-based codes. However, some developers and building owners are also adding contract clauses to withhold a portion of the payment until verified performance goals have been met. "We have started to see performance-based contracts. A team gets a base fee, and then gets more or less than that based on building performance," says LBL's Selkowitz.
What, roughly, will be required for glazing products to meet the U-factor requirements out-lined in ASHRAE 90.1-2019?
The table below provides a general idea of the potential glazing solutions to meet U-factor requirements. Note, architects will also need solar control products to meet SHGC requirements. Also note, the general product suggestions address performance attributes for window walls and, secondarily, sliding operable windows. Awning, vent, and casement operable products will have more difficulty complying. In these cases, it will be necessary to add extra features, or use area-weighted averaging for the facade, which will balance out higher and lower U-factor products.
Product assembly descriptions are provided to offer a general idea of what high-performance systems might be required in the various zones. Actual U-factor and SHGC ratings will depend on the specific frame, spacer, and low-e product choices. Do not rely on this for actual compliance.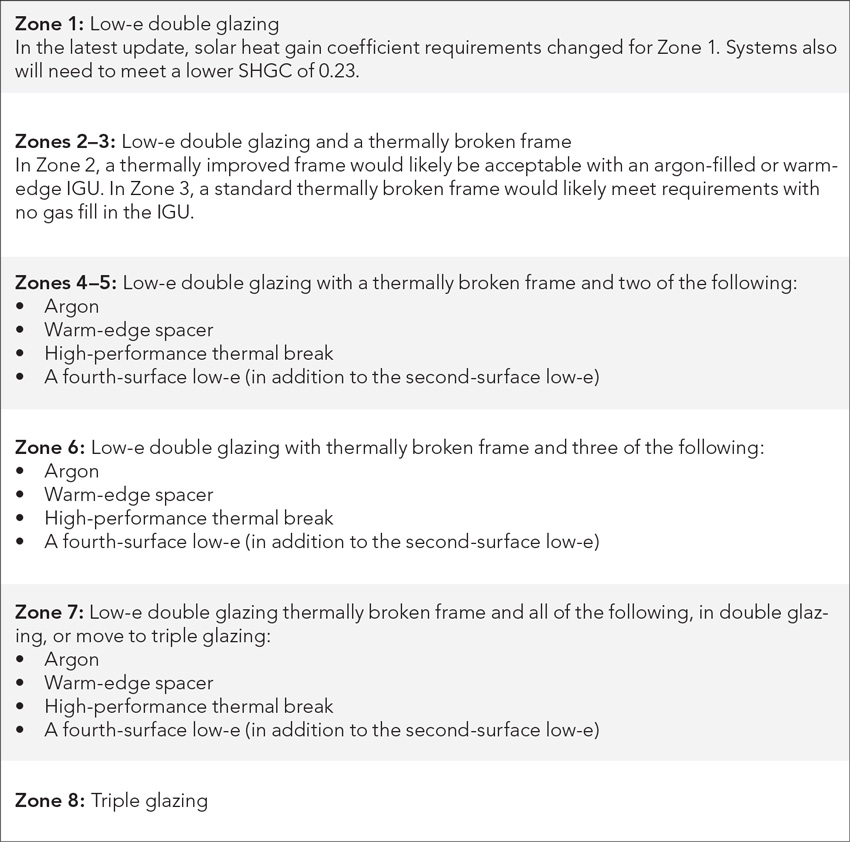 Source: Tom Culp, Code Consultant, National Glass Association, and Owner, Birch Point Consulting
Product assembly descriptions are provided to offer a general idea of what high-performance systems might be required in the various zones. Actual U-factor and SHGC ratings will depend on the specific frame, spacer, and low-e product choices. Do not rely on this for actual compliance.
Code Requirements for Fire Protection
While meeting energy codes can reduce unwanted heat transfer and help reduce carbon emissions and a building's carbon footprint, it is vital that buildings also meet fire-protection codes to ensure occupant safety. Fire has posed a reasonable risk to building structures and people for centuries. In 1896, the National Fire Protection Association (NFPA) was founded after the Industrial Revolution to help protect buildings and occupants from fire danger. The NFPA is a global self-funded non-profit organization that aims to eliminate death, injury, and property damage caused by fires. To help reach this goal, the NFPA regularly publishes codes and standards to help minimize the risk of fire danger. These standards are widely accepted and have been adopted and implemented throughout the world.
As previously discussed, there are two distinct performance categories—fire resistant and fire protective—that dictate fire-rated building requirements. Fire-protective products block the flames and gases, while fire-resistant products also block the radiant heat they create. These days, the industry is seeing more and more requests for fire-resistant glazing, partly because the demand for larger spans of interior glass has increased. In the example of corridors that feature lots of glass, architects must provide safe egress in the event of a fire. This is not only dictated by clear paths to exit the building but also by reducing the ability for fire and flames to spread. Fire-resistant glazing can help.
To ensure occupant safety, annual Fire and Egress Door Assembly Inspections are on the rise. Many local jurisdictions require that fire-rated doors be inspected annually to ensure they are fully functional over their lifespan. "This not only makes it critical that any replacement fire-rated glass is fully certified, but it also drives fire-rated door manufacturers to glaze with lightweight [glass ceramic products] right in their factory to ensure that the whole door is in compliance," says Rob Botman, general manager, Glassopolis.
Existing Standards, Certifications, and Test Methods for Intruder Protection
While the threat of intruders and active shooters has become an increasing concern in modern times, there are currently no mandatory building code requirements for security glazing in schools, churches, hospitals, or other public places. However, a growing number of school districts nationwide have voluntarily decided to meet security glazing standards to provide additional protection for their school buildings.
In response to the increased number of threats, ASTM International is working on an industry-wide test standard to address mitigating armed attacks on buildings, with a focus on schools. Currently, there are impact standards, forced-entry standards, and bullet- and blast-resistant standards. However, standards organizations have yet to develop a standard or test method specifically for active-shooter resistance in schools.
In the absence of an industry-wide test standard, several individual companies have developed their own test methods, and those in the industry are diligently working together to create specs that can address all the variables. Many industry leaders hope they can gain consensus and publish standards by 2020.
Additionally, the NGA's Fabricating Committee formed a task group to update the NGA's Glazing Information Bulletin on school security glazing. The task group will explore developing a test method or guidelines for manufacturers looking to supply security glazing or systems for schools.
While new standards are in development, there are currently existing standards that are recommended for school security applications. ASTM E2395 is the most applicable to modern-day needs. ASTM E2395: Standard Specification for Voluntary Security Performance of Window and Door Assemblies with Glazing Impact was updated in 2018. The specification addresses systems intended to "frustrate opportunistic entry by unskilled and semi-skilled intruders," according to ASTM. In the test, 2-by-4 missiles are projected at the glazing assembly with an air cannon. Then the system is hit 10 times with a ball-peen hammer. Since bullet-resistant glass is expensive, this glazing assembly was designed to provide schools with another option to help deter the entry of an intruder.
There are three main categories of security products: bullet resistant, forced entry, and blast resistant. Security-rated glass products must undergo certification and testing from an outside test lab. Key standards and test methods include: Forced-entry standards (ASTM F1233, ASTM F1915, UL 972, ASTM E2395), bullet-resistance standards (UL 752, NIJ 0108.01, WMFL ballistics and forced-entry test procedure), blast-resistance standards (ASTM F1642, ASTM F2248, ISO 16933), and school security standards (NFPA 3000). All of these standards and tests are currently voluntary.
Conclusion
When specifying glass and glazing, it is important to take a systems approach and consider the framing as well as other parts of the system, including HVAC and occupant needs and expectations. Glass and glazing can also provide occupant safety from fire and intrusion as well as comfort through thermal protection and daylighting.
Jessica Jarrard is an independent writer and editor focusing on health, science, and technology. She contributes to continuing education courses and publications through Confluence Communications. www.confluencec.com
| | |
| --- | --- |
| | The National Glass Association (NGA) is the largest trade association serving the architectural glass and metals industry. A technical and educational resource, NGA envisions a future in which glass is the material of choice to enhance spaces where people live, play, learn, and work. |
Originally published in Architectural Record
Originally published in June 2020
Notice