High-Performance Glass Solutions
A systems approach to efficient building envelopes
Sponsored by National Glass Association
Learning Objectives:
Define the qualities of high-performance glass systems and how they promote energy efficiency.
Explain how performance and aesthetics can work together to promote building occupant comfort.
List factors to consider when specifying glass and glazing options for security applications or occupant protection.
Describe how codes and standards help specifiers pick the right products.
Credits:
This course can be self-reported to the AIBC, as per their CE Guidelines.
This course is approved as a Structured Course
This course can be self-reported to the AANB, as per their CE Guidelines
Approved for structured learning
Approved for Core Learning
This course can be self-reported to the NLAA
Course may qualify for Learning Hours with NWTAA
Course eligible for OAA Learning Hours
This course is approved as a core course
This course can be self-reported for Learning Units to the Architectural Institute of British Columbia
In our modern world, designing, specifying, and constructing high-performance buildings is no longer optional. Rigorous building codes require it. Owners and occupants increasingly demand it. And our global sustainability depends on it. "Anyone who can see the data on climate can see that something has to change when it comes to carbon emissions," says Josh Wignall, director of marketing for EFCO Corp. "And we need to do it quickly."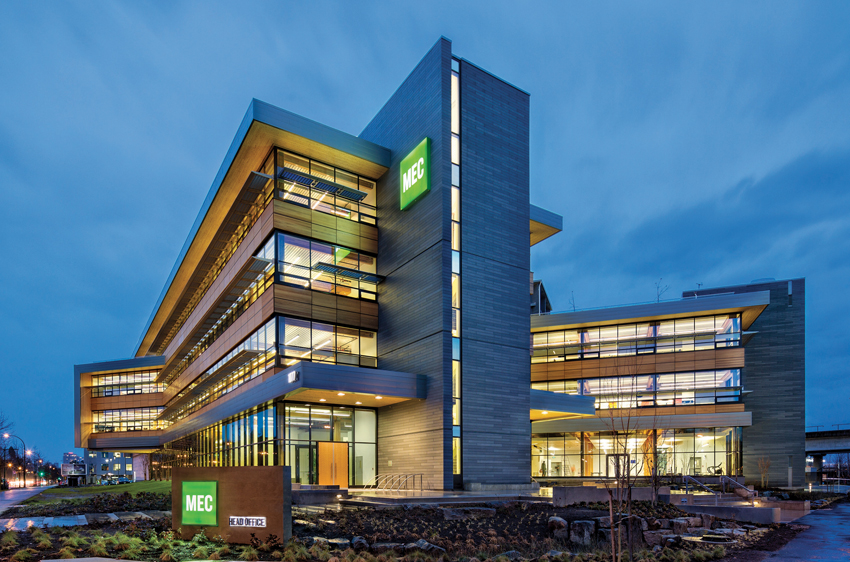 All images courtesy of National Glass Association
MEC Headquaters in East Vancouver, British Columbia, Canada
Increased carbon in the atmosphere leads to climate change, which causes drastic temperature fluctuations, droughts, severe tropical storms and hurricanes, and rising sea levels. Intense storms, heat waves, driving rain, and heavy snow can wreak havoc on building exteriors, leading to unwanted air and water intrusion that can cause a building's materials to decay at a much faster rate. Unwanted heat gain and loss can also be problematic, creating higher energy costs and putting more strain on the mechanical system, which will then use more energy, generate more greenhouse gases, and perpetuate the cycle of climate change.
Glass facades, as well as their framing systems, are part of the building envelope, which is the first line of defense on a structure. In the past, glass was not ideal for large expanses of buildings because it did not provide insulating properties that could prevent unwanted solar heat gain or loss. Older buildings often have smaller windows and solid doors instead of full facades made of glass and glazing. Thanks to the advancements in glass technology and glazing, glass is now much more energy efficient. By treating large glass expanses and the framing as part of the entire building system, architects and installers can ensure that glass and glazing contribute to the high performance of buildings rather than detracting from it.
Introduction to Glass, Glazing, and the Systems Approach
When specifying glass, architects and designers must consider many factors in addition to energy efficiency and thermal protection. These include safety, security, and proper daylighting for occupants.
Glass
First, let's introduce some common glass types and their applications. We will discuss annealed glass, heat-strengthened glass, tempered glass, and safety glass.
Annealed Glass
Annealed glass is popular in residential construction and sometimes used in commercial construction applications. Annealed glass is cooled slowly to prevent any residual stress in the body of glass. It can be cut, machined, drilled, edged, and polished, unlike tempered or heat-strengthened glass.
Heat-Strengthened Glass
Heat-strengthened (HS) glass undergoes heating and cooling processes in manufacturing, making it twice as strong as annealed glass of the same thickness and configuration. According to ASTM C 1048, heat-strengthened glass must have a surface compression between 3,500 and 7,500 psi for a thickness of up to 6 millimeters. Due to its greater resistance to thermal loads (when compared to annealed glass), it can resist most wind and thermal stress loads.
When HS glass is broken, the fragments are typically larger shards and may remain in the glazing opening. Large broken shards can cause injury to occupants, therefore HS glass is not a safety-rated glazing, as specified by ANSI Z97.1 and CPSC 16 CFR 1201. Because it can withstand wind load and thermal stress, HS glass is intended for general glazing and is often used in commercial applications. HS glass cannot be cut or drilled after heat strengthening.
Fully Tempered Glass
Tempered glass undergoes a thermal tempering process and is approximately four times stronger than regular annealed glass of the same thickness and configuration, making it ideal for commercial applications. Per ASTM C 1048, the surface compression of fully tempered glass must be 10,000 psi for thicknesses up to 6 millimeters. When fully tempered glass passes ANSI Z97.1 and/or CPSC 16 CFR 1201, it is often referred to as a "safety tempered glass" because it meets the requirements of various code organizations for safety glazing. If fractured, the glass will break into smaller pieces, making it less likely to cause serious injury in most applications.
Next we will discuss various types of safety glass, including monolithic safety tempered glass, single lite with film/plastic, laminated, laminated insulating glass units (IGUs), and multi-ply.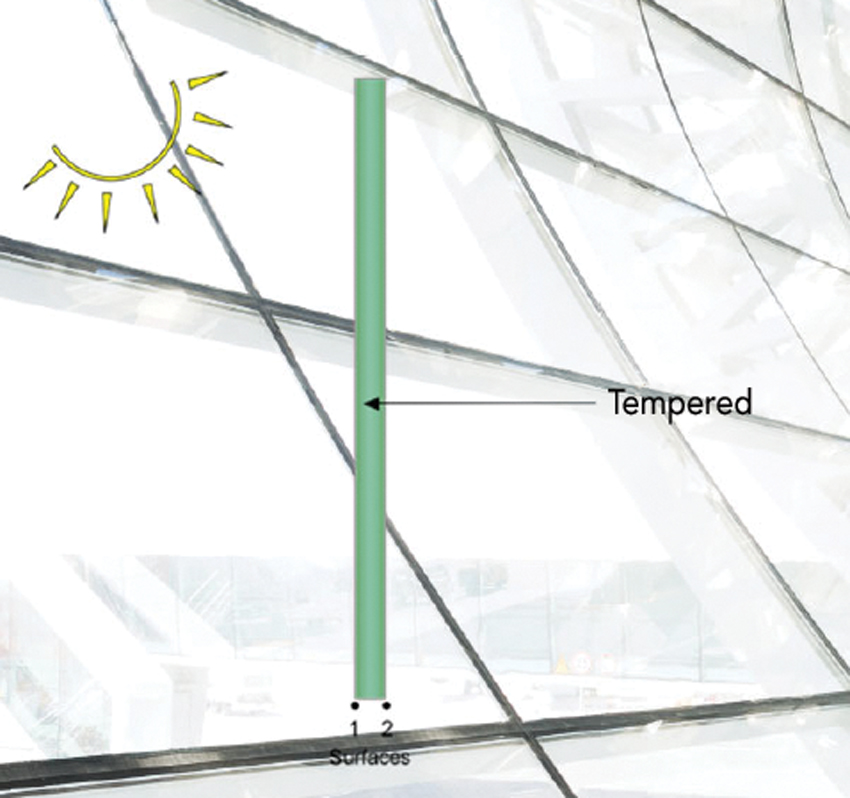 Illustration of tempered glass
Monolithic Safety Tempered Glass Lite
Monolithic safety tempered glass is a single glass lite but also safety tempered. Safety tempered glass is approximately four times stronger than regular annealed glass and called "safety glass" because, when fractured, it breaks into smaller pieces, which makes it less likely to cause serious injury. Monolithic safety tempered glass is also great for daylighting because it allows sunlight to penetrate the building. This glass is best suited for areas that require safety glazing per IBC Chapter 24.
Single Lite with Film/Plastic
A single glass lite with an applied film or plastic that passes the ANSI Z97.1 and/or CPSC 16 CFR 1201 testing is also considered safety glazing because it will break and be contained in the glazing opening. A single glass lite with film or plastic will also allow for proper daylighting. This glass is more secure than standard single safety tempered glass lites.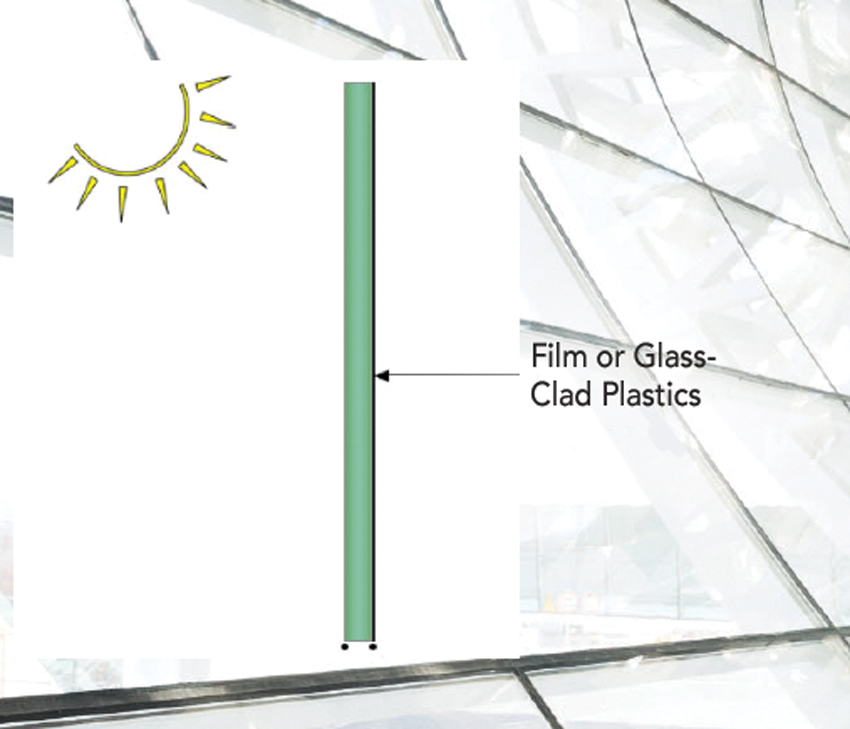 Illustration of single-lite glass with film or plastic
Originally published in Architectural Record
Originally published in June 2020
Notice