Design for the Public Realm
A variety of products provide options for flexibility
Sponsored by B-K Lighting, Bison Innovative Products, and Western Red Cedar Lumber Association
This test is no longer available for credit
Design Flexibility
Design flexibility in decking systems can be attained by adjusting the pedestal system heights to compensate for a range of heights and slopes or through a joist and plank accessory used in conjunction with the pedestals. The joint-plank accessory attaches to the top of the pedestal. The accessory is made of the same high-density post-industrial recycled content as the pedestals and has eight flaps, two on each side. The flaps fold up and will hold a joist of either 2-inch-by or 4-inch-by lumber. Wood plank decking can then be set on the joists just as with any traditional joist system.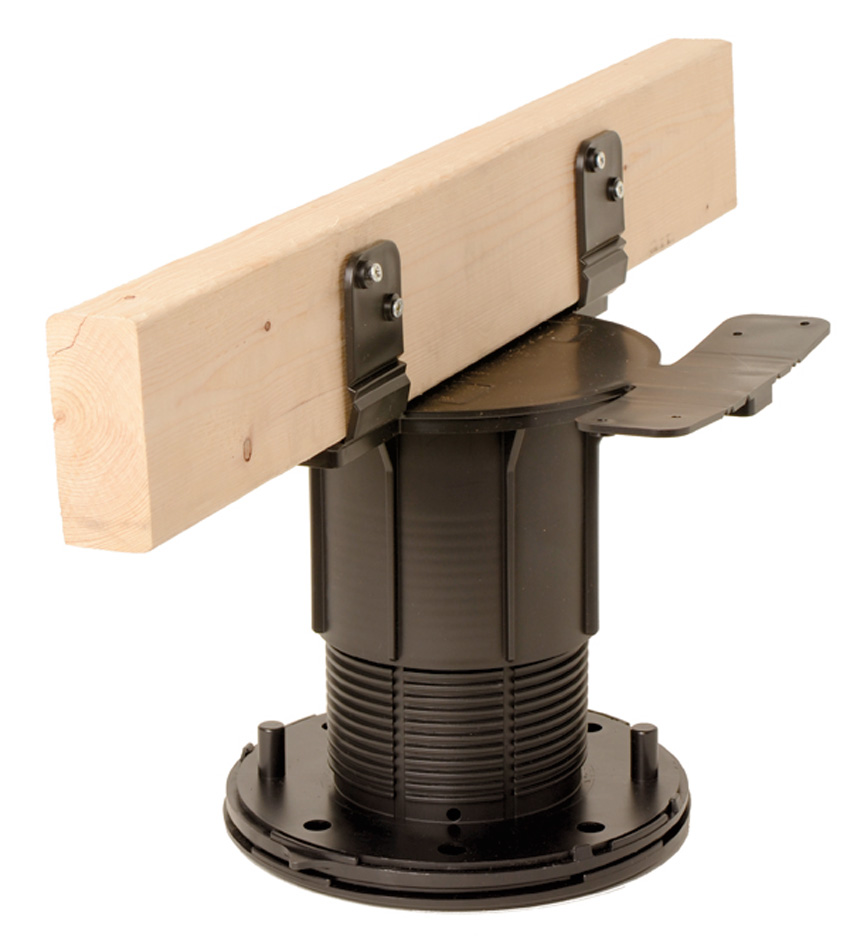 Image courtesy of Bison Innovative Products
Shown is a joist top accessory on an adjustable pedestal.
Pedestal systems can provide flexibility through a leveling capacity that compensates for slopes and changes in grade. Through this levelling system, elevations can be adjusted in height by the millimeter. This allows the designer to create outdoor decks and plazas in a variety of challenging locations.
The three types of pedestal deck support systems are all adjustable for height and can accommodate slope. Pedestals systems are manufactured for three types of projects: residential, commercial, and industrial grade. The pedestals for each of these project types can accommodate almost any type of surface material, are all 20 percent post-industrial recycled content, are all impervious to water, mold, and freeze-thaw cycles, and are all made in the United States.
The industrial-grade adjustable pedestals can reach heights from 1/8 inch to 36 inches, have a 1,250-pound weight-bearing capacity, and contain built-in slope compensation from 0–½ inch per foot slope (0–4 percent). Accessories are available to compensate for additional slope. Pedestal heights from 24 to 36 inches require bracing. There is a joist top accessory that can convert the pedestals into traditional joist and plank decking supports. Low fixed-height stackable pedestals can be used when low clearance is needed.
Industrial-grade and commercial-grade pedestals are designed to support heavy pavers over any waterproofed structural surface. The commercial-grade pedestals range from 1/8 to 36 inches in height. Couplers can be added to the adjustable pedestals to extend up to 36 inches in height. Pedestal heights from 24 to 36 inches require bracing. The weight-bearing design capacity of the commercial-grade pedestal is 1,000 pounds per pedestal.
The industrial-grade and commercial-grade adjustable pedestals give maximum design flexibility for a variety of surface materials, including wood deck tiles, concrete pavers, and more. Wood decking tiles supported by adjustable pedestals can be integrated seamlessly to create a roof deck system that is as simple as it is beautiful. All of the pedestal feature precise spacer tabs allowing for deck drainage, and the screw-to-adjust height setting on adjustable pedestals assures a perfectly straight and level deck.
A residential-grade pedestal deck system is suitable for any project type from commercial to residential. One simple pedestal model covers heights from 2–43/4 inches. Additional accessories are available to compensate for slope and accommodate heights from 1/8 inch all the way up to 12 inches. This model also supports up to 750 pounds and is the preferred system for do-it-yourself homeowners.
All of these adjustable pedestal models utilize a threaded design, making the leveling process during installation a simple turn of the pedestal base. This allows contractors, designers, and installers to accurately plan, precisely align, and uniformly install level decks with a combination of ease, speed, and accuracy. Spacer tabs ensure accurate spacing, lock the pavers in place, and allow water to drain. The pedestals have a broad footprint that provides stability, is impervious to freeze-thaw cycles, and offers a range of heights suited to almost any application.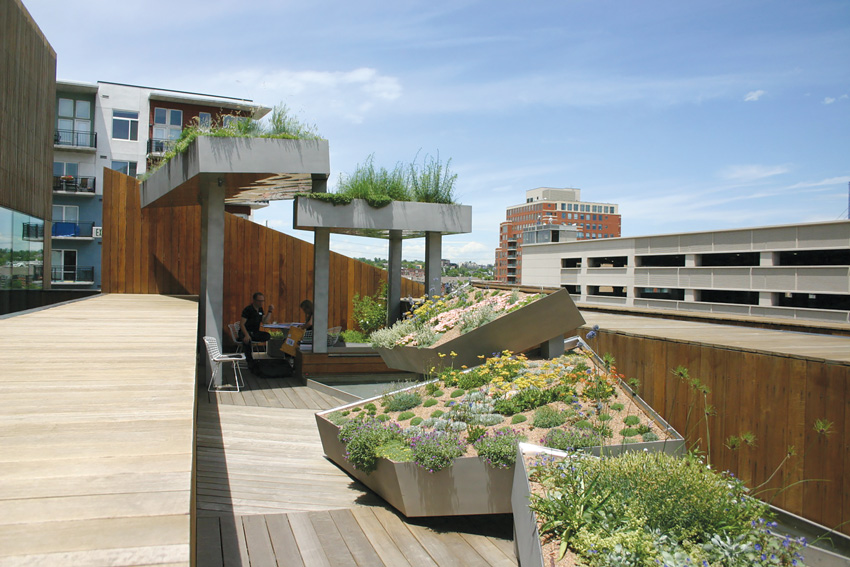 Photo courtesy of Bison Innovative Products
The Denver Museum of Contemporary Art uses adjustable pedestals to support custom plank decking, creating this stunning deck.
Flexibility with Site Furnishings
Modular site furnishings provide flexibility in designing tight outdoor spaces, particularly with roof gardens and small pop-up parks, such as the one in the Cedar Rapids, Iowa site. Modular cubes can be used as planters seating or storage units and can be fabricated from aluminum or ipê wood. These cubes are available in an array of colors and finishes, and due to their material contents, they can contribute to LEED points (recycled aluminum and FSC-certified wood species). The modular cubes are used in place of a modular wood deck tile. The modular aluminum cubes are made in the United States, have a low-VOC finish that meets FAA reference test method 24, ASTM D2369 for determination of volatile content, are available in a metal or powder-coated finish, contain 20 percent recycled content, and are 100 percent recyclable. Many sizes and colors are available per custom order, thus providing flexibility for the designer.
Well-designed public spaces that utilize sustainable and renewable materials benefit the overall environment as well as the local community. And in designing public spaces, it is important to select quality materials that are durable to the outdoor elements as well as public use.
Originally published in Architectural Record
Originally published in July 2018
Notice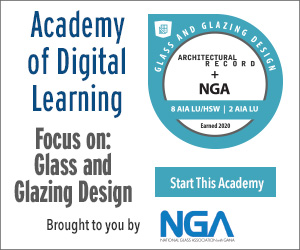 Design for the Public Realm
Buyer's Guide
Denali Series™ Floodlight with BKSSL® Power of C Inspiration Control System™

B-K Lighting introduces INSPIRATION Control System
™
, an iOS app that enables control of its Bluetooth wireless technology featuring BKSSL
®
Power of C
™
with color-tuning technology Denali Series
™
floodlights. The fixture always remains factory sealed and protected against the elements. It has a complete on-off function and features a modular design with electrical disconnects that permits field maintenance.
Bison Rooftop Deck Systems

Manufactured in the USA with 20 percent post-industrial recycled materials, Bison Pedestals create level decks over sloped surfaces. Bison Pedestals elevate and support wood tiles, pavers, site furnishings, and a variety of other surfaces. Bison Wood Tiles are commercial grade, constructed from sustainably harvested hardwoods, and available in standard and FSC-certified species.
Real Cedar Siding, Decking, and Trim

Beautiful, durable Western Red Cedar is nature's most versatile building material. Naturally resistant to rot, decay, and insects, Real Cedar products are ideal for exterior applications. And when it comes to designing for public spaces, the wood's inherently rich tonal range is perfect for creating warm, inviting interior environments.