Design for the Public Realm
A variety of products provide options for flexibility
Sponsored by B-K Lighting, Bison Innovative Products, and Western Red Cedar Lumber Association
This test is no longer available for credit
Illuminating the Public Realm
Studies have shown that there are traditionally three general categories of lighting for public spaces. The three categories include street lighting for safety and convenience, decorative or festive lighting for special occasions, and architectural lighting used to accentuate important buildings, spaces, and monuments. The first lighting category is usually required by code. The second and third provide an aesthetic element while enhancing safety. A strategy for illuminating public spaces should consider both safety and aesthetics and may include all three categories of lighting in the design approach. A well- designed lighting strategy can help bring a sense of animation to a public space and extend its use into the evening.
Newer approaches to lighting design for public spaces are focusing on a holistic approach with more emphasis on designing lighting for people and moving away from the current standards and recommendations that come from a vehicular-based vantage point. Nancy E. Clanton, PE, IALD, FIES, LEED Fellow, president of Clanton & Associates, states, "Too often, we still think of public lighting's role as allowing motorists to detect pedestrians. Walking pedestrians and cyclists are more vulnerable; where they look and what they need in a lighted environment is completely different from motorists. Intuitively, we know that pedestrians need to detect sidewalk hazards, see destinations and attractions, recognize people, and generally feel safe.3
Lighting designers have a wealth of new technology that provide them with an infinite means for providing public spaces with multiple layers of light by combining ambient lighting, focal point lighting, and colorful accent lighting. Previously, lighting designs considered uniform light to be the standard requirement for safety. Newer approaches use contrast to make a space both safer and more interesting to the user. Recent studies done by Nancy Clanton and Ron Gibbons "have shown that lowered light levels can provide greater contrast, and this contrast can actually improve detection and visibility. In addition, the introduction of LED lighting has given us the ability to precisely focus light on the relevant areas instead of "bathing" a space in light."3
This recent shift in approach stems from recognizing the needs of pedestrians in communities and especially in urban areas that are increasing in population. It also is a direct outcome of global efforts to reduce CO2 emissions and the shift from car-focused vehicular transportation to more mass-transit transportation, which naturally generates more pedestrians and cyclists within the public realm. The trend toward transit-oriented developments and walkable cities puts greater demand on designing public spaces that enhance the pedestrian experience and provide "lighting for people."
Lighting for People
There are many types of lighting products that can assist designers in lighting public spaces, including floodlights, downlights, architectural surface lights mounted on building exteriors, recessed in-grade lights and uplights for uplighting site features and monuments, bollard lights, path and area lights, and step lights. This variety of products provides the designer with a palette of lighting tools for creatively illuminating public spaces.
With a focus on lighting for people, the aim or angle of the light is important so that glare is not created. The most discriminating lighting design can be degraded by bad aiming or the fixture's lack of ability to maintain its aiming position. A light with a 360-degree mounting system can solve both of these problems. By combining several mechanical, engineering, and design techniques, a 360-degree mounting system creates an aim-and-lock technology.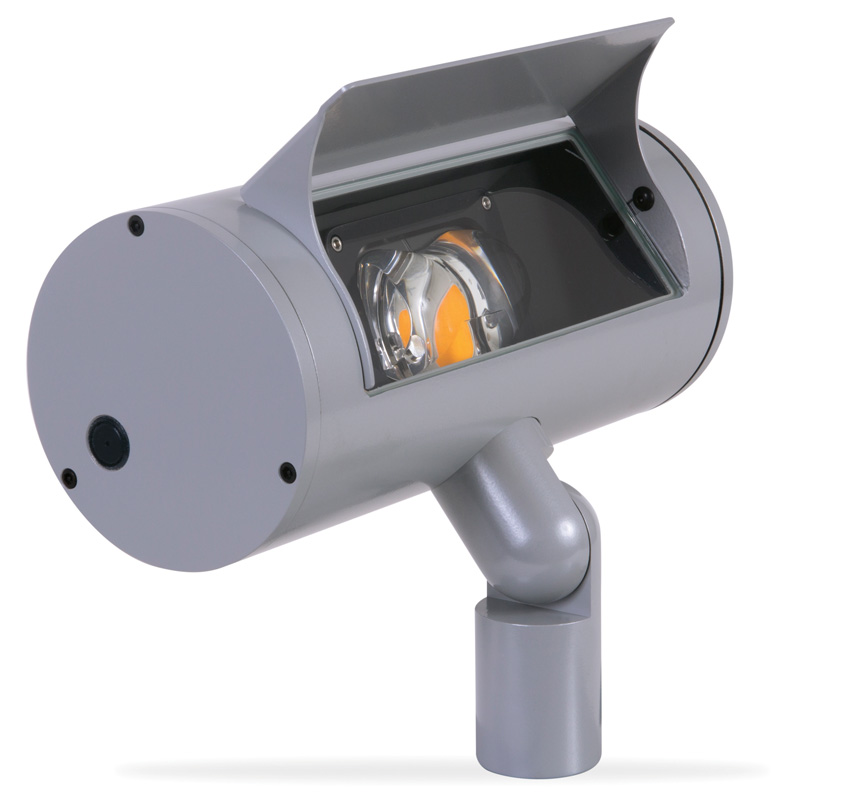 Image courtesy of B-K Lighting
The 360-degree mounting system provides flexibility with aiming and maintaining the direction of a light.
The 360-degree mounting system is made up of three machined aluminum components: the short knuckle, the long knuckle, and the mounting nipple, along with two stainless steel, hex head, aiming lock screws and four high-temperature 'O' rings. The short knuckle mounts to the back of the fixture and incorporates an 'O' ring to ensure a positive seal between the knuckle and the fixture housing.
The long knuckle incorporates the aiming lock screws that lock the horizontal (rotational) and vertical aiming positions. The mounting nipple is threaded for ½-inch mounting and incorporates two 'O' rings: one at its base to create a seal between the nipple and the device to which it is mounted, and one at the top to create a seal between itself and the inside of the long nipple. Stainless steel pins are used to create a 360-degree stop so that the fixture wiring cannot be damaged during rotational aiming.
The aim-and-lock technology allows the designer to rotate and aim the fixture without the use of tools. The horizontal (rotational) aiming and the vertical aiming will hold in place by means of two mechanical compression designs. This means the designer can make those very important, very slight tweaking adjustments without the redundant tightening and loosening that most knuckles require. Once adjusted, and with the use of a single tool, the horizontal (rotational) and the vertical aiming is locked into place by tightening the large, recessed locking screws that are located directly above and in-line with each other.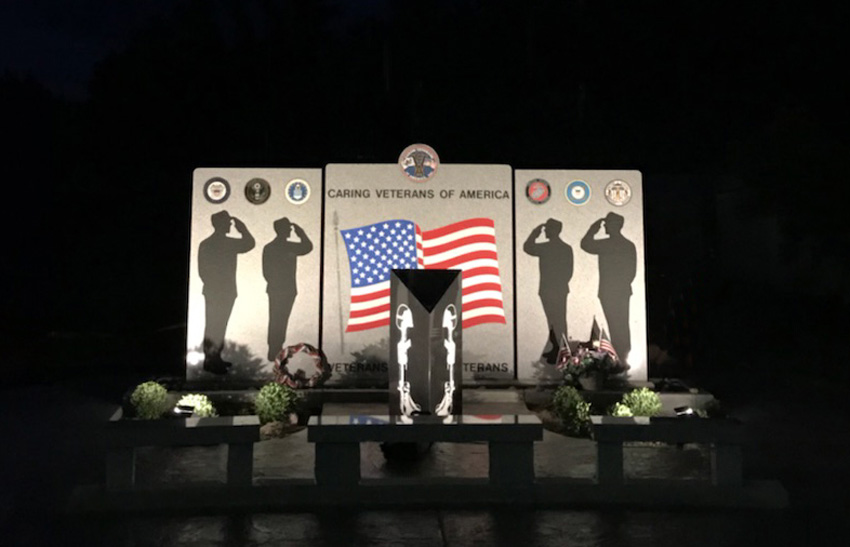 Photo courtesy of B-K Lighting
The Coarsegold Military Memorial
Durable Fixtures for the Public Realm
Lighting that is installed in any exterior space must be durable to withstand exposure to the elements. The following items might be considered a checklist when designers are reviewing fixture qualities.
The design of the light fixture should include enclosed, waterproof wireways and high-temperature silicone "O" rings that provide watertight seals and compressive resistance to maintain the fixtures position.
The fixture design should withstand 73 pounds of static load prior to movement to ensure optical alignment.
The lens should be shock-resistant, tempered glass that is factory adhered to the fixture cap so that the optical compartment is hermetically sealed.
A fixture with a modular design that has electrical quick disconnects will permit field maintenance.
A fixture with an anti-condensation valve (ACV) will vacuum seal the optical chamber and eliminate internal condensation. Some fixtures have spring-loaded, exterior-mounted ACV buttons to facilitate the removal of the vacuum-sealed cap for service.
The hardware should be stainless steel and tamper resistant.
The fixture should have a warranty (usually limited five years) and be UL listed and ITL tested to Illuminating Engineering Society of North America (IESNA) LM-79.
The fixture should be Restriction of Hazardous Substances (RoHS) compliant and suitable for use the required outdoor use.
Green-Sourced Lighting
Along with the new humanist-centered approach to lighting design for the public realm, the lighting industry is rapidly developing new products that are energy efficient as well as recyclable, thus supporting environmental stewardship and providing opportunities for LEED credits on a project.
For decades, the lighting industry was generally stagnant in its source options, which were largely incandescent and fluorescent bulbs. With the advent of solid-state lighting that uses semi-conductor light-emitting diodes ( LEDs), organic light-emitting diodes (OLED), or polymer light-emitting diodes (PLED), manufacturers are now able to produce even greater output in their fixtures and at the same time use even less power while generating less heat. Solid-state lighting has evolved to the point where LED is now the preferred light source. The U.S. Department of Energy has conducted studies on energy efficiency of lighting. LED is rated highly energy efficient, and if the product is ENERGY STAR rated, it uses at minimum 75 percent less energy and lasts 25 times longer than incandescent lighting.
Lighting products can contribute to environmental stewardship by being green sourced or manufactured from recycled materials. The manufacturing process can use renewable solar energy that is produced at the manufacturing site. The products can be returnable to the manufacturer at the end of their life cycle, ensuring, cradle-to-cradle handling. The packaging should not contain any cholorofluorocarbons (CFCs), which are a class of compounds of carbon, hydrogen, chlorine, and fluorine in gas forms that are harmful to the ozone layer in the earth's atmosphere. Lighting products that meet the above criteria also meet LEED criteria for energy and optimization and Materials Selection as well as the following SITES criteria:
Site Design – Materials Selection
5.3 – design for adaptability and disassembly
5.5 – use recycled content materials
5.8 – support transparency and safer chemistry
5.9 – support sustainability in materials manufacturing
5.10 – support sustainability in plant production
Creating Scenes in the Public Realm
Exterior lighting is not so much about eliminating darkness but more about illuminating scenes. The following case studies provide examples of how lighting can be used to create scenes and illuminate the public realm.
Designing outdoor spaces for the public requires careful selection of materials that are ot only durable but also reflect the character of the community and the place. The quality and character of the walking surface, the lighting, and the site furniture all contribute to the quality of the design and should make the space inviting, easy for people to interact within, and safe for use during both daytime and nighttime hours. These outdoor spaces can also be sustainable and maintainable if using durable materials that meet LEED and SITES criteria.
End Notes
1Nesom, Guy. "Plant Guide: Western Red Cedar." USDA NRCS National Plant Data Center and the Biota of North America Program. 8 June 2018. Web. 15 June 2018.
2The Cedar Book X. WRCLA. 2017. Web. 15 June 2018.
3Seitinger, Susan and Weiss, Antonia. Light for Public Space. Philips Lightingz. 2015. Web. 15 June 2018.
Elena M. Pascarella, RLA, ASLA, is a practicing landscape architect, continuing education presenter, and consultant engaged in a private practice based in Rhode Island. The firm's portfolio can be viewed at www.landscapeelementsllc.com.
Originally published in Architectural Record
Originally published in July 2018
Notice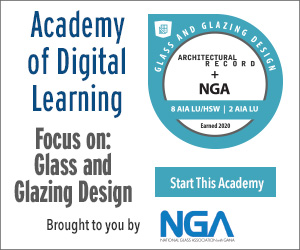 Design for the Public Realm
Buyer's Guide
Denali Series™ Floodlight with BKSSL® Power of C Inspiration Control System™

B-K Lighting introduces INSPIRATION Control System
™
, an iOS app that enables control of its Bluetooth wireless technology featuring BKSSL
®
Power of C
™
with color-tuning technology Denali Series
™
floodlights. The fixture always remains factory sealed and protected against the elements. It has a complete on-off function and features a modular design with electrical disconnects that permits field maintenance.
Bison Rooftop Deck Systems

Manufactured in the USA with 20 percent post-industrial recycled materials, Bison Pedestals create level decks over sloped surfaces. Bison Pedestals elevate and support wood tiles, pavers, site furnishings, and a variety of other surfaces. Bison Wood Tiles are commercial grade, constructed from sustainably harvested hardwoods, and available in standard and FSC-certified species.
Real Cedar Siding, Decking, and Trim

Beautiful, durable Western Red Cedar is nature's most versatile building material. Naturally resistant to rot, decay, and insects, Real Cedar products are ideal for exterior applications. And when it comes to designing for public spaces, the wood's inherently rich tonal range is perfect for creating warm, inviting interior environments.