The Quiet Multifamily Home
How flooring choices can lessen excess noise
Sponsored by Mohawk Industries
This test is no longer available for credit
LAMINATE FLOORING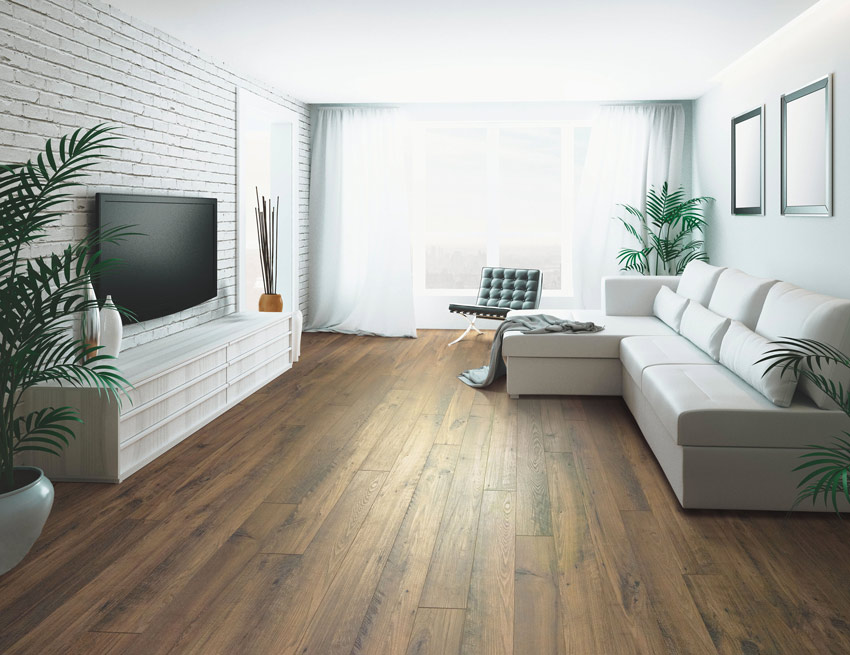 Image courtesy of Mohawk Flooring
Modern laminate flooring is durable and sophisticated.
It is easy to see why laminate flooring has become so popular with its hardwood and stone looks that add sophisticated style to a home for less. Laminate wood flooring is easy to install, easy to clean, and easy to maintain. Further, laminate can be an environmentally friendly flooring option, often made with recycled materials and requiring no harvesting of rare trees. Laminate floors are durable and resistant to both staining and fading, providing worry-free assurance that the floor specified for multifamily homes will not lose its appearance.
Some laminate flooring features tight, waterproof joints and top coats that allow for wet-mopping and protect against everyday spills, and a protective wear layer that resists scratches and scuffs. In fact, this technologically advanced laminate flooring can even be specified in basements with acceptable subfloor moisture levels, though not in rooms with floor drains or sump pumps. In this advanced laminate, the perimeter of each plank is coated with a hydrophobic coating that repels water so planks resist swelling from moisture.
Other innovations that make some brands of laminate flooring desirable include a glueless locking system that snaps together for ease of installation. This system maintains constant tension between planks for tight joints that trap water on the surface, protecting the floor and subfloor. Further, edges with pressed bevels allow the surface visual and protective coating to wrap over the plank's edge, enhancing the hardwood realism while protecting the core from moisture.
Layers of Laminate Flooring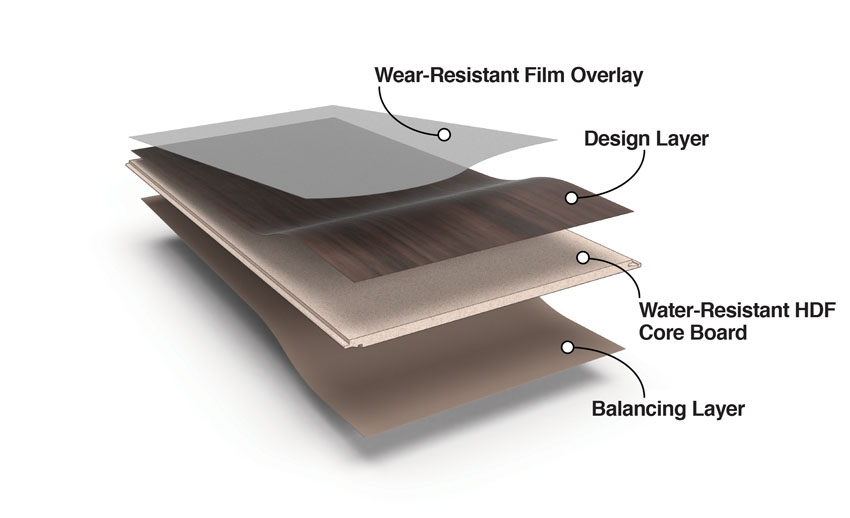 Image courtesy of Mohawk Flooring
Many layers of laminate flooring account for its long-wearing aesthetic.
Layers of laminate flooring may include, from the bottom up:
a balancing layer;
a water-resistant HDF core board;
a design layer; and
a wear-resistant film overlay.
Misconceptions about Laminate Flooring
Myth: Laminate floors will not wear well.
Reality: As with vinyl flooring, this myth is based on the first generation of laminate flooring that could get scuffed prematurely. Modern, multilayered laminate floors from trusted, quality manufacturers are designed and built for maximum durability.
Myth: Laminate and luxury vinyl plank flooring are the same thing.
Reality: Though sheet or vinyl tiles will look different from laminate or luxury vinyl planking, the two latter products may look the same. But the main difference is in the core of the material and how they are layered. Laminate flooring's core is typically made from material derived from wood, while luxury vinyl flooring is composed of completely synthetic materials.
Myth: Laminate flooring is not as visually appealing as real wood or stone floors.
Reality: Some of us have laminate flooring from a few decades ago seared into our memories. But like many other building materials, there have been great advances in styles, textures, and designs for laminate flooring. With technologies to add high-definition imaging and textures, along with technologies to make laminates wear and water resistant, the newest improvements make it almost unrecognizable from earlier products.
Laminate Flooring Sound Ratings
Because of its layered construction, laminate flooring has surprising good IIC and STC ratings for acoustics. For instance, two types of laminate flooring from one manufacturer have ratings of 54 and 57 IIC, and 58 STC, both on a 6-inch concrete slab. Both are well above the IBC minimum of 50 as tested in a sound laboratory.
Laminate Underlayment Pads
Underlayment pads can improve the ratings even more. For instance, adding a cross-linked polypropylene underlayment with a thickness of 2 millimeters can help laminate flooring achieve an IIC of 71 and an STC of 73. This type of advanced acoustic pad reduces hollow tapping noises, producing a sound very close to actual hardwood. And there are other advantages to such a pad. A thick preattached moisture barrier helps protect flooring from moisture damage and is itself resistant to mold, mildew, and bacteria growth. The pad is easy to install with attached lip and tape, and it is safe for under-floor heating for luxury multifamily homes. It can even add R-value to the floor. R-value is the capacity of a material to resist the flow of heat. One popular pad for laminate floors add an R-value of 3.2.
CARPETING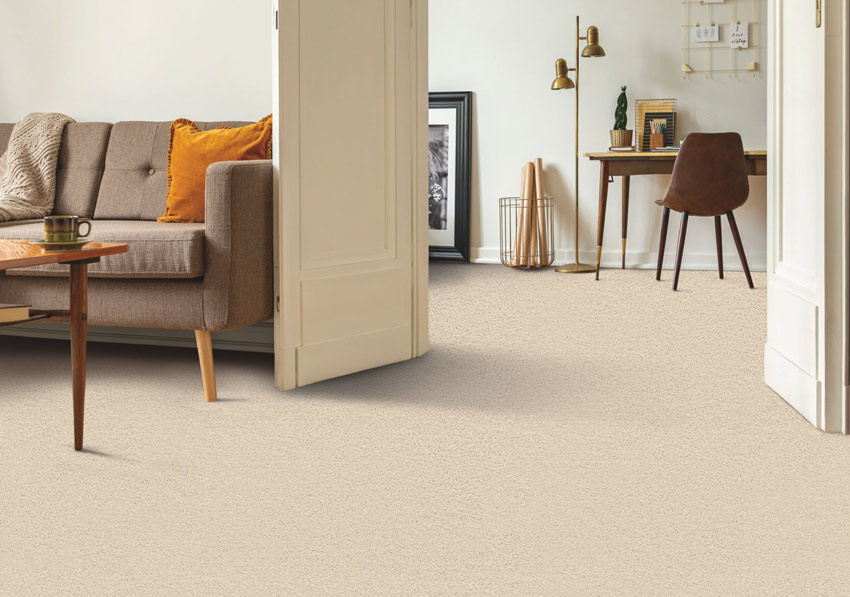 Image courtesy of Mohawk Flooring
Carpeting is well-known for providing good acoustic qualities in multifamily homes.
There are four main constructions of carpeting: loop, pattern, texture, and frieze.
Loop construction carpet has dense, looped strands and a low profile for a clean, low-maintenance look. This style is durable, reliable, and ideal for high-traffic areas.
Pattern construction carpet is made with varying loop and cut heights for looks that range from bold and dramatic to simple and understated. This low-profile style is appropriate for high-traffic areas.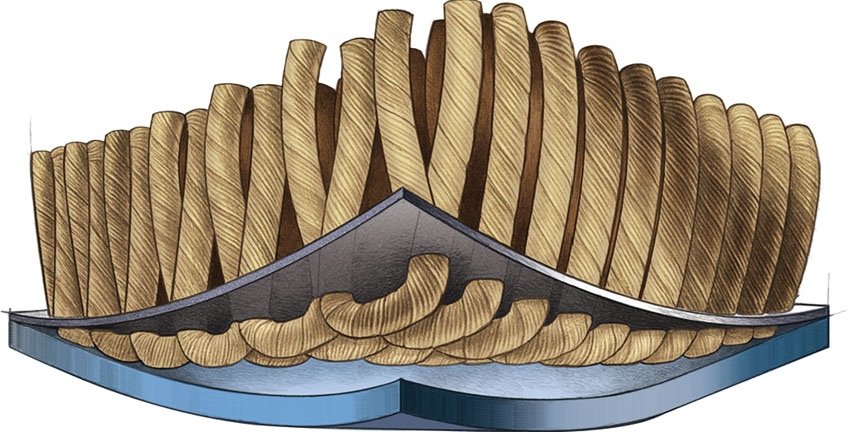 Image courtesy of Mohawk Flooring
Shown is texture construction carpet.
Texture construction carpet (shown above) has long, crimped yarns for a casual look. With higher pile for a soft feel, it tends to be a popular style.
Frieze, or twist construction, carpet has high, twisted yarns for a longer crimped look and relaxed feel. Its long twists create dimension and visual interest as well as a bouncy, springy feel underfoot.
Innovations in carpet construction make it much more livable than in the past. For instance, fiber-washed polyester resists stains to keep the multifamily resident's carpet looking newer longer. Carpeting made of polyester, nylon, and triexta fiber are all stain and wear resistant.
Misconceptions about Carpeting
Myth: Yes, the acoustical benefits are great, but people with asthma and allergies should avoid carpet in the home.
Reality: Actually, the opposite is true. Studies have shown that properly cleaned carpet helps reduce symptoms and can be the best flooring choice for those dealing with asthma and allergies.
The reason: Gravity causes common household particles, such as dust, pollen, and pet and insect dander, to fall to the floor. Carpet fibers trap the particles, removing them from the breathing zone and reducing their circulation in the air. Regular vacuuming effectively removes dust and allergens from the carpet and helps keep them out of the air occupants breathe. Although carpeting is not normally associated with improved indoor air quality, it can have a very positive effect. Carpet is among the lowest volatile organic compound (VOC) emitting flooring choices available. The Carpet and Rug Institute's Green Label Plus Indoor Air Quality Standard identifies carpet, adhesive, and cushion products that meet or exceed government indoor air quality regulations and are among the lowest VOC-emitting products on the market. For best results, look for carpets that are CRI Green Label Plus certified.
Sound Ratings for Carpeting
Carpeting is associated with a quieter home and for good reason. The STC ratings of carpeting are especially high. For instance, the IIC ratings for one manufacturer's 25-ounce cut pile carpet with a 7/16-inch 5-pound foam cushion underlayment is 76, and the STC rating is 59. When you consider that the IBC calls for an IIC and STC ratings of 50 in the testing laboratory and 45 in the field, that is a significant increase.
Originally published in Architectural Record
Originally published in November 2019
Notice