The Quiet Multifamily Home
How flooring choices can lessen excess noise
Sponsored by Mohawk Industries
This test is no longer available for credit
Layers of Luxury Vinyl Flooring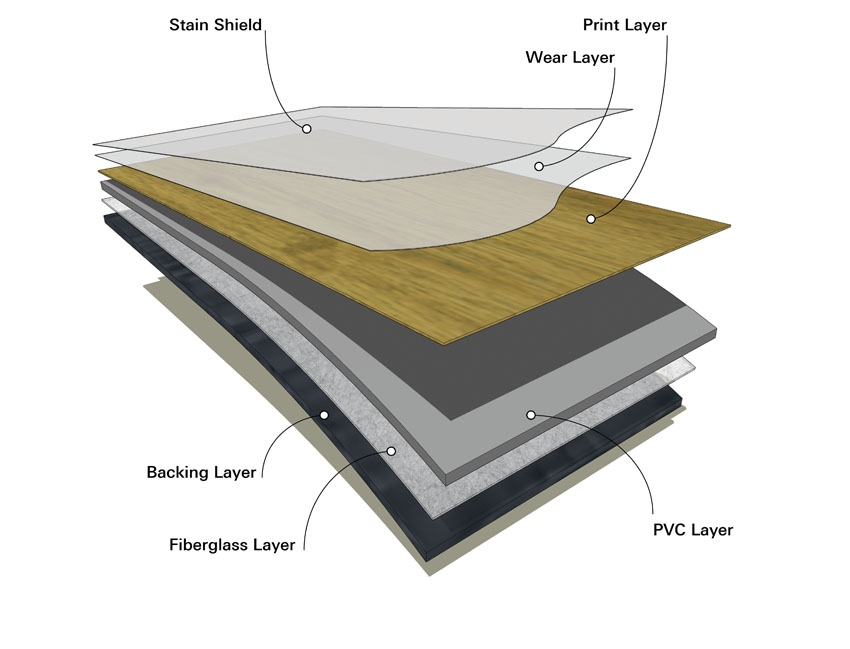 Image courtesy of Mohawk Flooring
Layers of luxury vinyl flooring are depicted here.
Luxury vinyl is not a one-dimensional material. Consider the technologically advanced layers that make up the LVT of a major manufacturer:
Stain-shielding layer: This is a stain-resistant surface coating that protects against scuff, scratches, and the toughest stains, and makes cleaning simple.
Wear layer: An embossed wear layer feels like real wood grain and resists dents, scrapes, scratches, and everyday wear so floors look newer longer.
HD print layer: High-definition printing reproduces visual effects with ultimate clarity for the most realistic looks.
PVC layer: A solid PVC inner core provides both stability and sound insulation while linking LVF layers together.
Fiberglass core: A webbed fiberglass core encapsulated by two PVC layers provides strength and flexibility while ensuring easier installation, added stability, and a longer life.
PVC backing layer: Solid PVC backing made from recycled content provides a strong foundation for greater stability and easier installation.
Misconceptions about LVT and LVP
Myth: LVT and LVP are just the same old vinyl with a fancy name.
Reality: Modern luxury vinyl not only looks remarkably like the real wood or stone, but it also has superior performance to withstands spills, scuffs, and even scratches from family pets. Its tight, waterproof fit and resilient surface make for easy cleanup that will not damage subfloors. It is quiet and comfortable, and softer underfoot for better cushion and sound absorption. It barely resembles the thin, fake-looking vinyl flooring products of decades ago.
Sound Ratings for LVT
LVT generally comes with or without padding attached. Even without padding, on an 18-inch open-web truss, the IIC ratings may range from 48 to 51 depending on the thickness of the product. With an underlayment of 1-millimeter foam, the IIC ratings range from 51 to 54. The STC ratings can be extremely high, running as high as 58.
Underlayment Pads for LVT with Acoustical Benefits
There are several types of underlayment pads for LVT that have acoustical benefits. A polypropylene acoustical underlayment for use with glue-down LVT provides excellent sound reduction and moisture protection under luxury vinyl flooring, making it an asset for multilevel installations. It is designed to secure the flooring to the pad and the pad to the substrate. The dense foam design fights against mold and mildew, is moisture and vapor resistant, and nontoxic and odorless.
Another type of underlayment pad for floating LVT improves tenant comfort by offering superior acoustics- and subflooring-correcting properties for fast installations. The foam construction absorbs ambient noise and sound transmission between floors. Depending on the manufacturer, there may be a gripping technology that prevents seam separation under heavy commercial traffic. The cushion offers some subfloor correction and reduces footfall impact for added comfort. According to testing by one manufacturer, this type of pad can give the LVT a rating of 72 IIC or 66 STC on a 6-inch concrete slab with a drop ceiling below. It provides 54 IIC or 50 STC over a 6-inch concrete slab with no drop ceiling below. And it even offers thermal resistance with an R-value of 6.6.
LUXURY SHEET VINYL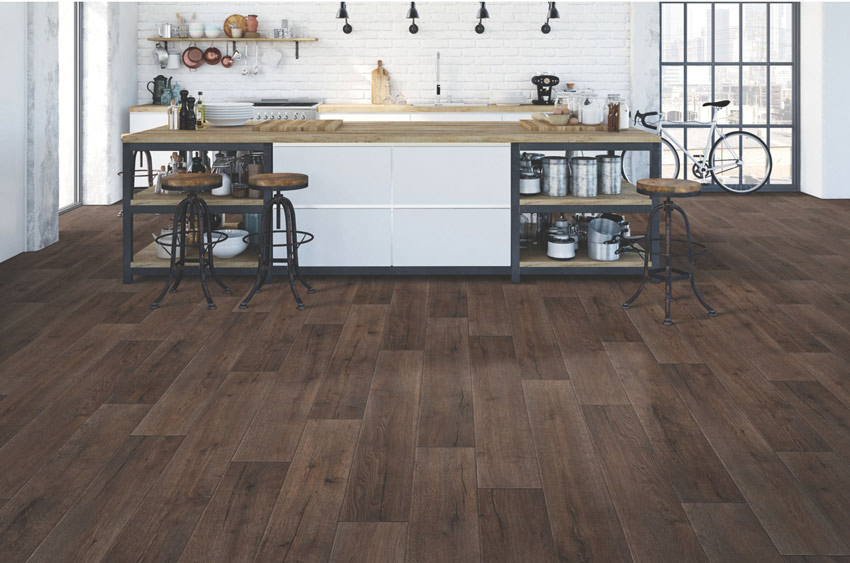 Image courtesy of Mohawk Flooring
Luxury sheet vinyl offers realistic visuals and a high level of comfort.
Today's luxury sheet vinyl is some of the most innovative, versatile, and high-performing available. Premium vinyl sheet flooring offers the richness and texture of more expensive natural materials, such as hardwood, ceramic tile, and stone, without the cost. While luxury vinyl is offered in tiles and plank, even in sheet formats, luxury vinyl flooring boasts realistic visuals, easy installation, and a high level of comfort.
Luxury sheet vinyl is strong but soft underfoot, maintaining a comfortable temperature in all seasons. Depending on the manufacturer, high-quality vinyl flooring resists heat and sunlight, maintaining its shape and stability even at temperature extremes. Vinyl is waterproof, which makes it an appropriate specification for kitchens, bathrooms, or other high-use areas such as a livings room or dens.
Misconceptions about Sheet Vinyl
Myth: Sheet vinyl's aged look is not right for today's aesthetic.
Reality: It is understandable that the old, yellowed vinyl sheeting that one saw at a grandparent's house or in a low-cost rental gets stuck in the memory banks. But fast-forward to the technologies of the past few years, and the picture totally changes. The high-definition print layer is enough to be a game changer, allowing the sheet vinyl to replicate much more expensive products such as wood and stone, but without depleting those natural materials. The wear layers above that keep the flooring looking new, resisting scuffs and stains. Many of these technologies were unheard of just a few years ago. The fiberglass core keeps the sheets stable and so resistant to curling that they can be installed with minimal adhesives.
Layers of High-Quality Sheet Vinyl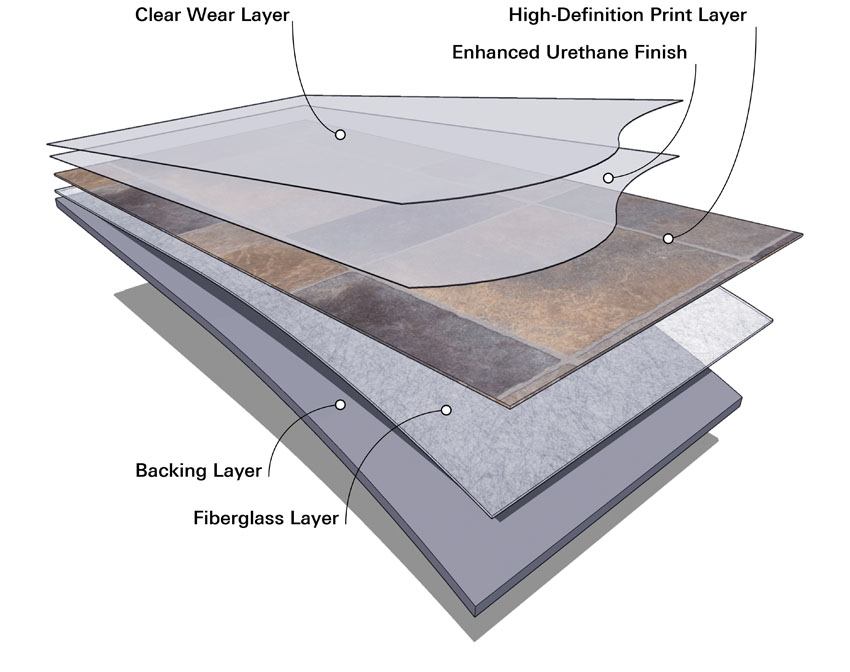 Image courtesy of Mohawk Flooring
High-quality sheet vinyl is composed of several layers.
High-quality resilient vinyl sheet may include several layers, including, from bottom to top:
a backing layer;
a fiberglass layer and PVC core;
a high-definition design layer;
an enhanced urethane layer; and
a clear wear layer and stain shield.
Sound Ratings for Sheet Vinyl
Sound ratings for high-quality sheet vinyl with a 55-gauge fiberglass core on an 18-inch open-web truss may be around 50 for IIC and 57 for STC.
Originally published in Architectural Record
Originally published in November 2019
Notice