The Quiet Multifamily Home
How flooring choices can lessen excess noise
Sponsored by Mohawk Industries
This test is no longer available for credit
Types of Acoustic Pads for Carpeting
Bonded urethane foam, also known as rebond, is the most common type of carpet pad material. However, a thick pad allows much up and down movement, which can wear out the carpet backing prematurely as it flexes.
One type of pad with acoustic benefits is a visco-elastic memory foam construction that softens steps and improves insulation for a quieter, more energy-efficient room. By absorbing and deflecting foot traffic, this type of padding also prolongs the life of the carpet by defending it from abrasive wear. And when it comes to spills, the pad may include a moisture-blocking feature, preventing moisture from soaking into the subfloor.
Synthetic Pad versus Urethane Pad: Common Misconception
Carpet pad is generally made from either urethane foam (rebond) or synthetic fibers. While rebond has significant traction in certain regions—particularly the southeast and southcentral United States—as the go-to option for residential carpet pad, it may not always be the best option. At least one flooring manufacturer offers a synthetic pad made of 100 percent post-industrial recycled material, which may fit into some green building goals.
Here are some common misconceptions about synthetic pad made of 100 percent recycled materials.
Misconception: Rebond is cheaper than synthetic pad.
Reality: This used to be true. However, because some synthetic pad is made from recycled material, it is now cost-competitive with rebond pad.
Misconception: Recycled material is weaker and does not perform as well.
Reality: This might have been true at one time for some recycled products, but it simply is not true for synthetic carpet pad. A nonwoven manufacturing process ensures superior durability.
Misconception: Rebond is better for residential use.
Reality: It is true that rebond is more commonly found in residential areas in certain regions. But not only is synthetic pad demonstrably more durable, it also holds up against heat. In fact, synthetic pad is the only carpet pad that is rated for use with radiant heating.
Misconception: Synthetic materials contain harmful chemicals.
Reality: Quite the opposite. Synthetic pad does not contain chemical flame retardants found in polyurethane foam, making it a popular choice among the health-conscious.
Misconception: Synthetic pad is for commercial use only.
Reality: For commercial applications, synthetic pad has been an industry go-to because urethane foam will not last under high traffic. However, this is precisely what makes it well-suited for residential use, and perhaps even more so for multifamily housing, where the occupancy may turn over frequently. More durability means carpet stays in better shape for a longer period of time.
ADVANCEMENTS IN FLOORING TECHNOLOGIES AND FUTURE TRENDS
Just the past few years have seen tremendous advancements in technologies for flooring. These are certain to have an effect on the design and building of multifamily homes in the future. Following are some technologies and trends of which to be aware.
Waterproof Flooring Systems
LVT and LVP are examples of products that resemble wood and stone, and yet are impervious to moisture and the problems it creates. A home in Texas during Hurricane Harvey in 2017 provides an example. After the home flooded with several feet of water, the drywall and insulation needed to be completely removed and replaced—but the LVPs suffered no damage. They were lifted up to allow the subfloor to dry and then reinstalled like new.
Water-Resistant Flooring Systems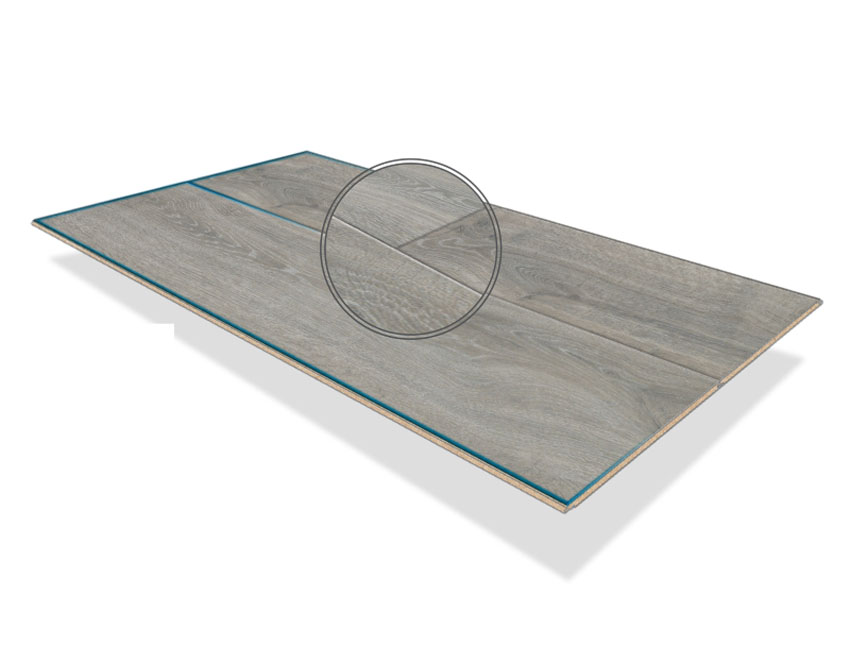 Image courtesy of Mohawk Flooring
Water-resistant flooring systems are trending.
While some products like high-quality laminate flooring are not strictly waterproof, they can come pretty close to that with new technologies. One manufacturer has developed a system of pressed beveled edges that keep moisture from infiltrating the product core or the subfloor. In some cases, a perimeter coating of the laminate planks offers an even higher level of moisture resistance.
Click-Together Flooring Systems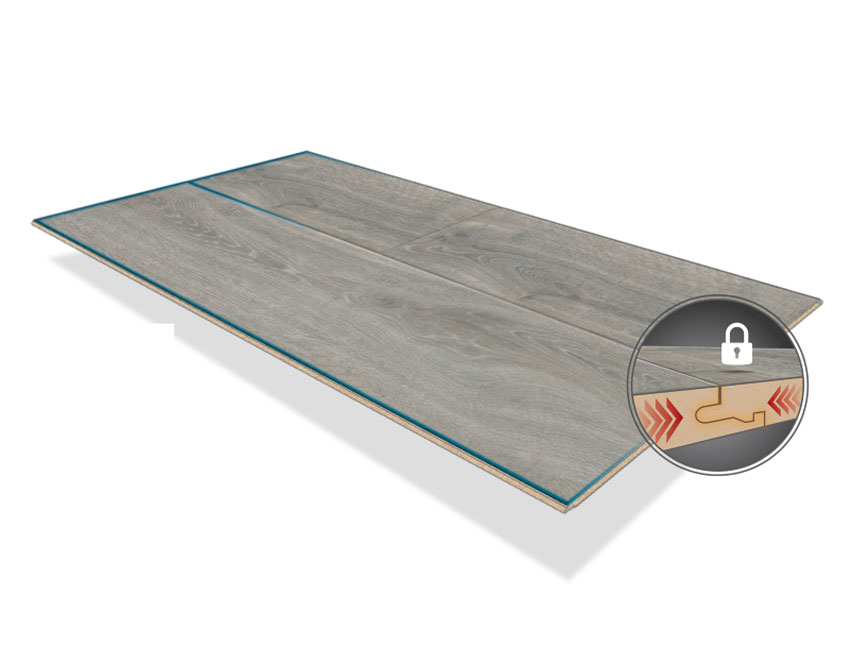 Image courtesy of Mohawk Flooring
Flooring systems that click together cut down on labor costs and adhesive use.
Innovative click-together flooring systems are designed to maintain constant tension between planks. These click-together systems are ideal for easy floating installation, which not only cuts down on labor and adhesive costs, as well as possible VOC emissions, but also creates a consistently stable floor with no buckling.
Flooring that Forgives Imperfections in Subfloor and Humidity Levels
The latest innovation in vinyl flooring is LVT and LVP with a rigid, waterproof core. The tiles and planks lock together for a waterproof floor that will not telegraph imperfections from the subfloor. Installation is quick and easy, and can be done in any room of the house, no matter the humidity levels or fluctuations in temperature. This provides superior performance in wet areas such as basements and bathrooms, and provides easy maintenance for spills.
Fresh and Clean Carpet Technology
New technologies have created odor-resistant carpet for reducing household odors and keeping a multifamily home clean and fresh. The secret to odor-resistant carpet is innovative odor neutralizing technology. That is on top of treatments that resist stains and moisture.
Green Building Scores for Acoustics
The green building industry is starting to promote acoustic performance within its standards. The WELL Building Standard includes a Sound concept that "aims to bolster occupant health and well-being through the identification and mitigation of acoustical comfort parameters that shape occupant experiences in the built environment." LEED v4 includes an acoustic performance credit. FloorScore is a good indicator of how healthy a flooring product will be for the occupants.
Sustainability
Sustainability will continue to be hot-button concept for the design community and the flooring industry. For instance, the world's largest flooring company has diverted more than 3 billion plastic bottles from landfills by recycling them into carpeting. This premium PET polyester fiber is thoroughly purified for the cleanest strand and easy to keep clean with advanced soil and stain protection. The patented process takes premium PET from the highest-grade polymer, strengthens the fiber, and removes dirt-attracting residue with a multistep purification system. And, with up to 100 recycled content, it is the world's most sustainable carpet.
CONCLUSION
The need for and appeal of high-density, multifamily housing will continue to grow, and so will the desire of residents to live in homes that are quiet and free from the irritations of hearing the neighbors upstairs. These unwanted noises can actually cause tension and illness. One of the most effective methods for cutting down on noise from an upstairs unit to the one below is the specification of flooring and underlayment pads that absorb and block these sounds. While the IBC calls for IIC and STC ratings of 50 in the laboratory and 45 in the field, the higher the number, the more peaceful the home. Luxury vinyl is a perfect example of a flooring with extremely high STC ratings and IIC ratings that are substantially raised with the right acoustic underlayment padding. After the multifamily development is complete, it will be very hard to address sound transmission problems once the residents have moved in. With a knowledgeable architect or specifier choosing flooring with higher IIC and STC ratings, the residents will more likely enjoy their quiet homes for many years to come.
END NOTES
1"Quick Facts: Resident Demographics." National Multifamily Housing Council. Web. 9 Oct. 2019.
2Park, Sang Hee and Lee, Pyoung Jik. "Effects of floor impact noise on psychophysiological responses." Building and Environment. Volume 116. May 2017. Web. 9 Oct. 2019.
| | |
| --- | --- |
| | As the world's largest manufacturer of flooring products, Mohawk and its family of brands are among the most well-known and respected in the industry. The company offers the world's most innovative flooring products, all made with the latest in style, design, and color from best names in the business. www.mohawkportico.com |
Originally published in Architectural Record
Originally published in November 2019
Notice