Designing high-performance building envelopes with expansive glass spans
Sponsored by CRL
Curtain Walls, Window Walls, and Storefronts
In terms of the differences between curtain and window walls, curtain walls are attached to the building structure, self-supporting, and portray an expansive, uninterrupted glass appearance. For window walls, glazing is placed between a building's concrete slabs, using the slabs as structural support. The system has a break between the glass, and slab edge covers are used to conceal the concrete.
With fewer mullions and joints required, as compared to most window wall systems, curtain-wall systems act as a single unit and are therefore more resistant to air and moisture penetration. They also deliver excellent structural integrity, require little maintenance, and are typically used in commercial buildings.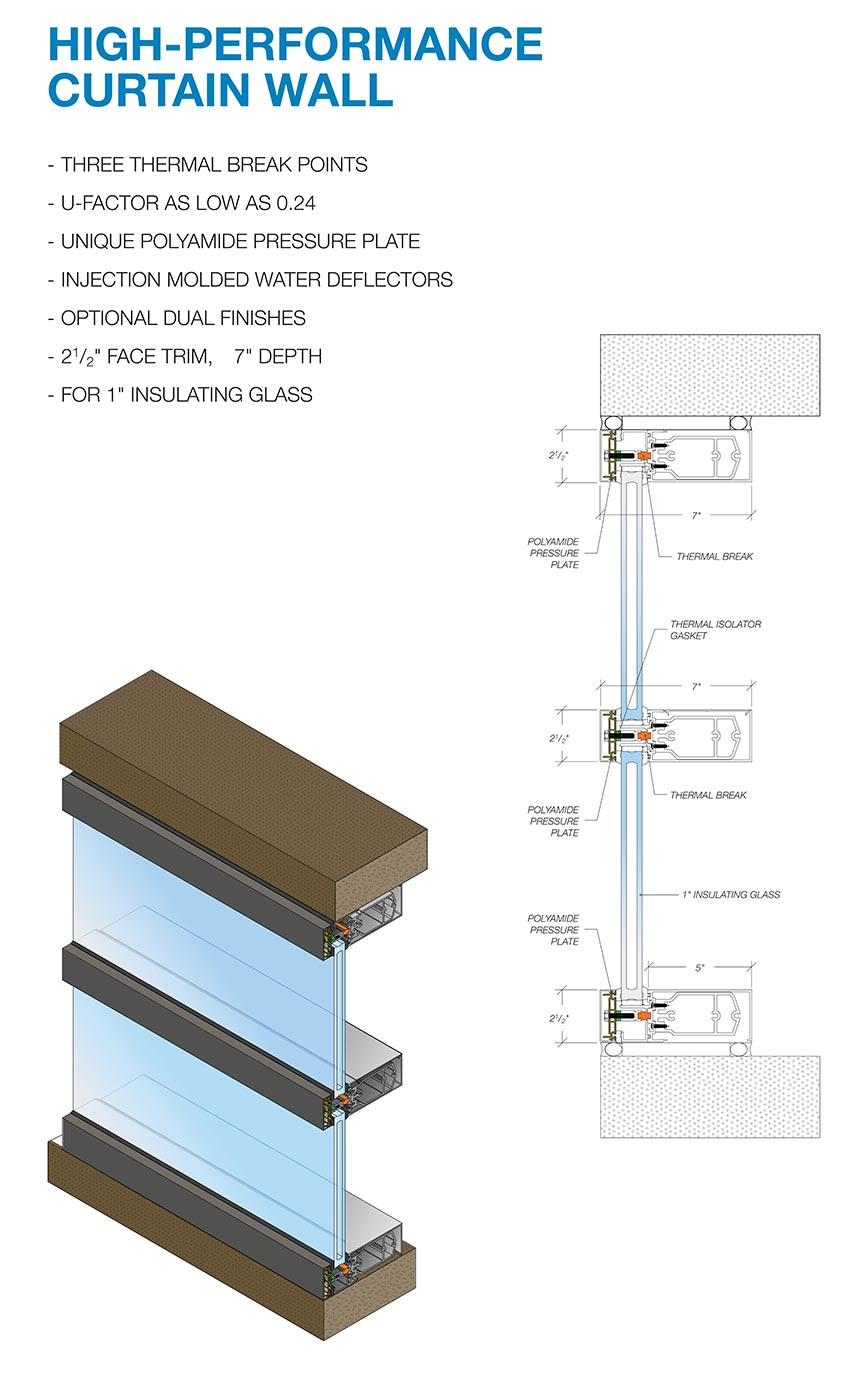 Image courtesy of C.R. Laurence
This high-performance thermal curtain-wall detail incorporates three thermal break points and a unique polyamide pressure plate.
At the same time, the cost of curtain walls can run approximately twice as much as window walls, and installation is a complex process typically involving cranes or rigs to hoist the pieces from the building exterior.
Because window walls contain more repeatable components, they can be prefabricated in the shop to a greater extent, enabling fewer errors, less site disruptions, and a higher-quality product. The product also requires less engineering and incorporates more natural fire protection as the exterior wall is broken up by each floor's concrete slab, which provides fire stopping. The separation of each window wall unit creates a sealed space with less noise transfer and energy loss.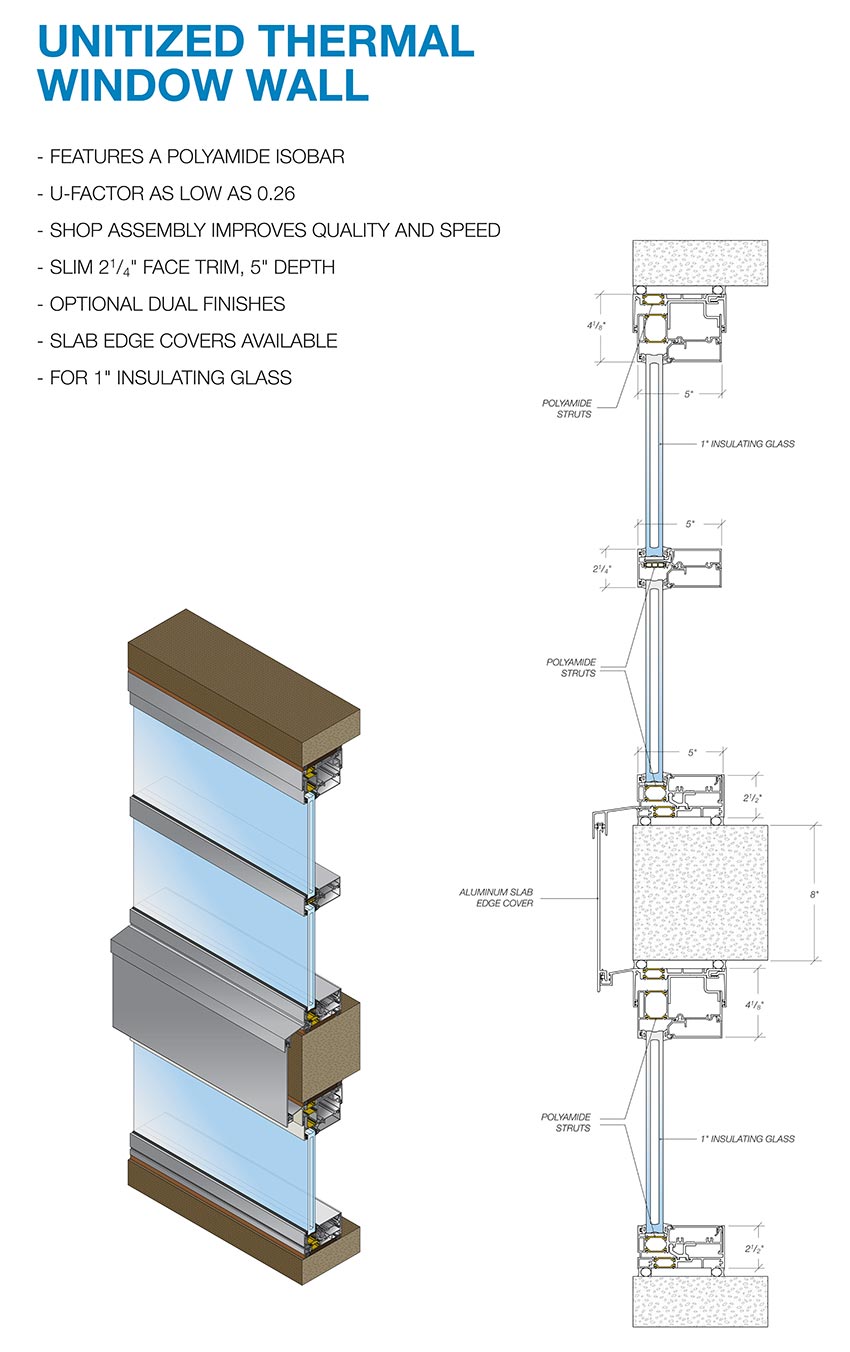 Image courtesy of C.R. Laurence
This high-performance thermal window wall features a polyamide isobar.
Throwing storefronts into the mix, although typically limited to frame heights of up to 10 feet, these glazed systems are suitable for smaller commercial applications. In most cases, they're used on the ground floor of a building, but they can also be designed for second floors. Storefronts are typically center glazed and not self-draining. While frame heights and building heights will go a long way in determining whether a storefront or curtain wall is most suitable for a given project, other factors include wind pressure, inter-story drift, floor movement, allowable deflections, vertical mullion spacing, and anchor points.
Unitized vs. Stick Built
Another option with curtain walls is selecting a unitized or stick system. In a stick system, the curtain-wall frame (mullions) and glass or opaque panels are installed and connected together piece by piece. In the unitized system, the curtain wall is composed of large units that are assembled and glazed in the factory, shipped to the site, and erected on the building. Vertical and horizontal mullions of the modules mate together with the adjoining modules. Modules are generally constructed one story tall and one module wide but may incorporate multiple modules. Typical units are 5–6 feet wide.
According to Ignacio Fernandez Sola, associate director, Arup, who writes in a LinkedIn article "Unitized vs. Stick: When and Why," the main variables include the total facade size, degree of repetition, shape and dimensions, planarity, and allowance for structural movement.
Facade size: The larger the size, the more suitable option is unitized. Giving a rule of thumb, Sola advises unitized for more than 5,000 square meters, and stick if the facade is less than 3,000 square meters, as there isn't not enough space to achieve the economy of scale to justify unitized.
Degree of repetition: If the floor height is constant and the distance between mullions is repetitive, then breaking the facade into units of a similar size—as is the case with unitization—and prefabricating them in the factory makes sense.
Shape and dimensions: Taller buildings above six floors are more suitable for unitized systems, but a low, extended building is a better fit for stick.
Planarity: If dealing with flat, vertical walls, the on-site assembly of a stick system will be best. But once slope, three-dimensional slopes, and the like are added, the preference shifts to unitized. According to Sola, the same applies for penetrations. The more brackets required for external sunshades, for instance, the more prefabrication is favored.
Allowance for structural movements: If the project is in a seismic zone and/or if shear or floor-to-floor movements are to be expected, then the ideal choice is unitized.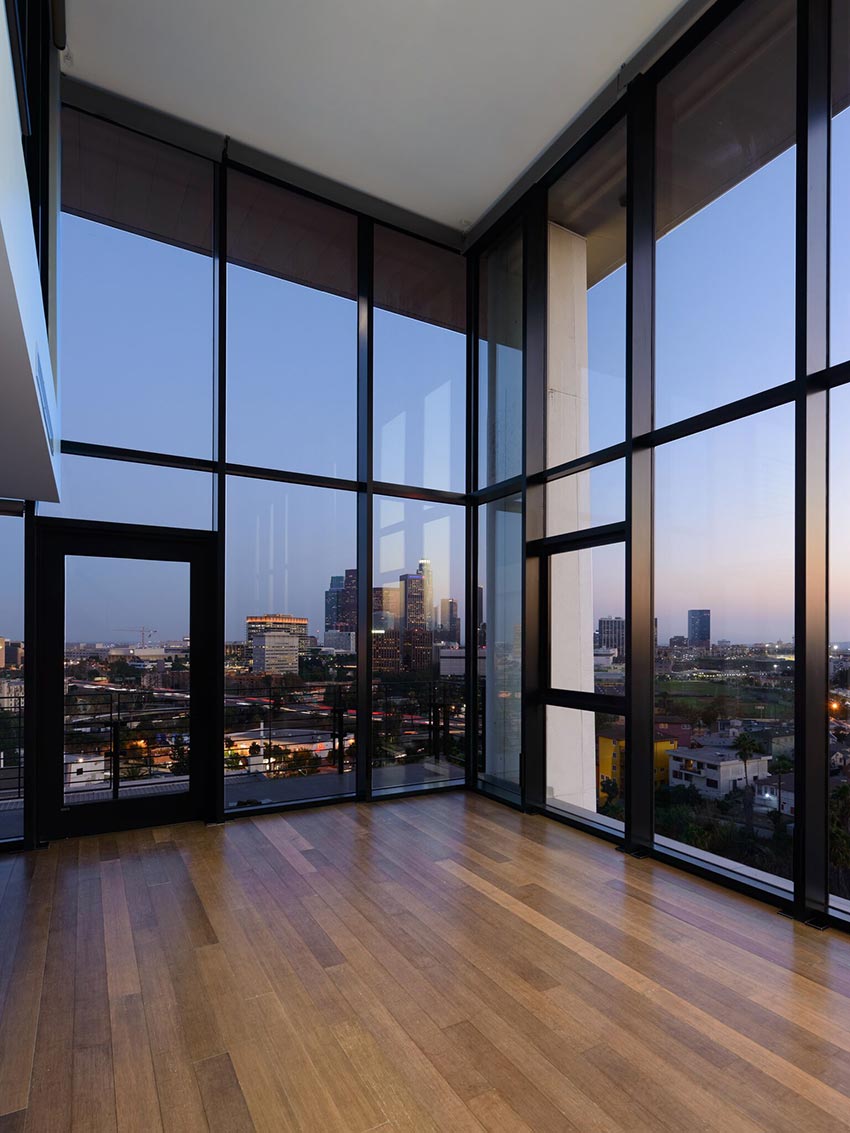 Photo: Geoff Captain
A stick-built curtain-wall system affords Elysian residents a beautiful view of the Los Angeles skyline.
Glass Selection
In order to improve the thermal performance of the glass units in the facade, double or triple glazing is recommended.
With double-glazed technology, an inert gas is encapsulated in between the two glass panes. The argon allows sunlight to pass through while limiting the level of solar energy that escapes from the glass.
In a triple-glazed configuration, there are two argon-filled cavities inside three panes of glass. The result is better energy efficiency and sound reduction along with less condensation, as there is a smaller temperature differential between the interior and the glass. While higher performing, triple glazing is a more expensive option.
For enhanced durability, laminated glass is made with a polyvinyl butyral (PVB) interlayer. Laminated glass offers a number of benefits, including blocking ultraviolet-light transmission, better acoustics, and perhaps most notably, holding together when shattered.
Segueing into the issue of building impact and blast resistance, the building exterior functions as the first line of defense against projectiles. Consequently, the way the facade responds to an impact will significantly affect what happens to the structure. Granted, it's difficult to prevent the glass from breaking after a significant impact, but laminated glass, or an anti-shatter film applied to existing glazing, will better contain the shards of glass to protect building occupants from the debris.
But more than just containing the shattered glass, curtain-wall performance in response to to a blast is dependent upon the interaction between the capacities of the various elements.
"In addition to hardening the individual members that comprise the curtain-wall system, the attachments to the floor slabs or spandrel beams require special attention," writes Robert Smilowitz, Ph.D., SECB, F.SEI, senior principal, Protective Design & Security, Thornton Tomasetti – Weidlinger, New York, in WBDG's "Designing Buildings to Resist Explosive Threats."
"These connections must be adjustable to compensate for the fabrication tolerances and accommodate the differential inter-story drifts and thermal deformations as well as be designed to transfer gravity loads, wind loads, and blast loads," he writes.
Originally published in Architectural Record
Originally published in July 2019
Notice