Designing high-performance building envelopes with expansive glass spans
Sponsored by CRL
Fire Safety
For aspects of the building enclosure that must be fire rated—for instance, the floor or floor/ceiling assemblies—it's important to seal voids created at the intersection of the exterior curtain-wall or floor assemblies with an approved system to prevent the interior spread of fire, instructs Rob Connor, AIA, LEED AP, Shepley Bulfinch, Boston. These systems should be securely installed and tested in accordance with ASTM E 2307: Standard Test Method for Determining Fire Resistance of Perimeter Fire Barrier Systems Using Intermediate-Scale, Multi-Story Test Apparatus. The assemblies should prevent the passage of flame for a time period at least equal to the fire-resistance rating of the floor assembly and prevent the passage of flame and hot gases sufficient to ignite cotton waste.
Additionally, exterior building components in high-rises need to conform to NFPA 285 to ensure that the entire assembly is compliant. This standard tests the fire propagation characteristics of exterior wall assemblies and panels used as components of curtain-wall systems that are constructed using combustible materials.
At the same time, Keleher points out that fenestration does not have the fire-promulgating characteristics of foam plastic insulation and certain facade claddings. So if fire-resistance is required, either sprinklers can be provided on the outside, or steel-framed curtain walls or fire-rated glass can be specified.
Schroter mentions that a fire and smoke seal between all roof slabs and parapets is fundamental to mitigating condensation at the parapet interface.
Accordingly, "the floor line smoke and air seals can be sealed to the face of the slab and to a metal backpan or to foil-faced insulation that spans across mullions. From the exterior, this ensures the visual continuity of the exterior glass at the floor line while maintaining the floor-line smoke seals," he explains.
"Interior 'false' mullions below the bottom of the slab can be used to provide a horizontal closure for the backpan while allowing the glass to continue vertically uninterrupted across the facade at the floor lines," he continues. "Typically, these nonstandard details will require an evaluation by a fire-protection engineer."
Meanwhile in the United Kingdom, fire safety is even more of a hot topic in the wake of the Grenfell Tower tragedy in North Kensington, West London, that claimed the lives of 72 people in June 2017. In response, the government has introduced new legislation to limit the amount of combustible material that can be incorporated into facades.
In practice, Rogan points out that it is impossible to eliminate all combustible material from a curtain-wall system, as these systems utilize plastics as thermal breaks and rubber gaskets to control water ingress. However, these can be quantified and proven to be insignificant when considering fire risk.
"What is perhaps more important," he says, "is to ensure that cavities within facades are detailed to prevent the transmission of flames or hot gases from one compartment to another, undetected. And it's important to remember that in a fire situation, smoke inhalation is a bigger threat than heat. So in addition to limiting the spread of flame, we need to specify products that don't give off harmful gases when they burn."
Acoustics
Ensuring airtight seals in the building envelope is essential and expresses itself in a myriad of beneficial ways including better acoustics.
That said, most best practices center around glazing selection. For example, utilizing a noise-reducing interlayer such as PVB between the glass lites to help prevent sound from penetrating through the system.
"Adding more layers of glass, thickening the individual lites of glass, or adding sound-attenuating infill material can all reduce sound transmission as well, but these decisions should be balanced with cost and effectiveness," states Galli.
Generally speaking, asymmetric glass thicknesses and laminated glass reduce sound transmission, as does opaque/insulated wall panels.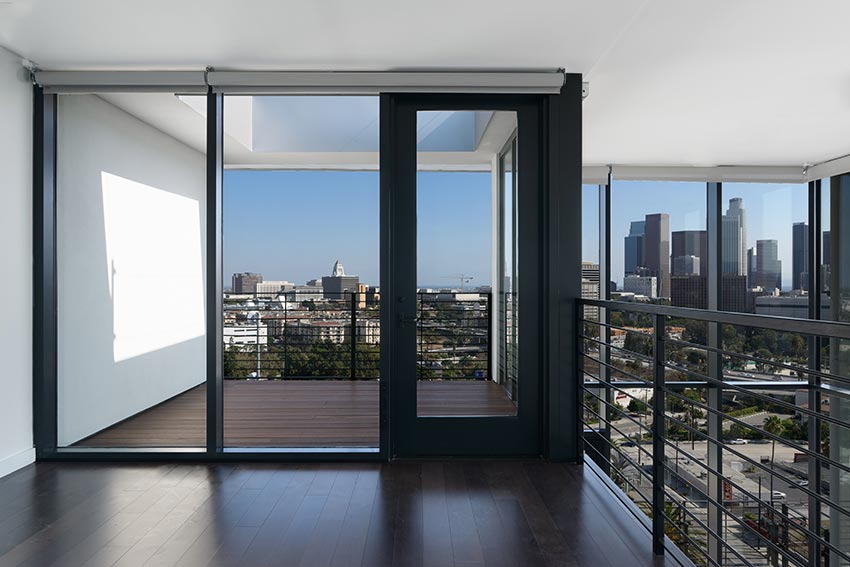 Photo: Geoff Captain
A high-performance entrance system at The Elysian in California utilizes laminated glazing for enhanced acoustics.
"In some instances, a secondary glazing element at the inside face of the mullion (e.g., jockey sash) may be required where a higher degree of acoustic performance is desired," notes Schroter.
Williams also points out that exterior shading designs can impact acoustics (e.g., adding external projections, fins, ledges, or scrims). "These have the potential to create acoustic issues associated with wind-induced vibration and harmonics of architectural building features that can cause buildings to 'hum' or 'whistle' in certain conditions."
Consequently, these potential risks need to be identified early and, if required, test procedures should be developed that identify causes and remedies.
Looking at the big picture, Rogan points out that glass buildings naturally reflect sound waves, so in order to improve the urban environment, it's important to evaluate facade design as a whole. "This could involve introducing vegetation into facades, using absorbent materials, or using geometry to control reflections."
Case Studies
Bringing a couple of examples of well-designed glass enclosures featuring curtain-wall systems, Skidmore, Owings & Merrill recently redesigned Craig Ellwood's original 777 Aviation Boulevard building in El Segundo, California.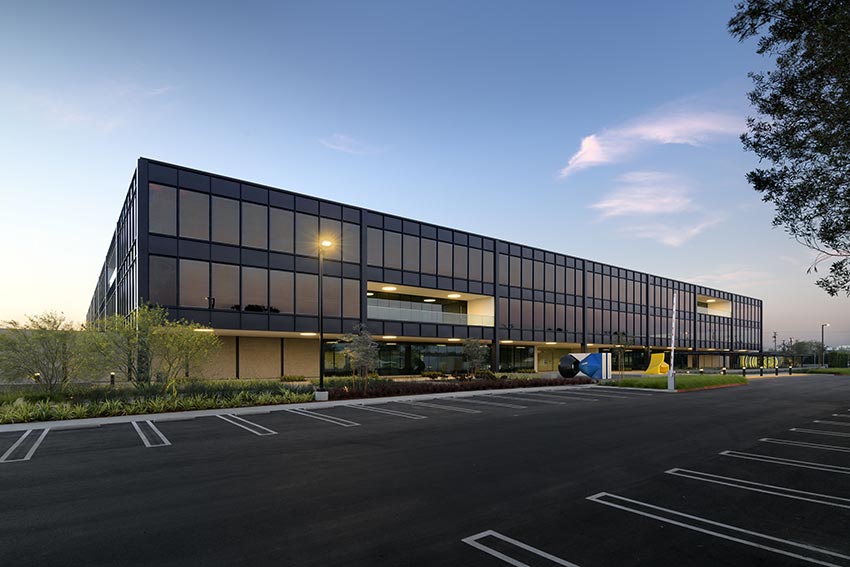 Photo: Geoff Captain
A large curtain-wall system helped transform the outdated 777 Aviation Boulevard building into a modern, daylit, multi-tenant office space.
Transforming the outdated, three-story building from a single-tenant to a multi-tenant space and infusing a modern, daylit fabric into the design, SOM specified a structural silicone-glazed curtain wall and glass entrance system. In addition, concrete shear walls were removed and a series of large-scale skylights integrated into a grand atrium.
The curtain-wall system incorporates a pressure-bar-free design, which enabled a faster installation on the first-floor facade and upper-level balcony areas. Engineered without exposed exterior vertical mullions and joint fasteners, the curtain wall delivers uninterrupted horizontal glass spans for streamlined visuals and a seamless transition to the interior. The system also utilizes a polyurethane thermal break and injection-molded thermoplastic connector that joins interior and exterior members to achieve total thermal isolation.
As for the entrance system, it was designed with ultra-narrow 1 1⁄8-inch vertical stiles and an overall system depth of just 2 1⁄2 inches. The system is unique in that door handles, including panic devices, can be installed on 1-inch insulating glass units with through-glass fittings. The result is a distinct floating-on-air, all-glass aesthetic.
"Given the performance criteria for the new fenestration and our goal of having a minimalist aesthetic, there was no other option than the entrance system we specified," relates Susan Bartley, AIA, LEED AP, project manager, SOM Architecture, Los Angeles.
Another interesting project is Mountain Equipment Co-op's (MEC's) four-story, 10,219-square-meter headquarters in East Vancouver, Canada. The outdoor gear and clothing company wanted a building that would embrace its sustainable, eco-friendly brand.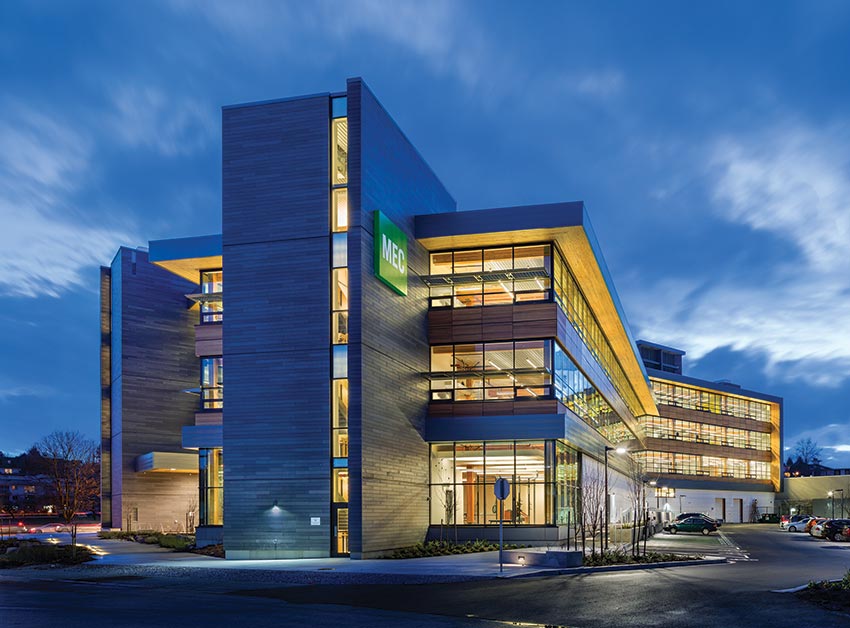 Photo courtesy of C.R. Laurence
Proscenium Architecture + Interiors wood and expansive glass design for Mountain Equipment Co-op's headquarters embraces the outdoor gear and clothing company's sustainable, eco-friendly brand.
To accompany the extensive use of wood on the exterior and interior, Proscenium Architecture + Interiors raised the ceilings and designed the space with extensive glazing.
A high-performance, triple-glazed curtain wall occupies a large portion of the facade. The selected system features dual thermal-barrier technology, employing two fill and debridge pockets, and three thermal break points for exceptionally low U-factors. In addition, a continuous thermal spacer, injection-molded end dams, and closure plates enhance condensation resistance.
Close Coordination
As project stakeholders continue to invest in high-performance glazed facades, and tap into the building technologies that are enabling them, a highly collaborative project process is essential to make it all work.
Considering the complexity of all the assorted building enclosure components and applicable building codes, close coordination is the best approach.
Williams concludes, "To optimize the performance of the facade while maximizing daylighting and views requires a collaborative, coordinated approach between architects, facade consultants, structural engineers, manufacturers, and sustainability experts."
| | |
| --- | --- |
| | CRL-U.S. Aluminum is the leading single-source manufacturer and supplier of architectural glazing systems for numerous CSI divisions. Their robust product portfolio offers customizable solutions that include curtain walls, storefronts, entrances, windows, railings, commercial hardware, and interior office partitions. As an industry leader for decades, the company has built a solid reputation based on quality, innovative, and installer-friendly products. Their wealth of experience provides absolute peace of mind for those who specify, install, operate, or occupy. |
Originally published in Architectural Record
Originally published in July 2019
Notice