Designing high-performance building envelopes with expansive glass spans
Sponsored by CRL
Condensation
At the same time, designers must look for what's called interstitial condensation, which can occur when water vapor penetrates through an insulated wall and begins to build up on a cold surface. The remedy, says Rogan, is internal air barriers.
Generally speaking, when the surface temperature reaches the dew point, condensation can form on both the interior and exterior surfaces. In addition, high humidity and low temperatures create "microclimate" conditions between glazed wall systems and interior blinds and drapes, leading to the formation of condensation, particularly in cold climates, explains McGowan. "Controlling interior humidity, raising air temperatures adjacent to the glazed wall systems, and allowing for warm, dry air to continually wash the glazing and framing systems are some design strategies for mitigating condensation," she says.
With curtain walls, the areas most prone to this are on or adjacent to curtain-wall framing members, at penetrations through the glazing assembly such as steel outriggers, or in improperly insulated wall panels with incomplete or mislocated air and vapor barriers, according to Schroter.
Furthermore, the connection to the spandrel areas is a particularly vulnerable area.
"The interior surfaces of the mullions in the spandrel areas will experience a colder temperature than those in the vision areas because the areas behind spandrel panels are not conditioned spaces, and the insulation of spandrel panels is not sufficient enough to effectively transfer heat from outside to inside," explains Sanders.
In addition to making the window-frame and edge-of-glass performance as high as possible to mitigate condensation in the spandrel areas, Yvon Chiasson, senior building science specialist, Morrison and Hershfield, Burlington, Ontario, at a recent Facade Tectonics Institute, shared the following strategies:
Don't allow the vertical mullions to be continuous from vision area to spandrel area by sharing the same vertical member. This may involve double stack joints, or designing the curtain wall with continuous horizontal extrusions and discontinuous verticals, rather than the conventional method of long continuous vertical mullions.
Improve the insulation behind opaque spandrel areas by ensuring that the exterior-facing surface of the interior mullion has insulation in front of it rather than just adjacent to it.
Use vacuum-insulating panels in the spandrel areas.
Essentially, the highest risk areas are at or near the slab, at the floor level, and at the ceiling level. The same applies to window walls where a similar "thermal weak point" can be found at the slab edge. The bypass system bridging between window units on either side of the slab provides a means for thermal bridging if not sufficiently insulated.
In addition to the above-mentioned strategies, Sanders relates that contingencies can be implemented regarding HVAC system design and window coverings placement. For example, shades and blinds should be fully retracted rather than kept in a partially lowered position, as this prevents stagnant air from being trapped and increasing condensation risk. Radiators or forced-air heating at the floor level can also be advantageous to encourage warm airflow to the top of the window rather than using air ducts at the ceiling.
"Making sure soffits aren't installed below the level of the window head is also a strategy that minimizes the possibility of reducing airflow around the top of the window, where condensation risk is highest," she adds.
As for storefronts, the thermal bridging at the frame and edge of glass are prone to condensation, but an additional risk comes with the installation process. If the enclosure isn't tight, cold air can leak around the outside of the frame or around the edge of the glass in the glazing pocket, further reducing the interior temperature of the frame.
Consequently, Sanders advises that designers carefully consider how and to what the storefront will be attached to ensure that thermal bridging is minimized.
Structural Performance and Resiliency
Another design parameter that is becoming increasingly more important is resiliency. For glazed systems, this means structural performance.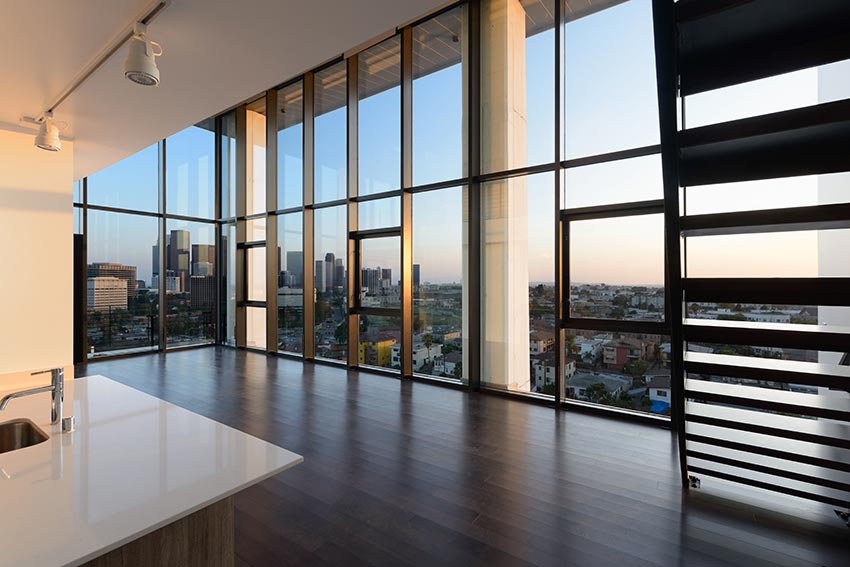 Photo: Geoff Captain
The facade design for The Elysian meets California's stringent seismic requirements.
For starters, while glass is a strong material, it is also very fragile. In many cases, this can be addressed by using a laminate interlayer between glass panels so that if one breaks, the entire system isn't severely compromised.
This is particularly important for high-rise buildings because it protects pedestrians below in the case of glass failure.
On the topic of terrorism, Rogan relates that laminated glass performs extremely well in the event of an explosion, as it is able to break and absorb the energy of a blast before imposing that load onto the supporting building frame.
In terms of accommodating building movement, Jane Galli, AIA, LEED AP, associate, Shepley Bulfinch, Boston, points out that movement increases as building height increases, and this must be understood and accounted for in designs. This includes carefully detailing slot connections at structural points to allow for this movement.
Expansion and seismic joints play a key role in this and in connecting to both the new and existing building facades. "Whether dealing with stick-built or unitized systems, understanding where the curtain wall ends and the seismic joint system begins is a critical consideration for overall performance," she adds.
Building corners are particularly complex, as they move in two or three directions at once; therefore, part of designing a resilient wall assembly is analyzing expected movement in the curtain-wall system's corners. According to Schroter, these designs may need to incorporate crumple panels or sacrificial elements that can be repaired after a major structural event.
"Split vertical corner mullions may be employed to accommodate this movement but should be evaluated to ensure they remain engaged during extreme movement events," he explains.
While the curtain wall will be evaluated for structural performance in an accredited testing laboratory prior to construction, it is equally important that the field performance of the installed product be evaluated during different phases of construction as a quality control measure.
Generally speaking, typical facade components are well documented and can be modelled in analysis software to a high level of detail, explains Williams. But where analysis has its limitations, Arup relies on project-specific testing, such as AAMA 501.6: Design Provisions and Test Methods for Architectural Glass Subjected to Seismic Induced Building Movements.
Originally published in Architectural Record
Originally published in July 2019
Notice