Meeting New Water Quality Mandates in Health-Care Settings
New national standards target reducing the risk of Legionnaires' disease
Sponsored by WATTS Water Technologies, Inc.
ASHRAE Standards
The American Society for Heating, Refrigeration, and Air-Conditioning Engineers (ASHRAE) has taken note of the connection between water-based mechanical and plumbing systems in buildings and legionella bacteria growth. After reviewing the concerns and conditions, it first published a guideline in the year 2000 titled Guideline 12-2000 – Minimizing the Risk of Legionellosis Associated with Building Water Systems. It has continued to review the issue and in 2015 published an updated ANSI/ASHRAE Standard 188: Legionellosis: Risk Management for Building Water Systems. This standard, which it suggests "is essential for anyone involved in design, construction, installation, commissioning, operation, maintenance, and service of centralized building water systems and components," establishes minimum risk management requirements for building water systems to combat the legionella bacteria. It not only includes a description of the environmental conditions that promote the growth of legionella, but it also outlines action plans for managing and monitoring those conditions. Additionally, there are informative annexes and a bibliography that contain suggestions, recommendations, and references for additional guidance.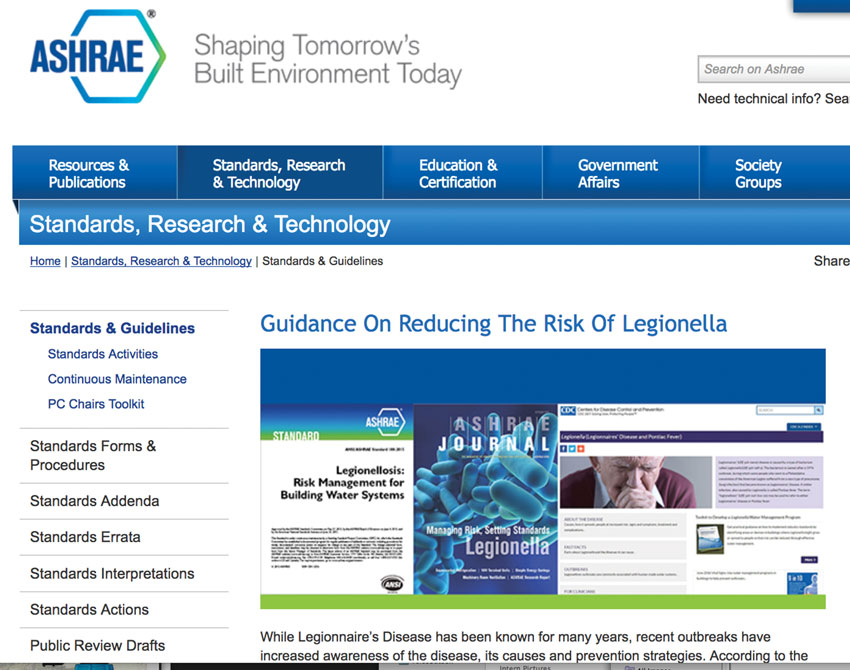 ASHRAE has been heavily involved in the creation of guidelines and standards to reduce the risk of legionella outbreaks in buildings since the year 2000.
ASHRAE 188 begins by pointing out that while legionella bacteria occur naturally in freshwater environments, it becomes a health concern when it grows in building water systems that are not adequately maintained. It also recognizes that the mere presence of legionella in a water system or device is not sufficient to cause disease. Rather, to cause illness, the bacteria must ultimately be inhaled or aspirated into the lungs of a susceptible person. Nonetheless, there is enough incidence of that happening to warrant a concerted effort to prevent legionella growth in buildings.
A key focus of ASHRAE 188 is to assist designers and building operators in developing a specific water management program for the systems that exist in their buildings or campuses. It recognizes that design, good operations, and maintenance procedures that prevent growth and spread of legionella are regarded as the best methods of preventing disease. In fact, CDC investigations of outbreaks show that 9 out of 10, or nearly all of them, were caused by problems preventable with more effective water management. Therefore, developing a water management program with the recommended practices can definitely reduce the chance of bacteria colonization, amplification, and dissemination to people. Of course, it cannot guarantee that a system or individual component will be totally free of legionella, but it should be able to keep it down within acceptable limits.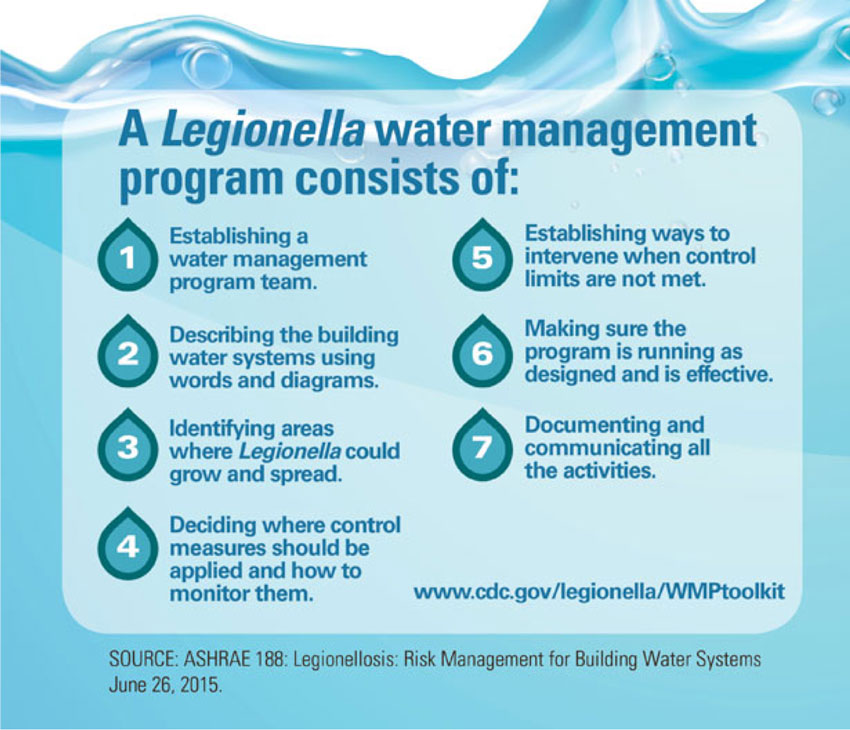 ASHRAE standard 188 describes seven steps that are involved in an ongoing water management program for commercial and institutional buildings, including health-care facilities of all types.
Creation of a water management program under ASHRAE 188 includes a seven-step process as follows:
Program team: The persons responsible for the development and implementation of the program need to be identified. This will necessarily include a design professional familiar with the design and operation of all of the water systems in the facility. Suggested team members include infection prevention personnel, a legionella expert who could be a consultant or equipment manufacturer, upper management personnel with decision-making authority, and facility management.
Water systems description and flow diagrams: For existing buildings, a complete survey and documentation of the water systems by a design professional are called for using the process described in the standard. For new buildings, all potable and nonpotable water sources need to be assembled for the building(s) and the site, including schematics of all water systems.
Analysis of building water systems: A professional evaluation needs to take place to determine where hazardous conditions may occur that could promote the growth of water-borne bacteria.
Control measures: A determination needs to be made of locations where control measures must be applied and maintained in order to stay within established control limits of any legionella bacteria growth. Once determined, the control measures need to be implemented accordingly.
Monitoring and corrective actions: Procedures for regular and routine monitoring of the effectiveness of the control measures need to be developed and carried out. If the system is not operating with established limits, then corrective actions must be taken to restore effectiveness.
Confirmation: Additional procedures need to be in place first to verify that the program is being implemented as designed and second to validate that the hazardous conditions throughout the building water systems are being controlled.
Documentation: All activities of the program need to have documentation and communication procedures in place and carried out.
Overall, the key is to bring the right people together to follow the process and develop specific procedures for a particular facility to adopt and implement. Within this framework, ASHRAE 188 articulates the requirements for building surveys and building water systems in detail to identify specific criteria that need to be incorporated. There is also a specific section covering requirements for designing building water systems and one specific to health-care facilities. Like all standards, ASHRAE 188 is a voluntary consensus standard that may or may not be adopted into local plumbing codes. If it is, enforcement is most likely performed by the local authority having jurisdiction. Otherwise it may be adopted by a local health-care organization or used to support certification or accreditation of the facility.
Medicare/Medicaid and Legionella
The Department of Health & Human Services (DHHS) Centers for Medicare and Medicaid Services (CMS) is the arm of the federal government that provides funding and oversight for facilities and care providers administering to patients using Medicare or Medicaid insurance. In addition to being an important source of income for health-care facilities, CMS oversees requirements for long term health-care facilities. In June of 2017, they developed and released a new policy memorandum titled "Requirement to Reduce Legionella Risk in Healthcare Facility Water Systems to Prevent Cases and Outbreaks of Legionnaires' Disease (LD)." This policy memorandum applies to hospitals, critical access hospitals (CAHs), and long-term care (LTC) but is also intended to provide general awareness for all health-care organizations.
Under this policy memorandum, CMS expects Medicare certified health-care facilities to have water management policies, management teams, and procedures in place to reduce the risk of growth and spread of Legionella and other opportunistic pathogens in building water systems. The basis for these policies and procedures is ASHRAE Standard 188, and in 2016, the CDC and its partners developed a toolkit to facilitate implementation by facilities.1 This toolkit describes the environmental, clinical, and epidemiologic considerations for health-care facilities related to legionella. It also provides some suggested logistics of establishing a water management team, conducting surveys, and developing/implementing a water management program per ASHRAE 188. It includes control measures such as physical controls, temperature management, disinfectant level control, visual inspections, and environmental testing for pathogens.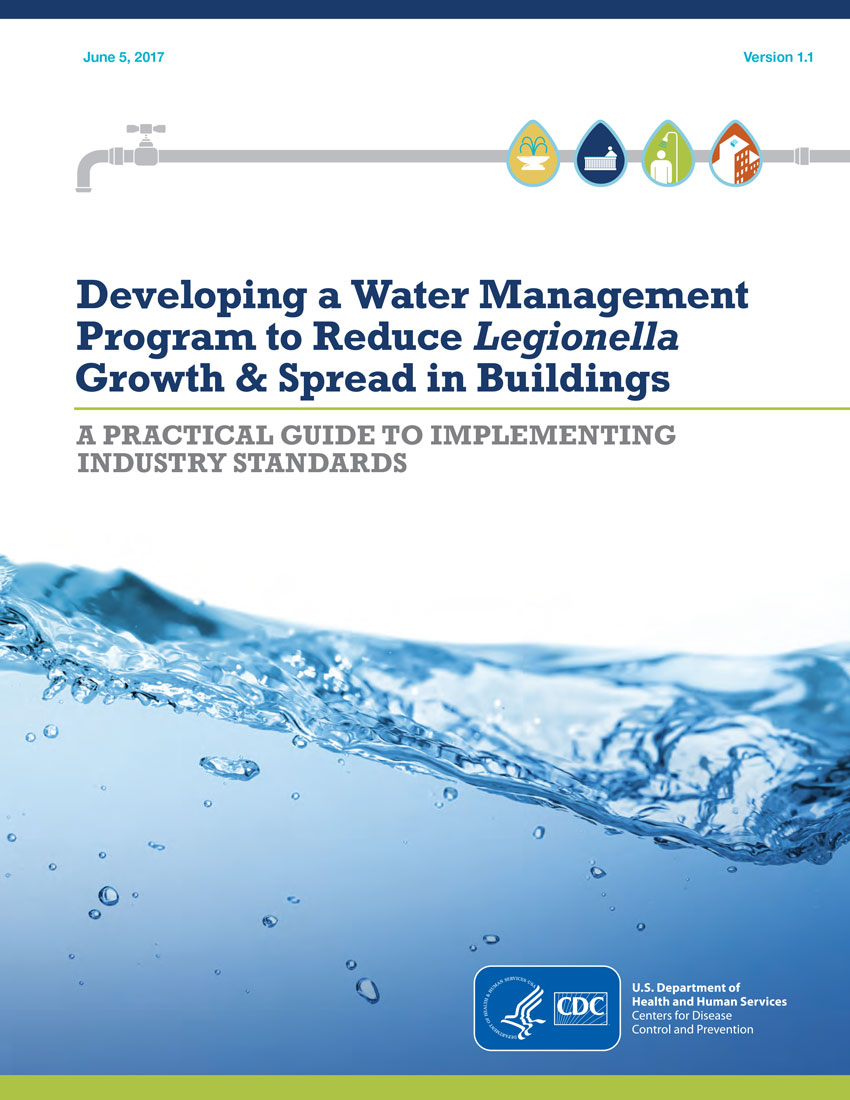 The Center for Disease Control (CDC) has published a water management toolkit resource for building designers, managers, and owners to use based heavily on ASHRAE 188.
Of particular note to health-care executives, facilities are expected to comply with the CMS requirements to protect the health and safety of its patients. Those facilities deemed unable to demonstrate measures to minimize the risk of LD are at risk of citation for noncompliance with the CMS Conditions of Participation. The CMS policy memorandum indicates quite clearly that "Accrediting organizations will be surveying health-care facilities deemed to participate in Medicare for compliance with the requirements listed in this memorandum, as well, and will cite noncompliance accordingly". Based on this, it is expected that all health-care facilities will have a renewed interest in establishing and carrying out a full water management program based on ASHRAE 188 and the CMS policy.
Originally published in Architectural Record
Originally published in September 2017
Notice