Meeting New Water Quality Mandates in Health-Care Settings
New national standards target reducing the risk of Legionnaires' disease
Sponsored by WATTS Water Technologies, Inc.
Learning Objectives:
Identify and recognize the conditions that contribute to the development and growth of legionella in health-care facilities.
Investigate the requirements of ASHRAE 188 and the new DHHS policy memorandum related to water quality in health-care settings to reduce the risk of Legionnaires' disease.
Assess the potential ways to address legionella in water supply, distribution, and drainage systems in health care.
Specify products that can contribute to compliance with water quality requirements contained in the DHHS policy memorandum and ASHRAE 188.
Credits:
This course can be self-reported to the AIBC, as per their CE Guidelines.
This course is approved as a Structured Course
This course can be self-reported to the AANB, as per their CE Guidelines
Approved for structured learning
Approved for Core Learning
This course can be self-reported to the NLAA
Course may qualify for Learning Hours with NWTAA
Course eligible for OAA Learning Hours
This course is approved as a core course
This course can be self-reported for Learning Units to the Architectural Institute of British Columbia
Hospitals and other health-care facilities in general require water to operate, and usually a lot of it. It is used not only in patient room sinks, showers, and toilets, but also in staff sink/scrub areas, wellness rehab areas, food service centers, public restrooms, and laboratories. Additionally, water drives many of the mechanical systems in a facility, including HVAC systems, fire protection, and domestic water systems, both hot and cold. All of this water is intended for good outcomes but can also be the primary cause of concern for unintended consequences since water can be a prime breeding ground for bacteria and disease if not managed properly. Waterborne pathogens can be a threat not only to patients but also to staff, visitors, and other people who come in contact with liquid water, vapor, or airborne spray in a health-care setting. One of the most troubling of those pathogens is legionella bacteria, which is the cause of Legionnaires' disease (abbreviated LD or also called Legionellosis), which is a type of pneumonia that can lead to severe disabilities or even death. Its name comes from one of the first and most public discoveries of the condition, which occurred at a 1976 convention of the American Legion where a number of attendees (i.e., Legionnaires) became sick and/or died. The cause was ultimately traced to infected airborne moisture in the HVAC system of the hotel. Since then, the Centers for Disease Control (CDC) have investigated the condition at great length and tracked anywhere from 8,000 to 18,000 cases per year of people that have become infected in the United States. Obviously, they don't all make the news, but the concern is real and significant in health-care settings, so much so that new standards and guidelines are now in place that are applicable to designers, facility managers, and health-care executives. This course will look at some of the concerns over LD, the requirements of standards related to controlling or eliminating cases and outbreaks, and some of the fundamental design implications related to water-based systems in health-care settings.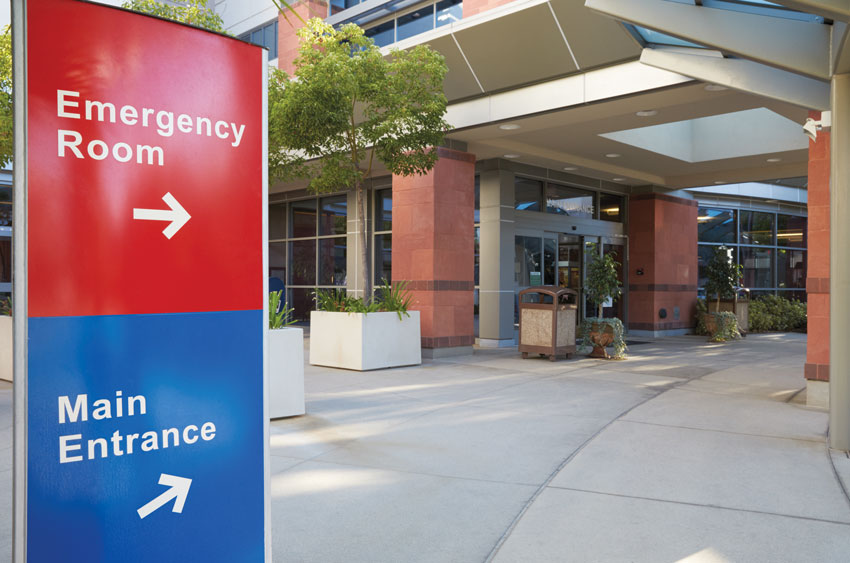 All images courtesy of Watts, except as noted
Health-care facilities treat patients who suffer from disease, but new standards seek to be sure they don't also cause infectious breakouts caused by water-borne bacteria, such as Legionnaires' disease.
Health Care and Legionella
Those tasked with managing and operating a successful health-care facility typically focus on achieving some fundamental goals. These can include safety for their patients, employees, and the public, providing comfort for those within the facility, and appropriate efficiency in operations. Ultimately, the goal of everyone who works or visits a health-care facility is the overall satisfaction of the patient. When it comes to treating patients with Legionnaires' disease, all of these goals apply, so it is worth understanding a few fundamentals and statistics about the disease:
Legionnaires' disease doesn't spread from person to person. Instead, the bacteria spreads through mist, such as from cooling towers, evaporative condensers, showers and faucets, whirlpool spas, decorative fountains and misters (source: ASHRAE 188).
Those at most risk include persons who are at least 50 years old, smokers, or those with underlying medical conditions such as chronic lung disease or immunosuppression (source: Mayo Clinic and others).
Many people exposed to legionella bacteria don't develop symptoms, but those who do may experience cough, fever, chills, shortness of breath, muscle aches, headaches, and diarrhea (source: Mayo Clinic and others).
LD can be treated with antibiotics, such as azithromycin or ciprofloxacin, assuming it is diagnosed properly and in time for the antibiotics to help (source: Mayo Clinic and others).
Cases of LD reported annually in the United States from 2000–2009 increased by 217 percent; measured from 2000–2014, the increase is 400 percent (source: CDC).
The number of direct health-care dollars it costs in the United States to treat a single case of Legionella is $34,000 (source: CDC).
The cost to the health-care system for hospitalizations for three common waterborne diseases is $539 million annually, with Legionnaires' disease being the largest cost (source: CDC). In addition, if a person acquires Legionnaires'disease while a patient at the hospital, the hospital may not get reimbursed for expenses related to his/her care.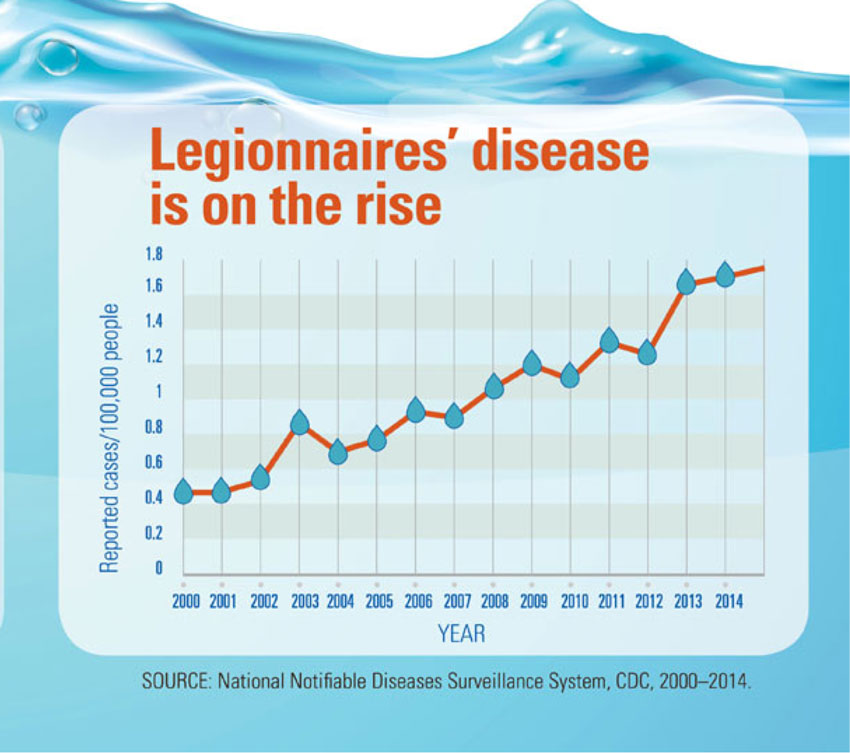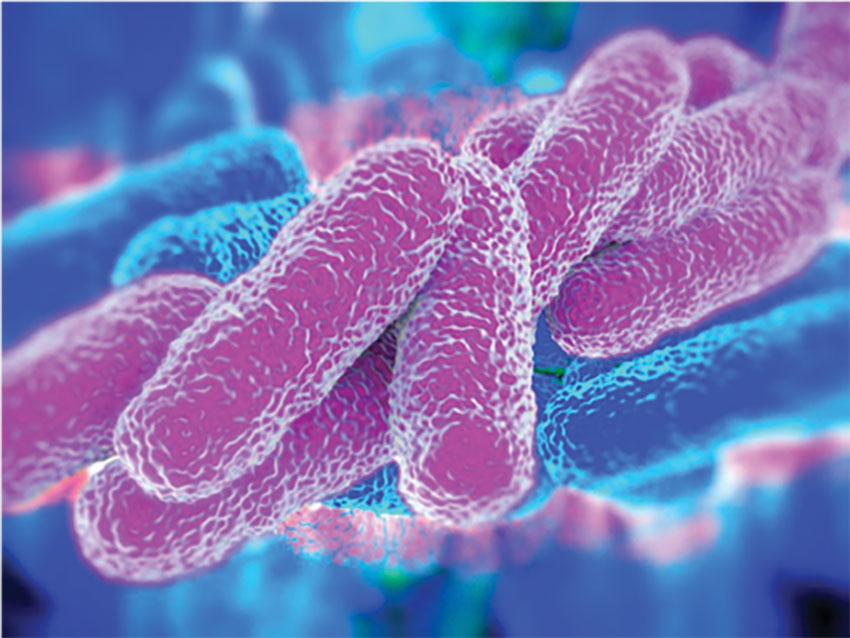 Legionella bacteria in water systems can spread to people through the air causing a severe type of pneumonia called Legionnaires' disease, which has been reported in an increasing number of cases since the year 2000.
While LD is clearly a potential source of income for care in hospitals, if the infection is contracted while someone is in a health-care facility, it can have potentially dire consequences on the continued operation of the facility.
Consider these statistics:
The CDC has investigated building-associated outbreaks of LD and determined that the most common places for contracting the disease are hospitals, long-term care facilities, and hotels. In these types of buildings, the sources for spreading water droplets contaminated with legionella can include things like showers and faucets of building plumbing systems, cooling towers, hot tubs, decorative fountains, and aerosolizing water features (source: ASHRAE).
The range of reported jury awards and settlements related directly to LD is $255,000 to $5.2 million. (Reports of settlements are rare, as most agreements include stipulations that payout amounts remain confidential.) The serious personal injury or death caused by this disease makes proof of extensive compensatory damages simple (source: Claims Management).
The largest dollar jury award (so far) for LD plus gross negligence and other failures that resulted in long-term disability and severe debilitation is $193 million. The case was not fatal (source: Claims Management).
It is not surprising then that hospital executives and facilities management teams are not only aware of this potential liability but are actively working to prevent legionella outbreaks. It is also not surprising that national standards have recently emerged to provide guidance not only to hospital personnel but also to design professionals on how to address this potential threat.
Originally published in Architectural Record
Originally published in September 2017
Notice