Pergolas: The Perfect Complement to Any Outdoor Room
Providing shelter and protection while allowing users to enjoy sunshine, cool breezes, and nature
Sponsored by Walpole Outdoors
Manufacturer Support
As a whole, architects prefer working with pergola manufacturers who provide a high level of support and guidance. For example, accurate, easy-to-read drawings, installation and maintenance guides, and informational videos are very helpful.
"Working with a company that offers in-house engineering and support services is actually a great benefit for both designers and homeowners," Gillow says. "The last thing you want to do as a designer is to create a structure that does not stand the test of time."
A high level of manufacturer support is particularly important for customized projects. In fact, Lichtenberg will only work with companies who offer in-house engineering/design support for these types of projects.
Along these lines, Draughon points out that pergolas have weight, wind, and distance tolerances that determine the design and placement. Consequently, manufacturers with in-house expertise can help designers ensure that the pergola will meet these requirements.
And because all pergola projects need to navigate the local building codes as well, manufacturer knowledge and support can be very helpful in establishing code compliance.
When building a pergola, homeowners may be tempted to build it themselves, as there are plenty of low-cost, in-store products on the market that can be assembled very quickly and easily. However, Matt Leacy, director and principal designer with the Sydney, Australia-based landscape architecture firm Landart, advises against this, pointing out that these types of products are often mass-produced with little consideration for quality and design.
Pergola Popularity
Overall, Willard defines pergolas as a great in-between space, not totally inside in a controlled climate nor totally outside exposed to the elements.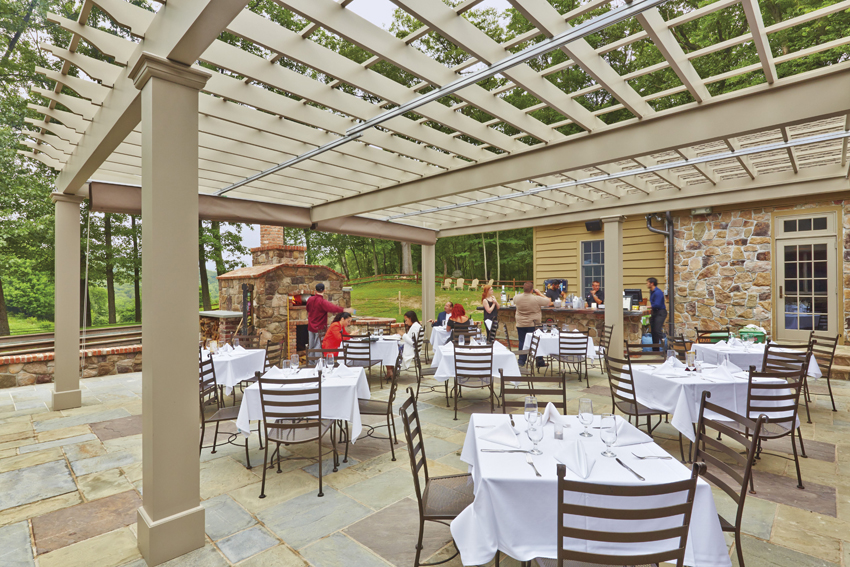 An expansive PVC polymer pergola creates an inviting area for diners to enjoy the outdoors while taking advantage of the visually appealing setting that this New Jersey restaurant affords.
"I think that they are popular because they respond to highly variable exterior conditions," he says. "Sometimes you want to see the stars, and sometimes you do not. Sometimes you want to feel the warmth of the sun, and sometimes you do not."
Wrapping up with a few more design ideas, some recent JZA+D projects have included a trellis that took on the curving, flowing form of butterflies in flight to create a focal point in a meditative memorial, a pergola to act as a centerpiece service station for an outdoor beer garden for a corporate office park, and a three-acre pool deck renovation with lattices for a major resort-casino.
Beyond public spaces, experts anticipate that residential pergolas will continue to gain traction, particularly as people spend more and more time at home at this unique point in history.
Originally published in Architectural Record
Originally published in August 2020
Notice