Pergolas: The Perfect Complement to Any Outdoor Room
Providing shelter and protection while allowing users to enjoy sunshine, cool breezes, and nature
Sponsored by Walpole Outdoors
Material Options
When building a pergola, the traditional choice used to be wood, known for its high level of craftsmanship, detailing, and warmth. Other choices include aluminum, fiberglass, and solid cellular vinyl, also known as PVC polymer.
Unlike wood, aluminum does not warp. It can be painted in a variety of colors, does a good job of withstanding the elements, and is essentially a low-maintenance product.
"Pergolas are exposed to a full range of temperatures, precipitation, and ultraviolet rays, so durability and low maintenance are key," DuBois says.
Some brands offer variations and graining on the surface to make it look more natural; however, the material does not offer the same level of detailing as wood.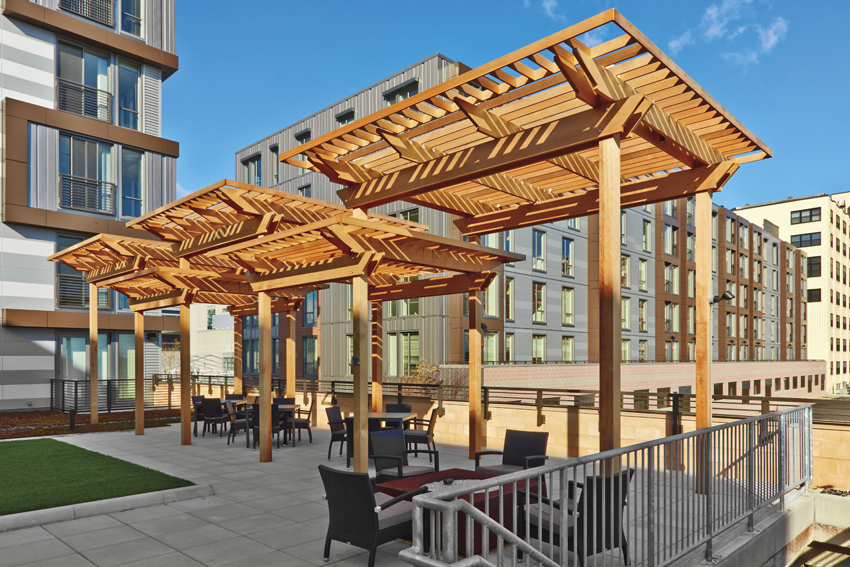 Made from hardy western red cedar, this eye-catching rooftop pergola provides semi-shade and unobstructed views while defining the outdoor recreation area of an urban apartment complex.
Available at a similar price point, fiberglass comes in a variety of appearances and textures. It is also a lower-maintenance material but does require occasional recoating.
Another attractive option is PVC polymer, particularly solid cellular vinyl, also known as PVC polymer. Unlike wood, the material is impervious to insects, water, and decay. Solid cellular vinyl is fabricated to recreate the feel and elegance of wood. It is easy to mill, shape, mold, and can be used with standard woodworking tools, including saws and fasteners. Further, it can be routed and cut without chip-outs, fasteners can be close to edges without splits, and it can be heat-formed for curved applications.
"PVC polymer is an excellent material selection when it comes to pergolas," Gillow affirms. "Unlike wood, this material is low maintenance in nature and is easy to clean when needed."
Similarly, the online informational resource LandscapingNetwork reports that vinyl is a durable, low-maintenance material that does not chip, warp, or rot and is resistant to insect damage and weathering.
The material is predominately made from polyvinyl chloride, which is derived from a common salt that is abundant in the earth. Compared to other plastics that rely upon nonrenewable resources such as petroleum, solid cellular vinyl carries a smaller carbon footprint. The high chloride content also serves to enhance the material's fire safety. Consequently, cellular vinyl is difficult to ignite, produces low heat, and chars as opposed to melting. It is self-extinguishing, which means that once the ignition source is removed, the product will stop burning.
Other "ingredients" include a forming agent to lower the density for workability, titanium dioxide for improved weathering, calcium carbonate for added strength, and acrylic.
Another plus of solid cellular vinyl is that paint adheres well to its surface, and color can be integrated into the material itself. "PVC polymer will last longer and hold its color over time," Draughon confirms. When the paint is applied in a climate-controlled environment, some manufacturers offer a 25-year warranty.
While white is the most popular color, designers will take cues from the landscape and adjacent home or property. Typically, softer colors lend a sense of warmth, while darker colors create a more intimate space.
Cellular vinyl is simple to clean, and repainting with any good, acrylic-based paint is easy. To optimize the color quality, it is important to use paint with a light reflectance value (LRV) of 55 or greater. With special attention to pigmentation, it is possible to match a range of colors not normally falling into the required LRV range.
Because the cellular polymer offers such a natural look, it is becoming a popular choice for historical landmarks and has been approved for use by a number of municipalities, particularly in the Northeast.
Because it is millable like wood, it can be made in any scale and proportion. Consequently, this makes the material ideal for historical reproductions.
Some PVC polymer products are produced in a hollow extruded form where the middle is hollow like a piece of pasta while the ends tend to be injection molded, making for dissimilar weathering characteristics and long-term instability. Because they are not structural materials, pressure-treated wood is often used as a filler webbing in the core.
"While hollow extruded PVC/vinyl is very cost-effective with the benefits of resistance to water, insects, and decay, it tends to look shiny and inexpensive as proportionality is lost and components like end cuts are added on to pieces of a different density, which have a propensity to show more and more over time," explains Gary B. Workman Jr., sales manager, Walpole Outdoors, Mineola, New York. "In the absence of coatings, they are very prone to algae and mildew buildup. Frequent cleaning is then required, which ultimately abrades the surface."
Design Tips
When embarking upon a pergola project, the first two objectives are determining the client/end user's goals and establishing context, which can be achieved with a site analysis.
"When a client asks to have a pergola designed as part of the landscape, my first question is always to ask what he or she envisions doing in the structure," Berger explains. "This simple or complex answer dictates the function and therefore the end design, shape, size, and siting of the structure."
The function also helps determine which construction materials will optimally produce the spans required to enclose the activity. For example, fiberglass can handle unsupported spans of 25 feet, while solid cellular vinyl can span up to 30 feet with steel reinforcement.
Included within this initial query is determining whether the pergola will be freestanding or attached to the house/building.
If the latter, Gillow's team works to ensure that the pergola's placement is strong and makes a statement. "We will typically follow a strong axial line from the center of a door, and peek or bump out of the principle structure to give it its own very strong presence in the space," he explains.
Prior to designing the look, color, and style of the pergola, Berger lays out a set of questions that must be evaluated:
How will the house/building be viewed from the pergola and vice versa?
Will the pergola architecturally match the house/building/campus or will it blend into the landscape?
Is the pergola to sit in the distance as a physical or visual destination in the overall yard/area design, will it be an extension of the classrooms/offices/residences/cultural areas, or will it serve other functions?
What aspect or feature of the pergola will attract occupants to come outside?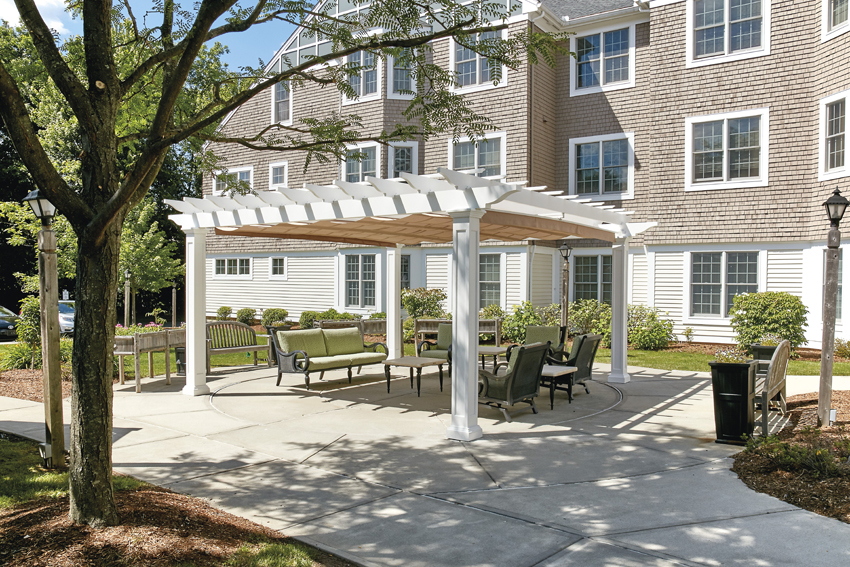 Residents of a senior housing complex in Connecticut are invited to enjoy outdoor relaxing and socializing in a courtyard area defined by a 15½ -foot x 15½-foot four-column pergola. Crafted in solid cellular vinyl, it has a canopy that provides shade from sun and shelter from light rain.
On the issue of pergola placement, in a LandscapingNetwork article, Arcata, California-based landscaper Genevieve Schmidt recommends considering where people will most enjoy spending time. For example, which area of the landscape offers the best views, and are there any areas sheltered from the wind?
Another key consideration is determining what time/times of day users will likely use the pergola, as the angle and position of the sun changes throughout the day. For instance, if users anticipate more frequently using the pergola at sunset, then the structure should be optimally sited to accommodate this.
In many cases, the pergola design will seek to pick up existing themes and match colors in the adjacent nonresidential building/buildings. For residential designs, the style and color of the trims on the home's exterior will often be transferred into the pergola design. In addition, the pergola will often replicate the arcs to speak back to the language and flow of the architecture of the main structure.
"Once we understand the programing and the client's desires, we will then start to lay out all the desired landscape elements," Lichtenberg explains. "Based on both the landscape and architecture design, we will then decide if a prefabricated pergola is best or if we need something custom. If prefab, we will need to check the sizing and the footing requirements. If we design something custom, we want to ensure it relates to the context and proposed architectural style."
In terms of design style, some additional considerations include determining if the pergola will be a simple post-and-lintel system, or if it will include arches or a colonnade.
Originally published in Architectural Record
Originally published in August 2020
Notice