Ceramic Tile: Solutions for Holistic Sustainability
Sponsored by Tile of Spain
This test is no longer available for credit
New Ideas, Sustainable Outcomes
In fact, these advances have spawned a number of new ideas in architecture and interiors that can help achieve sustainable outcomes. Two noteworthy strains of thinking are (a) a more holistic approach to material use, and (b) systems thinking about green attributes as opposed to "single-attribute" selection.
During the past decades, sustainable design has too often emphasized singular benefits of a specific product or system: think of rammed-earth construction, photovoltaics, planted roofs, or even enclosures with improved insulation and air barriers. More recently, the building design industry's understanding of materials has become more holistic, with considerations of wellness, satisfaction, life-cycle performance, and end-of-use scenarios, as described by Emily Allen, AIA, LEED AP, of Dekker Perich Sabatini, an architecture and design firm in Albuquerque, speaking at a recent NAIOP panel.
Single-attribute specifications emphasize a quality that makes a product "green," such as a third-party certification for low toxicity or urea formaldehyde-free composition, or for the durability inherent in synthetic siding materials. A systems approach to analyzing green attributes should include an array of benchmarks, such as the wellness standards promoted by the International Well Building Institute that create more user-friendly environments, says Allen, including "air, light, fitness, comfort," and subjective, user-based characteristics.
In this way, the same synthetic siding—while green from the standpoint of longevity—may not be considered truly sustainable from the viewpoints of occupant health, safety, cultural enrichment, and happiness if it is made using toxic chemicals or if it does not contribute to a safe and pleasing visual environment. This systems thinking goes beyond the wellness movement to the emergence of newer concepts such as active design and resiliency. Active Design is defined by the Center for Active Design as "an approach to the development of buildings, streets, and neighborhoods that uses architecture and urban planning to make daily physical activity and healthy foods more accessible and inviting." A prime example of active design in action is New York City's High Line park. Instead of depending on any one product or element of its design, the High Line aims to achieve a sustainable outcome through the harmonious interplay of its physical setting within the city, its natural vegetation, human-made interventions such as paths and benches, and the user experience engendered by all of those parts of the High Line's whole.
In a similar vein, resilient design aspires to sustainable outcomes through a focus on addressing vulnerabilities exposed by natural disasters and environmental change, according to the Intergovernmental Panel on Climate Change. A highly local and site- or region-specific approach, resilient design emphasizes durability over time, in the face of severe weather, seismic events, and other stressors—and also in response to normal wear-and-tear. As an example, flood-ready construction assemblies should be a feature of resilient design, according to Alex Wilson, president of the Resilient Design Institute (RDI). "Materials that are appropriate for wet floodproofing include poured concrete floors, ceramic tile, brick, and fiberglass-faced drywall," he wrote in an April 2015 RDI article.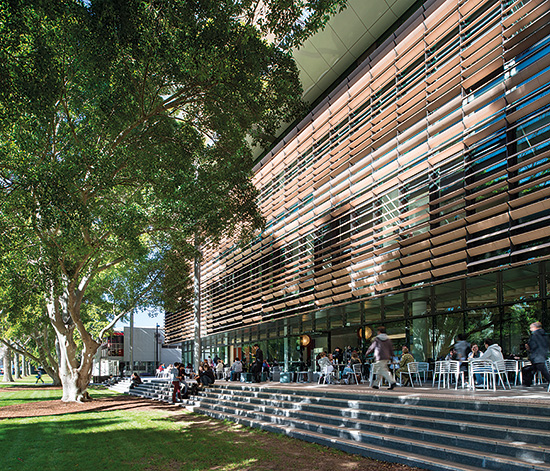 Photo courtesy of Tile of Spain
Increasingly, sustainable design projects are focused on resiliency, which addresses vulnerabilities exposed by natural disasters and environmental change. The tile used for these facade louvers are durable in the face of severe weather.
Originally published in Architectural Record
Originally published in September 2015
Notice