Ceramic Tile: Solutions for Holistic Sustainability
Sponsored by Tile of Spain
This test is no longer available for credit
Yet with the impending changes, attention is shifting to a number of longstanding construction materials and finishes that can easily clear that "high bar," including ceramic and porcelain tile. Made and employed in construction for hundreds of years, the green benefits of these tile products have been rediscovered as standards like LEED have evolved. Recent efforts by industry groups have shown how ceramic tile manufacturing has become increasingly sophisticated and efficient, continuing a decades-long move toward greater sustainability achievements.
An association of tile manufacturers based in Spain, for example, was among the first organizations to complete an industry-wide, generic LCA. The effort by Tile of Spain led to a number of valuable conclusions, including that ceramic tile offers a very low long-term environmental impact. In addition, the Tile Council of North America, Inc. (TCNA) has more recently unveiled an EPD for ceramic tile completed by UL Environment. This study offers details of the material's 60-year environmental impact as measured per square foot across such categories as global warming, abiotic (nonliving) resource depletion, acidification, smog formation, eutrophication (such as by excessive fertilizer use or detergent dumping), and ozone depletion.
According to Tile of Spain, the product category rules (PCRs) in the flooring category state that EPD's must provide details on carbon footprint, emissions and the like for all virgin products as well as amortized values for a 25-year span. In the amortized values, ceramic tile is shown to have very low values as compared to carpet and other product types, says the group. For its part, the European organization Ceramie Unie has delineated a roadmap to achieve an 80 percent reduction in the "environmental burden of manufacturing," measured by both emissions and consumption variables. This 80 percent improvement, to be achieved by 2050, will sit astride an already-achieved 87 percent reduction in those same measures since 1980, says the consultant Fasan.
On top of these advances, the effect of ceramic tile on occupant satisfaction has been quantified only recently and is now employed as part of a green building strategy. Assuming that optimal comfort and improved wellbeing correlate with improved happiness, there are several empirical measures of how ceramic tile boosts contentment in a workplace, community facility, hotel, school, or home.
Yet tile has also been used as part of an architectural strategy to bring some cultural benefits, many are tied to its history in European arts and architecture that reflect local history or civic spirit. Examples include a facility for the National Aeronautics and Space Administration (NASA), custom printed on its ceramic tile facade using digital technology to create a long-lasting, fade-resistant image of earth taken from the International Space Station (see photos below). This surprising image is a source of pride. Other examples include a modernist school in Spain that uses bright white ceramic tile for its facades and roof, highlighting an old-growth tree that emerges from its courtyard (see photo below), and an award-winning expo pavilion (see "Raw Terracotta Cultural Impact," at the end of the online portion).
These cutting-edge design, manufacturing, and construction ideas not only help meet the requirements of LEED v4 and other green standards, they point toward new thinking in sustainability. Among the trends shaping green design in the future are more transparency in materials and manufacturing as well as increased durability and resiliency of the built environment. These represent more than mere good ideas waiting to happen; savvy owners and project clients are demanding them today for their proven benefits and competitive advantages. The impacts are hardly elusive—they are shown to meet today's budgets and create tomorrow's long-lasting, beautiful buildings.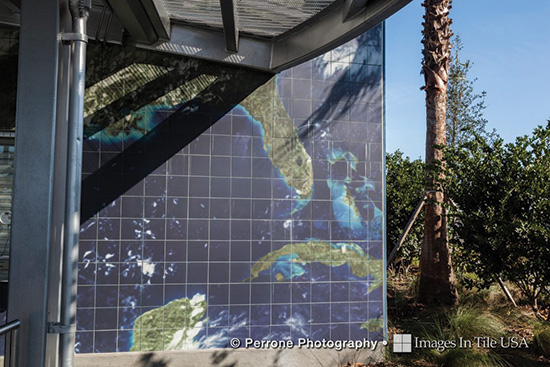 Photo by Perrone Photography, courtesy Tile of Spain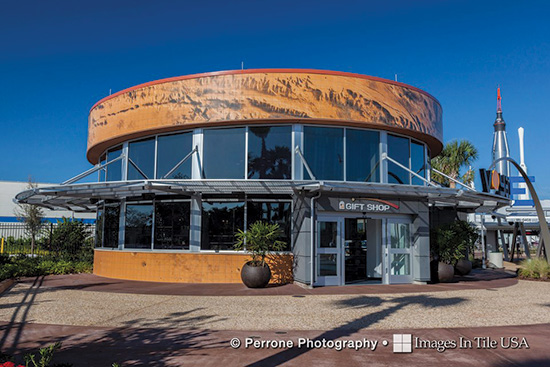 Photo by Perrone Photography, courtesy Tile of Spain
Ceramic tile has been used to bring some cultural benefits to sustainable design projects, as at this NASA facility with its digitally printed facade of ceramic tile showing a fade-resistant image of earth taken from the International Space Station.
Originally published in Architectural Record
Originally published in September 2015
Notice