International Restroom Design
Sponsored by Sloan
This test is no longer available for credit
Design Trends and Aesthetics
Today, there is a move toward commercial restroom equipment that's easier to operate (automated), more hygienic (hands-off operation), better for the environment (high-efficiency and low-flow), and conservative with natural resources. An important influence on installation is design aesthetics, in conjunction with reliability, ease of installation, and maintenance. The determining factor for product installations in many places around the world today is the design aesthetic of the restroom.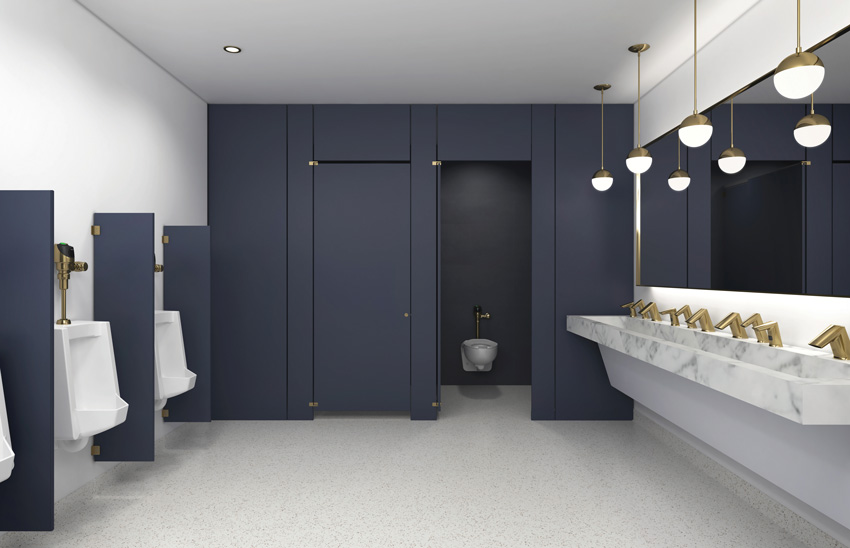 Using products with special finishes helps create a unified restroom experience.
Every country has its own design trends and product preferences. For example, concealed flushometers are much more common outside of the United States. Trends can differ within each country. Therefore, it is never safe to assume that "one design fits all." Communication and researching the preferred design aesthetics of the region are key to properly identify the needs of the client. That being said, there are widespread emerging trends to be aware of. Some specific industry aesthetics and trends are the following:
Public vs. Private Styles Merging
In the United States, companies tend to cater to the residential and commercial markets separately with two distinct product lines. Some companies manufacture for just one market. Internationally, there is less differentiation between residential and commercial restroom products. Many countries use the same products for commercial and residential properties. For instance, more products are installed in public spaces that you would normally see in a residential or private space, such as gooseneck faucets. Originating in the residential market, countries are looking to make commercial/public spaces feel more like home. Therefore, gooseneck faucets are popping up more and more. Especially in Mexico, the emerging trend is transforming commercial restrooms into spaces that feel more like home.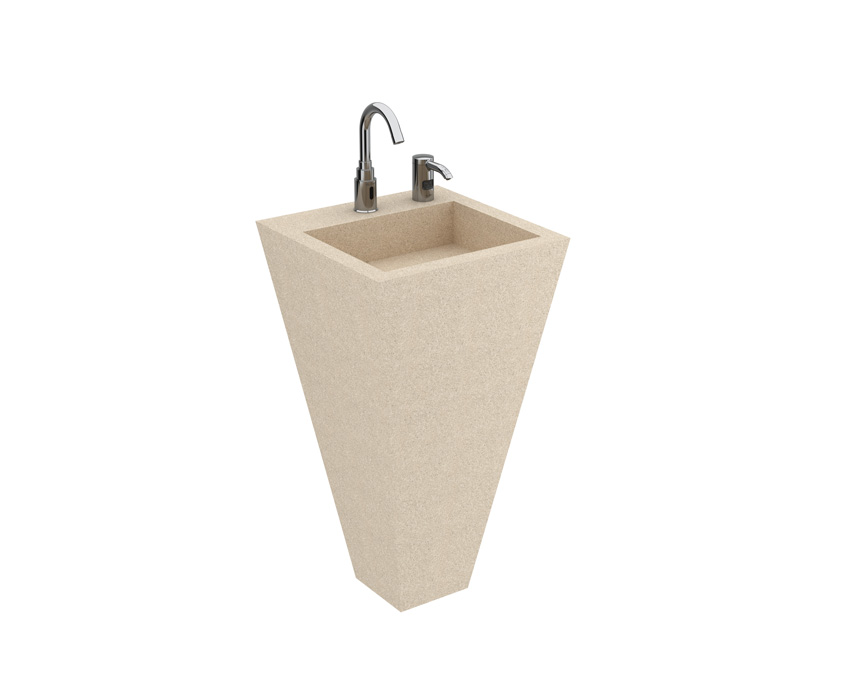 Gooseneck faucet and soap dispensers are one example of the European faucet designs that are gaining popularity for their sleek curves.
Customization
In an effort to become more "design-forward," the demand for product customization has increased. Today, you can customize the commercial restroom with the addition of special finishes or custom engravings. Customization, like the engraving of fixtures such as faucet crowns and flushometers or special/unique finishes for flushometers, faucets, soap dispensers, and hand dryers, is becoming increasingly popular in international design. Using products with special finishes helps create a unified restroom experience across all designs. Custom engravings for faucets and flushometers help brand a restroom and create a wholly unique restroom experience.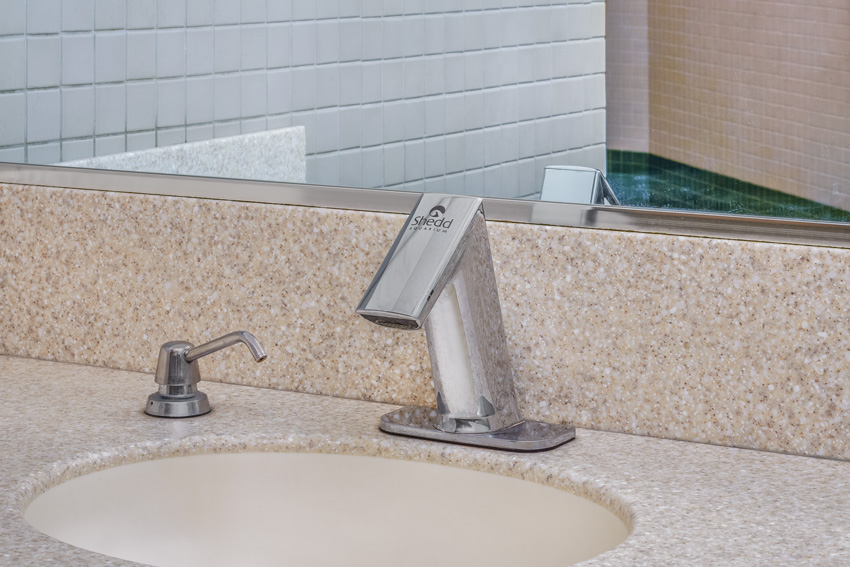 Customization like engravings are becoming increasingly popular in international design.
Building Materials
United States buildings typically use wood, gypsum, and drywall. It is more common to find brick, masonry tile, or concrete in international construction. Therefore, international commercial materials can be harder to work with and are less flexible than United States-preferred materials. Ease of installation becomes more difficult in many countries due to this fact.
Sink Design
For sinks, it is best to feature engineered stone as the high-end product, but show fabricated solid surface and molded solid surface as a lower-cost product. Sink design's current trend is trough-style, however, it is shifting toward individual-user stations. Customizable options are the perfect fit for high-end applications, especially internationally, as the customer may want to showcase a unique, one-of-a-kind design. New trends, such as deck-mounted hand dryers, support sustainability efforts and offer a design that is unique and fresh.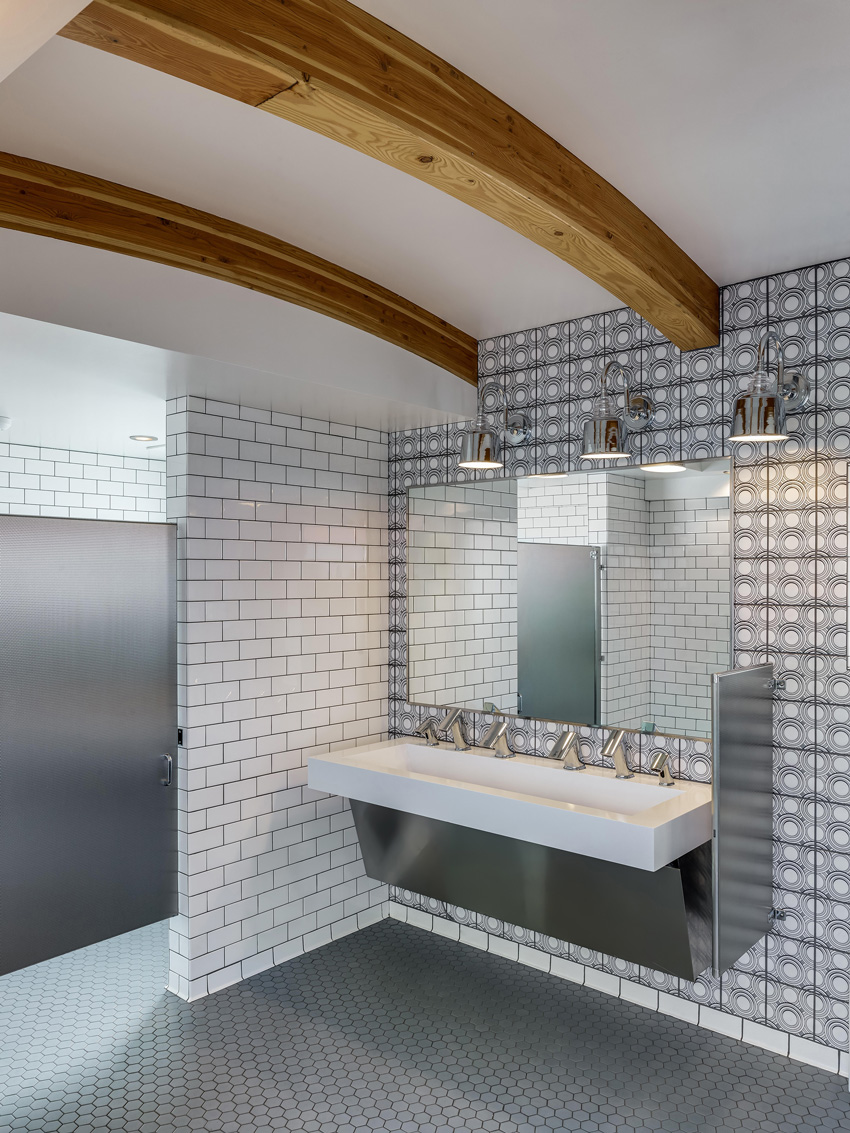 New trends such as deck-mounted hand dryers support sustainability efforts and offer a design that is unique and fresh.
Faucet Design
European faucet design trends, are influential all over the world, particularly in the Middle East and Dubai. In South America, specifically, not only do they look to Europe, but to the United States, as well. As previously noted, gooseneck faucets are one example of the European faucet designs that are gaining popularity for their sleek curves.
Soap Dispenser Design
Soap dispensers are trending toward sensor operated, especially with foam soaps, which creates a more luxurious feel in comparison to liquid soaps. The use of sensor operated offers a consistent application of soap every time. Soap dispenser spouts with designs that aesthetically match the faucets are being used in order to create a level of design consistency across the restroom.
Flushometer Design
The United States focuses mainly on exposed flushometers, as does Mexico, the Philippines, and Saudi Arabia. However, many other regions, such as China, Malaysia, India, Brazil, Columbia, and most Middle Eastern countries, prefer to conceal flushometers behind a wall for a cleaner restroom aesthetic—a model that may have its origins in European design. Concealed sensor or manual flushometers provide a clean look and help prevent tampering/vandalism.
Fixture Design
Water closets come in three primary configurations: wall hung/wall mounted with wall outlet, floor mounted with floor outlet, and floor mounted with rear outlet. The most popular design internationally is the wall hung. The toilet bowls themselves come in two different rim shapes, the elongated or round. Elongated is used almost exclusively in commercial restrooms and primarily in the United States. Washdown is the overall predominant flushing method throughout the world, but is rarely used in the United States where siphonjet method is utilized.
Originally published in Architectural Record
Notice