International Restroom Design
Sponsored by Sloan
This test is no longer available for credit
Water Quality and Water Pressure
Water quality and pressure drastically differs around the world. The most important factors to consider when designing for the commercial restroom are the quality and availability of water in that particular area. These differences are most apparent outside of the United States. Countries with water shortages, aging plumbing infrastructure, or little to no filtration systems will drastically change the types of products specified. Impure water or solid particles within the water compromise performance and the life of the products and infrastructure. A lack of plumbing regulations and filtration systems are the leading causes of these issues.
There are two distinct international markets, the developed world and the developing world. One is characterized by specific water delivery infrastructure and offers consistent pressure and reduced tertiary and particulate matter. The other is prone to intermittent outages, fluctuation or low water pressure, and a higher likelihood of turbid or particulate laden water supplies.
The primary need in a developing market is hygiene, water savings, and product reliability. This involves the ability to work with high turbid or particulate levels as well as fluctuating voltage levels.
In developing countries, it's important to be able to offer sensor faucets with battery backup power supplies so that inconsistent power supply does not interrupt the function of bathroom fixtures. If the overall conditions are stabilized, then more advanced features like LED lit controls, high technology devices, and adaptive sensing are applicable to the market.
Filters in the supply lines for sensor faucets and flushometers are important because they can trap debris within the water supply that can then be easily removed instead of interfering with the operation of sensor-based products.
The quality of the water in international markets seldom has anything to do with the age of the piping system. Instead, it often has to do with water being purely filtered and cleaned. Also, many countries' source of water is groundwater, which tends to be harder and carries more minerals. Chile, for example, has hard water that contains calcium and tartar due to a lack of a filtration system.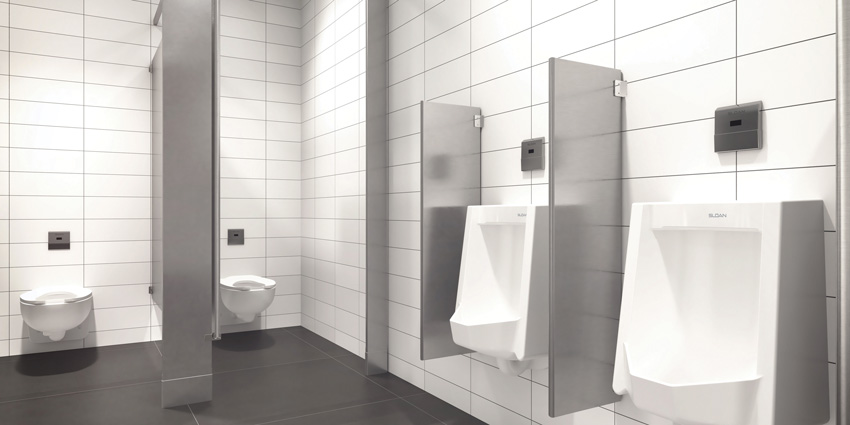 The most important factors to consider when designing for the commercial restroom are the quality and availability of water in that particular area.
Plumbing and Other Regulatory Factors to Remember
Before specifying internationally, it is important to contact the local authorities regarding the certification process and paperwork that is necessary. This is essential in order to successfully adhere to local laws and gain approval to bring product through the customs process. Each country has its own set of regulations and/or governing bodies that monitor product certification and installation. U.S. certification standards, such as Underwriters Laboratories (UL), International Association of Plumbing and Mechanical Officials Research and Testing (IAPMO R&T), and the National Sanitation Foundation (NSF) do carry over to other countries.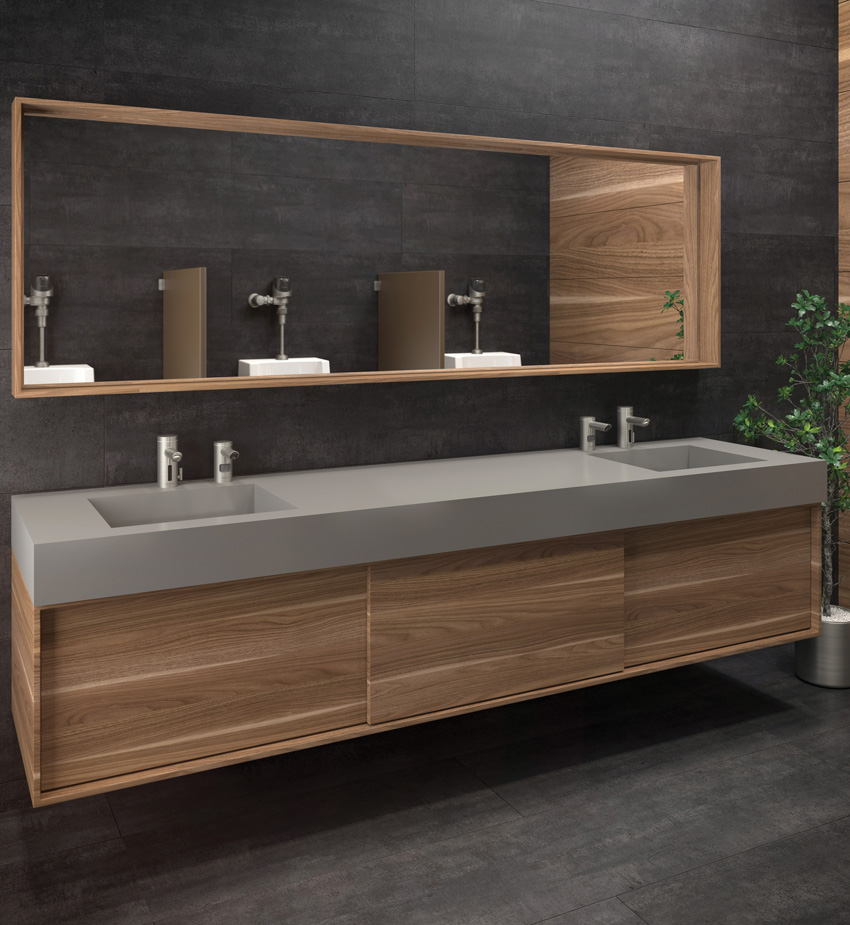 Each country has its own set of regulations and/or governing bodies that monitor product certification and installation.
Plumbing regulations in Mexico are monitored by the National Water Commission (Comisión Nacional del Agua), Conagua. Norma Oficial Mexicana (NOM) serves as the certification group in Mexico. IAPMO certifications for NOM are recognized by Conagua. Therefore, it is important to remember that American plumbing products cannot pass through customs without a NOM certificate, per NOM regulations. This is the only U.S. certification that Mexico recognizes. Products must be recertified every year.
The plumbing industry in South America is regulated by local standards that are similar to standards issued by the American Society of Sanitary Engineering (ASSE) and the American Society of Mechanical Engineers (ASME) for both the United States and Canada. However, IAPMO's certifications for these standards are recognized and accepted in certain countries in the region, such as Chile, Columbia, Peru, and Ecuador.
The Brazilian government controls its own plumbing industry. Separate local standards are in place, and products must be certified in Brazil as compliant to the Brazilian standards. The government imposes high import fees in order to promote local manufacturers.
In Costa Rica, Panama, and Guatemala, the plumbing industry follows ASSE/ASME standards from the United States and Canada. Buildings are often built by American contractors with parts/components similar to equivalent buildings in the Unites States.
The Indian plumbing standards are less rigorous than ASSE and ASME standards from the United States and Canada. In India, products must be certified by Bureau of Indian Standards (BIS). This organization was created under the Bureau of Indian Standards Act in 1986. The focus of both the BIS and the Indian Standards Act is exemplary quality control and certification. Products used in governmental buildings must be BIS certified. IAPMO India has the power to certify plumbing products for ASME and ASSE.
For the Kingdom of Saudi Arabia (KSA), the Saudi Arabian Standards Organization (SASO) rules the standards and, indirectly, the imports. Water conservation efforts are in place here, and in general, SASO standards follow ASSE and ASME standards from the United States and Canada. Customs will not pass products into KSA without a current certification to IAPMO or Intertek and verified by a third party for every single shipment. Every product must have the country of origin on the label.
The United Arab Emirates, or UAE, generally favors American-made or European-made plumbing products. In fact, the UAE adopted a program almost identical to the U.S. Environmental Protection Agency (EPA) WaterSense Program. Unfortunately, water conservation methods are not thoroughly followed in all areas of the Middle East. However, this is starting to change with increased efforts to reduce water consumption.
China's plumbing industry is regulated by the China Compulsory Certification (CCC). Plumbing products must receive certification before being allowed to cross into China. However, for the United States and Canada, the CCC recognizes certifications from IAPMO, Intertek, UL, and TÜV SÜD.
In addition, product transparency reports, such as Environmental Product Declarations (EPD) and Health Product Declarations (HPD), are available for all LEED v4 projects, and Declare Labels are available for All Living Building Challenge projects, which are similar to LEED v4. EPD, HPD and Declare labels are being requested more frequently today in the United States as well as in international projects.
Last, be aware when specifying and installing products that the United States is one of only three countries in the world that does not use the metric system; the other two being Liberia and Myanmar. While the rest of the world uses the Metric system, the United States uses the Imperial system of measurement.
Electrical Voltage Requirements
Differences in electrical requirements are another set of factors to consider when designing and installing abroad. North American products will not work internationally if the voltage and frequency are different. Below are a few examples of voltage and frequency differences:
Mexico: 127 V; 60 Hz
South America: Mixed ranges, anywhere from 110 V to 240 V. Check local codes for exact requirements.
Brazil: 110/220 V; 60 Hz
Costa Rica: 120 V; 60 Hz
Panama: 110 V; 60 Hz
India: 230 V; 50 Hz
Kingdom of Saudi Arabia (KSA): 127/220 V; 60 Hz
UAE: 220/240 V; 50 Hz
China: 220 V; 60 Hz
Originally published in Architectural Record
Notice