Cover Boards for Low-Slope Roofing Systems
Resist fire, wind uplift, impact and hail, moisture, mold and foot traffic by specifying the best cover board for the project
Sponsored by National Gypsum Company
This test is no longer available for credit
Why a Cover Board Matters
The advantages of including a cover board in a low-slope roofing assembly are numerous and well documented.
Cover boards provide a smooth surface on which to install a new roof membrane. Gypsum- and cement-based cover boards, in particular, can improve fire code ratings as part of the assembly. Cover boards break "cold joints" in roof systems having a single layer of insulation. Cover boards minimize damage to insulation caused by foot traffic (service) and/or damage caused during the construction of the roof system (power carts, etc.). Damage can be caused by the roofing trade or other trades working on the roof (such as HVAC crew, plumbers, carpenters, and others). 
In addition, cover boards help protect against damage caused by storms or hail impact, and they eliminate most potential issues arising from polyisocyanurate insulation facer delamination. They can increase wind uplift ratings as part of the assembly. And some cover boards, such as gypsum-based cover boards, act as a thermal barrier to help prevent outside fire from transferring to the interior of the building. Two layers of gypsum (as a thermal barrier and cover board) improve performance even more.
Recommendation by the National Roof Contractors Association
Since 2000, the National Roof Contractors Association (NRCA) has recommended the use of a cover board. And since 2006, both the NRCA and the Midwest Roof Contractors Association (MRCA) have recommended the use of a noncombustible cover board such as "glass mat gypsum board."
This was stated in a January 2006 joint MRCA/NRCA publication titled "Fire Testing of Membrane Roof Systems":
"When using a low-slope membrane roof system, designers should include in their designs a suitable cover board that is consistent with an appropriate listing or approval from a code-approved testing agency. This recommendation is consistent with the guidelines already contained in The NRCA Roofing and Waterproofing Manual, Fifth Edition.
Furthermore, for mechanically attached single-ply membrane roof systems, designers of newly installed roof systems are now recommended to include a noncombustible cover board that is consistent with an appropriate listing or approval from a code-approved testing agency. Examples of noncombustible cover boards include glass-mat-faced gypsum boards and gypsum roof boards."
Also, in 2000, cover boards' impact over polyisocyanurate roof insulation was spelled out in an NRCA technical bulletin:ii
"NRCA recommends that designers specify a suitable cover board over polyisocyanurate insulation in all low-slope membrane assemblies. The use of a cover board should help reduce problems whether directly to the manufacturing process or due to other causes."
Further, polyisocyanurate roof insulation is often specified because of its fire resistance properties. There are occasions, when the use of a cover board may be required to achieve a fire-resistance classification for a roof assembly, and the use of certain types of cover boards can generally improve the fire-resistance properties of the roof assemblies that include polyisocyanurate insulation."
According to the NRCA, insulation cover boards should be composed of any of the following:
Glass-faced siliconized gypsum board
Perlite board
Wood-fiber board
Glass-fiber board
Mineral-fiber board
In addition, cementitous cover board would also be acceptable.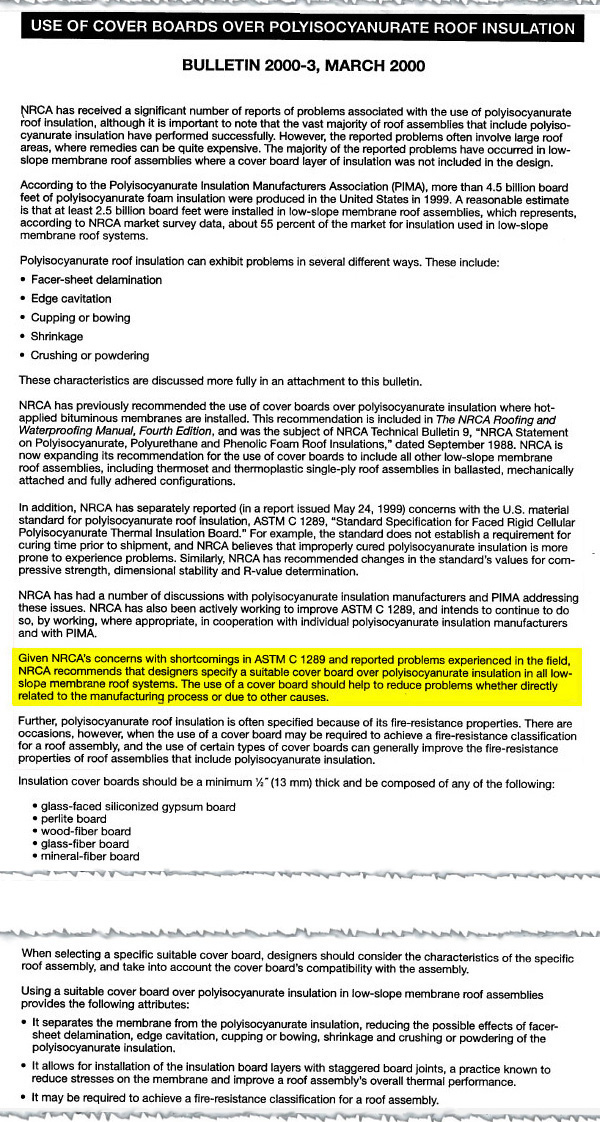 Image courtesy of National Gypsum®
Cover boards were suggested in a March, 2000, bulletin by the National Roofing Contractors Association. (Suggested presentation: show top of bulletin and bottom portion with the relevant quoted section, last two graphs on first page plus bulleted list. Use saw tooth separation technique to denote truncated copy.)
Note that while the majority of areas covered in low-slope roofs are "flat," there may be sloped or vertical surfaces that require additional consideration. These areas include parapet walls on the exterior of the building, as well as steep-slope roof transitioning into the flat roof area, and interior walls to higher roof areas.
Of course, a specifier should make sure there is a structural deck included on any areas that might be considered walkable, which is generally considered to be a slope of 7 inches to 12 inches or less.
Originally published in March 2014
Notice