Beyond Energy: How Glass in Architecture Contributes to Occupant Well-Being and Comfort
Glass as a multifaceted solution for post-pandemic commercial and residential construction
Sponsored by National Glass Association

1 AIA LU/HSW; 0.1 IACET CEU*; 1 AIBD P-CE; AAA 1 Structured Learning Hour; This course can be self-reported to the AANB, as per their CE Guidelines; AAPEI 1 Structured Learning Hour; This course can be self-reported to the AIBC, as per their CE Guidelines.; MAA 1 Structured Learning Hour; This course can be self-reported to the NLAA.; This course can be self-reported to the NSAA; NWTAA 1 Structured Learning Hour; OAA 1 Learning Hour; SAA 1 Hour of Core Learning
Learning Objectives:
Explain how new glass technologies can help support wildlife and bird safety through new anti-collision design.
Describe new trends using glass for artistic and decorative expression in workspaces and commercial buildings that promote well-being and comfort.
List some ways that daylighting has contributed to the health and well-being of students and workers.
Discuss vacuum-insulating glazing and how it is used in various applications for the benefit of occupant safety, comfort, and well-being.
This course is part of the Glass and Glazing Design Academy
Glass as a Means for Artistic and Decorative Expression
Glass is able to create more than just a view, and it can provide more than the benefits of natural light. Glass designs can create entire moods and atmospheres. Glass affects a space in a phenomenological sort of way. Using natural light and a variety of colored and textured glass, it can help transform a building from purely functional to aesthetically profound. Architects and artists alike look to glass to create beautiful, durable spaces in and out of buildings, and glass fabricators provide nearly endless options for them to do so. Glass can be digitally printed, etched, silk screened, laminated with decorative interlayers, and more. Additionally, the industry is beginning to incorporate new technologies into glass and windows.
Emerging Technologies
Photo Realistic Designs
Glass fabricators can achieve resolution quality upward of 2,880 dpi thanks to advancements in printer technology. Designers can print nearly any design in photo-realistic quality on glass with the promise of durability and longevity.
Magnetic Marker Boards
Glass marker boards are a niche but increasingly popular application. The laminated safety glass boards serve as a writable wall cladding. Many glass suppliers offer magnetic marker boards, which are available in custom colors.
Switchable, Interactive Glass
Architectural glass companies are also developing switchable and even interactive smart glass products. Switchable products can provide privacy, turning from clear to opaque at the flip of a switch. The application is becoming more common in changing rooms and restrooms. Companies also are pushing to add interactivity to their switchable products for applications such as multimedia walls.
Old Trends Become New Again
Glass Blocks and Bricks
Glass blocks and glass bricks are design elements associated with the 1980s, but designers are bringing these elements back in ways that feel more updated. They still can be utilized in floor-to-ceiling facades, but they also can be used in more nuanced ways with interiors. Glass block walls can be broken up into smaller modules and incorporated with black frames. Cloudy blocks may evoke 1980s decor, but matte and warm tones provide an updated texture. In some cases, glass bricks can be utilized to evoke a retro vibe without overdoing it by framing modern furniture. Glass blocks and bricks emit a back-lit glow, so the elements around the blocks need to be incorporated into the design in a way that does not clash.
The Skyscraper Total Transparency Vibe
While many in the construction industry have argued since the 1990s that glass skyscrapers and large glass buildings would add to the energy load of urban areas, they were not taking into account the new technology in glass manufacturing. With today's use of double-skin facades, energy is actually saved. What is more, less energy is used during daylight hours (when most people are working in these buildings) because unlike buildings constructed of brick, concrete, or other solid materials that require constant interior lighting, glass buildings are naturally lit. Additionally, the recyclability of glass products is becoming more apparent, both in terms of the number of glass recycling companies that exist and specifically what products can be recycled. This will significantly reduce traditional glass waste and conserve other natural resources needed to manufacture new glass.
The Potential of Vacuum-Insulating Glazing (VIG)
In developed nations, building energy consumption has grown to reach beyond 40 percent of total final national energy consumption. This high-impact growth in consumption comes as climate change continues its rise as a global threat. How can the design and construction industry turn the tide on energy efficiency and offer solutions to the problem?
One major issue is the inefficient use of energy in terms of indoor climate control for both residential and commercial buildings. Uncontrolled heat loss through the building envelope is a key problem to be solved—and the main culprit for this loss is windows.
While there are plenty of window solutions aiming to overcome energy loss, a unique alternative has emerged in recent years. Vacuum-insulating glazing (VIG) is a glass solution that provides high thermal performance in a thin profile. VIG is installed in new construction, restoration, and refrigeration applications. This section focuses on VIG technology and how it can be incorporated into various architectural elements and cooling systems.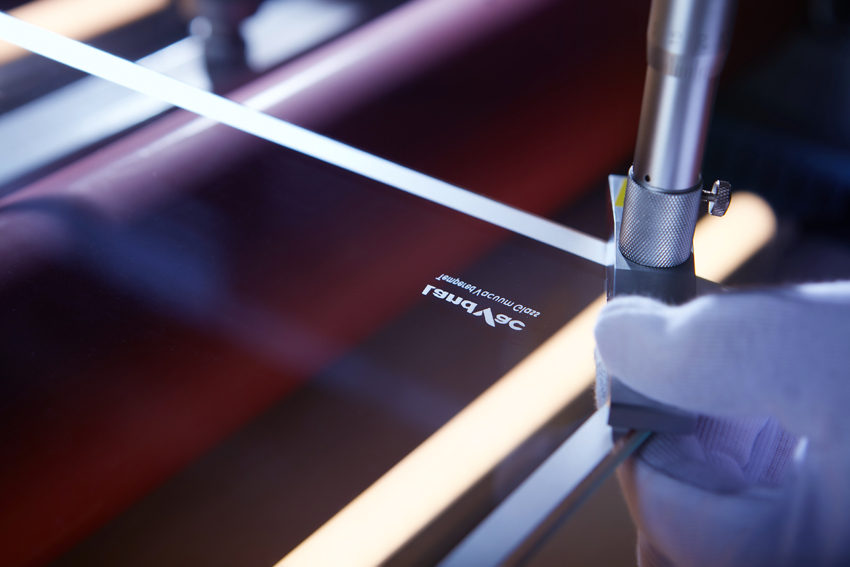 Photo courtesy of LandGlass
Vacuum-insulating glazing (VIG) offers thermal performance values that surpass those of traditional insulating glass units (IGUs) and in some cases begin to rival solid walls.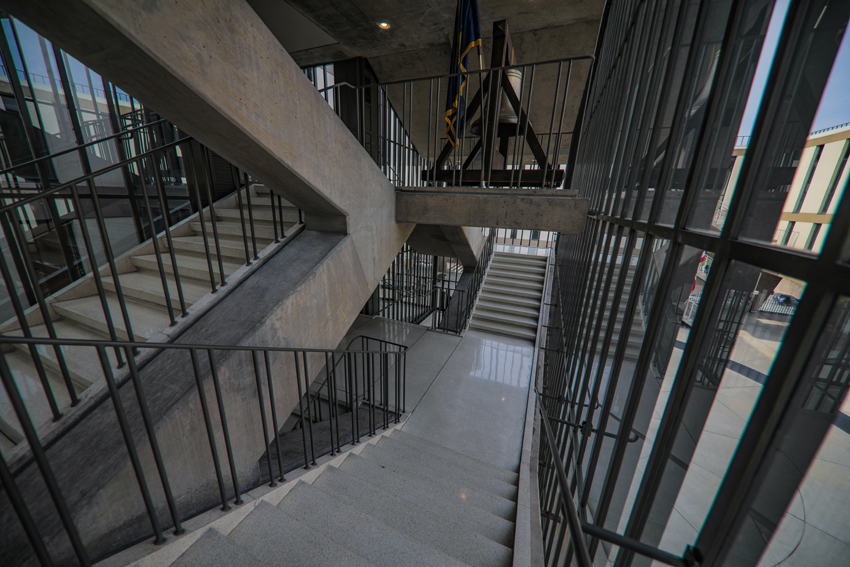 Photos courtesy of NSG Group
VIG was critical to the restoration of the 1955 Eero Saarinen-designed "Bird Cage"—a double cantilever staircase enclosed with a glass and steel curtain wall with elegant lines that emulate an ornate cage.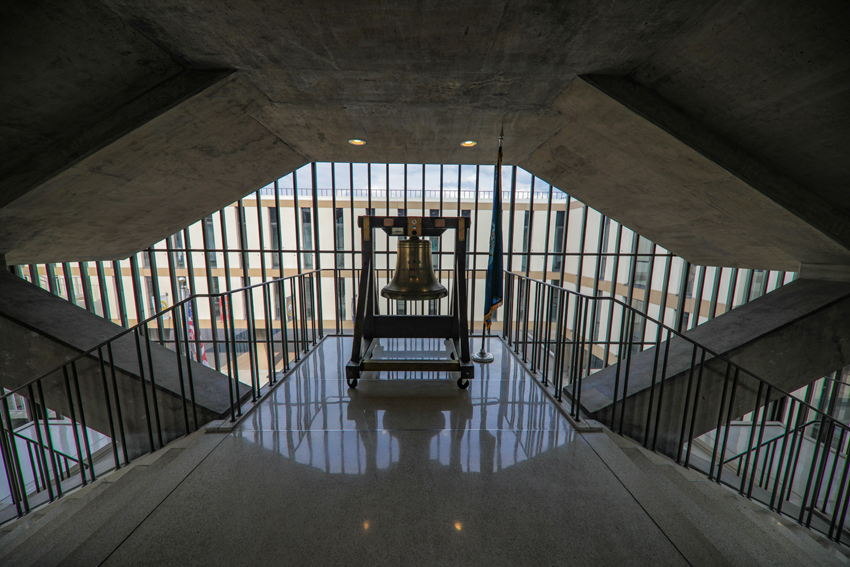 The incorporation of the VIG profile into the original, restored curtain system wall of the Bird Cage showed creative innovation at a lower cost than it would have been to tear it down and replace it with aluminum.
VIG Fundamentals
VIG is a glass solution with a growing footprint in the construction market. It is composed of two pieces of glass—or lites—in the thickness of a single pane, typically 0.12–0.23 inch. The gas in the space between the lites is extracted using either a small pump-out tube (also known as an evacuation port) or a vacuum chamber to create a vacuum rather than being filled with air or argon. The glass lites remain separated by pillars (or microspacers) that are approximately 0.005–0.012 inch thick and made of a high-strength material, such as metal or ceramic. They can be arranged in various patterns across the surface of the glass. The pillars may be either glued in place or held in place by the glass.
Once a vacuum is made, the edges are sealed to create a permanent vacuum. For units that have a visible pump-out tube, there may be a safety cap placed over the tube for additional durability. The pressure of the evacuated cavity is typically on the order of 0.1 Pa to eliminate the conductive and convective heat exchange between the two lites of glass. To reduce radiative heat exchange, a low-e coating can be used on one of the internal surfaces of the VIG, typically surface 2. Matching flatness on both lites of glass is critical to successful VIG fabrication to keep the array of pillars in place. Keeping the pillars in place prevents the lites from touching to avoid creating a thermal conduction pathway that could reduce the performance of the VIG.
VIG offers thermal performance values that surpass those of traditional IGUs and in some cases begin to rival solid walls. VIG also offers acoustic performance benefits and condensation resistance.
Current VIG Market Application
New Construction
VIG has a couple of key advantages over traditional glazing. Because VIG offers higher energy performance in a thinner profile, it allows for window and sash designs that are also much thinner and lighter than typical construction methods. A thinner profile product offers benefits in terms of wall thickness, window thickness, matching existing window extrusion design, and reducing the overall glazing component weight.
VIG also offers higher performance for a given profile. By utilizing the VIG either as a standalone product or in a hybrid VIG, manufacturers can exceed the performance values of typical IGU design required by model building codes. VIG can enable compliance with more stringent energy standards, such as Passive House Local Law 97.
Restoration
The thin profile of VIG allows buildings designed for the weight of monolithic glass to achieve and/or exceed the thermal performance of double-glazed or triple-glazed units. VIG can be used in an existing sash to reduce installation costs and maintain historic integrity. VIG also may be used as an interior storm lite for additional performance.
Refrigeration
Refrigeration applications typically require both low condensation potential and high insulation values. VIG offers significant benefits for the refrigeration market compared to traditional IGU construction, such as a slim profile, energy efficiency, and high visibility for consumers to see and access products. Safety requirements in commercial refrigeration can be met with tempering, lamination, or film— similar to architectural safety glass.
Energy Performance
Pillar array: The pillar array affects convection and conduction components of heat transfer. The distance between pillars can be increased if thicker glass or heat-treated glass is used. A wider pillar array allows for less heat transfer, so a lower (better) U-factor can be achieved. However, a wider array must not allow the two lites to touch, which may cause unacceptable glass distortion and be aesthetically unappealing.
Glass coating: The emissivity of the glass coating, along with the placement and number of coatings used, also drives energy performance. A higher-performing, low-emissivity coating can reduce both the solar heat gain coefficient and the U-factor, as in a standard IGU.
Vacuum level: Lower pressure reduces heat flow.
Originally published in Architectural Record
Originally published in July 2021
Notice