Beyond Energy: How Glass in Architecture Contributes to Occupant Well-Being and Comfort
Glass as a multifaceted solution for post-pandemic commercial and residential construction
Sponsored by National Glass Association

1 AIA LU/HSW; 0.1 IACET CEU*; 1 AIBD P-CE; AAA 1 Structured Learning Hour; This course can be self-reported to the AANB, as per their CE Guidelines; AAPEI 1 Structured Learning Hour; This course can be self-reported to the AIBC, as per their CE Guidelines.; MAA 1 Structured Learning Hour; This course can be self-reported to the NLAA.; This course can be self-reported to the NSAA; NWTAA 1 Structured Learning Hour; OAA 1 Learning Hour; SAA 1 Hour of Core Learning
Learning Objectives:
Explain how new glass technologies can help support wildlife and bird safety through new anti-collision design.
Describe new trends using glass for artistic and decorative expression in workspaces and commercial buildings that promote well-being and comfort.
List some ways that daylighting has contributed to the health and well-being of students and workers.
Discuss vacuum-insulating glazing and how it is used in various applications for the benefit of occupant safety, comfort, and well-being.
This course is part of the Glass and Glazing Design Academy
Glass Is Essential to Occupant Wellness and Comfort
Especially during the 1970s, construction strategy focused on how to manage natural light by blocking it out and using artificial lighting techniques instead. But in recent years, research has shown how important natural light is to occupant well-being for mental state, physical health, and productivity. This rediscovery of natural light as an essential part of building design has led architects to not only incorporate natural light but also harness it in new ways—and one major way to do this has been with glass.
In addition, the global pandemic has shifted workspaces to the home, perhaps in some cases permanently. This section looks at how glass contributes to wellness and comfort, and how new designs using architectural glass are helping to create workspaces that are enhancing the home in new and exciting ways.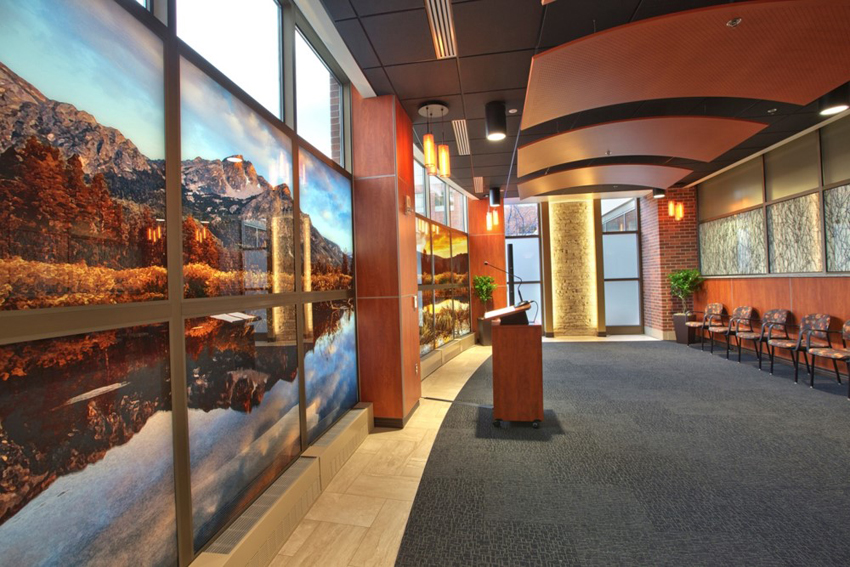 Photo courtesy of Hartung Glass Industries
Providing daylighting in hospitals—such as this example in St. Luke's Meridian Chapel in Idaho—has shown to reduce patient depression, among other health benefits.
Connections between Glass and Well-Being
Humans are outdoor animals. Our bodies' immune, cardiovascular, and metabolic systems and sleep-wake cycles depend on this light-dark cycle to function properly. Daylight at the right time improves our mood, helps us sleep better at night, manages our weight, and helps us ward off disease. The ability to view the outside environment is also important. On a physiological level, it helps us relax and refocus our eyes on the horizon. Being able to see nature is especially important. According to the U.S. Environmental Protection Agency (EPA), however, humans are are now spending 90 percent of our time indoors on average, keeping us from the light cycle that benefits our health. Given this statistic, it is clear that glass and glazing—with advantages of daylight, views, access to nature, and more—are essential to occupant wellness.
Healing Impacts
In a paper titled "Impact of Light on Outcomes in Healthcare Settings," the Center for Health Design showed that maximizing access to daylight in hospitals had a positive impact on patients and a mitigating effect on negative aspects of the hospital environment.
Providing more natural light within hospitals—also known as "daylighting"—reduced patient depression, decreased the length of time patients spent in the hospital, improved sleep, and allowed dementia patients to feel less agitated. The positive outcomes also translated to staff, whose exposure to natural light helped regulate their circadian rhythms and provided them with better sleep and wake cycles.
This connection between natural light and health is not just a bonus. It is not just the fact that getting better sleep is good for you; it is that getting poor sleep has a negative effect that is compounded when a person has other health issues. In this study of natural light in hospitals, natural light helped mitigate potential negative effects that patients and staff were experiencing because of irregular circadian rhythms—health conditions that included sleep disorders, obesity, diabetes, depression, bipolar disorder, and seasonal affective disorder.
Learning Impacts
Besides the health-care study, numerous studies have demonstrated a relationship between glass and improved test scores among students. Good daylighting reduces eye strain, which helps with better reading, processing, and learning. In a study by the Heschong Mahone Group (HMG), students with the most daylight processed 20 percent faster on math tests and 26 percent faster on reading tests in comparison to their peers in the least-daylit classrooms.
Anecdotally, teachers interviewed for the study said that better windows with a view of nature helped both them and their students stay calm and regroup when stress levels began to rise. Another study indicated that lack of daylight impaired hormone patterns, making it more difficult for children to concentrate or collaborate with peers. These effects had potential long-term consequences, impacting growth and school attendance. HMG's study suggested that better access to daylight and natural views could maximize learning and give teachers an extra month that they could use for other activities besides reading and math.
Workplace Impacts
In a study titled "Impact of Windows and Daylight Exposure on Overall Health and Sleep Quality of Office Workers: A Case-Control Pilot Study" published in the Journal of Clinical Sleep Medicine, two groups were monitored. The first group worked in windowless environments where there were either no windows or the windows were far away. The second group worked in spaces with access to windows and natural light. The well-being and sleep quality of both groups of workers were measured. Results illustrated that those without access to natural light sources during the day did not perform their duties to the highest capacity compared to the group that had access to daylight. They also experienced physical problems, diminished vitality, and poor or interrupted sleep.
According to "The Global Impact of Biophilic Design in the Workplace," views of greenery and water through windows have been linked to lower stress levels for employees compared to those without a window. Data shows that the positive impact of daylight and views correlated with double-digit improvements in productivity, overall better quality of life, sleep, reduced sick leave and staff turnover, and an increased number of applicants for open positions because the job was seen as desirable.
The WELL Building Standard—a global rating system intended to transform buildings and communities—aims to make architects, designers, and building owners more aware of how a space can affect occupants and the environment, ultimately enhancing their experiences of spaces. The way people experience daily light can affect their circadian rhythms, which ends up impacting sleep cycles, which in turn impacts work lives. The WELL Building Standard's illumination guidelines help protect the consistency of a worker's wake and sleep schedule. One way that this happens is to experience natural daylight and darkness, maximizing natural daylight and outside views rather than relying on fluorescent light.
The Art and Science of Daylighting
Daylighting is the practice of placing windows, skylights, and other openings and reflective surfaces in buildings to provide internal lighting from the sun. The aim is to maximize comfort, provide pleasant visual effects, and reduce energy use. The results, of course, have even more significant influence given the health, learning, and work productivity benefits.
Daylighting is not a new concept or practice. Before electric lighting, building interiors were often dark—even during the day—but the evolution of architectural daylighting helped bring in natural light with great success. Early daylighting included a lot of windows: raised eyebrow (a window peeking out of the roof), patterned glass, portholes, transom windows, Dutch doors, and window seats featuring angled windows that played with light across the room.
The science of daylighting design is not just how to provide enough daylight to an occupied space but also how to do so without any undesirable side effects. Beyond adding windows or skylights to a space, it involves carefully balancing heat gain and loss, glare control, and variations in daylight availability. Daylighting designs take into account shading devices that reduce glare. The window size, spacing, glass selection, and how it reflects in a particular space on interior finishes all matter when creating a daylighting system. Typically, one or more of the following are present in a daylighting system:
Daylight-optimized building footprint
Climate-responsive window-to-wall-area ratio
High-performance glazing
Daylighting-optimized fenestration design
Skylights (passive or active)
Tubular daylight devices
Daylight-redirection devices
Solar-shading devices
Daylight-responsive electric lighting controls
Daylight-optimized interior design (such as furniture design, space planning, and room surface finishes)
Daylighting is best optimized in new construction when the whole original project can be designed around a daylighting system. However, the demand for more daylighting in commercial office and home office spaces has led to retrofit ideas that harness light and natural views in meaningful ways.
When it comes to walls, glass transmits light to adjacent rooms. A window placed above eye level helps diffuse light to the next room while maintaining privacy. Translucent glass panes or walls provide mellow light that a regular glass window cannot offer. Textured, laminated, or sandblasted glass will absorb and reflect light, sometimes scattering the rest depending on how translucent it is. The possibilities for creating light that is not glaring and complements a room are nearly endless.
Originally published in Architectural Record
Originally published in July 2021
Notice