What's New in Retail and Hospitality Design?
Innovative products help create better results
Sponsored by ASI Group, Bison Innovative Products, Inpro, NanaWall Systems, and XtremeInterior by Tamlyn
Hotels
An opening glass wall enables the designer to create large, inviting entrances in lobby areas, helping to make memorable first impressions. When open, it eliminates the barrier between the entrance and the lobby to allow a free flow of customer traffic and a direct connection with the hotel's ambience and entertainment. They can also be used in registration, dining, and guest-room areas to connect directly or visually with beautiful views, hotel landscaping, natural daylight, and fresh air. Opening glass walls can similarly be used as interior dividers in hotel restaurants to allow personnel to quickly and easily incorporate or close dining areas, bars, and meeting rooms. For example, a breakfast area can be readily separated from the hotel public space after meal service has concluded, or private banquet rooms can be created that transmit light but significantly reduce sound transmission. In all cases, swinging entrance and egress door panels facilitate access and service when the rest of the opening wall is closed. Ultimately, the flexible spaces created mean the hotel has more event spaces that can be booked by dividing or opening up areas as needed.
Retail
For retail stores, a wide-open entrance eliminates barriers by creating a seamless transition between the sales floor and the street (or mall), thus attracting customers inside to increase sales potential. They can also allow retailers to expand display areas by utilizing street fronts, sidewalks, and mall areas to display movable racks or bins that roll easily through the spacious opening. With expanded display areas, shoppers are enticed and readily drawn deeper into the store. When it is time to close, the opening glass storefront continues to showcase the interior and provides a secure, energy-efficient, transparent, and dust-controlled facade that seals tight after-hours.

Photos courtesy of NanaWall Systems
Retail stores benefit from wide opening glass walls to attract customers during business hours but also need the same walls to be closed for security and protection when the store is closed.
Restaurants
Restaurants can benefit directly from opening glass walls by boosting revenue from increased seating capacity in outdoor spaces, such as a sidewalk, patio, or balcony. The open walls can also enhance diners' experiences by connecting a restaurant's interior to the surrounding outdoor spaces. In cases where a roofed patio or similar condition exists, enclosing the area with an opening glass wall can offer outdoor seating in all four seasons. Where appropriate, opening glass walls can be used across the front of a restaurant as an entrance to make the entire street front a welcoming door. Incorporated properly, they can create unique and memorable indoor/outdoor dining atmospheres for customers to enhance and extend their dining experiences.
Regardless of the building type, there are some key performance criteria that need to be demonstrated by the manufacturer of the opening glass wall being specified. First, when the system is closed, an energy-conserving design needs to keep the cold on the outside while maintaining warmth inside, even right up against the glass and frames. Second, proper weather seals and panel design need to provide superior humidity and moisture control. This includes the design of the sills to resist wind-driven water from entering the building. Finally, if extreme weather is a concern, the system should carry approvals from notable agencies on this matter, such as Miami-Dade County and AAMA hurricane-approved systems.
Overall, opening glass walls facilitate free-flowing connections between spaces by removing the physical barrier between them when the wall is open. When closed, a visual connection remains through the glass, but it creates an appropriate weather and security barrier otherwise.

Photos courtesy of NanaWall Systems
Restaurants, such as the one shown here, can benefit from opening glass walls that allow patrons to directly access both outdoor and indoor spaces as part of their dining experience with the ability to control for weather.
Interior Surface Protection
Retail and hospitality interiors typically are designed for a lot of people being inside the building, which is desirable for business reasons, but that can cause wear and tear on interior surfaces. Similarly, the staff in these facilities need to use a variety of wheeled carts and equipment to service and maintain the building, which can also cause interior surfaces to suffer. In response, designers routinely specify some type of protective wall coverings to stand up to the use and even abuse of day-to-day activity. The means to protect these surfaces can take several forms and be specified to suit particular circumstances. We look at three particular types of interior surface-protection systems as follows.
Flexible Wall Protection
Protecting wall surfaces from damage while still meeting interior design needs can sometimes be a notable challenge in retail and hospitality settings. While some rigid-plastic protective wall-cladding products are available that offer a patterned look, they may not always match what is being sought for a design scheme. Others offer the more varied look of contract wallcovering with some protection characteristics but lack the ultra-durable performance of rigid plastics. This leaves architects and interior designers in a conundrum, especially since certain spaces need the added protection but do not lend themselves to the aesthetic of rigid wall cladding. However, a brand-new class of materials called flexible wall protection is showing great potential to be a true game changer by combining the appealing look of contract wallcovering with the durability of rigid wall protection—walls can now make an impact while being able to take the impact.
Flexible wall-protection products are durable enough to handle the conditions of harsh environments yet are literally flexible enough to become the showpiece or backdrop of an interior design scheme. With a professional, seamless installation, they can become an uninterrupted finish with an intentional texture pattern to enhance the design. They also fend off stains and vandalism simply by wiping with standard cleaning agents, although the amount of effort needed to remove the stain or mark will vary based on texture, of course.
Flexible wall protection is quite appropriate for retail and hospitality facilities, particularly since most have some areas that are prone to be constantly bashed and slammed. If this causes damage, particularly in a public space, management will not want to leave it looking in disrepair, so someone on the staff is usually assigned to repair these problem areas—repeatedly. There's a more-subtle form of damage, however, that often accumulates slowly but eventually leads to a shoddy appearance, namely scuffs and abrasions. For example, a heavily loaded suitcase rubbing along a hotel corridor wall may not be enough to damage drywall but creates enough contact to leave marks, scuffs, and rubs. When this happens dozens if not hundreds of times a month, the walls soon start looking quite different from the design intent. Flexible wall protection can provide a solution to this problem by remaining intact, masking any damage to drywall behind it, removing the urgency of a repair, and containing any gypsum dust from being released into the building. In all, it is a preferred surface-protection solution for many interior wall surfaces compared to vinyl wall covering or rigid finish options.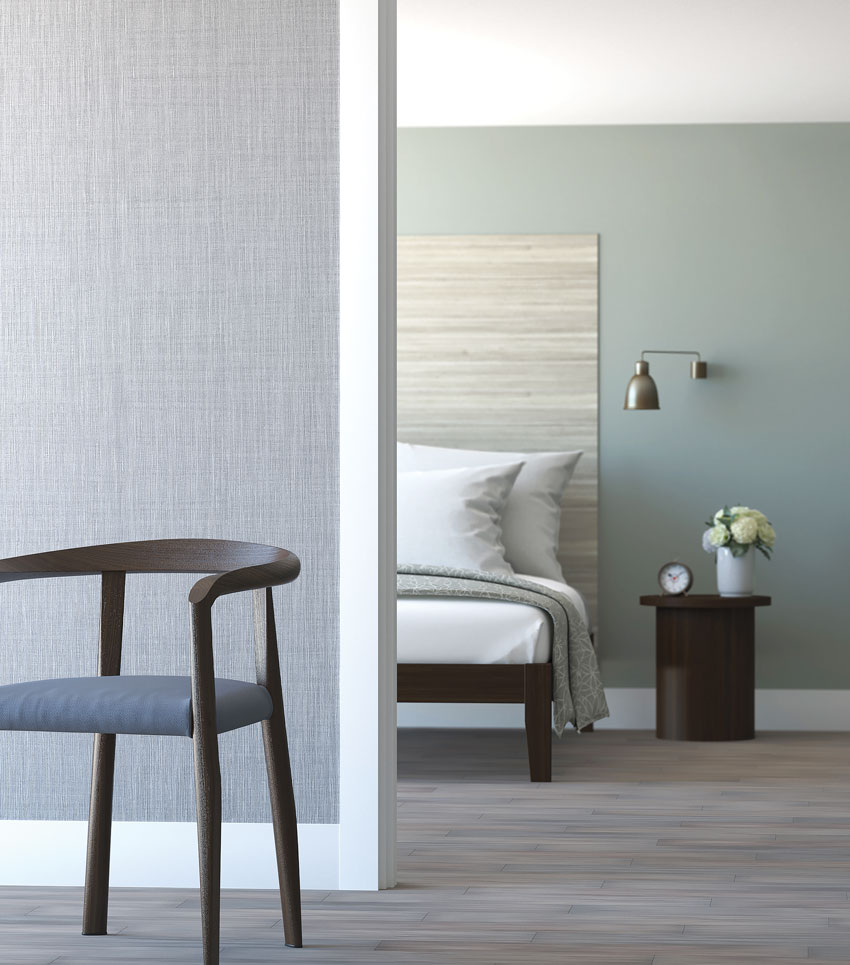 Photo courtesy of Inpro
Flexible wall protection can provide both the durability needed for long-term performance and the aesthetics and texture suitable to many interior design schemes.
Large-Scale Graphic Wall Protection
Wall surfaces in retail and hospitality buildings are commonly used to convey information through the use of artwork, graphics, or similar means. Just like any other wall surface, however, they need to hold up against heavy use, or even abuse, plus be easy to keep clean. To meet these needs, many architects are turning to wall-protection systems that also offer large-scale images that can be used to help promote a company's brand, add an artistic flair to an interior, or incorporate custom imagery in strategic locations.
Wall-protection systems that incorporate such large-scale images are commonly made using clear, rigid sheet plastic with crisp digital imagery printed on the reverse side. This creates greater durability since the rigid sheet protects the image from scratches, dirt, and other hazards, including impacts from people, equipment, luggage, etc. The clear sheet also allows the surface to be cleaned regularly without affecting the graphic image.
From a design standpoint, the possibilities are virtually unlimited in terms of the colors and images that can be printed. Logos, mascots, mottos, advertising, beautiful artwork, or any other type of vibrant imagery is possible. Ultimately, the beauty of these systems is found in the way they help create a design feature that doubles as durable and easy-to-clean wall protection.
Where is it that these large-scale graphics would commonly be used? In retail entryways, dining rooms, cafeterias and similar spaces, the design is often all about the experience. Customers can be exposed to attractive interior graphics that can help bring them in the door and keep them coming back. Architects and interior designers can add beautiful scenery to walls to create an ambiance that sets the tone for a space, showcases best-selling products, or simply promotes a brand. In hospitality lobbies, guest rooms, and hallways, the last thing guests want is to open the door to a hotel room that does not feel welcoming. Adding beautiful scenery to walls using protected graphics can help ensure rooms are warm and inviting, and that guests feel comfortable.
The durability and suitability of such rigid wall protection with applied graphics can be assured by specifying products that meet recognized standards. Specifically, at a minimum, they should provide a Class A fire rating and meet ASTM F 476-84: System Impact Resistance and ASTM D 4060: Taber Abrasion Resistance. For locations that are subject to harsh conditions or where sanitation is a particular concern, they should also meet ASTM D-543: Chemical and Stain Resistance and ASTM G-21 & G-22: Fungal and Bacterial Resistance.

Photos courtesy of Inpro
Large-scale wall graphics can be used to enhance retail and hospitality spaces. When they are specified as part of a surface protection system, they will hold up over time and protect the wall beneath as well.
Originally published in Architectural Record
Notice