What's New in Retail and Hospitality Design?
Innovative products help create better results
Sponsored by ASI Group, Bison Innovative Products, Inpro, NanaWall Systems, and XtremeInterior by Tamlyn
Designing Positive Restroom Experiences
One of the places that can make a significant impression on people, either positively or negatively, is the condition of the restrooms in a retail or hospitality facility. These restrooms often see a good amount of traffic, and it clearly wouldn't be desirable to have them look like they were an afterthought or were neglected. A few consumer surveys reinforce this point:
More than 80 percent of consumers would avoid a restaurant with a dirty restroom—not just avoid the restroom, but avoid the restaurant altogether (Zogby International).
Eighty-six percent of U.S. adults equate the cleanliness of a restaurant's restroom with the cleanliness of its kitchen (Harris Interactive poll).
Seventy-five percent of U.S. adults would not return to a restaurant with dirty restrooms (Harris Interactive poll).
Fifty percent of people who encounter a dirty restroom would discuss it with friends and family (Harris Interactive poll).
This data indicates that restrooms, quite significantly, tell the story of who an organization is and, more importantly, how it values the building's occupants: customers, patrons, travelers, visitors, and even their own employees. It also reveals that restrooms can be a critical factor in a customer's overall store or hospitality experience. The impression created seems to be that a clean restroom equals a clean building, or at least that a properly maintained restroom means that the owner and manager pay attention to details. More significantly for architects and designers, there is a sense that a well-designed restroom is equated to taking customers and their restroom experience seriously. By designing an excellent restroom experience, the impression created is that customers can trust the business to take care of them too.
Fortunately, designing bathrooms that enhance the user experience does not necessarily require much more money or thought than a poorly designed one—but they provide great dividends to the users and the business. Cyrus Boatwalla is head of marketing with ASI Group and has seen this firsthand, noting, "Bathrooms are impactful to the human experience whether in a hotel, casino, restaurant, retail chain, or entertainment complex. These establishments are often judged by the quality of their bathrooms, and that in turn can be the differentiating factor in how these businesses perform. Therefore, designers have the power to not only affect the human experience but also business outcomes."
Given all of the above, we can look at three specific design elements that are being used to improve the way restrooms are responding to customer needs.
Behind-the-Mirror Accessories System
There are now modular mirror systems available that are designed for sophisticated, high-traffic bathrooms and provide an elegant, space-saving solution to the array of accessories and supplies common near bathroom sinks. This wall-mounted mirror cabinet conceals an automatic soap dispenser, and a choice of a paper towel dispenser or high-speed hand dryer, including some products that come with an included HEPA filter. The mirror is designed to swing upward to allow for servicing the dispensers and then close back down securely for general use. The modular construction allows architects to choose multiple configurations and mounting options. Backlit icons can be specified to be etched into the front of the frameless mirror, directing users to their choice of soap or drying option just below the mirror. From a safety standpoint, the self-contained design reduces hazards associated with wet floors when users need to walk with wet hands to a remote dryer or towel dispenser. The visual appeal of this cabinet design makes it ideal for creating sophisticated bathrooms, while the modular flexibility and dispensing capacity makes it ideal for hotels, shopping malls, entertainment centers, sport facilities and similar venues. The central location of supplies also makes it easy to service and maintain.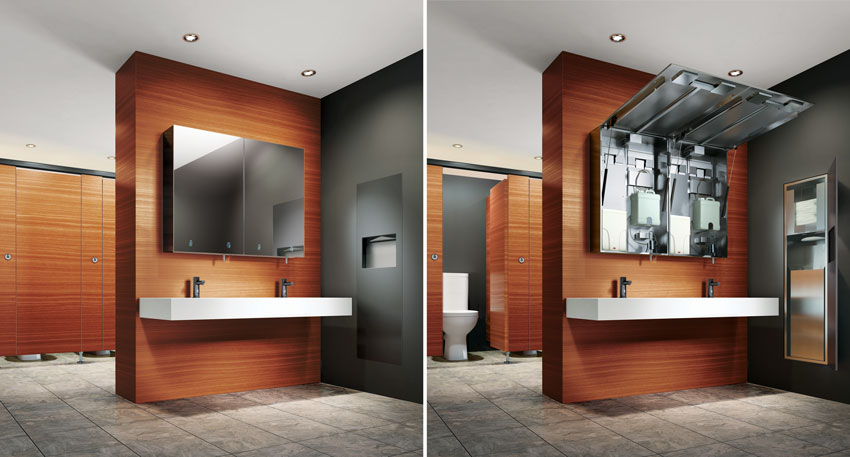 Images courtesy of ASI Group
Behind-the-mirror accessory systems provide a sophisticated and elegant solution for restroom designs that also make cleaning and maintenance very easy.
Restroom Accessories
It is common for restroom accessories such as recessed towel dispensers, trash receptacles, etc. to be made from stainless steel. At least one manufacturer, however, has created a bold new line of such accessories made from resilient phenolic. This heavy-duty and workable material offers several advantages. In terms of appearance, they are available in black or white to add an appropriate visual feature to the restroom design. Further, they are designed to create a fully flush appearance in the same plane as the surrounding wall with virtually no gap between the wall and cabinet door. From an integration standpoint, they are available in a variety of sizes and configurations to accommodate different space needs. For maintenance and servicing, the high-quality furniture style hinges are used instead of standard piano hinges, which means they hold up better over time. These hinges are adjustable in the field to ensure a proper fit and operation as needed. In all, they create a durable, elegant, and easily integrated restroom accessory solution for an upscale appearance that is cost-effective.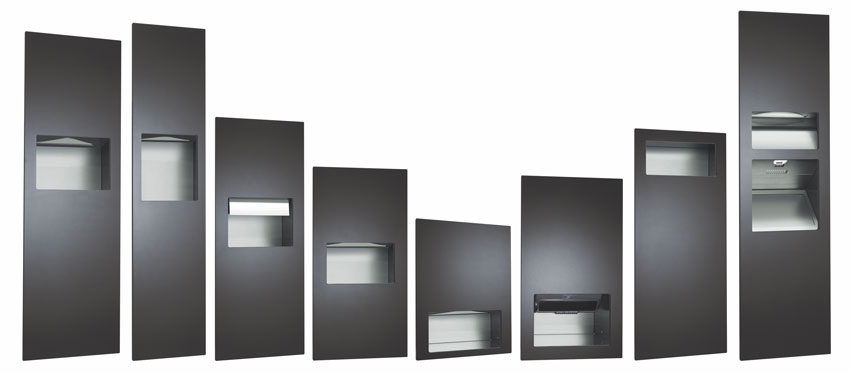 Images courtesy of ASI Group
A new class of restroom accessories has been designed to lie perfectly in the plane of the surrounding surface. Using black or white phenolic doors instead of the standard stainless steel, these accessories are available in a variety of sizes and configurations.
European-Style Full-Privacy Partitions
Elegant extra-height partitions are the norm in Europe and are catching on in the United States since they provide added privacy. The elegant design of these full-height partitions can accentuate the design of any restroom. For those who choose to incorporate the European-style partitions, there are manufactured products that combine dramatic lines, bold colors, well-designed hardware, and adjustable-height pedestals. Pedestals can be placed on the panels instead of the pilasters to give the partition stalls a floating look. Adjustable pedestals allow for field adjustment if floors are uneven. Generally seen as a marriage of simplicity and functionality, the European design is based on elegantly paying attention to privacy. Extended-height partitions and doors that are much lower to the floor and up closer to the ceiling (unlike common partitions that stop shorter of both) create zero sightlines for privacy assurance. The end result is a more substantial and sophisticated look that provides a better shared restroom experience.
It is important to pay attention to stall depths and any changes that may be needed in the European-style stalls that need to be ADA and accessibility compliant. That is fairly straightforward but needs the proper attention, of course. The other details of such partitions typically include design options and functionality choices, making them well suited to a full range of high-profile setting. Some styles create a more graceful and refined partition system. Elements such as steel top rails provide structural stability and style, while beveled edges can accentuate a refined appearance. Further, self-closing doors with elegant hardware create a clean look throughout the restroom even when unoccupied. Overall, these partitions can provide comfort and beauty with the strength and durability to keep them operating and looking good for years.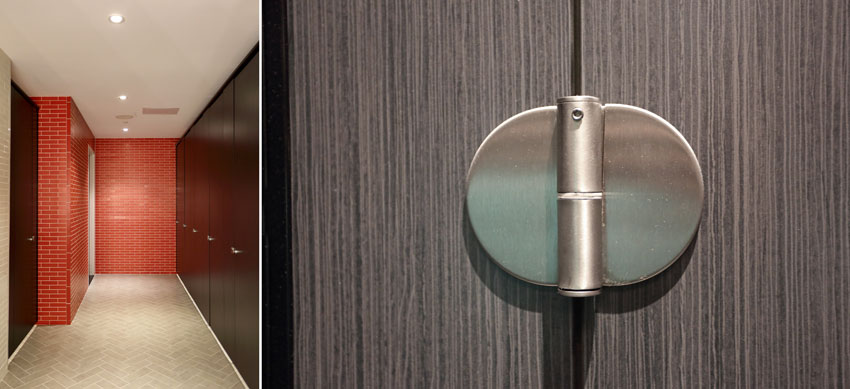 Photos courtesy of ASI Group
Full-height, European-style partitions and doors use elegant features and hardware to improve privacy and the overall appearance of restrooms.
These three design elements, whether used separately or together, help tell the story of a facility to its users. They improve the aesthetics dramatically without standing out by incorporating a "less-is-more" approach to design. They allow the architectural design to be the prominent feature instead of the products being used. The color palate is wide, and the visual impact they create can meet the dramatic styles of any building.
Conclusion
We have presented several ways that retail and hospitality design can be enhanced. Creating outdoor spaces adds vitality and attractive amenities to different venues. Incorporating opening glass walls helps connect indoor and outdoor spaces while offering thermal protection when needed. Interior wall surfaces can be protected while at the same time provide the option for graphics and artwork. Extruded aluminum interior trim can support a clean, durable, enhanced interior design. Restrooms that pay attention to the coordinated details of the design create positive user experiences that help the business aspects of the facility. Overall, design professionals have multiple tools at their disposal to tweak and improve the aesthetic and performance potential for retail and hospitality projects.
Originally published in Architectural Record
Notice