What's New in Fenestration?
Great strides are being made in improving efficiency along with other enhancements
Sponsored by CornellCookson, Inc., CRL-U.S. Aluminum, Graham Architectural Products, Marvin Windows and Doors, and NanaWall Systems
This test is no longer available for credit
Aluminum Storefronts and Curtain Walls
In many commercial buildings, the exterior building enclosure isn't made up of an opaque wall with manufactured windows punched into it but instead of an aluminum and glass fenestration system, such as a storefront system (suitable for light-duty, first-, or second-floor installations) or a curtain wall (suitable for higher-design conditions and multistory applications). Similar to windows, however, their overall performance is comprised of and determined by the variable combination of different key components. These include the aluminum framing system, glass types, glass spacers, thermal break types, and gaskets. Of course, the specific characteristics of these items will vary based on whether a storefront system or curtain wall system is being considered and certainly will vary somewhat between manufacturers. Therefore, it is important that architects consult and collaborate with the product manufacturer and their technical staff early in the design phase. This way, the proper understanding of available product options can be obtained and the best means determined to achieve the desired results, including the overall U-factor, solar heat gain coefficient (SHGC), visible transmittance (VT), and condensation resistance factor (CRF). "Early collaboration between the design team and manufacturer becomes essential when specifying fenestration systems that are driven by performance," says Mario Maggio, sales director at CRL-U.S. Aluminum. "As codes grow more stringent and building envelope trends evolve, we help select the most effective systems by remaining abreast of code changes and proactively coordinating with the architect during the design phase."
Just like for windows, the NFRC has a process to rate and certify storefront and curtain wall systems, but it is based on computer software rather than physical testing since the combination of possibilities is vast and testing is simply not practical. Therefore, architects need to understand that all of the different components in a system can and need to be considered, assessed, and specified individually to produce the best combination for a particular building in a specific climate zone. Comparing different options and combinations based on computer analysis is the best way to identify a system solution that can achieve the design intent, meet the performance requirements, and stay within budget.
Aluminum and glass fenestration systems are designed based on transferring their own weight and structural forces back to the building's main structural system. However, they do need to maintain their own structural integrity as a system through the use of aluminum frames and related components. At the same time, those frames need to address thermal performance since aluminum is a very good conductor of heat with an undesirably high U-factor. Thermal breaks in the frame are meant to do just that—stop or slow the flow of heat through the frame by separating the inside portion of the metal frame from the outside portion around the entire perimeter of the unit. In order to maintain the integrity of the window unit, the two halves still need to be joined, just not with metal. Rather, a low heat-conductive material is used with enough rigidity to be effective but enough insulation value to reduce heat flow. When it comes to framing systems, those with more than one thermal break are the most effective at maintaining high thermal performance. The more thermal interruptions between the exterior and interior of a building, the better the fenestration system is at mitigating heat transfer.
There are two common ways that thermal breaks are incorporated into curtain wall and storefront system frames. The first is to create an extrusion that has a "pocket" in the middle of the frame perimeter where a polyurethane material is poured in. Once cured, the portion of aluminum that connects the inner and outer frame is cut away, thus eliminating the thermal bridge between the inside and outside of the frame. This method is appropriately called "pour and debridge" and is common. The other method is to cast aluminum frame pieces that can accept polyamide (nylon) structural insulating strips that create an appropriate but strong thermal break. The size of these strips can vary, usually with wider ones being regarded as more effective.
Storefront and curtain wall systems will all have the same variables as other fenestration when it comes to glass options. Specifically, are double or triple IGUs being incorporated, what inert gas is selected between the panes (Argon and Xenon), what coatings (i.e., low-e) are being incorporated, etc. They also have the same IGU spacer options such as the common but conductive aluminum spacers or more advanced composite spacers that create a "warm edge" around the glass. By identifying all of these specific details into the makeup of a system, the computer analysis and the NFRC ratings can identify the specific U-factors and other attributes of a system. Some manufacturers may have some standard configurations and can offer them as starting points for comparison with certifications from NFRC accordingly. Note that changing any individual component will affect overall performance, either positively or negatively, and should all be assessed carefully in concert with the manufacturer.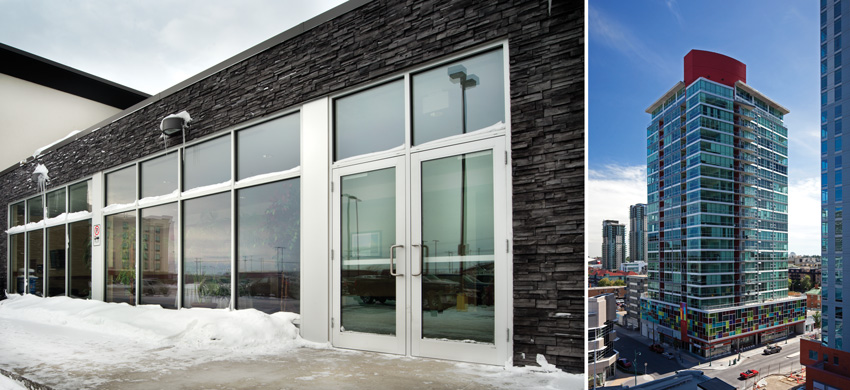 Photos courtesy of CRL-U.S. Aluminum
Aluminum storefront systems (left) and curtain wall systems (right) are subject to many variables that need to be selected and specified in order to determine specific performance.
Originally published in Architectural Record
Notice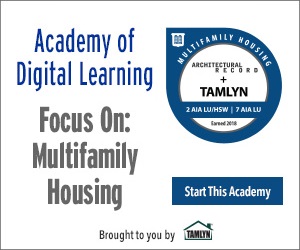 What's New in Fenestration?
Buyer's Guide
Insulated Extreme® 300 Series Performance Door

The Insulated Extreme 300 Series Performance Door is a fast, high-cycle door that offers 300,000 maintenance-free cycles and the intelligent Apex™ Smart Controller. It also features an air leakage rating of less than 0.3 cfm/ft
2
—meeting and exceeding ASHRAE 90.1 and IECC 2015 air leakage standards.
ArcticFront™ Series 45X Dual Thermally Broken Storefront System

Keep exterior temperatures where they belong with the new ArcticFront™ 45X High-Performance Storefront. By incorporating dual polyurethane thermal break points that act as a superior thermal barrier, it can produce U-factors as low as 0.19 using specially configured insulating glass units. The system excels at condensation resistance and maintaining desired internal temperatures.
Graham's SR6700 Series Steel Replica Window

Graham Architectural Products' innovative SR6700 Series window is designed to replicate the original steel windows used in many buildings thanks to a floating vent, large openings, minimal sight lines, and applied grids. The SR6700's design is so authentic, it has helped numerous projects attain National Park Service approval.
Marvin Ultimate Casement

The Marvin Ultimate Casement Window is an innovative, high-performing casement window, offering expert craftsmanship, a variety of customization options, and the industry's largest operating sizes. Designed to suit virtually any application, these state-of-the-art windows feature concealed multipoint locks, a patented exclusive wash mode, and durable hardware that ensures easy opening and smooth operation.
NanaWall Opening Glass Walls

NanaWall Systems provides a wide range of opening glass walls for commercial environments that stand up to the daily commercial grind, as well as the challenges of wind, water, extreme temperatures, forced entry, impact, and structural load.