What's New in Fenestration?
Great strides are being made in improving efficiency along with other enhancements
Sponsored by CornellCookson, Inc., CRL-U.S. Aluminum, Graham Architectural Products, Marvin Windows and Doors, and NanaWall Systems
This test is no longer available for credit
Windows
Manufactured windows are typically made from identifiable parts (e.g., frame, glazing, lite, hardware, sash) by a manufacturer that can create finished units in standardized or customized sizes and styles. While the variability of choices and options gives designers a lot of freedom to work with, the standardized nature of the manufacturing allows for a good degree of predictability on performance. In particular, manufactured window units can be physically tested and assessed for the full variety of conditions that affect their performance. One form of testing is done by the independent National Fenestration Rating Council (NFRC) in the same laboratory type of controlled conditions that LBNL and others use. The results of the testing are certified by NFRC, and a label attesting to the results can then be affixed to a window by the manufacturer to show its overall and specific performance characteristics. The ENERGY STAR program administered by the U.S. DOE also tests and rates window units, specifically to determine if they perform high enough above minimum standards to earn the ENERGY STAR label.
The NFRC recognizes that window performance is not limited to any single criterion. Rather, there are a number of factors that need to be looked at, tested, and assessed to determine the true overall performance of a window. U-factors (the inverse of an R-value) are usually what come to mind first, which measure the rate which a material or product transfers heat through it. When observing U-factors, it is important to differentiate U-factor variables for the insulated glass alone (e.g., center-of-glass U) from the window unit as a whole. NFRC utilizes the component modeling approach to calculate the whole U-factor of a window by assessing the glass, the spacer between glass, the sash, and the frame. Of course the size and makeup of the glass are also important—including the number of panes that make up insulated glazing units (IGUs). Ultimately, the total NFRC U-factors for windows are based on actual testing of representative manufactured units and expressed in normal fashion as a decimal value with a lower number showing less heat transfer, therefore greater energy efficiency. If a U-factor is not listed by a manufacturer as part of an NFRC test or as a center-of-glass value, then it may be based on a post-installation assessment and should be identified based on how the specific window performs in a certain wall after a specific installation.
Once the U-factors are identified, it is important to understand that that a U-factor difference of only 0.01 is not insignificant (i.e., in thermal physics, a difference of 0.01 between U-factors does not mean a 1 percent improvement, but something more). The range of U-factors for most windows only varies from 0.10 to 0.40, so an improvement in U-factor from 0.30 to 0.29, for example, can be highly noticeable in an overall large commercial building design and may save significantly on annual energy costs.

Images courtesy of Marvin Windows and Doors
Multiple aspects of window construction need to be addressed and tested in order to determine the true performance of the overall window unit.
The second notable factor in the energy efficiency performance of a window is the rate of air infiltration, particularly in operable windows. The 2015 International Energy Conservation Code sets the bar at 0.20 cubic feet per minute per square foot of window as the maximum allowable air leakage rate for windows, with some exceptions allowing 0.30 cfm/square foot. This is the same rate as for sliding and swing doors in commercial construction. The NFRC takes the air infiltration into account when testing window units so manufacturers pay attention to details of construction in this regard too. Proper weather sealing and tightness of fit all come into play, but so does the type of window. Casement, awning, or hopper type windows can employ multipoint locking hardware that can provide better-performing, positive-sealing pressure between the window sash and frame compared to a double-hung window, which slides in side tracks and relies on the meeting rails in the center to form a seal. European style tilt-and-turn units have become increasingly popular in the United States because they often provide the most energy-efficient option overall with the greatest air sealing capabilities as well as the highest potential for longevity.
Other aspects of the glass used in windows will affect the energy performance. Glass is tested and rated for its solar heat gain coefficient (SHGC), which indicates how much solar heat passes through the glass compared to what is reflected away. In building situations where heating from passive solar gains is desired, a high SHGC is desirable to take advantage of the free solar heat. In other situations where cooling is the primary energy driver in a building, a lower SHGC is needed to prevent unnecessary air-conditioning use because sunlight is heating up a space. Of course, the treatment for some of the energy-efficiency characteristics of the glass can interfere with the ability of people to see clearly through it. Therefore, visible light transmittance is also measured to help identify acceptable levels of clarity for views or the use of natural daylighting in buildings.
Ultimately it is up to a window manufacturer to put all of these things together and the architect or designer to select a product that suits the design and performance needs of a project. Manufacturers offer numerous window and door options with two or three panes of glass, choices in operation types, and a range of glazing options to meet the performance challenges of any climate. Some even use their extensive selection of shapes, sizes, styles, and finishing options to allow virtually unlimited design capabilities and the flexibility to get exactly what a project requires. Kris Hanson, senior manager of Group Product Management at Marvin Windows and Doors, sums it up this way: "We are continuously updating our product offerings to best meet architects' current needs and to help solve the challenges they face on a daily basis. As design trends continue toward more glass and narrow frames, we work to create large window offerings that continue to deliver superior performance."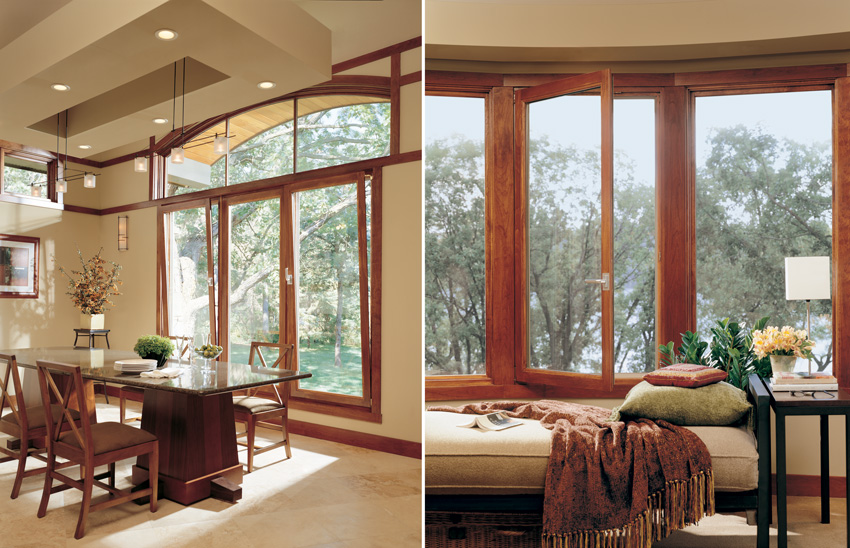 Photos courtesy of Marvin Windows and Doors
The type and function of operable windows can affect their energy performance, particularly in terms of air infiltration. The tilt-and-turn type shown here, which offers opening options, is generally the most energy-efficient type available from some manufacturers.
Originally published in Architectural Record
Notice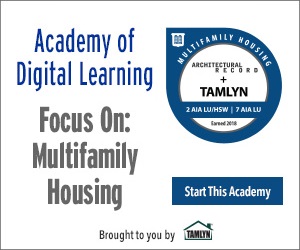 What's New in Fenestration?
Buyer's Guide
Insulated Extreme® 300 Series Performance Door

The Insulated Extreme 300 Series Performance Door is a fast, high-cycle door that offers 300,000 maintenance-free cycles and the intelligent Apex™ Smart Controller. It also features an air leakage rating of less than 0.3 cfm/ft
2
—meeting and exceeding ASHRAE 90.1 and IECC 2015 air leakage standards.
ArcticFront™ Series 45X Dual Thermally Broken Storefront System

Keep exterior temperatures where they belong with the new ArcticFront™ 45X High-Performance Storefront. By incorporating dual polyurethane thermal break points that act as a superior thermal barrier, it can produce U-factors as low as 0.19 using specially configured insulating glass units. The system excels at condensation resistance and maintaining desired internal temperatures.
Graham's SR6700 Series Steel Replica Window

Graham Architectural Products' innovative SR6700 Series window is designed to replicate the original steel windows used in many buildings thanks to a floating vent, large openings, minimal sight lines, and applied grids. The SR6700's design is so authentic, it has helped numerous projects attain National Park Service approval.
Marvin Ultimate Casement

The Marvin Ultimate Casement Window is an innovative, high-performing casement window, offering expert craftsmanship, a variety of customization options, and the industry's largest operating sizes. Designed to suit virtually any application, these state-of-the-art windows feature concealed multipoint locks, a patented exclusive wash mode, and durable hardware that ensures easy opening and smooth operation.
NanaWall Opening Glass Walls

NanaWall Systems provides a wide range of opening glass walls for commercial environments that stand up to the daily commercial grind, as well as the challenges of wind, water, extreme temperatures, forced entry, impact, and structural load.