State-of-the-Art Design in Higher Education
Taking on the challenges of modern university facilities
Sponsored by Guardian Glass, Inpro, and NanaWall Systems
This test is no longer available for credit
Interiors Incorporating Best Practices
Turning from building exteriors to interiors, the design challenges and requirements for higher-education buildings are similar. Aesthetics, creativity, functionality, durability, cost effectiveness, and performance all need to be embodied in the design and construction of the many and varied types of interior rooms and spaces in college and university settings. Getting there not only involves effective planning and design, but it also requires an understanding of different types of materials and products that can be used effectively and innovatively. We will look at three areas where this approach can be utilized to create the most up-to-date spaces and facilities.
Wall Panel Systems
Interior surfaces often need to function in a variety of ways, such as having a professional appearance and being durable enough to hold up over time from a lot of use by different people. One way that this is being achieved is through the use of prefinished wall panel systems that are available in a variety of finishes and mounting systems. Often available as a family of products from manufacturers, these systems can offer wood-grained or other attractive appearances, long-term durability due to the innovative materials used, and even a Class A fire rating.

Images courtesy of Inpro
Innovative, durable wall panel systems can be used to provide wood-grained or other surface treatments, including (from left) white boards, tackable fabric panels, and custom printed panels with art or graphics.
Of particular interest in college and university settings, wall panel systems can be customized to provide a variety of functional features. For example, white board panels, in magnetic or nonmagnetic versions, can be incorporated into the wall to provide a writing surface, projection plane, or other uses for communication and teaching. Alternatively, a tackable fabric panel can be incorporated to elegantly replace random-sized bulletin boards or just provide a soft, acoustic, wall covering. For full customization, it is also possible to provide a solid panel with customized, printed graphics to assist in wayfinding, branding of a building or institution, or simply to provide a visual accent. Some popular choices for printed panels in colleges and universities are team mascots, sports logos, or university seals. These can all be incorporated easily into an overall system for innovative and customized interiors.
A key element of any interior panel system is the means to install them. In some cases, a square edge panel is used that can be field cut and custom fit into several types of aluminum frame components that are mounted directly to the wall substrate. Flush trim systems are designed to align with the surface face of the panels and cover them with J-trim pieces, top caps, dividers, and corner pieces for inside and outside corners. Alternatively, the trim can be used to create a more three dimensional wall appearance with wide, recessed, reveal pieces of trim that frame each panel separately with corner, divider, and top cap profiles in aluminum. If the aluminum trim approach isn't sought, then three-dimensional pieces that match or contrast with the wood finish of the panels can be used that emulate the traditional look of wood trim.
Another approach to protective but attractive wall surfaces is to use panels that are fully wrapped around the edges allowing a frameless installation. In this case, the panels are finished not only on the front, but they also wrap around all four sides to provide a fully finished edge condition. The panels can then be mounted with z-clips or adhesive in a pattern with wide spaces between them, creating simple reveals, or tightly together creating a tile-like wall pattern.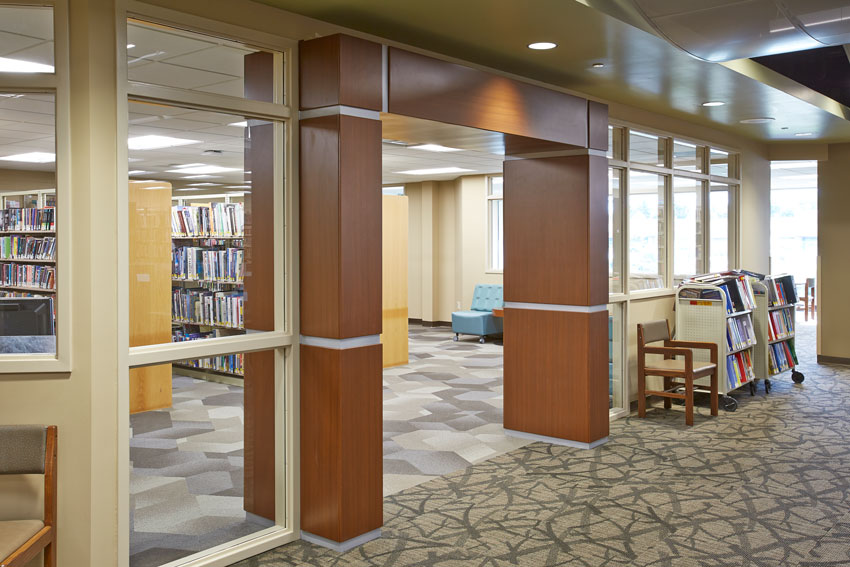 Photo courtesy of Inpro
Edge-wrapped protective wall panels allow for frameless installations using adhesive or z-clips for a clean, finished look.
Elevator Cabs
Many higher-education buildings have elevators, either because of accessibility/ADA requirements or for general circulation. Often, carts and equipment that are transported in an elevator can bang and bump against the interior of the cab. If the cab material isn't durable, or if the general interior of the cab is outdated, then the appearance of the cab can cast a very negative impression on the people using it. That is why it is common to carry out an elevator cab upgrade either in conjunction with a larger general building renovation project or as a stand-alone project across several buildings.
The most cost-effective and innovative way to carry out such an elevator cab upgrade is to use a preconfigured elevator cab renovation system from a manufacturer that has a specialty line of products to address these needs. This system can include any or all of the following elements.
New panels: The elevator panels that line the walls are what primarily make up the appearance of the cab. These panels also typically take quite a beating—from luggage carts, student resident move-ins and outs, construction equipment, vandalism, and whatever else may come their way. Fortunately, the panels can be made of durable and rugged materials that can be made to look like any range of materials from wood to metal to stone or custom choices.
New ceilings and lighting: Elevator ceilings come in many different styles and can be selected to suit an overall design concept. Lighting in elevator cabs can be chosen from among common lamping options, such as halogen, incandescent, fluorescent, or energy-efficient LED. Keep in mind that people tend to be more comfortable in a well-lit interior, so combining a brighter ceiling with increased lighting output can help people feel more relaxed inside, not to mention create a newer and cleaner look. Further, selecting energy-efficient LED lighting means the lamps have a much longer service life, notably reducing maintenance costs for replacements.
New handrails: Handrails in elevators may not get much attention unless ADA or accessibility code requirements are being looked at. The handrails not only provide stability for users (i.e., something to grasp) while the elevator stops and starts, but they also provide a means for a complete look to the cab and can act as a wall guard too. Providing a standoff surface from the wall of the cab can reduce the chance of equipment or furniture striking the wall panels.
Paying attention to both the appearance and durability of wall surfaces and elevator cabs can clearly pay off in terms of creating successful, innovative interiors in higher-education facilities.

Photo courtesy of Inpro
A $3.5-million renovation project to modernize multiple elevators across the campus of the University of North Carolina – Charlotte included multiple woodland patterns with custom graphic logos applied in selected locations, plus new stainless steel pan ceilings with LED downlights and stainless steel handrails.
Bathing Privacy
Dormitories, locker rooms, and some special use areas in higher-education facilities include showers for the use of students, faculty, or staff. For decades, the norm has been to provide communal or gang showers in situations like this. The concept made sense since multiple showering "stations" within a given space increased efficiency and capacity while reducing mechanical first costs in new construction. But, times and culture have changed. There are new norms about bathing privacy and transgender issues that have raised new concerns and challenges related to bathroom and shower design. Further, additional risks of serious bacterial infections for athletes and other users puts new focus on the design and surface cleanliness of communal shower installations.
One of the clearest drivers on the issue of bathing privacy in multi-occupant facilities has been the co-ed integration of housing at colleges and universities. Dr. Kathryn H. Anthony, Ph.D., is a distinguished professor in the School of Architecture at the University of Illinois at Urbana-Champaign. In a blog post on disadvantagedbydesign.com, she writes: "Communal bathrooms present many negative issues for their users. These facilities require users to enter with a "shower caddy" full of their toiletries needed for bathing. I personally was not too bothered by this arrangement while living in student housing, but it did present some obstacles that others strongly disliked. One of which is the fact that after your shower, unless you get fully dressed while still in the bathroom, which is made difficult by the wet floor and cramped stall, you must walk through a (usually) co-ed hallway in your towel to return to your dorm room. While this is fine for some people, others experience stress in this situation." Dr. Anthony went on to say that several security breaches while living in the dorms meant greater risks on top of the discomfort some residents feel walking through co-ed hallways wrapped in a towel.
One answer for better personal comfort for the bather is to construct shower spaces with adequate dry-floor changing space that allows bathers to disrobe and get dressed within that space. In designs where space may not allow the combined shower and changing area, then a more inline approach with individual showering spaces can be used.
One example is seen in the Yocum Hall bathroom renovations at the University of Arkansas, part of a multiyear, campus-wide, multi-dorm updating project. The Yocum showers were redesigned with dry-floor changing space and solid surface partitions for privacy.
Photo courtesy of Inpro
Newly renovated bathrooms at Yocum Hall at the University of Arkansas feature a private, dry-floor changing space, allowing for greater bathing privacy and comfort for users.
A less obvious but potentially more troubling issue with communal showers is the potential spread of disease by bacteria building up on the surfaces. Methicillin-Resistant Staphylococcus Aureus (MRSA, pronounced "mer-sah") is such a bacteria classed by the Centers for Disease Control (CDC) and the medical profession as one of the deadly "superbugs." MRSA infections are extremely serious in that the bacteria have mutated resistance to some of the strongest antibiotics. In the worst case, the patient dies from the infection. Aside from the serious human health impact of MRSA, the economic and public relations aspects of such infections at a college or university can be staggering. The problem is so concerning that the CDC has an entire website dedicated to Cleaning and Disinfecting Athletic Facilities for MRSA (www.cdc.gov/mrsa/community/environment/athletic-facilities.html).
Among the guidelines, the CDC points out the issue with damaged surfaces that do not allow adequate cleaning. This recommendation raises a point that is often overlooked—broken tile and grout. It is a well-known fact that the grout between tiles can be a breeding ground for mold, mildew, and potentially bacteria due to the porous nature of the material. In a tile and grout shower surround, the porous grout is usually where the first black splotches of mold start growing. Where grout cracks or falls out, there is risk of water getting behind the tile, leading to tiles failing or moisture seeping into the gypsum board or other substrate. Cleaning and resealing tile means more work for maintenance staff and leaves room for error. Further, even if cleaned regularly, independent studies have demonstrated that bacteria are resilient and will rebound, often within hours of cleaning. For example, a study by Attaway et al (AJIC 40, 2012, 907–12) uncovered that surfaces cleaned with disinfecting solutions showed bacterial rebound within hours. Bottled disinfectant did reduce the average bacterial burden by 99 percent. However, the bacteria count rebounded to 30 percent of that found before disinfection by 6.5 hours after disinfection.
Experience with combatting bacteria, mold, and mildew has shown that one of the keys to effectiveness is the use of nonporous surfaces. Even better are surfaces that are specifically formulated not to promote the growth of mold or bacteria. Hence, many showers and bathrooms are now being designed with solid surface panels that are specifically manufactured for this purpose. Solid surface panels are an excellent choice as a shower enclosure material since they are non-nutritive, do not promote the growth of mold and mildew, and resist bacterial growth. They can be used on the vertical walls and sides of the showers and also be formed or manufactured for the floor, or receptor, of the shower. An integral nonskid surface can be incorporated to help prevent slips and falls, and ADA edges and ramps can ease the transition from floor to receptor. Drain locations can be set to match existing plumbing, and trench drains are also an option.
From a design standpoint, there are numerous color and pattern options, and ¼-inch or ½-inch sheets can be installed right over existing tile. S-curve (wavy) edges provide a good seal, and their fit maintains a flat, flush seam where the wall may fluctuate. In addition, large sheet sizes mean fewer seams where dirt can accumulate. Recessed soap dishes or soap shelves can be easily incorporated into the shower surround. During construction, the use of solid surface means quicker turnaround on installation over traditional tile. From start to cured finish, solid surface showers can be ready to use in as little as four to five days compared to traditional tile, which can take up to 12 days. For green construction projects, some manufacturers have created solid surface formulas containing rapidly renewable bio-based resins.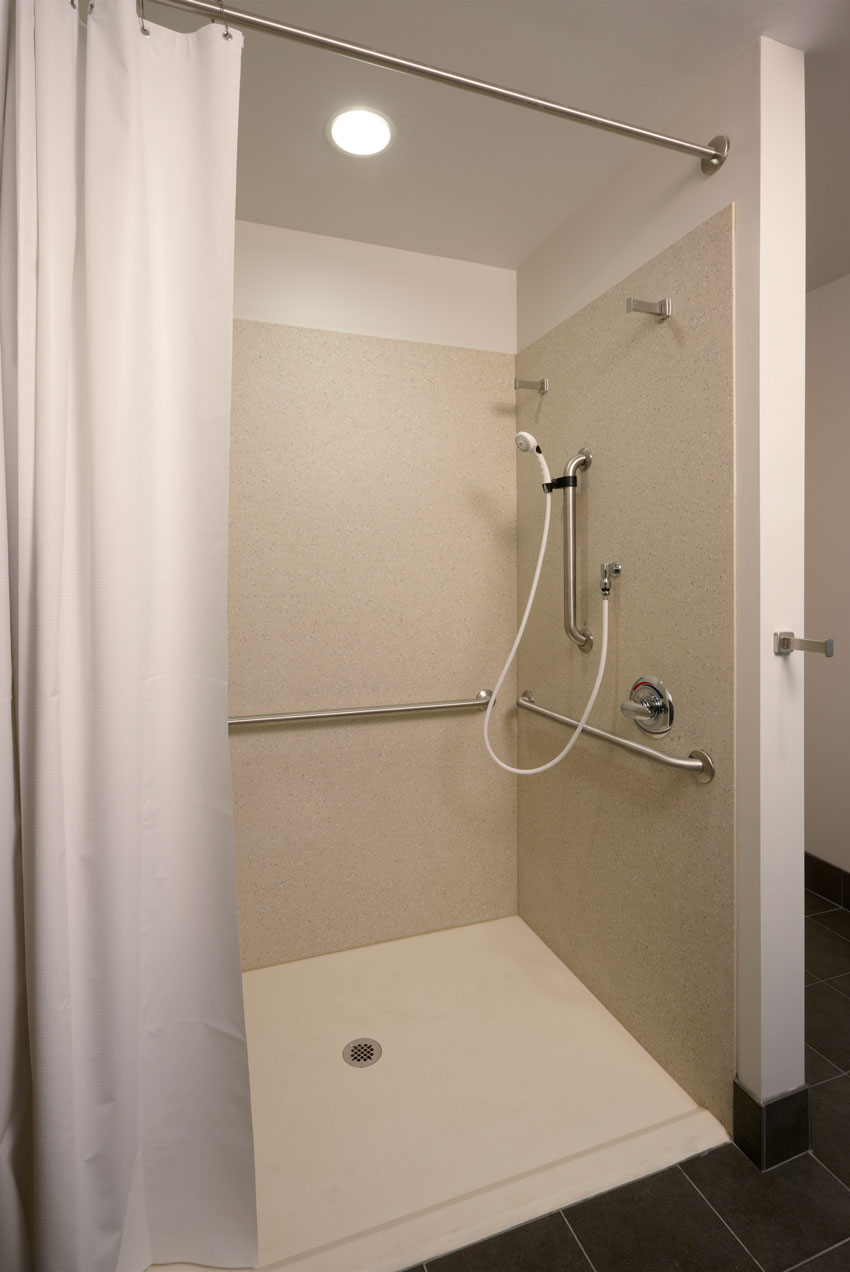 Photo courtesy of Inpro
Solid surface material can be used for the walls and floor, or receptor, of a public shower to help prevent the growth and spread of odor-causing bacteria, mold, and mildew.
Conclusion
Architects, interior designers, and other design professionals have the ability to create state-of-the art buildings and facilities in higher-education settings by working collaboratively with college and university staff. They can do this by bringing an understanding of different design options and the best use of materials or systems to improve both the exterior and interior building design and performance.
Peter J. Arsenault, FAIA, NCARB, LEED AP, is a practicing architect, green building consultant, continuing education presenter, and prolific author engaged nationwide in advancing building performance through better design. www.linkedin.com/in/pjaarch
Originally published in Architectural Record
Notice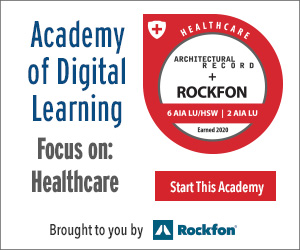 State-of-the-Art Design in Higher Education
Buyer's Guide
Guardian CrystalBlue™ Glass

Guardian CrystalBlue™ glass can be combined with many Guardian SunGuard
®
low-e coated glass products, giving architects a range of energy performances along with high visible light transmission in an in-demand subtle blue color. CrystalBlue glass is available coated and uncoated at 6-millimeter thickness in a variety of sizes.
Aspex® Printed Wall Protection

Gone are the days of modifying your design to include wall protection. Now, your design is the protection. With Aspex
®
Printed Wall Protection, you have the high-impact durability of IPC
®
Rigid Sheet with the clear, crisp imagery of digital printing. Because your graphic is back-printed onto the clear sheet, you don't have to worry about scratching or vandals.
Opening Glass Walls Designed for Commercial Environments

NanaWall Systems provides a wide range of opening glass walls for commercial environments that stand up to the daily commercial grind as well as the challenges of wind, water, extreme temperatures, forced entry, impact, and structural load.