State-of-the-Art Design in Higher Education
Taking on the challenges of modern university facilities
Sponsored by Guardian Glass, Inpro, and NanaWall Systems
This test is no longer available for credit
Designing For Flexible Facades and Spaces
One of the most common requests of the staff and faculty who actually use higher-education spaces is the desire for flexible spaces. What they are usually asking for is the ability to accommodate different size groups in a space or to connect adjacent spaces together. This connection can be made between two interior spaces or between indoor and outdoor spaces. While this all seems reasonable and logical, achieving it often means that the exterior facade has to take on a new dimension. Specifically, it needs to be operable or transformable, essentially allowing the free passage of people, air, light, and activity between indoors and outdoors when required, but be capable of closing up to be weathertight when desired.
A common solution to achieve this connectivity between spaces, particularly indoor/ outdoor spaces, is the use of opening glass walls. These are comprised of individual, full-height panels of glass that are framed in either wood, aluminum, or a combination of both. The glass and frames can be selected to meet the same or different criteria as the rest of the building exterior. The means of operation can be based either on panels that fold (accordion style, off to one or both sides) or on sliding panels that stack or disappear into a wall recess. Either way, the effect is the same—full connectivity between spaces when open and full physical separation when closed, with controlled daylight and views possible in either condition. Creating spaces this way, filled with light and infused with the sense of openness and transparency, exemplifies a spirit of contemporary education and architecture. The resulting designs are more open, creating a shared use of space with brighter interiors and seamless transitions between indoors and outdoors. Moreover, with square footage often at a premium, the opening glass wall allows space to be utilized efficiently with potentially smaller footprints for some areas.
When it comes to using opening glass walls on a college or university campus, there are some other very good reasons to consider them beyond the space flexibility desire. Opening glass walls have been used by designers as a key ingredient for 21st century learning spaces to provide abundant fresh air ventilation and natural daylighting while providing acoustical buffering when needed. This enhances the well-being of the people inside since students and faculty typically spend 85 to 90 percent of their time indoors and the concentration of pollutants indoors is commonly higher than outdoors. Opening glass walls allow the interior spaces to be flushed with fresh air thus removing pollutants and creating a more invigorating indoor environment. When closed, the acoustic separation allows for better concentration, less noise distraction, and better intelligibility of the sound within the space.
Based on their multiple space, health, and environmental attributes, the use of operable glass walls on a college or university campus is suitable to many different building types. Some of the most common ones are discussed as follows.
Academic buildings: Opening glass walls provide abundant natural daylight whether they are open or closed. Studies have shown that students with limited classroom daylight were outperformed by those with abundant natural light by 20 percent in math and 26 percent on reading tests. Hence, opening glass walls can help create a demonstrably better learning environment that is appreciated by students and professors alike.
Auditoriums and multipurpose facilities: Exterior opening glass walls in multipurpose facilities are a natural fit. They can easily be configured to provide expanded event space and indoor/outdoor access for classes, lectures, speakers, performances, and special events. Quickly opened or closed, they deliver unobstructed access into the space, helping to accommodate larger events. The large openings also allow for easy movement of large objects, such as staging, tables, and chairs. The large glass panels provide generous natural daylight, fresh air ventilation when open, and an energy-efficient sound barrier to the outside when closed. During high-traffic events (e.g., class registration or event start and finish), the opening glass walls allow for the free flow of people through wide openings. During low-traffic times or when the system is closed, a single swing door can handle traffic flow while maintaining energy efficiency.

Photos courtesy of NanaWall Systems
Connecting interior spaces can be controlled with opening glass walls to allow full access during high-traffic times or limited access with a traditional swing door panel in lower-traffic times.
College campus student spaces: Modern campuses are emulating the hospitality industry by creating areas where students can meet, work together, converse, or just hang out. Opening glass walls join multiple areas together to facilitate these activities or can conversely be used to separate out smaller groups when needed.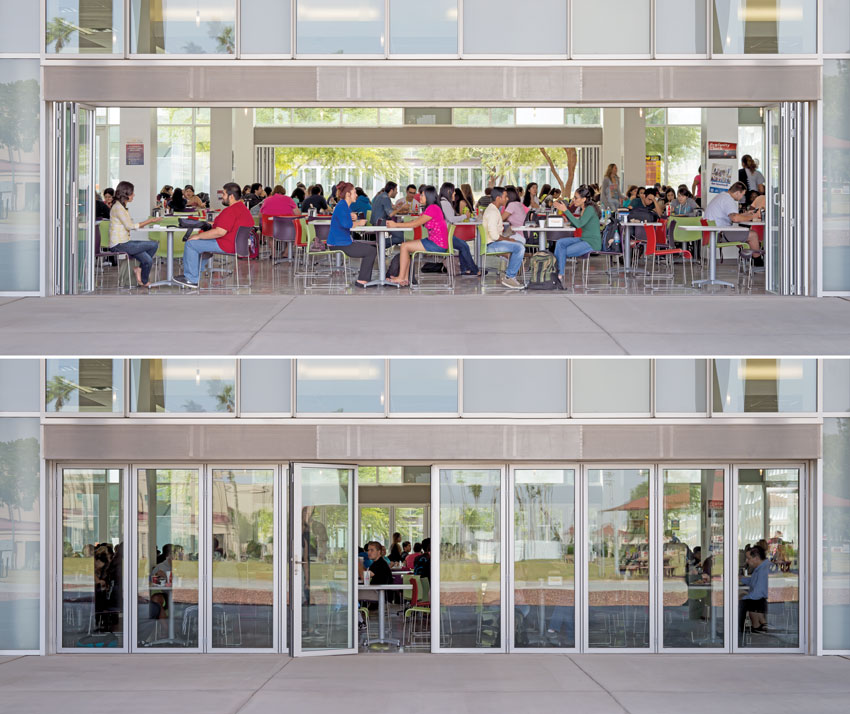 Photos courtesy of NanaWall Systems
Opening glass walls allow for a seamless transition in the building facade between indoor and outdoor spaces when open and a weathertight seal when closed, as shown here at Arizona Western College in Yuma, Arizona.
Cafeterias/food service facilities: Creating a great student dining and socializing experience can be enhanced with wide-open entryways to the cafeteria area. A large opening encourages students to easily enter (or exit) and find their classmates. The benefits of the large glass panels include fresh air and natural daylight with the corresponding potential for reduced heating, cooling, and lighting costs—particularly during off-peak times when the space has low occupancy. Outdoor connected food service spaces can easily be converted from open to closed due to a change in the weather since even large operable glass panels can be quickly and easily moved by a staff member.
Libraries: In libraries, opening glass walls can be used to manage interior space and for sound buffering by partitioning off rooms that have higher activity or sound levels at times. As exterior applications, they can allow for gardens and courtyards to be connected to the interior while allowing natural daylight and fresh air to flow throughout the space.
Campus natatoriums: Indoor pools can become loud, and the air oppressively heavy. Incorporating an opening glass wall allows fresh air ventilation, relief from sound reverberation, and creates a less closed-in space.
College sports venues: Many college sports stadiums are creating choices in seating types from open outdoor bleachers to private, enclosed boxes and different levels in between. Using an opening glass wall system in front of a box seating area provides the further option of having a protected seating area or one that is fully open when the weather is favorable. Either way, it maintains an unobstructed view in addition to protecting the seats from the outside elements in the offseason.

Photos courtesy of NanaWall Systems
Sports stadiums and arenas on college campuses that seek to provide protected box seating areas use opening glass walls that move based on weather conditions, such as this one at Boise State University in Idaho.
Overall, the use of opening glass walls can achieve a lot of design and operation goals for college and university buildings. Architects can work with manufacturers to maximize their usefulness and functionality while keeping costs in line with the budget.
Originally published in Architectural Record
Notice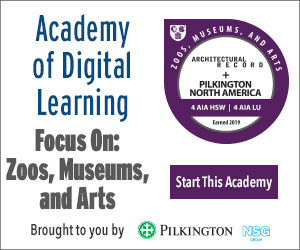 State-of-the-Art Design in Higher Education
Buyer's Guide
Guardian CrystalBlue™ Glass

Guardian CrystalBlue™ glass can be combined with many Guardian SunGuard
®
low-e coated glass products, giving architects a range of energy performances along with high visible light transmission in an in-demand subtle blue color. CrystalBlue glass is available coated and uncoated at 6-millimeter thickness in a variety of sizes.
Aspex® Printed Wall Protection

Gone are the days of modifying your design to include wall protection. Now, your design is the protection. With Aspex
®
Printed Wall Protection, you have the high-impact durability of IPC
®
Rigid Sheet with the clear, crisp imagery of digital printing. Because your graphic is back-printed onto the clear sheet, you don't have to worry about scratching or vandals.
Opening Glass Walls Designed for Commercial Environments

NanaWall Systems provides a wide range of opening glass walls for commercial environments that stand up to the daily commercial grind as well as the challenges of wind, water, extreme temperatures, forced entry, impact, and structural load.